Skin feeling tight? Looking dull? But afraid a rich cream will clog your pores? Try some of the best organic body lotions we've found. They'll make a difference!
By Lora O'Brien
Sometimes, it feels like our skin is never happy. The sun dries it out in summer. And in winter, central heating and drier weather lead to itchy, flaky skin.
The solution to dry skin in any season? Using the best organic body lotions, my friends!
Because who doesn't want to have smooth skin, am I right? I want to run my hands along my legs and feel silk. Our skin absorbs the majority of lotions and creams we smear into it. So why not feed our bodies the moisture they deserve?
A good body lotion will have a milky texture. These are not creams, per se.
What's the difference between a body cream and a lotion?
Simply put, lotions are lighter with more water content and less oil. Creams are heavier, with more oil content and less H20.
In short, body lotions are best for combination and oily skins, whereas body butters and creams better suit very dry skins. Additionally, if you're acne prone, creams might be too thick and could clog your pores, leading to further acne breakouts. That's true for both the face and the body. So lotions are definitely a better choice!
Why choose an organic body lotion?
As mentioned above, our skin quite literally drinks up anything placed onto it. This means it's super important to only use natural ingredients – especially organic – so that our bodies aren't sucking in anything toxic. When it comes to creams, there is quite literally a plethora of healing balms, soothing creams and body butters to choose from. You name it, it's out there!
But what you're not often told is that many lotions contain ingredients that you'll want to steer clear of if you value your health. Things like: parabens, silicones, synthetic perfumes –  even formaldehyde!
When you use an organic lotion, it won't contain any of that crap. Remember: even 'natural' body lotions that use loads of plant based ingredients will also be including the pesticides on those plants. Unless they're organic, of course!
Finally, but importantly, the best organic body lotions don't rely on cheap, artificial fragrances used in many mainstream lotions. The FDA doesn't require brands to list chemicals used in fragrances because it helps to protect signature scents from 'plagiarism', but it also makes it near impossible to understand the kinds of chemicals pumped into most scented body lotions.
What to look for
To be considered as an organic skincare product, the item must contain at least 70% organic ingredients, excluding water and salt. Some ingredients you'll want to check the ingredients list for are:
Aloe vera: Aloe is such a natural healing ingredient. Not only does it soothe inflammation, redness and itchy skin, but it fights bacteria, too.
Oats: Super cheap and cheerful, oats can help to calm skin that flares up due to eczema, dryness, and even insect bites.
Vitamin C: This is vital after being in the sun all summer! Vitamin C helps to tackle free radical and sun damage, as well as signs of ageing. It also works to tighten the skin and leave it glowing.
Vitamin E: This is another vital ingredient, as it's a natural antioxidant and provides intense moisture to the skin.
Sunflower oil: This oil is packed with natural vitamin E, and is highly absorbent for the skin. It's also non-comedogenic, meaning that it doesn't clog pores.
Ready to check out some of the best organic body lotions, ever? Read on!
10 Great Organic Body Lotions To Try
How divine does this sound? Organic coconut oil blends with pink grapefruit, bergamot, cardamom and aloe vera to create a luxuriously rich body cream. It delivers deep hydration without any oily finish. It's packed with essential antioxidants that protect your skin from damage.
But this is what we love the most: its uplifting essential oil blend. It's aromatherapy AND a body lotion!
Price: Around $38
Best for: An organic body lotion so pure, it's almost edible!
The rich formulas of Mauli Rituals go beyond just trying to soften the skin. Each bottle is infused with 90% organic ingredients that seamlessly work together to heal the skin and support cell renewal, all while soothing the senses, too.
The pure essential oils inside this Reawaken Lotion has vital antioxidants, vitamins and sea minerals that will leave behind skin healthier than it ever looked with every application. The refreshing veil of lime and lavender will linger on the skin long after use.
Price: Around $40
Best for: Splurging on a bottle of pure skin-soothing magic!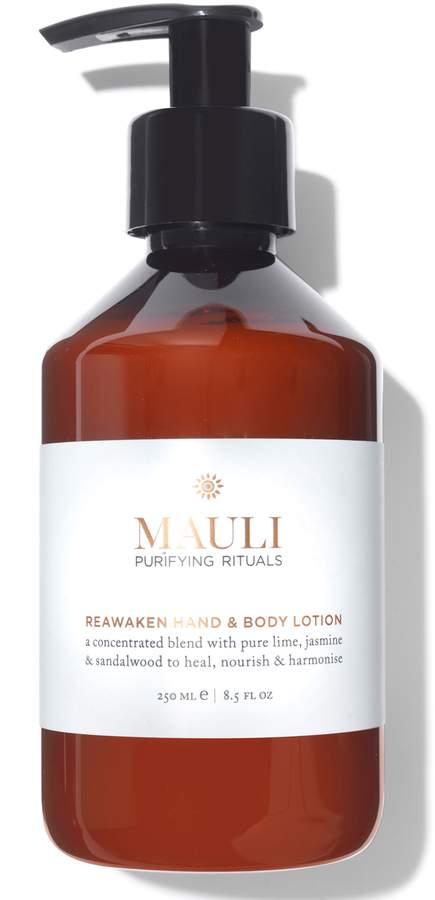 John Masters Organics is loved for its indulgent products, and this new body milk is a welcomed addition. The cream itself is ultra-lightweight and absorbs rapidly into the skin, leaving even the thirstiest of skin fully quenched!
The veil of coconut oil conditions and creates a barrier to deeply condition skin, while blood orange gives a boost of concentrated vitamin C and antioxidants. Vanilla calms and purifies the skin with its own boost of antioxidants, and the heady mix of orange and vanilla is as relaxing as it is addictive.
Price: Around $23
Best for: Calming irritated skin
We love: That this is 100% vegan

Neal's Yard Remedies have a heavenly collection of skin lotions, oils and body creams. And their Beauty Sleep Body Lotion is one of our favourites. The lotion itself is light and moisturising, featuring a calming blend of ylang-ylang, patchouli and clary sage essential oils for an intoxicating scent.
Blended with organic olive and pumpkin seed oils, this lotion works to penetrate deeply into your pores, leaving your body silky, soft and beautifully scented from top to toe. Plus, the naturally relaxing essential oils are the perfect way to unwind and relax after a long day. Definitely one of the best organic body lotions around!
Price: Around $17 
Best for: A gorgeous fragrance to enhance your bedtime routine
Alteya's certified organic cream is a decadent lotion your body will thank you for. Not only does it make your skin incredibly soft to touch, but it will also melt away any lingering dullness and dryness.
Its rich botanical blend helps give your skin the tools it needs to repair itself. The end result? Deep nourishment and hydration that lasts!
The therapeutic scent of rose will seduce your senses, prompt harmony and leave your body relaxing. We also think this is one of the most beautifully packaged organic body lotions to keep in your bathroom!
Price: Around $26
Best for: Dry and normal skin in need of serious moisture
Once the colder months come, our tans have long gone, and we're wishing for a summer glow once more. Right? Well, here's a great solution!
Evolve Beauty's Sunless Glow Body Lotion is the perfect way to add a gradual tan without drying out your skin. Organic papaya will smooth your skin, preparing it for the months ahead, while organic aloe vera will soothe any signs of redness or irritation.
Price: Around $20
Best for: All skin types in need of a bit of colour
Treat yourself to a relaxing shower, then slather yourself with Whamisa's organic body lotion while your skin is slightly damp. Your skin will suck up this lotion, absorbing every last drop! Plus, you'll be gently perfumed with a refreshing scent of grapefruit, yuzu, citrus fruits and apple.
Based on organic aloe vera, this light lotion gives your skin a boost of moisture that will last long after application. The oil blend hydrates without leaving a sticky or oily residue behind.
Price: $35  
Best for: Making you smell slightly citrusy.
This rich body moisturiser is enriched with 100% pure, organic hemp seed oil. Hemp combines with a host of other natural extracts to create a rich moisturizer that provides dramatic skin hydration. It's guaranteed to improve the health and condition of your skin, whatever the season!
This great vegan body lotion will help to support your skin's natural oil barriers with the help of sunflower seed oil and shea butter. Your body will feel immediately more supple, thanks to antioxidant-rich ginger root extracts. This is also one of those organic body lotions that's also free from parabens and gluten, too.
Price: $16
Best for: A faithful favourite you'll always want stocked in your cupboard!
If you're looking to improve your skin tone and texture, Juice Beauty has the best organic body lotion for you. The luxurious formula delivers brightening and rejuvenating properties, thanks to a cocktail of beneficial ingredients. These include shea butter, jojoba oil and apple-derived malic acid.
The lotion is lightweight and easily absorbed into the skin without any residue. It works to tone and tighten your skin while minimising the look of fine lines, dark spots and any discolouration on your body. The end result is smoother skin that is more refined.
After all, if we work to fix the tone of our face, why not treat our body the same way, right?
Price: $20
Best for: Fixing any issues such as dark spots or discolouration on your body.
When it comes to organic body lotions, Dr Bronner's is a brand that many households love. And for good reason! This is a gorgeously scented milk that is crafted with pure organic oils, free of petrochemicals.
Organic jojoba oil is similar to the skin's natural oil, and it lightly moisturizes the skin. Organic coconut oil assists with absorption, while organic hemp and avocado oils will keep your skin smooth and glossy.
Price: Around $15   
Best for: Those on a budget. Plus, this is one of those organic body lotions your entire household will love!
Latest posts by Chere Di Boscio
(see all)