Want a bronzed glow without the sun damage? Try these vegan and organic self tanning products!
By Diane Small
True story about organic self tanning products: a few weeks ago, a male friend of mine had called me to ask if I knew anything about spray tans – would ever get one? I replied no, I would never. At that point, he was panicking – he was standing in the spray tan salon and was just about to be called in. He begged to know: why I wouldn't get a spray tan?
My response was: there is no way of knowing what ingredients are in  product the tanning salon uses, and as someone with skin allergies and asthma, I personally need to be pretty careful, so I only use organic self tanning products – and so should he.
Sadly, he didn't listen to me, and just blindly went for it. It all turned out fine. But it got me thinking: is spray tanning safe? What exactly is in that stuff anyway?
Unfortunately, the answer is: it depends.
In the U.S.A,The Food and Drug Administration (FDA) hasn't actually approved spray tanning ingredients and they have never been properly tested for side effects. In fact, the FDA goes as far as warning consumers not to get the spray in your eyes, near your lips since some research shown inhaling it may lead to health issues such as allergic reactions and even cancer.
What About Other Tanning Methods?
You may try to avoid the spray by taking tanning pills instead. There's a misconception that these contain basically the same ingredients that make carrots and pumpkins orange: carotenoids. But generally, that's not the case.
Sunless tanning pills typically contain the colour additive canthaxanthin, and they aren't safe. When taken in large amounts, canthaxanthin can turn your skin orange or brown and cause hives, liver damage and impaired vision.
I would say at this point, most people know that another popular method of tanning – tanning beds – should be avoided at all costs. The fact that these machines cause cancer is no secret. In fact, each year, roughly 450,000 new skin cancer cases are linked to indoor tanning. In short, no tanning bed is safe – ever.
But that being said, the organic self tanning products I love to use are A-OK, and luckily, there are some great brands on the market that are completely safe, super easy to apply. They can even nourish your skin!
Here's how to use them:
Exfoliate first. Use a washcloth or exfoliating product to remove excess dead skin cells. Spend a little extra time on areas with thick skin, such as your knees, elbows and ankles. Dry your skin.
Apply in sections. Massage the product into your skin in a circular motion. Apply one of the organic self tanning brands below to your body in sections, such as your arms, then legs and torso. Wash your hands with soap after each section to avoid discoloring your palms. Lightly extend the product from your ankles to your feet and from your wrists to your hands.
Wipe joint areas. Knees, elbows and ankles tend to absorb more of sunless tanning products. To dilute the tanning effect in these areas, gently rub them with a damp towel or apply a little lotion on top of the self-tanner.
Take time to dry. Wait at least 10 minutes before getting dressed. Wear loose clothing and try to avoid sweating.
Ready to get glowing? Check out the best vegan and organic self tanning brands, below!
Vegan & Organic Self Tanning Brands We Love
Are you new to using organic self tanning products? Just want to add just a little subtle soft bronzy glow to your skin? Then Coola's Sunless Anti-Aging Face Serum might be your perfect match. This lightweight sheer face serum is made with argan oil and hyaluronic acid, both of which deeply nourish the skin.
Their streak-free and transfer-resistant formula gives the face a gradual tan. You can build it up over several days after that. Or, you can continue applying daily if you would like to keep up the resulting effect.
Price: $54
Give yourself some self love with Kora Organic's gradual self tanning lotion! This is one of the few on the list that is suitable for all skin tones and the only one that is energized with rose quartz – a crystal believed to carry a soothing energy to encourage love and acceptance of ourselves and others.
This super-hydrating, organic tanning lotion features Kora Organic's other signature ingredients such as noni extract, nourishing rosehip and sea buckthorn oils. If you're worried about that weird chemical smell some self tanners have, never fear: this is scented with calming lavender oil.
Price: $55
Available is three shades, Isle of Paradise's self-tanning drops make it easy to customise your glow. If you've never tried them before, you should know that self-tanning drops are great for all skin types, including those with dry or sensitive skin.
These are formulated with a SuperBalance™ complex the company specially created to reduce redness and calm the skin. It's super easy to use and only requires adding a few drops of the serum to your favorite lotion to give an immediately sunny glow to even out dull or reddish skin tones.
Price: $28
Finally, a self tanner that not only smells heavenly, but is actually good for you! Suntegrity has changed the way you tan by infusing botanical extracts with hydrating organic oils, nourishing vitamin E, and youth promoting antioxidants into a luxurious sunless tanning lotion that provides you with a complete skin enriching experience.
It's eco-certified, vegan friendly and 'tans' the skin gradually, naturally and subtly. No 'Oompah Loompah' face happening here, ever!
Price: $36
This is another great option for those of us who have been blessed with sensitive skin and that find maintaining a summer glow to be uncomfortable. Besides – who really wants to expose their delicate skin to harsh UV rays anyway?
With Beauty By Earth's self-tanner, you are easily able to build your tan one layer at a time to get your ideal level of bronze. It also covers up blemishes, veins, and other imperfections without leaving any streaks or dark spots behind.
Price: $30
Of all the organic self tanning products, this one may be the one with the most gorgeous results! It's white t-shirt safe after application, and using it couldn't be easier: just exfoliate your skin, apply with a glove, and wait a few minutes for the tan to appear.
Oh, and btw: the exfoliating glove from this brand works miracles on rough skin, whether you're fake tanning or not! No wonder this is a favorite brand of top models like Lily Cole.
Price: $51
Who doesn't want to have a gorgeous tan from head to toe without spending hours in the sun? With ECO Tan's Tanning Kit, your tanning dreams are about to come true.
100% Certified Organic, the kit is best suited for medium to olive skin tones. It comes with easy to follow directions, and best of all it works with just one application. Each product comes with a free Tan Remover Glove – basically, an exfoliating mitt that can also be used as a dry body buff.
Price: $30
Cleantan's Quickie Tan Kit is perfect for those of you who would like a deeper tan without spending hours in the sun. This product is completely customisable, meaning you can control the colour to go as deep or as light as you like, and it can be used with your favorite lotion or serum.
Note: Be patient: this is one organic self tanning product that takes time. The colour will deepen within 6 – 8 hours – if you're not happy with it, you may have to wait another 6-8 hours, but at least this will last and last!
Price: $50
Embrace your natural beauty with this revolutionary product! It provides a sunkissed tan all year round without the harmful influences of the sun. Simply add a few drops of Tantasy Drops by Le BEACH to your face cream or body lotion, et voila! It looks like you've just come back from a beach holiday.
A clever blend of ingredients creates a gradual tan that develops over 4 hours. You'll also have a warm, long lasting tone, enriched with an all natural tropical scent and skin loving ingredients.
antibacterial and collagen boosting Aloe Barbadensis leaf for a multitude of skin benefits, from treating flare-up in eczema to sunburn and small abrasions. The anti-inflammatory properties reduce the appearance of blemishes. You will love your skin pure, moisturised and nourished. No crocodile skin effect. A Must-have, a Must-love!
Price:
Around $35
What on earth is a Face Tan Water? I hear you asking. And no wonder: this was one of the first of its kind to hit the market. It's a gradual tanner that was specifically created for those with oily and acne prone skin; people who wanted a sun kissed glow without having to worry about it being too heavy or clogging their pores.
This light, natural product is one of the easiest to use, all you have to do is apply it to a cotton ball and use it like you would a toner on clean dry skin. No need  to follow with a moisturiser. Just make sure you wash your hands thoroughly afterwards!
Price: Around $32
Want to try other (even cheaper) organic self tanning products that you can find in your kitchen? Click here!
Second image: Kora Organics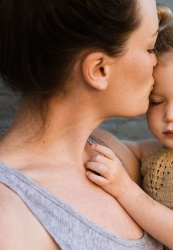 Latest posts by Diane Small
(see all)