Love your skin in summer? Here's how to keep your summer tan glowing well into fall
By Diane Small
Most of us have (sadly) just returned to city life from holidays spent by the beach or in the countryside. Although we may have started the autumn with a light glowing tan and fresher skin from being outdoors all summer, keeping that look fresh isn't easy. You need to make an effort!
To keep your tan looking good into fall, you'll first need to do three things: moisturize, moisturize and moisturize! Just kidding. It's a bit more complicated than that. There are a few steps you'll need to take.
How To Make Your Tan Last Longer
1. Moisturize To Prevent Shedding
Well moisturized skin holds your tan longer. Apply a rich cream daily to keep your skin hydrated. BUT – avoid moisturizing with a body oil if you plan to use a self-tanner to fake your glow. Oils will make it go on unevenly and break down the tanner after you apply it to your skin. Not good.
2. Fake It With A Self Tanner

Applying a rich self-tanner can  keep your summer tan last longer. Choose one with an SPF to help you avoid more damaging sun exposure.
3. Avoid Exfoliants – Unless You're Faking It

Help your tan last longer by avoiding body scrubs, peels, and acidic face masks. Also, watch out for acne treatments and ingrown hair products containing salicylic acid. These products can cause your skin cells to shed more quickly and may fade and take your tan with it. BUT – all that said – if you're planning to apply fake tanner, exfoliating is essential for an even application.
4. Avoid Soaking In Hot Water

Sure, hot baths and showers are delightful – but did you know this? Hot water causes your skin to dry out and shed—taking tan away with it. The solution? Just avoid long hot showers and baths, that's it!
Another way to keep your summer tan is simple: drink lots of water! This will help keep your skin healthy and moisturized. Of course, as you probably know, water is also essential for flushing out toxins, improving circulation, and helping your skin glow. That includes making your tan look great!
Resigned to the fact that your tan just might have to say goodbye? Make the best of what you've got by wearing pastel hues and lighter tones! These can help complement the warmer hues in your skin.
That being said, for those with dark hair and olive skin, black clothes can help bring out your golden tones.
Still how to keep your summer tan? Here's all you need to keep your skin glowing into fall.
How To Keep Your Summer Tan Glowing Into Fall
Use a scrub mitt or an exfoliator to rid your body of dead cells if you're planning to keep your summer tan with a fake bake!
This organic scrub is designed to slough off summer damaged skin on the face, neck and decolletage to reveal a fresher complexion underneath. Chamomile, Aloe Vera and Wheat Protein are but a few of the natural ingredients here to help lighten and brighten your skin.
Use it: In the shower
Price: $39
Keep that tan alive by using this great product that combines a cream and a self-tanner in one. It's designed to  recreate a beautiful, light tan all year round. Rich in prebiotics, antioxidants and Omega fatty acids to protect, balance and nourish, it gradually builds up a light colour when used daily. Natural scents of Mandarin, Orange and Ho Wood and no 'fake tan' smell.  Suitable for all skin types, even sensitive and acne prone skin.
Use it: Instead of fake tanner
Price: Around $20
If you look great with a tan, it's logical you'll want to extend that look as long as you can. Of course, going to tanning beds is basically begging for wrinkles. So get your glow on naturally with a pure fake tanning product, instead. It's the best way to keep your summer tan going, for sure!
If you're worried about nasty smells or unusual skin colours, rest assured that Eco Tan is one of the best and most established all-natural ways to fake it. This female-owned brand boasts a comprehensive range of products, most of which are based on coconut oil. All will give you a bronzed glow without even a hint of Oompah-Loompah orange!
Click here for our article on more vegan tanning options.
Use it: After showering but before moisturising
Price: $34
Dazzling' is the "perfect combination of bronzer and contour cream in one," says Kirsten Kjaer Weis. This radiant, creamy shade can be used to define cheekbones, warm up light complexions or highlight darker skin tones.
Developed in Italy, its certified organic formula switches out the synthetic silicones typically used to emulsify cosmetics with natural oils and waxes. The result? This feels so weightless and nourishing on your skin.
Be sure to use a vegan friendly brush, like one of these by Hynt beauty to apply.
Use it: On your face before going out
Price: $22.40
Do you have any tips on how to keep your summer tan? Let us know in the comments, below!
First two images: Kjaer Weis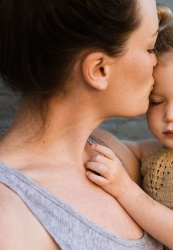 Latest posts by Diane Small
(see all)