Hey mamas! Pamper yourselves with these organic beauty products for pregnancy before your wee one arrives!
By Lora O'Brien
Despite the fact that the cosmetics industry is barely regulated at all, many women often don't consider which chemicals may be lurking in their cosmetics until they become pregnant.
Sure, we all know we should avoid Botox and hair dye when we're expecting, but the fact is that many mainstream skincare and makeup brands are full of harmful ingredients that can enter your bloodstream and cause illness ranging from skin conditions, kidney and liver disease to cancer. And that's just for you. Who knows what they could do to 'you junior'?
Obviously, any  soon-to-be mom would surely rather be 'better safe than sorry' when it comes to choosing cosmetic products to use during her special 9 months. For help here, we asked expert Alicia Dell'Anna for her suggestions on products that she knows to be 100% safe for women – and their bumps.
Since 2013, Alicia has been providing concierge services to expectant mothers and young families across the globe. "During pregnancy, women become far more conscious of the ingredients in their beauty products," she says. "But it's hard for them to choose. After all, it's easy to be overwhelmed by all the advice dispensed by in-laws, doctors, friends and family".
Clients come to Delivered by Dell'Anna for a unique and tailor-made service to make their pregnancy as stress-free and enjoyable as possible.
With a little black book of all things mama and baby, here Alicia selected the 10 products that she and her clients love most.
10 Great Organic Beauty Products For Pregnancy
This is one of the best organic beauty products for pregnancy. A true boob savior! Rich in Omegas 3, 6 and 9 to lock in hydration, it also contains CoQ10 a powerful antioxidant. There's Shea butter to help restore and repair, and green cabbage leaf extract to help ease swelling. And according to the brand itself, this is the product most recommended by pregnant women and new mums.
Price: $45
If you're looking for a pregnancy-friendly shampoo and conditioner, look no further. Nine Naturals delivers the perfect blend of Jojoba seed oil, shea butter and sunflower seed oil along with lemon, lime, and peppermint essential oils. It has been ingeniously designed to not only revitalise your hair, but also alleviate morning sickness and fatigue, thanks to the aromatherapy formulated in each bottle.
Price: $20
Unless you're extremely lucky, with pregnancy comes hormonal acne. Most anti blemish cleansers contain salicylic acid, something doctors recommend you avoid during pregnancy. Luckily, Aesop's anti-blemish mask helps to avoid spots by using the power of nature.
Chamomile, tea tree and evening primrose extracts combine with tea leaves and other natural ingredients to leave your skin feeling – and looking – wonderful!
Price: Around $50
A Gold winner at the Gentle Parenting Awards 2015, this oil will help maintain your skin's natural elasticity, whilst moisturising and nourishing your growing bump. I can testify that this is one of the best organic beauty products for pregnancy. And one of the most necessary! It also has a beautiful, light scent.
Price: Around $15
A true multi tasker, Pai's BioRegenerate is best used at night. Add a few drops to your facial moisturiser or apply to scars and stretchmarks and let it work its magic. You'll wake up reaping the benefits of this fabulous product, before, during and after your pregnancy.
Price: $44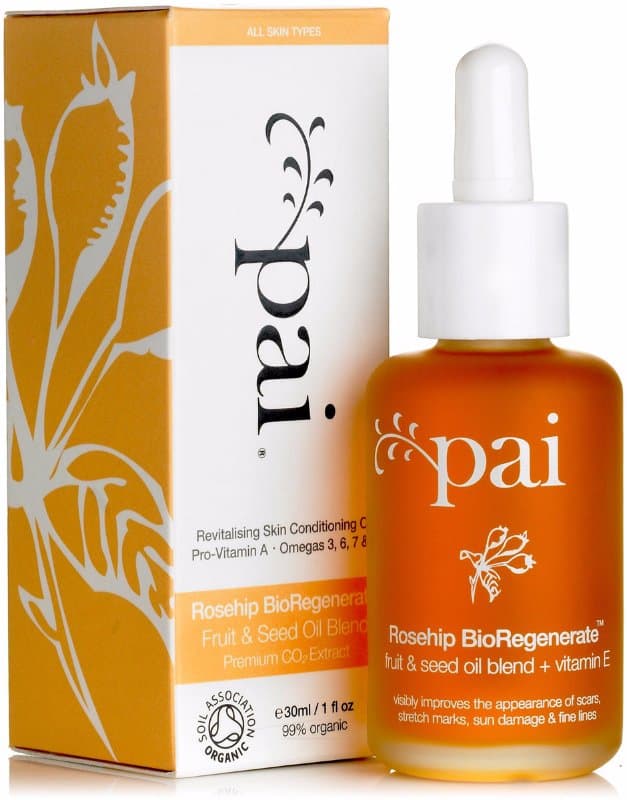 Growing a baby is exhausting, and nothing is more welcome than sleep. While you relax, allow Gaia Skincare's tummy balm to deeply hydrate the skin as your body is naturally repairing itself.
Apply the balm to your tummy, hips, thighs and breasts. The light and easily absorbed butter will work to deeply nourish and protect your skin during each stage of your pregnancy. The rosehip oil will also help to heal scar tissue. Definitely another one of the best organic beauty products for pregnancy.
Price: Around $30
Looking for a full coverage BB cream to hide the blemishes and redness that pregnancy can cause? Look no further! This mineral makeup comes in half a dozen shades to suit most skin tones, and also contains an SPF of 25 to save you from the sun.
I personally love this brand so much, it was difficult to choose just one product from the Jane Iredale range. This natural makeup brand is perfect for expectant mothers.
Price: $50
Ok, this may be more for wellbeing than your looks, but I'm gonna say it's another one of the best organic beauty products for pregnancy!
Pelvic floor muscles are vital to holding your core, supporting abs and assisting bladder control; with childbirth, weight-gain and ageing all factors in causing muscle deterioration and weakness, affecting more than one in three women.
This nifty little device was designed by health professionals, scientific experts and  – most importantly – women. Think of it as your most intimate personal trainer! It's the world's smallest and smartest kegel exercise tracker, made from medical grade silicone with a beautifully ergonomic (and discrete) design. It comes with a carry case that also acts as a charger, allowing you to use it any place, any time.
No wonder celebs like Gwyneth Paltrow and Khloe Kardashian rave about this trainer, which helps you to prepare your body (or rebound) from the strains of pregnancy and childbirth.
Price: Around $200
Feel like your legs are made of lead? Never fear: this product eases tired and achy feet and legs. It contains natural menthol extract for a refreshing feeling and avocado peptides to soothe. Pregnancy leg cramps be gone! Store in the fridge for an extra cooling effect, and to help constrict swollen veins.
Price: Around $15
We've all been there. Your skin is breaking out, your legs feel bloated, your hair is lank and greasy. But at least your nails can look pretty! Non-toxic with loads of vibrant colours to choose from, Nailberry's L'Oxygene polish formula uses patented technology to deliver a healthier manicure to mums.
This covers the nails with a luxurious film of colour that allows water vapour to pass through it, whilst making sure your natural nail is respected. Result? You'll avoid any dryness, splitting and breakage associated with frequent nail polish wear.
Price: Around $20
Many women complain their hair is greasier during pregnancy. So a dry shampoo is one of the most essential organic beauty products for pregnancy!
This shampoo by Tabitha James Kraan will give your hair that extra boost when you need it, and can also lend an emergency hand when you're just too knackered to shower in those later months – especially in those earlier months, just after giving birth!
With a unique all-natural blend that is both highly absorbent while still being extremely fine in texture, this will soften, nourish and lightly scent your hair, too.
Price: Around $35
Latest posts by Lora O'Brien
(see all)