Looking for the best organic & natural hair dyes to try this year? Our definitive guide is sure to help!
By Sophia Hussain
Women have always coveted long, luxurious locks, as it's the ultimate signature of feminine youth and beauty. We use hair coloring and toners to better match our personal style, or to mask emerging grey hair. But as much as we may love them, there's no denying that all permanent hair colours contain a cocktail of chemicals. The trick is choosing the best natural hair dyes.
What should you look for on the label of natural hair dye?
The most common – and dangerous – of these chemicals is probably PPDs (p-Phenylenediamine). This has been linked to bladder cancer, lung, kidney and nervous system disorders and severe allergic reactions. It's almost impossible to formulate a hair color without PPDs, but the most important factor is the concentration of the chemical.
In mainstream supermarket brands, it can be as high as 5-6%, whereas natural hair dyes use less than 1%. And yes, that difference does mean a lot: it's the difference between, say, smoking a pack of cigarettes and being beside someone having a smoke.
Another dangerous chemical group is Persulfates. These include sodium, potassium and ammonium sulphates are present in hair dyes and bleaches, and are used in concentrations of up to 60%. However, concentrations of only 17.5% have been shown to irritate skin. Persulphates are also toxic when the fumes are inhaled, they cause asthma and lung damage. The Cosmetic Ingredient Review Expert Panel has concluded that they are safe for occasional use, provided that the skin is rinsed well after.
More hair dye chemicals to avoid
Resorcinol
This receives a nasty 8 out of 10 for danger at the Cosmetics Safety Database. It is classified by the European Union as harmful, irritant to eyes and skin and dangerous for the environment. It may also disrupt hormonal function, and lead to  hypothyroidism.
Ammonia
Ammonia is irritant to the skin, eyes and respiratory system, and can cause asthma and breathing difficulties. However, it is much less toxic than PPD, and only receives a rating of 3 out of 10 for toxicity at the Cosmetics Safety Database.  Still, many companies are phasing out this harsh ingredient, which compromises the integrity of the hair shaft, too.
Hydrogen peroxide
Hydrogen peroxide is used in hair bleaches. It is corrosive, and has been banned from cosmetic use in Japan and restricted in Canada. Animal studies have shown it has toxic effects on the nervous system, respiratory and digestive systems at low doses.
Lead acetate
This is present in some hair colouring products used for gradual darkening, and is another potentially toxic chemical. Lead has well-known damaging effects on the brain and nervous system.
4-ABP
This ingredient has been linked to development of cancer.
Worried your brand may contain some of these? A good tip for those living in the Americas would be to buy European or Japanese brands: the EU and Japan have banned many toxic ingredients that are still permitted elsewhere. Click here to see more information about that.
Why avoid non-natural hair colors?
Knowing that consumers have become savvy to the dangers of chemicals in hair dye, manufacturers have gone all-out in their attempts to greenwash their products. Don't be fooled! Just because the name of a product may sound 'green and clean' doesn't mean it is.
Some of the worst offenders? L'Oreal Natural Match (the 'natural' refers to your original hair colour, but could easily be misinterpreted); Garnier HerbaShine (yes, it contains bamboo and has no ammonia, but it also contains high levels hydrogen peroxide and chemical fragrance), and Clairol Natural Instincts (again, ammonia free, but packed with other harmful chemicals, including parabens and hydrogen peroxide).
It should be noted that permanent dark colours will always have some PPDs. In America, the legal maximum is 2%; brands that really try hard to be natural (such as those below) could contain as little as .06%.
Pregnant? It's your choice
It's up to you to decide whether or not to use permanent dyes, but keep this in mind: pregnant women are strongly advised not to colour their hair.
The Environmental Working Group found that 69% of hair dye products they tested for their Skin Deep database may pose cancer risks. Additionally, a 1994 National Cancer Institute report states dark dyes used over long periods of time seem to increase the risk of cancers such as non-Hodgkin's lymphoma and multiple myeloma.
Despite all the potential dangers, in America, the FDA doesn't regulate hair dye ingredients (synthetic or natural). At all.
You should be aware that all permanent colors will always use some chemicals. That's true even in the best natural hair dyes. Choosing the one that is the least damaging and most natural really is a case of using the best information you have to do so.
But never fear – we've done the research for you, and selected some of the best natural hair dyes – and even organic hair dyes – around.
Please note: This article contains info on organic and natural hair dyes that are available to consumers online. There are plenty of others that are available to salons only.
Also: This article is regularly updated to contain the latest information. The original article appeared in 2016 and has been updated at least twice a year since.
The Best Organic & Natural Hair Dyes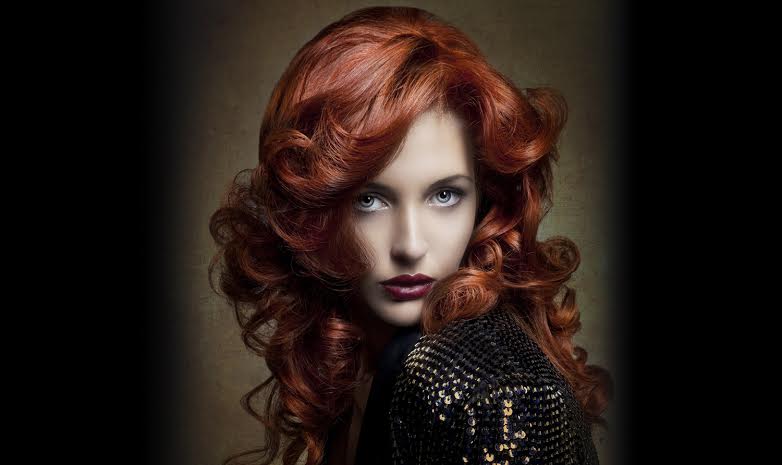 Friends, this is something of a miracle!
Forget the mixing bowl. This plant-based Mayraki Grey Coverage Hair Dye Shampoo is already blended for you! There are absolutely NO nasties, and no harshness at all. It's perfect for those of us with sensitive skin.
Simply massage into dry hair, wait 40 minutes, and rinse out.
This permanent shampoo-type hair dye delivers beautiful, evenly colored hair with its non-drip, conditioning formula. There are plenty of organic ingredients here, too.
Price: $35
Natural rating: 10/10 Colour hold: 9/10 Vegan? Yes
Benefits: This is an easy to use, all natural hair dye. The plant-based formula colors and conditions the hair making it thicker, shinier, and healthier. Plus, it fully covers greys.
Downsides? This dye tends to give you 'hot roots'. In other words, your roots may dye lighter than the rest of your hair. Read the directions on the package on how to avoid this. Also, it only comes in 4 shades.
PETA certified Saach Organics Natural Hair Colors are semi-permanent hair dyes derived from natural plants and minerals, making it a perfect blend of rare hair treatment herbs without any active chemicals.
Made by a small company with a speciality in natural beauty, Saach Organics is easy to contact if you have any questions. These natural hair colors are the first semi-permanent hair dyes which cover grey hair effectively in one simple step.
Made with herbs grown and harvested according to Ayurvedic Indian traditions, the powdered dye gently coats your hair for vibrant, stable color that lasts.
These organic dyes balance and nourish each hair shaft and help prevent breakage and over-drying. Vegetal leaves your hair thicker, more lustrous and naturally healthy. Their dyes are even suitable for hypersensitive skins, and provide 100% gray coverage, without the use of PPD, Ammonia or Peroxides.
This is a rarity, in that it is one of the few purely organic hair dyes, and it's also one of the best natural black hair dye brands, too.
Price: Around $10
Natural rating: 10/10 Colour hold: 7/10 Vegan? Yes
Benefits: 100% Organic formulation – mainly plant-based indigo or henna powder. Covers greys. Indigo is a fantastic alternative to the traditional box dyes and is also the safest option if you are allergic to other dyes.
Downsides? Given that this comes in a DIY mix powder, this can be a bit messy to use.
Smaller colour molecules called micro-pigments create a gentler colouring process that doesn't require Madison Reed to use ammonia to aggressively open the hair cuticle to deposit their dyes the way other brands do. In fact, all Madison Reed's dyes are not only ammonia free, but contain no parabens, resorcinol, phthalates, PPD or gluten. The result is no harsh smells, burning or itching that nasty chemicals normally bring.
This brand may not provide 100% organic hair dyes, but they do infuse their products with argan oil and natural keratin (not vegan: heads up!) to keep the products gentle. Of course, Madison Reed offers a range of colours, from Amalfi Blonde to Perugia Black, all of which promise 100% grey coverage.
Price: Around $25
Natural rating: 7/10 Colour hold: 10/10 Vegan? No
Benefits: Fully covers grey. Botanical ingredients are present to help keep your hair shiny and healthy looking.
Downsides? Some customers have reported hair loss after using this! That could be down to the use of ethanolamine in the products. I personally have never had a problem, but TEST the product on your inner arm before using to be sure!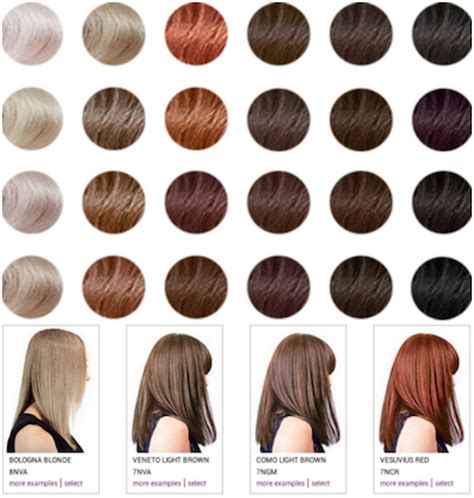 This popular line of Italian-made natural hair dyes is specially formulated from all-natural herb extracts. These include rosemary, cinchona and walnut husks, They all gently bring a natural, vibrant color to your hair. Although the brand is 100% free of parabens, alcohol, ammonia, resorcinol and perfumes, it does contain hydrogen peroxide in most shades.
I have personally used this product for years, and though I have super-sensitive skin, I've had no issues. The coverage of gray is thorough, and the brand is 100% vegan friendly, and halal, as well.
Price: Around $15
Natural rating: 8/10 Colour hold: 10/10 Vegan? Yes
Benefits: We love this hair dye! You can use as much or as little as you need, since the applicator and color come in two different bottles, which can be 'saved' for later. Plus, it fully covers greys, and offers loads of natural and 'fantasy' colors, with both golden or red undertones.
Downsides? Honestly can't think of any.
Have you got sensitive skin? Are you pregnant or breastfeeding? Of all the natural hair dyes here, this could well be the safest choice for you! It's a certified organic, 100% natural hair color that has no PPD, peroxide or ammonia whatsoever.
The formula of their natural hair dyes uses premium certified organic herbs to create a herbal hair color that even helps to resolve issues like dandruff, dryness, and premature graying. Mainly based on plants like henna and indigo, like Saach Organics, this is one of the best all-organic hair dyes out there. Especially for natural black hair dye.
Price: Around $10
Natural rating: 10/10 Colour hold: 8/10 Vegan? Yes
Benefits: Pure & Natural Henna Powder covers gray hair completely. It also conditions the hair, improving growth and health with every application.
Downsides? Henna dyes darken hair and give it a slight reddish tint. Which is fine, if you like red undertones. It comes as a smooth triple-sifted powder that you add water to to form a paste, which some may find a bit messy.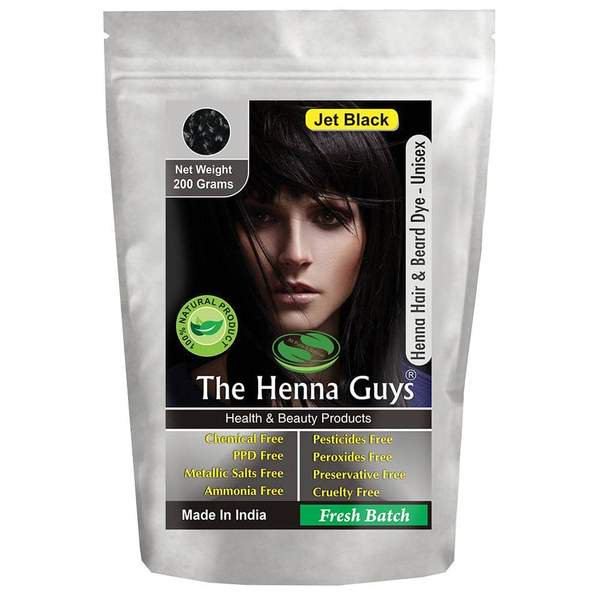 ONC Natural Colors are much healthier than almost any of the other natural hair dyes out there. They have a low pH. They use heat from a blow dryer to open cuticles rather than a high pH chemical that can damage your health and that of your hair. It smells a bit of bananas, washes off your skin easily (but not your hair, obviously), and doesn't leave a hard demarcation line after regrowth.
Because this is basically hair care and hair dye in one bottle, it nourishes your locks and scalp whilst changing the color of your hair. Of course, it's permanent and lasts as long as any nasty chemical brand.
Price: Around $25
Natural rating: 8/10 Colour hold: 9/10 Vegan? Yes
Benefits: ONC Natural Colors offers one of the widest varieties of colors around. Just about anyone should be able to find their perfect match!
Downsides? This is one of the pricier brands, so not ideal if you dye your hair frequently.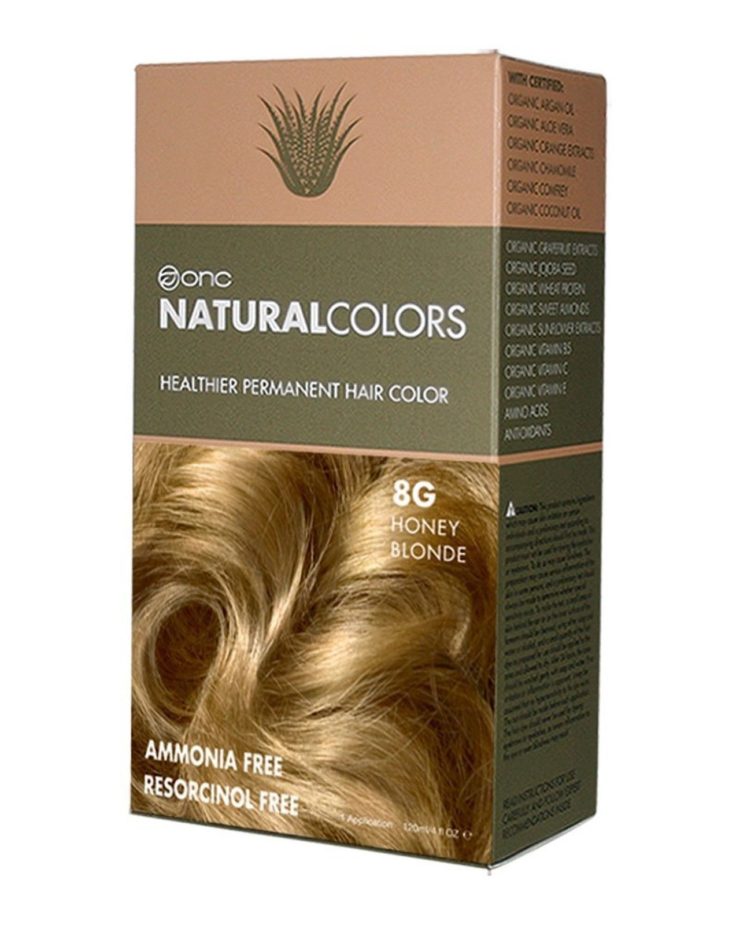 Fancy rouge ends or an ombre gradient? In three easy steps, choose to either dye selected strands, sections, or simply coat the entire head in your selected hue with Naturtint Natural Hair Colors.
Of course, there are the basic staple options for brunettes and blondes, too. This low-chemical brand contains no parabens, resorcinol, DEA, SLS, mineral oils or ammonia. 
Their creamy, plant based formula is safe for anyone of any age. Naturtint easily and permanently covers gray hairs, no matter how many you may have!
Price: Around $28
Natural rating: 9/10 Colour hold: 8/10 Vegan? Yes
Benefits: Naturtint Permanent hair color contains oleic acid. This is derived from olives, and provides an anti-oxidation to protect your follicles.
Downsides? This has hydrogen peroxide, which some may be sensitive to.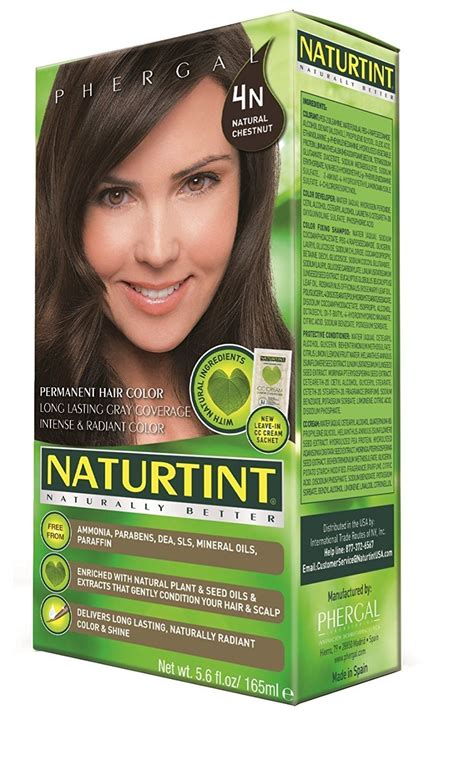 This innovative Danish brand won the best Natural Beauty Product 2014-2015 in the US market. No surprise, since its natural hair dyes are 100% free from PTD, SLS, ammonia, resorcinol, and parabens.
It contains a naturally derived formula, with a special blend of certified organic lemon and mandarin essential oils, along with 10 additional pure and gentle organic extracts. These natural oils  protect the hair during the coloring process. Each shade of this brand's natural hair dyes will reveal shiny, nourished locks!
Price: From $34
Natural rating: 9/10 Colour hold: 6/10 Vegan? Cruelty free only
Benefits: This is a super gentle dye, with little to no fragrance or strong 'fumes' coming from it. It's a good choice for those with sensitivities.
Downsides? Since it's so gentle, the color might not last as long as other brands.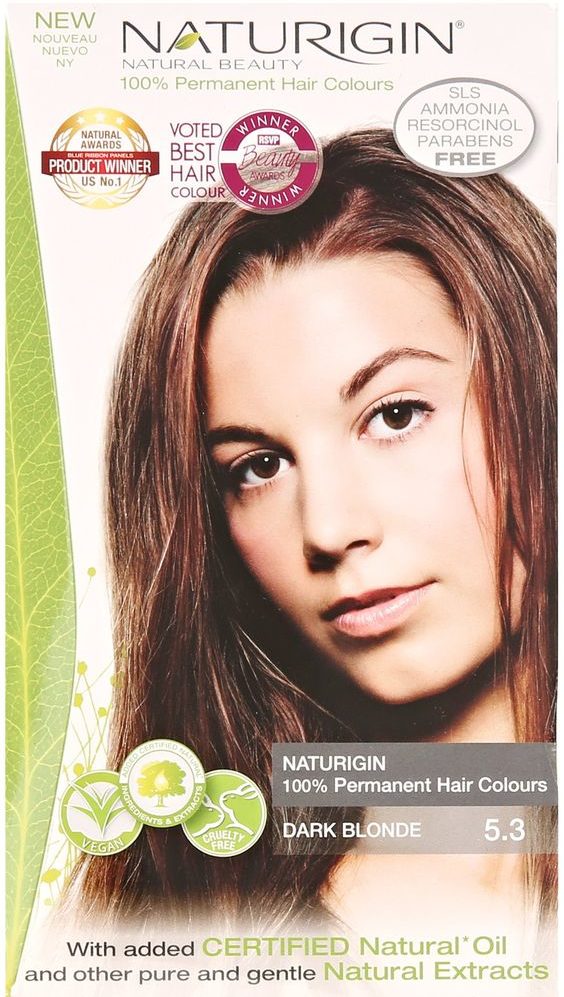 Surya Brasil is a henna based dye that also features loads of botanical extracts from the Amazon, such as Brazil nut, Malva and Babacu seed oils. There's even organic chocolate extract!
Henna is actually a great conditioner for your hair. It not only adds shine and volume, but also shields your locks from damage. Henna can help maintain the natural acid-alkaline balance on your scalp and cleanses dirt, too. In addition, it promotes hair growth, reduces hair loss, dandruff and other scalp problems. In short, it makes this one of the best organic hair dyes ever!
Note: This natural hair color will cover gray. But if you have more than 70% gray hair and are trying to achieve a black or dark brown hue, you should purchase two packages of product.
Price: Around $10
Natural rating: 10/10 Colour hold: 8/10 Vegan? Yes
Benefits: This is a really gentle, conditioning product. It's actually good for your hair! It's also easier to use than powdered henna-based products.
Downsides? Some say it doesn't cover grey well enough.
Apparently, this is the first ammonia-free hair color, ever! This Color Cloud Foaming Hair Color by Hally is gentle on hair and locks in color. It comes in 6 different, trendy hair color shades, from 'fantasy' lavender or cherry red to natural blonde and ash brown.
It's easy to apply, mess-free, and works on all hair types. Though it's not organic, there are plenty of natural, nourishing extracts in this, including chamomile, lavender, ginseng, and aloe. It's formulated without:
Ammonia
Sulfates
Parabens
PPD
Resorcinol
Gluten
Price: $15
Natural rating: 8/10 Colour hold: 6/10 Vegan? Yes
Benefits: The foam-based formula is super easy to use.
Downsides? There are only six hues to choose from, and they only last for up to 4-6 weeks. Which is long enough for many, though!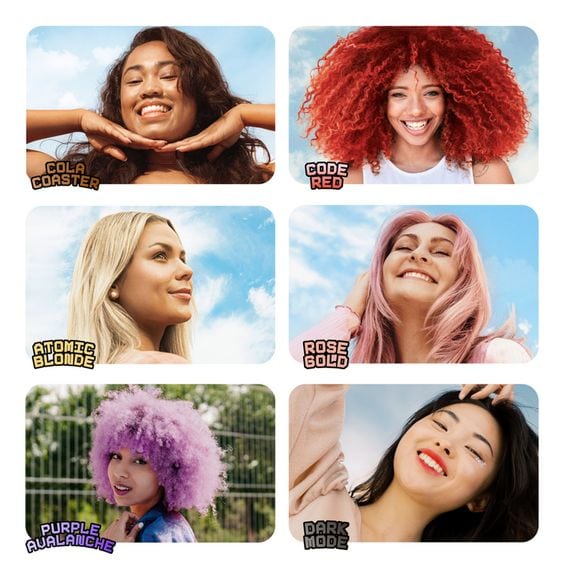 Note: It's  always important to conduct a hair colour safety test prior to using any natural hair dye. Follow these helpful guidelines for further information.
Latest posts by Sophia Hussain
(see all)