By Diane Small
It seems that there are loads of hairstyles that are trending at the moment, but one thing is clear: naturally colored hair seems passé!
There are loads of hair coloring techniques that are making hairstyles really pop these days: ombré, babylights, balayage, and dip-dye, to name a few.
But what are the differences between these techniques? How do you get them, with non-toxic products?And which one is right for you?
Choosing the Right Hair Color For You
Before you choose a color for your hair, you need to consider which hues best suit your skin tone and complexion undertones: are you fair, medium or deep? Warm, cool, or neutral?
Here's how to determine what undertones your skin may have:
Look at the veins in your wrist. If your veins are blue, you've got cool undertones. Green? Warm. A mix? Neutral.
Do you look better in gold or silver jewelry? Gold is warm, silver, cool.
Try on a white and a beige tee-shirt. If you have warm undertones, the white tee makes your skin appear more yellow. If you have cool undertones, the beige tee makes your skin look washed out and grey.
When you've figured out your skin undertone, it's time to learn which hair colors will look best on you.
Warm Skin Undertones
Fair: copper, golden blonde, caramel
Medium: 'bronde'
Olive: chestnut, cinnamon
Deep: violet red or black, honey, caramel
Cool Skin Undertones
Fair: icy platinum, baby blonde
Medium: sand, wheat, and beige
Olive: chestnut, cinnamon
Deep: inky black, espresso, blue-black
Neutral Skin Undertones
If you have olive skin, you most likely have a neutral skin undertone.
If you have a hard time telling whether your veins are green or blue, you probably have a neutral skin undertone.
You can rock pretty much any hair color you like!
Still not sure which skin tone you have? Check via the video below!
7 Hair Dye Trends
Just because a hair color is huge right now doesn't mean it's right for you. Now that you've determined your skin tone, you can select from the trends below to see which best suits you.
1. Rose Gold
Rose gold hair is a shimmering fusion of blonde and pink hues, and is fast becoming the beauty statement of choice for models, celebs and fashionistas around the globe. The best part? It happens to look good on pretty much everyone, no matter what your skin tone happens to be.
If you love pink, but feel it's too risky to dye your entire head, try a few rose gold highlights first. If you're already a natural blonde, try a rose gold ombre to brighten up your face. Got darker hair? Go for a shiny rose brown or deep rose gold.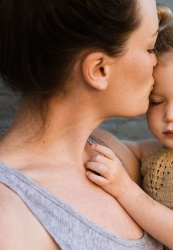 Latest posts by Diane Small
(see all)
This site uses affiliate links with brands we trust, and if you make a purchase using a link, we may receive a commission.
Did you enjoy this post? Want to show your gratitude? Please support us on Patreon!