These hair dye trends are hot for the coming year. But which is right for you?
By Diane Small
We're living in crazy times. It's hard to predict what will happen next week, let alone throughout the coming months! But one thing is clear for this year: naturally colored hair is pretty much passé.
All you need to do is take a glance at Instagram or Pinterest to see that barnets come in a rainbow of far-from-natural hues, or when they are leaning towards 'natural,' they're much more intense versions of what nature bestows.
There are also loads of hair coloring techniques that are making hairdos really pop these days: ombré, babylights, balayage, and dip-dye, to name a few.
But what are the differences between these techniques? How do you get them, with non-toxic products? And which hair color is right for you?
Choosing the Right Hair Color For You
Before you choose a color for your hair, you need to consider which hues best suit your skin tone and complexion undertones: are you fair, medium or deep? Warm, cool, or neutral?
Here's how to determine what undertones your skin may have:
Look at the veins in your wrist. If your veins are blue, you've got cool undertones. Green? Warm. A mix? Neutral.
Do you look better in gold or silver jewelry? Gold is warm, silver, cool.
Try on a white and a beige tee-shirt. If you have warm undertones, the white tee makes your skin appear more yellow. If you have cool undertones, the beige tee makes your skin look washed out and grey.
When you've figured out your skin undertone, it's time to learn which hair colors will look best on you.
Warm Skin Undertones
Fair: copper, golden blonde, caramel
Medium: 'bronde'
Olive: chestnut, cinnamon
Deep: violet red or black, honey, caramel
Cool Skin Undertones
Fair: icy platinum, baby blonde
Medium: sand, wheat, and beige
Olive: chestnut, cinnamon
Deep: inky black, espresso, blue-black
Neutral Skin Undertones
If you have olive skin, you most likely have a neutral skin undertone.
If you have a hard time telling whether your veins are green or blue, you probably have a neutral skin undertone.
You can rock pretty much any hair color you like!
Still not sure which skin tone you have? Check via the video below!
10+ Hair Dye Trends We Love For 2022
Just because a hair color is huge right now doesn't mean it's right for you. After you've determined your skin tone, you can select from the trends below to see which best suits you.
Image below: vivaglammagazine.com
1. Winey Reds
Wine lovers will love this one! Rich red is on bang-on-trend for this year.
Think: merlot, burgundy or even black cherry shades. Whether you're a natural redhead or a brunette looking to experiment, you'll definitely find a red to suit you.
Tip 1: Not sure you want to make the commitment to a different hair color? Perhaps just try the look first by purchasing a colored wig!
Tip 2: Try using an organic henna to achieve this look. You can get it here.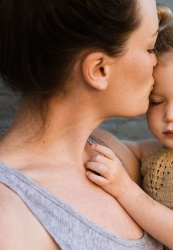 Latest posts by Diane Small
(see all)