Looking for the best long hairstyle trends this year? Read on!
By Diane Small
For many ladies, long, luscious locks are the gold standard of a good women's hairstyle. But having stunning longer hair means more than just growing it out – knowing the best styles for longer hair is key to making the most of your look. Fortunately, there are a variety of cute cuts and styles to try out which are perfect for long haired women.
Struggling to grow your hair? Don't worry – I myself am sporting taped-in hair extensions, as are many celebs. They're cheap and easy to put in, and you can save money by buying your own hair and taking it to a hairdresser instead of buying your extensions from the salon. Just saying!
Whether you need help with taking care of your precious tresses to stylish tricks, our comprehensive guide on the best long hairstyle trends this year will allow you to make the most of hair with length. 
Image below: Instagram @Gigihadid
10 Of The Best Long Hairstyle Trends For 2020
1. Slicked Back & Voluminous
Don't hide your face with a 'hair curtain'! Show off your features with smooth, shiny hair that's slicked back.
To get this look, simply run a flat iron through your locks (remember to use a heat protectant to keep hair feeling healthy), and finish with a serum to boost shine and softness.
Tease the hair on the crown a bit, spray, then slick hair back over the forehead with a strong hold gel, then spray again to keep it all in place. It's a simple, fuss-free style that's classic, yet also trendy.
Image: Kendall Jenner Instagram
2. Gently Wavy
Going for a textured finish can give you a more bohemian, carefree look. Got straight hair? No worries: this look can be achieved without heat, so is ideal for those who want to keep their hair in great condition.
To get this style, simply twist sections of hair into smalls buns overnight, then brush out with fingers in the morning. A spritz of texturizing spray will add hold and grit, to keep your hair looking stylish and stunning all day long.
Image: Instagram @lifeofmum_
3. Low Sleek Ponytail
One of the best long hairstyle trends for women is the coveted "model off-duty" look. It's a simple style: just center part your hair and comb the front sections of your hair slightly down and back, which will help them frame your face. Make a ponytail at the base of your neck. Apply a leave-in product to the crown, designed to add a hint of hold and improve the look of hair's condition.
4. Long & Wild With Extra Volume
It can be tricky to achieve lift with a longer women's hairstyle, but adding extra volume at the crown gives a cool and trendy vibe.
If you have thin hair, it can help to start with a good hair loss and anti-thinning shampoo. Use a backcombing tool to create lift as close to the crown as possible.
Sprinkle with some volumizing powder to maximize volume and potential hold. Make sure you comb over the surface of the hair to disguise the backcombing and give a sleek finish.
5. Cute Bangs
Many women believe bangs aren't suitable for longer hair, but this simply isn't the case. Bangs give a cool, modern look to longer hairstyles, and are a great way to refresh your look without too much effort.
The only thing you'll need to remember is get a good dry shampoo – bangs tend to look oily far faster than the rest of your hair, so keeping them looking fresh is essential.
You can choose between a longer fringe like that below, or 'baby bangs' – in other words, shorter ones – which are cutting-edge cool right now.
6. Beachy Long Hair
A beachy look adds a cool, effortless vibe to longer styles. Wash hair with a clarifying shampoo and a lightweight conditioner to keep things fresh and voluminous.
Allow hair to air dry, and once it's about two-thirds done, liberally spritz through with a salt spray. Take sections of your hair and twist in different directions, and scrunch for added texture. The look is supposed to be messy, so don't worry if it doesn't look perfect!
7. Balayage Ends
If you're feeling bored with your longer locks but don't want to go for the chop, dyeing your hair and changing up the color can give you a new lease of life. A great option for long hairstyles is balayage. This involves sporadic, random-looking highlights through the ends of your hair.
It adds interest, but is super low-maintenance, as there is no concern about topping up your roots. Just make sure you treat highlighted hair gently to avoid potential damage.
Image: Michlgon Instagram
8. Side Part With Glam Hollywood Waves
Channel the red carpet glamour of Hollywood's A-list sirens by pairing gorgeous, tumbling waves with a deep side part. Adding extra volume and height, this look is utterly sophisticated and alluring.
To achieve it, simply part your hair deep to the preferred side and use your curling iron to create tight curls. Once this is finished, brush out your curls until you are left with soft, cascading waves.
9. High Ponytails
The contrary of the casual, off-duty model low ponytail, this style is a bit cheekier, and a bit sexier. No wonder it's a huge hit with celebrities like Ariana Grande (frankly, it's her signature look) and all the Kardashians.
To copy this hair style, pile your hair up high to the crown, wrapping strands around the base for added volume. Not got enough hair to pull this off? No worries! You can easily add a fake clip-in ponytail (as Kylie did, actually!)
Image: Kylie Jenner Instagram
10. Neat Bottom Knot
This is one of the best long hairstyle trends for big nights out, or even job interviews.
To get the look, brush hair. Make a low ponytail. On the third wrap of the hair tie, don't pull your hair all the way through the band. Instead, leave ½-⅓ of your hair hanging out the bottom as a tail, while the remaining portion of your hair will create a loop in the upper part of the ponytail. Take the tail and wrap it around the base of the hair tie, covering the band. Use 2-3 bobby pins to secure the tail around the base. Then, part the loop down the center and pull the two sides to your scalp, and pin.
And speaking of men, if the guy in your life has long hair too, we'd suggest this look, which is quite unisex, or one of these popular hairstyles for men with long hair.
Image: lenabogucharskaya via Instagram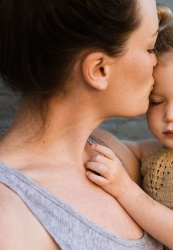 Latest posts by Diane Small
(see all)
This site uses affiliate links with brands we trust, and if you make a purchase using a link, we may receive a commission.
Did you enjoy this post? Want to show your gratitude? Please support us on Patreon!