Looking for the best long hairstyle trends this year? Read on!
By Diane Small
For many, long, luscious locks are the gold standard of a good women's hairstyle. But having stunning, longer hair means more than just growing it out – knowing the best styles for longer hair is key to making the most of your look. Fortunately, there are a variety of cute cuts and styles to try out which are perfect for long-haired women.
Struggling to grow your hair? Don't worry – I myself am sporting taped-in hair extensions, as are many celebs. They're cheap and easy to put in, and you can save money by buying your own hair and taking it to a hairdresser instead of buying your extensions from the salon. Just saying!
Whether you need help with taking care of your precious tresses to stylish tricks, our comprehensive guide on the best long hairstyle trends this year will allow you to make the most of hair with length. 
Image below: Instagram @Gigihadid Main image: @NovaArtSalon
The Best Long Hairstyle Trends For 2022
1. '90's Inspired
Growing up in the '90's, the most iconic haircut at the time was probably the Rachel.
Inspired by Jennifer Aniston's character on the hit TV show Friends, this cut is an iconic 90s look that celebrates blow dried layers. This year, it has a modern-day twist. The below-the-shoulder length with longer bouncy layers is an alternative look that it's quite the opposite of the shag.
Although often hard to master, you can achieve this style by blow drying sections of layered hair with a barrel brush, and pinning those sections with rollers before letting it all out. This helps to add both volume and movement to your locks and also frames the face in a flattering way.
Image: Instagram @biancahdrs.
2. Embracing Natural Curls 
Blessed with a curly mane? Now is your time to shine! Curls are finally getting the appreciation they deserve as more and more people rock their natural textures. This trend isn't reserved for a single length or style; instead, it's all about giving your natural waves, curls, or coils their best shape and definition. Just make sure you use a great organic product to do so!
And if your hair is poker straight? Long term? Consider a perm! Short term? Invest in a curling iron and some hair spray.
Image: Instagram @weezydidit
3. Low Maintenance Anything
Fancy braids? Loads of finger-curls? Meh. So 2000! In 2022, the main trend is all about low maintenance. Keep your hair wavy, straight or kinky – whatever your natural texture is. And if you're going for a different colour, sure, there are a few harcore trends like full on platinum, cotton candy pink and chunky colour blocks.
But mainly, know this: hair dye trends for this year are kind of natural. Think: golden highlights or subtle balayage.
Image: Instagram @danielachristianssen
4. Hair Embellishments
This year is all about decorating your hair. And everything goes! Whether it's an embellished clip, an elaborate headband or a decorative hair elastic, hair accessories are going to be huge. They're a fun way to add a pop of vibrancy to your hair, a cute way to keep hair off the face, and also a great way to accessorize your outfit. Bonus: these look fab on both thick and thin hair!
Image: Instagram @turkanhairmakeup.
5. Bouncy Blowouts
If you've been waiting for a chance to go all out with your hair, this is your year to shine. Being at home on and off for the last two years with our hair in a messy bun has been a real mood killer for many, so it's time to go full on!
This year, we're going to see a lot of bouncy hair! Yep, big, glossy, 80's inspired blowouts are one of the biggest hair trends right now. They're super-luxe, glossy and voluminous. Achieve this look with a hairdryer at home. Or better yet: book an appointment and pamper yourself!
Image: Instagram @leovalentinnohair.
6. 70's Blondes
Hairstyles aren't the only retro trend this year. Seventies hair shades are also going to be huge! Imagine honey-hued blonde hues paired with voluminous styles and new bangs. This natural, California-girl, '70s inspired hair shade is creamy with toffee tones and is a great way to move away from bleach. Not as harsh as all over platinum hair shades, this trend is natural and suits most skin tones. Always wanted to try blonde hair? Now's the time!
Image: Instagram @nikita_fisher_official.
7. Polished Locks
If you prefer your hair to look sleek and neat, this is the trend for you! Long, smooth and straight hair is going to be a huge hairstyle for the year ahead. It's as dramatic as it is stylish! And why not have some fun dabbling with it? Wear your hair poker straight with minimal volume, or slick it back and combine the wet-look hairstyle, too. The goal is for hair to be super neat.
Image: Instagram @aga_makeupartist.
8. All Over Mono Shades
Sick of maintaining your expensive highlights? This is the year you can free yourself of your regular hair appointments by stripping your hair back to its natural colour. Your hair will thank you from the respite of being dyed regularly, and you'll see your hair really thrive with the use of non-toxic hair care products. Not a fan of your natural hair colour? Choose a colour close to your root, and dye it all over one colour. It's easy to maintain at home, as you can simply dye your roots when needed.
Image: Instagram @sofiarichie.
9. All Kinds of Bangs!
Whether it's side bangs, front bangs, full bangs or wispy bangs – bangs are the trend! They're a great way to upgrade your current hairstyle to give it a little freshen up, or if you already have bangs why not swap them for a different kind? Side swept bangs are great to ease into this trend, or you can go for full-on heavy bangs.
Not sure this look is for you? Try some clip-in bangs first to see how they suit you!
Image: @stylespock on Instagram
10. Textured Layers
Textured layers is another of the top long hairstyle trends for 2022, and it doesn't look like the style is going away anytime soon. One thing that's so great about these layers is that they're very movable and can be paired with short or long, thick or thin hair.
So, really anybody can sport this style and it's one of the easiest hairstyle trends for 2022!
Image: Instagram @louisa_mazzurana.
11. Warm Ginger Tones
One of our fave long hairstyle trends for 2022 is flowing red hair. Once a hair shade that was met with a lot of harsh stereotyping, red hair is having its moment! Last year, the likes of Gigi Hadid ditched their statement hair shades in favour of warmer hair tones, and they're going to take off even more this year.
Whether they're subtle and warm or bright and unapologetic, ginger hair tones are going to be everywhere. And if you're naturally redheaded, what a great time to ditch dying your locks and embracing your gorgeous, natural hue!
Image: Instagram @larsenthompson. 
12. Using Claw Clips
In keeping with the ultra-easy, low maintenance vibe for this year, another of the best long hairstyle trends you'll be seeing is a surprising one. Claw clips! 
Yep, those things you throw on your hair when you're doing laundry are actually now très chic. And thank heavens for that! they're cheap, they're easy to use, and they're now acceptable to wear anywhere. Even to work! And plus you can style one in a way that's perfect for you, no matter what your hair texture or face shape.
Image: @claudiagraziano on Instagram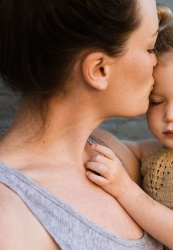 Latest posts by Diane Small
(see all)