Looking for the best long hairstyle trends this year? Read on!
By Diane Small
For many, long, luscious locks are the gold standard of a good women's hairstyle. But having stunning, longer hair means more than just growing it out – knowing the best styles for longer hair is key to making the most of your look. Fortunately, there are a variety of cute cuts and styles to try out which are perfect for long-haired women.
Struggling to grow your hair? Don't worry – I myself am sporting taped-in hair extensions, as are many celebs. They're cheap and easy to put in, and you can save money by buying your own hair and taking it to a hairdresser instead of buying your extensions from the salon. Just saying!
Whether you need help with taking care of your precious tresses to stylish tricks, our comprehensive guide on the best long hairstyle trends this year will allow you to make the most of hair with length. 
Image below:@hairby_chrissy Main image: @taunidawson
The Best Long Hairstyle Trends For 2023
1. Major Waves
This year, one of the major long hairstyle trends is for voluminous waves. Like the 90's supermodels often rocked.
Although this look can be hard to master, it's not impossible. To achieve this style at home, blow dry sections of layered hair with a barrel brush, and pinning those sections with rollers before letting it all out. This helps to add both volume and movement to your locks and also frames the face in a flattering way.
Image: Instagram @biancahdrs.
2. Embracing Natural Curls 
Blessed with a curly mane? Now is your time to shine! Curls are finally getting the appreciation they deserve as more and more people rock their natural textures. This trend isn't reserved for a single length or style; instead, it's all about giving your natural waves, curls, or coils their best shape and definition. Just make sure you use a great organic product to do so!
And if your hair is poker straight? Long term? Consider a perm! Short term? Invest in a curling iron and some hair spray.
Image: Instagram @weezydidit
3. Glazed Donut Hair
I know what you're thinking. Eluxe, glazed donut is a nail trend! It doesn't belong in your list of long hairstyle trends for 2023!
Well, yep. It's a nail trend. But now, it's a hair trend, too.
In a nutshell, glazed donut hair is an intense shine treatment that uses a clear gloss and highlights on the outer layer of the hair. It's a bit like glass hair, but with way more movement.
To get the look, your colorist should paint in a wet balayage in a zigzag formation at your natural parting and around your face to add a touch of brightness. Then, your stylist should saturate your hair with a clear gloss. Voila!
Image: @lakoetsalon
4. The Mixie
This is one of those long hairstyle trends for this year that is perfect for both thick and thin hair. It's basically the lovechild of a mullet and a pixie haircut. It normally sits two to three inches long at the base of the neck, but if you ask me, the longer, the better! The layers bring movement and texture for a grunge-style look.
Image: @LeighannePinnock
5. Uptown Blondes
Blondes are back, baby! In particular, honey-hued, uptown blondes are chic for this year. Not as harsh as all over platinum hair shades, this trend involves more subtlety. It's all about the highlights, and is ideal for those with mousy brown hair, or natural blondes who want to go lighter.
But no matter what colour your hair is, be sure to use the gentlest dyes around so you don't destroy your locks! In fact, this look is best achieved by a stylist. And it's called 'uptown blonde' for a reason: you'll need to go to the salon every 3-4 weeks for upkeep. Pricey!
Image: Instagram @nikita_fisher_official.
6. All Kinds of Bangs!
Side bangs, front bangs, full bangs, wispy bangs. Bangs are another of our long hairstyle trends that are carrying over from last year.
They're a great way to upgrade your current hairstyle to give it a little freshen up, or if you already have bangs why not swap them for a different kind? Side swept bangs are great to ease into this trend, or you can go for full-on heavy bangs.
Not sure this look is for you? Try some clip-in bangs first to see how they suit you!
Image: @stylespock on Instagram
7. The Wet Look
Fancy braids? Loads of finger-curls? Meh. So 2000! In 2022, the main trend is all about low maintenance. Keep your hair wavy, straight or kinky – whatever your natural texture is. Just make it look wet!
Yep, wet hair, also known as liquid hair, is still a trend going particularly strong. It was made all the more popular thanks to celebs like Sydney Sweeney and Zendaya rocking it.
This trend is suitable for all hair types and is perfect for styling days-old hair, helping you to go longer between washes. Wear it with hair down or slicked back into a chic ponytail. Simply apply generous amounts of non-toxic hair gel  to the top of your head. Brush it in evenly, then style as you wish.
Images: Instagram @zendaya. Getty Images for Viacom/MTV
8. Warm Red Tones
Ever wondered what you'd look like with red hair? Well, 2023 should be the year to find out! This is one of those long hairstyle trends that's carrying over from last year. It's still all about red hair, and every shade goes! Whether it's fiery red, burgundy, auburn or copper, there's a hue for all skin types.
Not sure what shade will suit you best? Pale skin is looks awesome with copper hair. Medium skin suits dark copper as the gold blend balances out the skin tone. Darker skin tones suit a rich burgundy shade.
Image: Instagram @sarabotsfordhair.
9. Gothic Hair
Hollywood has gotten seriously Gothic lately. From the likes of Kourtney Kardashian-Baker to Megan Fox, Gothic-chic is now a 'thing' many celebs are adopting.
Plus, unless you've been living under a rock, the world has been obsessed with Wednesday Addams since the new Netflix series launched. And no wonder! Wednesday  is serving up some killer looks for 2023. Think: jet black hair, trailing braids, and full fringes.
Image: Instagram @meganfox.
10. Side Partings
The middle parting has been pretty strong for the last few years, thanks to the Kardashians. But finally, side partings are back in full swing this year!
Sure, for some of us it has nostalgic throwbacks to some teenage hairstyles (some good, some bad). But like most long hairstyle trends which come back around, it has been given a modern update.
For example? Now side parts have a smarter finish. Whether you've got straight sleek locks or big curls, any hair can adopt this trend and it suits most face shapes. For a rounder face, it adds length to the face, softening the cheekbones. It's also very complimentary to those with a diamond face shape.
Image: Instagram @hob_salons.
11. Barbie Blonde
Blonde hair has been various shades in the last few years, sure. But 2023 is the year we all pray for the health of our hair because we're going back to Barbie blondes!
Hugely inspired by the much-hyped Barbie movie, many celebs such as Gigi Hadid have been sporting doll-like blonde locks lately.
Blonde hair, especially lighter shades, can be harder to maintain. So just remember to look after your locks by applying regular deep conditioning treatments.
Image: Instagram @gigihadid.
12. Wolf Cuts
If there was one look that sums up the best long hairstyle trends for 2023,  it's got to be the wolf cut! This is the shaggier, more whimsical cousin of the mullet.
It features a fluffy crown with tapered wispy strands, and has been made popular by the likes of Billie Eilish and Miley Cyrus.
But the real inspiration for this style? I'd say it was David Bowie's '70s alter ego, Ziggy Stardust.
Image: Instagram @mileycyrus.
13. Spiky Buns
Forget the long hairstyle trends of old, like the messy or perfectly styled bun! This year, it's all about the spiky bun.
To achieve the look, the hair is usually parted either sharply down the middle or slicked back entirely and then secured into a neat pony.
The longer hair is twisted together and looped around, with the ends pinned or tucked through the front. The ends are left to fan around the bin in 'spikes.' Punky!
Image: Instagram @allthingshairmex.
14. Butterfly Haircuts
Not sure what you want to do with your locks? You can upgrade your hair without doing anything too drastic with a butterfly haircut. This heavily feathered 'do is another of the hottest long hairstyle trends for 2023. It features wispy, cascading layers to give your strands movement that rivals a butterfly fluttering its wings.
Hair should be short and wispy around the face, and longer and layered towards the ends.
Image credit here.
15. Octopus Cuts
The octopus haircut is definitely one of the hottest long hairstyle trends for this year! It's the perfect way to grow out last year's shags and mullets. Layers are cut into various lengths, creating a silhouette of an octopus' tentacles.
And if you're wondering how this is different from a wolf cut, here's the answer. The wolf has more all-over volume while the octopus is focused at the crown of your head. It also has a distinct disconnect from the top section to the bottom, which is what gives it the octopus-like silhouette.
Ask your stylist for shaping around the face, lots of layers, texture and wispy ends, but no blunt lines.
Image: @dekappervannu_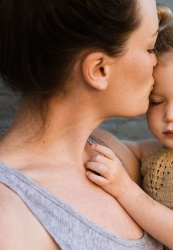 Latest posts by Diane Small
(see all)