It's never too early to update your look! From bobs to buzz cuts, here are some of the best short hairstyles to try in 2023
By Diane Small
It seems many women equate long hair with femininity, and no wonder: from childhood, we're shown cartoon heroines ranging from Rapunzel to Ariel that sport long, luscious locks.
But guess what? Perhaps for practical reasons, or perhaps because we all just need a change, the hottest hair trend is short hairstyles for this year – and it's a trend we think that's going to last.
There are more than a few reasons to get your hair chopped.
First up, there are dozens of ways to style short hair to achieve a flattering look. Whether you want to keep it cool and messy, casual and exciting or smart and formal, there are plenty of options to make you look gorgeous.
Other benefits of short hair include the fact that your hair dries faster after showers, plus you eliminate the tangling problem.
Nonetheless, you should be warned that to get a great hair look, some serious styling products (all natural, of course, like these), and some tools like a good hair dryer may be needed to create an eye-catching look. 
Here are some short hairstyles that we are sure will be hot in the coming year. At least one is bound to suit you! (Still not convinced you'd look great with a chop? Try an invisible lace wig to see!)
Image below: @zoeisabellakravitz
The Best Short Hairstyles For 2023
1. The Short Octopus
The first trend on our radar is not nearly as fishy as it sounds! It's basically a grunge meets glamour classic shag haircut. Usually with wispy bangs and layers at the top of the head with choppy length at the bottom, kind of like the legs of an octopus! This cut will give hair lots of layers and volume and is effortless to style. Looks great on long and short hair alike!
Instagram: @mileycyrus.
2. Short 'n' Shaggy 
Shaggy hairstyles have been a rising trend for a few years now, and this year they're just as popular! The style is achieved by pulling the hair forward with lots of layers that contract to give the 'shaggy' appearance. The rocker-esque style is super popular. It's one of the hottest short hairstyles for 2023 for sure!
I'd say this style is perfect if you've been wanting to chop your locks but aren't quite brave enough to try a pixie cut just yet.
Instagram: @yukistylist. 
3. The Box Bob
Another bob hairstyle to let you know one thing: short hairstyles for 2023 are all about the BOBS! And one-length bobs are a spreading trend this year. From the runway to influencers, many are sporting this hairstyle. With blunt, sharp needs and one length, this will create fullness and volume in your hair. 
Instagram: @enrica_acconciature_pisogne.
4. The Soft Bob
As I mentioned, short hairstyles for 2023 are all about the bobs, and here's another variation.  The soft bob is a looser, more casual take on the classic bob. This bob is all about texture and movement, without poker straight locks and the blunt ends we're used to seeing. This look gives some natural waves and is perfect for adding volume if you have fine hair. Plus, it's way easy to style. In fact, the more unkempt it looks, the better, if you ask me!
Instagram: @yukistylist.
5. The Chanel Haircut
If you're a fan of fashion, you'll be aware of how iconic Coco Chanel's bob is. Well, the blunt bob is coming with us into 2023. Often paired with a deep side part of some bangs, this style has all the Parisian feels to it! The style oozes sleek sexiness and is full of movement, unlike traditional bobs which can be pretty dull.
Instagram: @shabryna_c. 
6. Short 'n' Curly
This is one of the chicest short hairstyles for this year! It's basically just a pixie cut, but it's got tons of volume thanks to those gorgeous waves.
They're easy to achieve, too, even if your hair is poker straight. All you need to do is apply a good styling product, like a mousse or gel, while your hair is wet. Then, grab a blow dryer and scrunch your hair up in your hands as you dry. Voila!
Instagram: @josephinealarie__.
7. The Wolf Cut
If the shag and mullet were to proclaim their love for one another, their love child would be the wolf cut! This is another TikTik sensation, with many hacking their locks at home (please, don't) and trying to create this style. It's very voluminous at the top of the head, with loose movement and texture at the sides and bottom. 
Instagram: @lauraribeiro.x.
8. Curtain Bangs
These were popular last year, and they're not going anywhere in 2023. And I'm not surprised! Curtain bangs frame the face in such a gorgeous way, they pretty much suit all, and are perfect with different hair lengths and textures. Not to mention, they're also pretty versatile. Bored with your hair but not committed to a fresh style? Get some curtain bangs in and thank me later! 
Instagram: @yukistylist.
9. The Wet Look
Slicked back hairstyles have been a trend for some time now. But even if you're lacking length, you can still adopt the style to bring a little Hollywood glamour to your everyday look.
Whether it's a bob, pixie cut or even a shag, you can mimic model Kaia Gerber's style by pushing it back off your face. The sculpted tresses are super low maintenance, but they look effortlessly chic. 
This works really well for those with thin hair, too!
Instagram: @kaiagerber.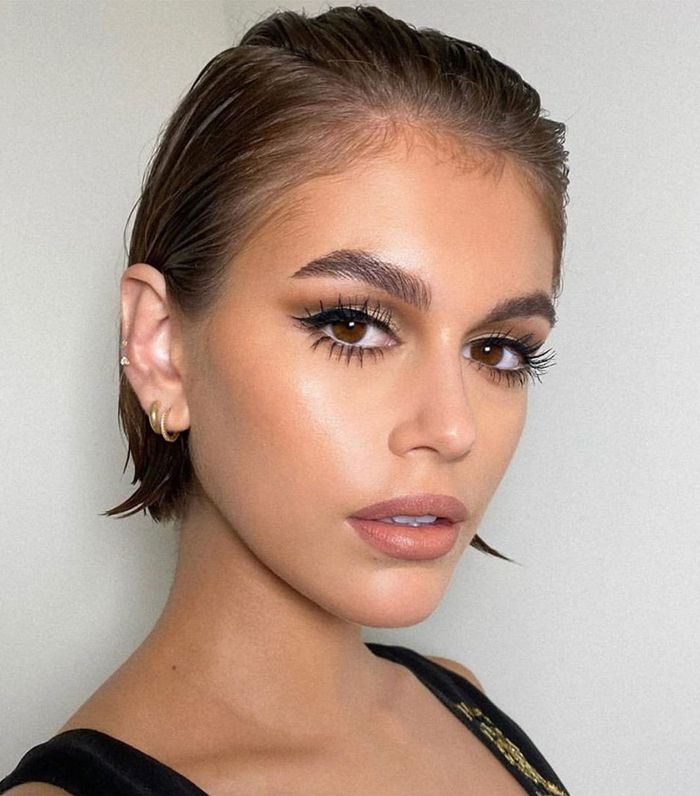 10. Buzz Cuts
Sure, it's a dramatic style that not many are brave enough to attempt, but it's now trendy to give yourself a buzz cut! And if it's good enough for Hollywood, we're on board, too!
Actress Tiffany Haddish's buzzcut made her look super fierce, opening up her face and highlighting her bone structure. Not fully committed? Why not leave it longer on top and shave the sides at first?
Image: Getty Images
11. Mid-Length Curls
Whether or not your hair is naturally curly, there are more than a few ways to give yourself some volume. All you'll need is a pair of quality hair tongs or a curling iron, some natural styling products for curly hair, a few sectioning clips, comb, and some natural hairspray. 
Use your curling tong to curl the bottom half of your hair and clip it up in several sections. After your hair has cooled, unclip all the sections and curl the crown hair at the ends. Once this is done, give it a spritz of hairspray, shake it out, and you're good to go.
This might take you more than just a few minutes, but given the look you get if you do it right, it is worth every second. 
Image credit here.
12. Bowl Cuts
Maybe it was inspired by Stranger Things (yep, I'm thinking Will, here). But for some reason, the bowl cut is making a huge comeback!
Made popular in the 70s, it was considered geeky for decades after. But no more! The bowl cut is sleek, elegant, and looks great with thin or thick hair. Obviously, don't trim your own hair around a bowl! This cut needs a good hairdresser to look polished.
Image credit here.
13. The French Bob
Tired of having short hair, but can't do much else to it? Forget growing it out and try a French bob! The cheekbone-skimming hairstyle is the perfect style to refresh shorter hair while leaving you looking effortlessly glam.
The corners are cut off to create the cutest flick on your cheekbones, with a shorter fringe. The style is effortless and a great way to naturally enhance the texture and movement of your locks. 
Image credit here. 
14. Bangs & Buzz
Got thin hair? Or thinning hair? High hairline? This is one of the best short hairstyles to try in 2023!
No matter how wispy your strands may be, this style will look fab. Bleaching it blonde will make it even more relevant for this year. The fringe is long, and the back isn't actually buzzed, it's just shorter.
Ask your hairdresser to use his or her shears to feather the entire look, all the way around.
Image credit: hairstyleslife.com
15. Short & Wavy
This is one of the most chic short hairstyles for this year! It's basically just a pixie cut, but it's got tons of volume thanks to those gorgeous waves.
They're easy to achieve, too, even if your hair is poker straight. All you need to do is apply a good styling product, like a mousse or gel, while your hair is wet. Then, grab a blow dryer and scrunch your hair up in your hands as you dry. Voila!
Image credit: hairstyleslife.com
Main image credit: hji.co.uk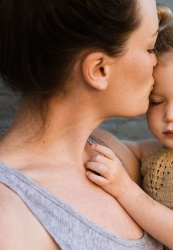 Latest posts by Diane Small
(see all)