By Diane Small
It seems many women equate long hair with femininity, and no wonder: from childhood, we're shown cartoon heroines ranging from Rapunzel to Ariel that sport long, luscious locks. But guess what? Perhaps for practical reasons, or perhaps because we all just need a change, the hottest hair trend is short hairstyles for 2019 – and it's a trend we think that's going to last.
There are more than a few reasons to get your hair chopped. First up, there are dozens of ways to style short hair to achieve a flattering look. Whether you want to keep it cool and messy, casual and exciting or smart and formal, there are plenty of options to make you look gorgeous.
Other benefits of short hair include the fact that your hair dries faster after showers, plus you eliminate the tangling problem. Nonetheless, you should be warned that to get a great look, some serious styling products (all natural, of course, like these), and some tools like a good hair straightener may be needed to create an eye-catching look. 
Here are 7 short hairstyles for the New Year that we love – at least one is bound to suit you!
1. Scarf Wrapping
This is an 60's revival that's making a huge comeback. It involves folding a scarf like this lengthwise to make a 3cm band. With the middle at the nape of the head, go round the perimeter of your hairline and either tie or make a bow at the front.
This hairstyle is especially more convenient if you have little time to style your hair. There are no rules here – you can pick a patterned or solid coloured scarf, just make sure you get the colours and texture right for your skin tone. 
2. Messy Chin-Length Bob 
A messy bob will never go out of style. It's a universal look that seems to work well with all hair types and they are versatile and easily manageable. There are dozens of messy bobbed hairstyles you can rock, but a chin-length bleached bob with a funky highlights seems to be a style to watch out for in 2019. The chopped and textured layers will definitely draw attention to your face, emphasizing your best features. 
Image: ladyontop.ru
3. Fishtail Braid Bangs
Braided hairstyles are versatile as you can create an endless array of patterns, looks, and finishes. For shorter hair, you can pull off an edgier look by side-plaiting your short hair to create fishtail braid bangs, which can be ideal for you if you're looking for a less traditional 'do. The fishtail is tucked underneath the rest of the hair to give it a clean, cool and hip look for women of all ages – just watch this tutorial to see how to do it. 
Image: www.Beauty.About.com
4. Pixie Cut Hairstyles
Katy Perry, Ruby Rose, and Ginnifer Goodwin are just a few celebs who have been spotted rocking sexy iconic pixies. While there are so many ways to wear this kind of hairstyle, including the slicked-down pixie, pushed-up pixie, and the cool pixie, my favourite is the latter. To achieve that look, start by detangling your hair using a comb after washing it and apply a mixture of mousse and gloss crème to your hair while it's a bit damp. After this, comb your hair entirely and blow dry it while brushing your hair upwards. Next, style it so that bangs stick up mainly, but also fall down a bit on the face. Splash on some hairspray to keep it all in place.
Image credit here.
5. Short Curls
Whether or not your hair is naturally curly, there are more than a few ways to give yourself some waves – all you'll need is a pair of quality hair tongs or a curling iron, some natural styling products for curly hair, a few sectioning clips, comb, and some natural hairspray.  Use your curling tong to curl the bottom half of your hair and clip it up in several sections. After your hair has cooled, unclip all the sections and curl the crown hair at the ends. Once this is done, give it a spritz of hairspray, shake it out, and you're good to go. This might take you more than just a few minutes, but given the look you get if you do it right, it is worth every second. 
Image credit here.
6. Short Wavy Hair with Bangs
This is another super-dazzling hairstyle for short hair. It's trendy, modern, young, and unique, and can totally transform your face, as the picture below clearly illustrates. You'll need a hairdresser to cut the bangs in properly for you, but then to get the body in your bob, just follow this tutorial.
Image credit here.
7. The Twist and Pin
There are so many ways to rock a twist and pin hairstyle for your short hair. It involves twisting your hair into slightly unkempt rows and pinning them in place for a glamorous look. This one is particularly ideal for conveying a boho chic vibe. 
The main trick is to create hair sections that are tight enough to hold your hair in place without affecting its integrity or injuring your scalp. Additionally, you have to take care not to overload your hair with pins. You'll need a couple of quality hairpins, an elastic band, and a hair comb. Start by detangling your hair using the comb and section it up, tying it into a decent low ponytail. Next, take a section of hair from your ponytail and twist it up, pinning it into place at an angle to create a tiny mini-bun. Keep going with the sections until you get the look you want.
Image: hairromance.com
Main image: hji.co.uk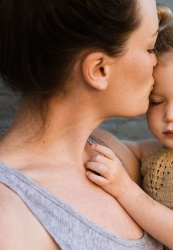 Latest posts by Diane Small
(see all)
This site uses affiliate links with brands we trust, and if you make a purchase using a link, we may receive a commission.
Did you enjoy this post? Want to show your gratitude? Please support us on Patreon!