Want to have a good hair day, every day? Try these organic hair styling products!
By Diane Small
No matter what kind of hair we have, we all do our best to make it look good. We apply extensions, use expensive shampoos and conditioners, and buy all kinds of hair styling products. But did you know these can be chock-a-block with nasty chemicals?
It's vital to only use natural styling products, for a lot of reasons. Here are a few of them.
Why you need natural hair styling products
Anyone who's entered a busy hair salon knows how hairspray can cause a cough – and no wonder! Common chemicals found in hairspray are:
aerosol propellants
alcohol (very drying!)
polyvinylpyrrolidone plastic (which is a carcinogen)
formaldehyde
artificial fragrance (they can put literally whatever they like in this and not tell you. Legally, 'fragrance' is considered a 'trade secret'. So unless the ingredients for a perfume are listed in a product, assume they're bad).
These ingredients can cause a variety of serious health issues, including:
low blood pressure
breathing difficulty
irritation of the skin, eyes and lungs
and even a coma.
Over extended use, these chemicals also increase the risk of developing the lung disease thesaurosis, as well as cancer.
Hair gel isn't much better. While it's not as volatile due to the fact that it's not sprayed, it normally contains:
parabens
propylene
formaldehyde
phthalates
and other nasty chemicals. These are absorbed by your hands and scalp, and can hurt your health over the long run, as most of what's listed above is carcinogenic. And let's not forget they can damage your hair, too!
So thank goodness there are several new chemical free hair styling products to choose from, no matter what your hair care needs may be. And if you're going chemical free, why not go full on organic?
Yes, organic ingredients DO matter!
We've covered natural shampoos before. And while that is clearly a popular and growing market, it seems the development of organic and natural styling products was slightly slower. Whether we're talking shampoo or styling ranges, organic ingredients do make a difference.
The main reason? Even if a brand touts itself as 'natural', if it's not organic, you might be getting a lot of second hand toxins. That could be thanks to the pesticides sprayed on the 'natural' ingredients in the bottle. Sneaky, right? Of course, organic ingredients will be free of all those.
But even with 'organic' on the label, you need to take care. In some countries, there might be 100 nasty chemicals in a product. But if there's, say, some organic lemon extract, the product might be allowed to use the word 'organic' on the label. Yipes!
But never fear. Here, we've found what we think are some of the best organic hair styling products on the market, chosen for the efficacy, naturalness and delicious scents.  
10 Of The Best Organic Hair Styling Products
This sample-sized box contains all the organic hair styling products you need!
There's the Modify Pomade to add shine for those who rock slicked back hair. The Claymation product is a super high hold hair clay that keeps your hair in place all day. Gravity Paste includes properties that only activate after it is rubbed between the hands and applied to hair. The result? A high hold, finishing with a low gloss shine.
Finally, there's Sponge Wax. This provides limitless styling creativity as well as long-lasting hold. A favourite amongst those with thick and unmanageable hair types, this wax gives a pliable hold and leaves a great matte finish.
No matter which product you need, they all contain natural ingredients, including Certified Organic Extracts. That means that your hair is held in your favourite style, while getting all the nourishment it needs.
Price: Around $9
Vegan? No (there's beeswax in one product). But if you're looking for strictly vegan hair styling products, we have an article on those, too!
Best for: Those with thicker hair.
Still having problems defining your curls? Consider it solved with Blueberry Bliss Curl Control Jelly by Curls!
This new go to styler helps your curls stay in place thanks to a variety of natural elements in its formula. For example? There's certified organic blueberry extract, aloe vera, mango oil, and raw castor oil. These infuse your hair with vitamin C and B, while the jelly-like texture of the product promises to define, defrizz and hold your curls in place.
Price: $18
Vegan? Yes
Best for: Curly hair. This is also a great option for women of colour, whose hair products are often highly toxic.
Having a hard time keeping your hair in order? This delicate gel will help you keep it in place without damaging your mane. 
No matter what kind of style you're after, or what kind of hair you have, this gel is a must-have. It helps with definition and providing shine, through the benefits that come from organic nettle and eucalyptus. The rooibos tea is fundamental for that antioxidant rejuvenating effect.
Price: $40
Vegan? Yes
Best for: All hair types and styles.
Keep away from harmful perms to keep your curls in place! What you need instead is the gentle efficacy of Curlsmith's Hold Me Softly Balm. This product keeps frizz at bay, whilst creating bouncy and voluminous curls.
Want to know its secret ingredient? It's organic Rose of Jericho. This comes from a desert environment, and has extraordinary moisture-retention properties. Perfect for long, dry hair!
Price: $40
Vegan? Yes
Best for: Curly or wavy hair
Want to maintain a sun-kissed nuance and beachy, wavy hair all year round? The Golden Waves Sea Salt Shimmer Spray is perfect!
It's guaranteed to bring that mermaid-like feeling all year, even on the darkest winter days. That's thanks to the summery gold shimmer and 'salty' texture this spray provides. Organic sea algae and aloe vera will moisturise your scalp, while natural gold mica provides a fantastical glow.
Price: $20
Vegan? Yes
Best for: Adding some texture and sparkle for special occasions.
If you're looking for something that brings more volume and hold to your mane, try Josh Rosebrook's Lift Spray. It's one of those must-have organic hair styling products for keeping any hairdo in place, too!
Rosemary, horsetail, and sage bring nourishment to this medium-hold hair spray. Your scalp and hair will be grateful, as follicles are stimulated and energised from the herbs. Besides these benefits, this versatile product can also be use as a simple texturiser.
PS: Did you know using a natural hair spray is super important? Here's why.
Price: Around $30
Vegan? Yes
Best for: Keeping thinner hair in place.
One of our fave organic hair styling products will make you discover the joys of playing hairstylist! Yarok's Feed Your Do Styling Whip kind of makes you feel like a hair sculptor, who's moulding her most stylish creation!
Organic lemon peel and peppermint provide a huge amount of stimulating benefits to your scalp and hair, while the overall result of the product will be spectacularly texturised tresses. Perfect for doing both sleek and grungy hair styles!
Price: $35
Vegan? Yes
Best for: All hair types and styles.
After you've washed your hair, if you apply this product, your curls and waves will be under way more control. And you definitely won't have frizzy hair, either!
Organic baobab and coconut oil hydrate your hair and leave it ever so soft, avoiding that horrific stickiness typical of most gels. Besides the lightweight style you'll sport, the citrusy aroma will give you a sense of freshness that will keep you invigorated all day long.
Price: Around $40
Vegan? Yes
Best for: Curly and wavy hair.
Are you ready for the finishing touch for your elaborate hair design? Use Evolvh's SuperFinish Polishing Balm to make it perfect.
This is one of those organic hair styling products that hairdressers love, and with good reason. It holds back frizz, instills a marvellous shine and nurtures the hair without leaving it greasy. You basically have the chance to use at home what you would usually find in a hair salon!
Price: $32
Vegan? No. Contains silk extracts.
Best for: All hair types and styles.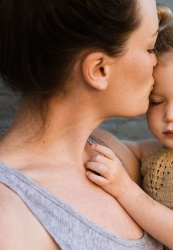 Latest posts by Diane Small
(see all)