Wondering how to get a grunge hairstyle? Just read on…
By Joana Taeixeira
As everyone knows, fashion goes in cycles. What was glorious twenty years ago now seems new  again. With hair it's no different – it can also go in and out of fashion. Decades-old hairstyles make a comeback every now and then and a current hot hair trend is a classic from the  90s: grunge hair.
This can be defined as a messy, untamed (and possibly unwashed) mane with lots of volume and a rebellious personality.  This straight-out-of-bed hair look is a favourite amongst urbanites and fashionistas both – and it works beautifully to form sloppy  ponytails and messy braid hairstyles. Embrace the undefined waves, split ends and the not-so-fresh look, and say goodbye to bad hair days – messy chic is trending now!
If you love the unkempt 90's grunge hairstyle, read on to see how to get it for yourself.
How To Do The Grunge Hair Style Revival – Naturally
Inspiration  
The grunge look emerged in the mid-80s in Seattle, Washington via grunge bands – a post-punk subgenre of alternative rock. Anti-capitalist musicians wore thrift store clothing, took loads of drugs and ignored mainstream culture, thus inadvertently creating a whole new look which went against the mainstream image of the time.
Grunge style worked as an anti-consumerist movement – the less groomed you looked, the cooler you were. By not polishing their look, grunges-ters were  rebelling against the flashy, bling  style of the 'greed is good' decade, the 80s.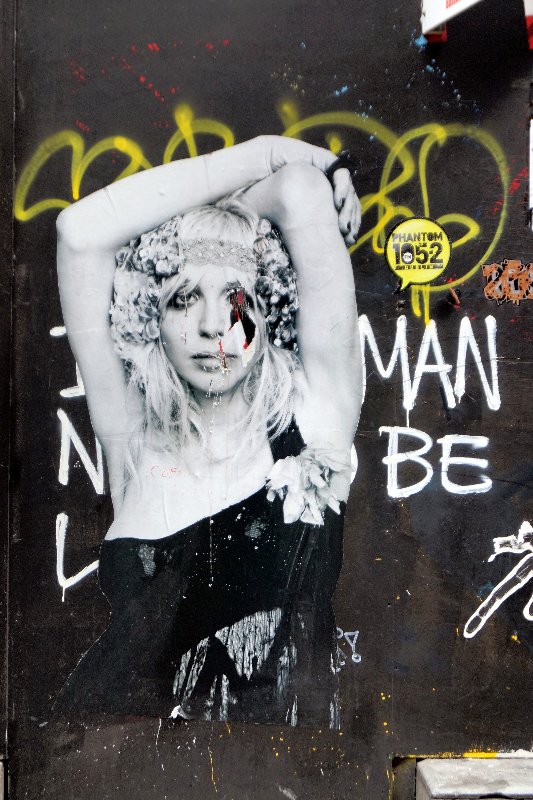 Get the Look: The Basics
You might think not shampooing or leaving your hair all greasy are the essentials for a grunge hairstyle – maybe that was true 'back in the day', but you can also try using thickness and volume enhancement formulas now to give a bit more texture.
You can also use a blow-dryer diffuser on your hair, while upside down, when it's 90% dry, after applying a good heat protector spray. Plus, you can always try the good old trick of teasing your hair at the root for extra volume: gather a few strands at the crown of your head and backcomb the hair down the roots. And last but not least, if your hair is giving a good fight over volume, just cut it into layers and dye a few strands for a texturised effect.
Try using: Yarok Feed Your Roots Mousse. This is all natural, cruelty and scent-free, and gives amazing volume!
Get the Look: Messy Waves
Grunge  hairstyles are all about messy waves. In order to give the perfect grungy texture to your hair, apply sea salt spray to your hair right after you wash it and let it air dry. Then, apply a heat protector spray and get your flat iron ready: section by section, bend the hair all the way around in one loop, pull the hair down and before you get to the end let it go. Afterwards, just curl the hair strand with your fingers to give it a bit more movement.
Follow these steps throughout your whole head of hair and don't worry about getting a structured look, just work differently on each section so the overall effect is a bit tousled. Finish by spraying a bit more sea salt all over and giving your hair a good scrunch.
Try using: Octavio La Playa Sea Salt Spray with Algae. Not only gives the perfect messy waves, but is good for your hair, and the environment. A great all-natural heat protector spray is by Antonin B  – just apply on damp hair before styling.
Get the Look:  Crazy Colours
Forget chestnuts and subtle auburn highlights: totally 'unnatural' and pastel shades define grunge hair. If you're fair haired, go for an overall look; otherwise, highlights will do the trick. Whilst most of these are highly chemical and horrendous on the environment (see why here), there are a few products you can use to achieve the look that won't kill your hair, your health, and marine life.
Try using: Rootflage  (purple haired pic, below) gives blondes some temporary highlights so you can check out whether you like that look or not.
If you've got blonde, white or grey hair and want to add a bit of subtle pastel colour to your grunge hairstyle, the best way to go is with Infuse My Colour Shampoo. This  100% vegan colour wash contains zero silicones, sulphates or parabens and washes in like a shampoo. Each colour gives the hair different possibilities: for example, Ruby maintains the brightness of red hair and can be used on bleached blonde hair to create striking pinks; the Copper maintains brightness of deep strawberry blonde, copper, auburn and warm brown hair. It also gives bleached hair a peachy effect. There are loads of different shades, and if you have bleached hair, you can really have some fun.
If you do and want to go permanent, try NATULIQUE Douce Hair Colours. They've got a wide range of shades, from lavender to lemon, and unlike most other hair dyes, NATULIQUE  contains very low levels of PPDs  – in fact, the lowest amount on the market, with an average 0.005%.
Get the look: Half bun
Use a wide barrel curling tong to softly curl a few sections of your hair, to give it a bit of texture, then apply dry shampoo or sea salt spray to your hair to get more fullness. Afterwards, take the top half of your hair and tie it all pulled back in a ponytail. Then wrap the ponytail around in a bun and secure it with bobby pins. Remember that this shouldn't look too tight nor structured, but more loose and messy.
Try using: Acure dry shampoo is pretty much a staple for any grunge hairstyle. What I love about Acure is that it's Vegan friendly, and free sulfates, parabens, phthalates, petroleum products and other nasties, and is 100% biodegradable and easy to use, too – just click here to see how.
Get the look: Wrapped pigtails
To get a grungy  braids, just tease your hair at the roots for more volume and, if you don't have bangs, part it in the middle. Tie your hair in two low pigtails, then roll each pigtail in a messy bun and fix it in place with some bobby pins – you can go for low pigtail buns or side buns. You can also leave one strand of hair loose on each side for extra grunginess.
Get the look: Vintage looking headgear
If you really want to see how this is done, just Google the queens of vintage headgear: Courtney Love + Amanda DeCadenet. Back in the 90s, these two rocked tiaras like no others. Sure, you can try doing the same on a night out, but a more viable everyday option is a vintage turban or wide headband.  A great way to end a bad hair day – in fact, the messier your hair is under these, the better!
Try using:  If you can't find a real vintage turban, these cool vintage style headband/turbans from ASOS  (below) are pretty cool.
When it comes to getting a grunge hairstyle, go from effortless waves to deep side parted hair, from faded dyed strands to grey hair, from messy curls to voluminous afros – whatever suits your hair type. It's all about that untamed, uncombed hair look.
Give a rest to the sleek, super shiny and groomed locks – let your hair riot for a season, get rebellious!
All images:  Pixabay.com unless specified. For more info, visit:  http://therighthairstyles.com/  
Latest posts by Chere Di Boscio
(see all)