Wondering how to do 21st century grunge fashion, sustainably? Read on….
Yes, we all love grunge fashion. In fact, more than in the style itself, I'd say we're enamored with the idea of grunge; the idea that it represents a form of rebellion against mainstream ideologies, that it was fueled by a deep seated need to counter strike capitalist-led materialistic values, and that it, like many subcultures before it, attempted to define itself as the struggle of individuality over the status quo, in a philosophy that translated into an authentic music scene and a real lifestyle.  How to do grunge sustainably back then was never a question; it was sustainable by nature.
A Brief History of Grunge
Grunge style, in fact, belongs to 90's; it was created by Generation X. But its emergence is inextricably linked with the previous times that spawned it. If we think of the 80's, we think of massive shoulder pads, bright block colours and in general, an OD of 'flash the cash' and 'greed is good'. So grunge's extreme anti-capitalist, anti-consumerist stance starts to make a little more sense – youth everywhere had had enough with the 80's obsession with money.
Grungers found a disregard for labels and overt displays of logos and wealth, marking a look that can only be described as 'non-fashion'. Thrift shop and army surplus outlet finds like t-shirts with outdated logos and old floral print dresses were thrown together in an edgy, unkempt way. Hair was messy and dirty and came in weird colours that were maybe covered up with an ironic trucker cap or a knit toque.
The cold temperatures of cities linked with the origins of the movement, such as lumberjacking Seattle and Aberdeen, meant that layers, woolen button downs and borrowed lumberjack attire were practical and unfussy enough to fit the bill. Faded, ripped jeans, often cut into shorts worn over black tights with Doc Martens boots, flannels and your mom's old sweater were a favourite too – anything you could get your hands on that followed a more empathetic ethos.
A Quick Demise
Of course, within a few years, designers such as Givenchy, Anna Sui, Karl Lagerfeld, and especially Marc Jacobs smelled money and drew multiple references from the grunge get-up glossary for their collections to try to convince their audiences that somehow, there's something rebellious about spending $500 on a polyester shirt made for 5 cents in Cambodia. Once designers got on board, grunge, like punk before it, was dead. Kind of. 
Today, grunge has another up yours left up its sleeve – while it has virtually disappeared from everywhere else, it has yet again risen in refreshingly unique European intellectual vagabond circles and in the alternative, anti fast fashion Londonese and Parisian scenes.
Dressing yourself by yourself and not 'because Vogue' is increasingly entering discussions among those that feel that old grunge principles still resonate strongly with them, be they old grunge babies or modern day misfits that don't relate to the current mode. The more attractive street looks have taken on a grittier, realer factor, away from idealized perfection. Sure; it's idealized grittiness – but not if you do it right. Throw on an essentially you ensemble, and don't lose sleep over it. It's time to get real.
If you love reveling in iconic grunge styles of the past, here are 10 ways you can bring the spirit of grunge back into the 21st Century.
Nothing beats DIY…
CLEARLY.  What better way to be true to an anti fast fashion movement than to live it? Pile on layers: tee, plaid shirt, jeans, boots, toque, jacket. Where to find said layers? The best place would be a vintage shop. But if you can't bear to face an outdoor market this winter there are loads of online thrift and vintage stores – here's a selection of my favourites:
If you've got a thing against hunting for vintage, ok, fine. I don't really get that, but we're all God's unique little snowflakes, right? There are other ways to get a sustainable grunge look, don't worry. Just look below.
How To Do Grunge Fashion Sustainably
1. Those Used to Be Jeans
Yes they used to be, but now they're ripped AF, traumatized from years of foggy nights out, there are random patches where you practiced your sewing techniques at 30% effort, and on top of that, you lost the tag with the washing instructions and they've taken on a weird colour. Perfect grunge fashion, my friend! Too ripped to wear without looking like a Kardashian? Chop those babies into shorts, and wear over black tights. Just do it.
Looking for new, but sustainable jeans with a 90s flare? Try these brands below.
Try: Joe's Jeans, or Madewell jeans, below.
2. Obscure Graphic Tees
Ever heard of grunge typography? As the use of computers skyrocketed, the digital image was gaining aesthetic favor. Grunge brands loved using intentionally obscure references on album covers in unconventional, murky, collage-y, I guess essentially DIY-like expressive visuals. Find that on an old T-shirt you've got lying around and you're golden. Alternatively, artisan tees, Etsy and your dad's old stuff can provide a world of choice.
Try: the ASOS marketplace for great vintage tees, or Cossac, which makes awesome organic tees with kick-ass  and kinda rude slogans.
3. Lumberjacking Flannels
Welcome to the hearty outdoors! You've probably already done athleisure, because hey, spandex is comfortable, but have you ever tried a flannel shirt? Born more out of a utilitarian need rather than a conscious style choice, grunge fashion was characterized by a lot of plaid, heavy buttoned shirts and other outdoor targeted clothing in layers, the best defence against cold, bipolar weather.
Try: People Tree and Patagonia have a great selection of organic cotton and/or vintage casual shirts and flannels
4. Combat or Biker Boots
Dr.Martens: the emblem of grunge ideology. To be perfectly honest, fashion totally ruined these for me. I don't have the same cultural significance attached to them than a member of, let's say, Generation X, and there was a period where they were EVERYWHERE. Thankfully, the more general combat boots have grown diverse enough and timeless enough to be considered the ultimate of staples. I recommend a good quality pair – Everlane has a great environmentally friendly variety – those things last forever, and the more worn the better.
Goes. With. Everything.
Try: Original Doc Martens, of course (they can be vegan!) or these great Saka boots by NAE (also vegan) or their velvet eyelet boots, below.
5. Baby Doll & Slip Dresses
A total staple. It's a huge trend right now, but don't for one minute think this is something new – this is a grunge revival. Don't believe me? Just Google 'Courtney Love Amanda DeCadenet slip dress' and you'll see how it was – and still should be – done.
Try: Reformation. Their slip dresses, made from deadstock fabric, are just killing it, and basically define grunge fashion.
6. Oversized and Retro Knits
'Slouchy' is the natural effect of donning oversized anything, and this sits very well with grunge. Oversized knits are just the winter version, and all the better if they're eco-friendly.  
Try: Svilu, below, have a great range of sustainable knits in retro style.
Eco-online retailer Amour Vert is a good place to browse, too.
7. Leather Biker Jackets
These should be a bit oversized and worn open over layers and layers of clothes to stay warm. Feel free to use White Out or Liquid Paper to scribble messages on the back, and of course, add buttons, patches and badges for a nod to punk. Oh, and don't worry – no cows died for the Sway's leather jackets; they're all made from reclaimed leather that would have been thrown out.
Try: The Sway at Reve en Vert.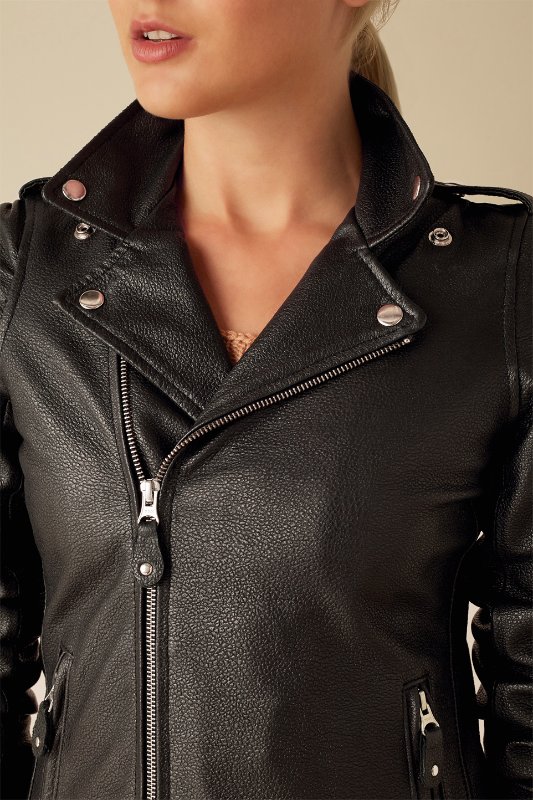 8. Ironic Trucker Hats
Some used trucker hats with 'ironic' intention, others used them to advertise their musical taste or promote bands, whilst even others used them to cover up grimy hair. Trucker hats suited all these purposes and more.
Try: Zazzle has a great selection of caps, all vintage, all cool.
Chantal is the girl  behind Underneath My Silk, a thought catalogue on fashion, culture and style.
Follow her on Instagram here.