These super sexy ethical lingerie brands are kind to the planet – but DO cause a kind of global 'warming'! Heh heh..
By Paige French
"You know what's sexy?' asked one of our celeb faves, Sean Penn. "Giving a sh*t." It stands to reason then that by wearing sexy ethical lingerie brands, you've just made yourself ten times hotter. To Sean Penn, at least!
But what does wearing ethical lingerie mean?
For one, avoiding some of the biggest brands in the industry. Yeah, Victoria's Secret – I'm talking to you! Not only does this brand make their bras and panties with unpaid prison labour; not only have they held horrendously sexist catwalk shows (which are mainly attended by pervy males), but the owner of the brand, Leslie Wexner, has been deeply tied to the Epstein sex trafficking scandal. Ewww!
Whilst some may still favour the likes of Victoria's Secret because they associate ethical lingerie with drab designs and saggy natural fabrics, that's actually very far from reality. As these 7 smoking hot sustainable lingerie brands are proving beyond a doubt.
Modern, ethical lingerie brands that use slinky fabrics, gorgeous cuts and perfectly placed padding are sure to make you feel super seductive. They're also guaranteed to light any man's fire this Valentine's Day….or any day!
And of course, they're all made in local factories – or sometimes, in small workshops – where employees get a fair wage, guaranteed.
In short, these brands 'give a s*it'!'
Main image credit: Stella McCartney
10 Super Sexy Ethical Lingerie Brands
Go sultry with Stella McCartney's eco-friendly bras and panties. As you'd expect, McCartney uses recycled materials, organic cotton and new technology to ensure that all of her products are kind to the environment. She also publishes an annual report on her production practices, meaning her brand is fully transparent.
Her current range offers support and weightless feel, looks sexy and can be mixed and matched. Wear a matching set for an elegant date-night surprise, or mix and match tops and bottoms the rest of the year round for endless style possibilities.
Best for: Simple, but sexy, basics
Price range: High
Based: UK, worldwide
Sustainability: Vegan-friendly, recycled materials, ethical production practices
Using mainly vintage fabrics, Clare Bare's collection ranges from flirty frills to seductive body suits and bathing suits to garter belts and bras. This ethical lingerie brands' products are all 100% guilt free, since all items are handmade locally, using recycled materials.
Clare Bare aims to "flatter your body in a natural way" and offers designs that are playful, bold and confident. I personally especially love her garter belts, which are ideal for Valentine's Day. They're discreet and comfortable under a dress or skirt – but provocative enough to make you feel sexy all day long!
Best for: Seriously sexy, innovative lingerie for all sizes
Price range: High
Based: USA
Sustainability: Recycled materials
New York based Lilipiache makes the kind of lingerie you'd imagine a 1940's pin-up girl would wear. Think: silky knickers and cheeky push up bras bearing just the right amount of lace.
The brand uses only natural, eco-friendly fabrics like organic cotton, silk and French lace to create its small batch, artisan-made bras and panties. Their designs are all fashion forward and comfortable, yet still flirtatious and feminine as heck!
Best for: Pretty, delicate bra and panty sets
Price range: High
Based: USA
Sustainability: 100% ethical, sustainable fabrics
Bored with neutrally-hued everyday basics? Dora Larsen is one of those ethical lingerie brands that really shakes things up!
Georgia Larsen was a lingerie buyer who noticed a lack of sexy, ethically made undies in vibrant hues. So she launched her own brand, featuring unexpected colours. She makes her gorgeous bras, panties, slips and more from OEKO-TEX®-certified fabrics. These include recycled lace, Tencel, organic cotton and other planet-friendly materials.
Best for: A burst of colour in your lingerie wardrobe
Price range: High
Based: USA
Sustainability: This lingerie features only sustainable fabrics
Encapsulating elegance and luxury, Lucille uses the finest, ethically sourced silks and laces to create pieces that are the epitome of sexy. This breathtakingly voluptuous brand combines sustainability and fashion in their eco-friendly approach to materials.
From the label's origins in the revolutionary designs of Lady Duff Gordon, through to its modern day incarnation as one of the pioneering ethical lingerie brands, Lucille and co is proud of its British heritage. Every delicate bra, panty or other intimate is ethically handmade in Britain.
Featuring electric blues, vibrant reds and flirty pinks, their latest collection is of a truly gasp-inducing beauty that will knock your Valentine's jaw to the ground, guaranteed!
Best for: Gorgeously elegant, handmade lingerie. It's practically couture!
Price range: High
Based: UK
Sustainability: Handmade from materials produced in small British factories
The 'Agent Provocateur' of eco-lingerie, this vegan-friendly British brand only does the most smokingly sexy pieces. Seductive ruffles, frills, peek-a-boo features and sheer panels are all made from high-end sustainable materials including peace silk (which doesn't kill the silkworm) and upcycled vintage lace.
All are ethically made in the UK from British-made materials. I can attest that they feel as smooth and sultry against the skin as they look!
Best for: Very special date nights
Price range: High
Based: UK
Sustainability: Locally made from peace silk and upcycled materials.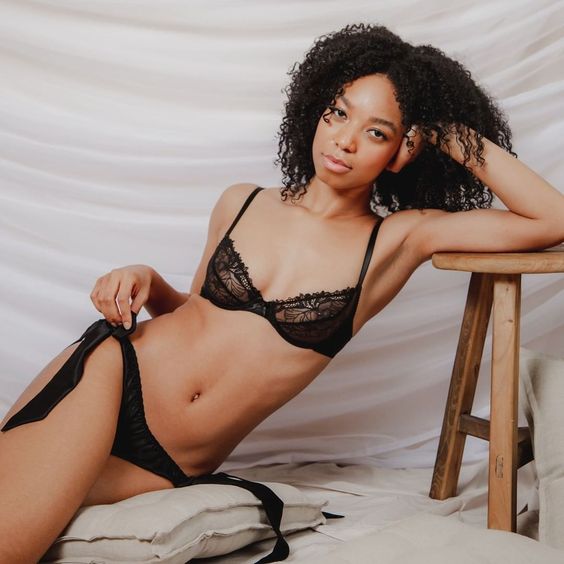 If you're looking for ethical lingerie brands that are not only totally smoking hot, but luxurious, look no further than Studio Pia. Ethically crafted in Romania, this lingerie features European embroidery at its best. But that's not all – look out for refined details, like 24k gold plated hardware, too.
Best for: Exquisite embroidery and details that really make an impression!
Price range: High
Based: UK
Sustainability: Peace silk, recycled materials, 1 tree planted with every purchase
This sister-owned, Aussie label provides what they call: "dark, modern and romantic lingerie for bad-ass women. Hopeless is not like other lingerie brands. We like horror movies and heavy metal and midnight snacks, and wearing lingerie for yourself because it makes you feel good." Their inspiration is women with power and control, and they channel that energy into every design.
Oh, and you can wear Hopeless no matter what your size. They specialise in custom sizing, for any shape or form.
In terms of ethics, Hopeless keeps things small and in literally in house. Yep, the brand's 'factory' is an actual house! They work like this to ensure every member of their team is directly cared for and treated fairly.
Best for: Those who like a bit of kink in their boudoir!
Price range: High
Based: Australia
Sustainability: Locally made, this made-to-order lingerie is created from Lenzing modal. This modal is produced from  Forest Stewardship Foundation (FSC®) Beechwood trees.
Based in Denmark, UnderProtection is one of the few ethical lingerie brands that only uses only certified ethical manufacturers. But not only that: they only work with environmentally friendly materials, too. These include recycled polyester, Tencel lyocell and organic cotton. Almost everything the brand produces is vegan, though they sometimes use upcycled wool or waste milk fibres.
The brand designs their ethical lingerie for women of all types, shapes and sizes. No matter what your body is like, you're guaranteed to look great in their bras and knickers!
Best for: This is one of the best ethical lingerie brands for non-underwired bralettes and stunning panties
Price range: Medium
Based: Denmark
Sustainability: Organic cotton, Tencel, recycled materials
Meet the Aussie range of intimates that prove that sometimes, in simplicity, there is sexiness. Not only is Le Buns certified organic cotton underwear incredibly soft and comfortable, but it is also made to last. A refreshing change from those cheap, nasty panties we all have hidden in our knicker drawer!
These ethically made, intimate undies are consciously designed to both flatter and enhance natural curves, without painful elastics cutting into your skin.
Best for: Super soft, basic undies that really show off your curves!
Price range: Low
Based: Australia
Sustainability: Organic cotton
Main image by lucileandco.com