By Chiara Spagnoli Gabardi
For thousands of years, silk has been associated with luxury. From emperor's robes to concubine's scarves, the fabric represented wealth, refinement, and sensuality.  Of course, this is all true today, too, but we can add 'sustainability' to that list – silk is a biodegradable material that takes to dye quickly, meaning that unlike some other fibres, it doesn't need multiple dye baths, which is good news for the environment. But silk can be bad news for animals!
Most people know  that the refined textile is the outcome of the silkworm spinning a fibroin protein into a  cocoon, which can be comprised of up to a  hundred metres of silk thread. To emerge from its cocoon, the silkworm secretes a fluid which burns a hole through the strands. But since this damages and breaks the fibre, farmers habitually boil the silkworm alive to save the silk. Finding this to be cruel,  various designers to find alternative ways of making silk.
Here are three of the best – and most sustainable – vegan silks, and the wonderful designers who use them.
1. Peace Silk or Ahimsa Silk
The brainchild of Kusuma Rajaiah, a government officer in India,  applied the theories behind the peaceful Ahimsa way of life to the making of silk in 1990. Whilst normal silk boils silkworms alive in their cocoons Peace Silk, also known as Ahimsa Silk, allows the silkworm to emerge out of the cocoon naturally. Fibres from the damaged cocoon are spun together forming a silk which has the same luxurious feel of silk, with a slightly 'raw' appearance.
From a purely economic standpoint, it's hard to justify using this kind of silk, as it requires 10 extra days in the process to let the larvae grow and the moths to hatch out of the cocoons; in contrast, the less humane process takes about 15 minutes. The damaged cocoons yield six times less filament, too – so no wonder the price of this silk is around double that of conventional silk.
Nonetheless, it is gaining in popularity: designers like Tiziano Guardini uses it in his designs, and at the 2010 Oscars. Suzy Amis Cameron had a blue gown made for the event whose principal fabric was Ahimsa silk.
As with any  silk product, be sure you take care of your peace silk garments properly. No need to dry clean; they can be washed by hand without being damaged. Just make sure you use  a mild soap in lukewarm or cold water. Gently move the fabric from side to side for no more than five minutes, then remove the silk from the water, wrap it in a dry towel and roll it out to straighten it up. Most importantly, never ever forget to iron silk from the back  side, using a bit of sprayed water:  excessive heat will damage it.
Where to find it
Ayten Gasson: This lingerie brand shows off  the wonders that can be achieved with organic silk. Launched in 2005, by designer Ayten Roberts,  the label  has become recognised for the firm commitment to support the UK manufacturing industry, whilst demonstrating a passion for sumptuous design and the importance of quality construction.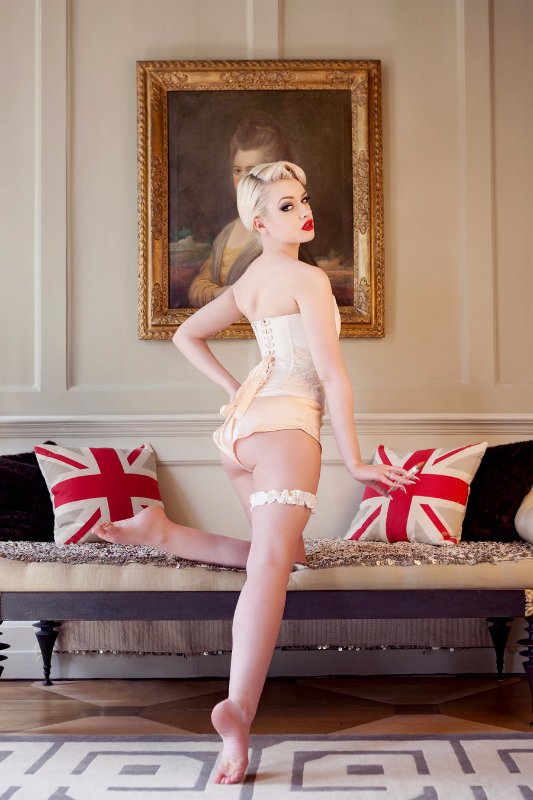 Lifegist: We love this design-led Spanish brand because it's got just the right amount of edge without making you look like a fashion victim, and of course because it has a strong pro-environment philosophy. Not only do they ensure all their materials are as eco-friendly as possible, they also check that the entire production process, including dying the textiles, is completely non-toxic
Tiziano Guardini: The young Italian design genius is a name to watch. Creating both pret a porter collections  and couture, much imagination and innovation are evident in every garment.
2. Spider Silk
You may never have guessed it, but those spider webs in your home are  five times stronger than steel and more elastic than rubber bands! Its potential for fashion use is incredible, as it's both strong and flexible, so much so, it could be used in everything from bulletproof vests and biodegradable water bottles to shoes and flexible bridge suspension ropes. Until recently,  anyone who has attempted to produce enough to bring it to the mass market has pretty much failed, but  Bolt Threads launched its  first commercial textiles this  year.
Bolt Threads doesn't use spiders to make its silk. The principal ingredients are yeast, water, and sugar. The raw silk is produced through fermentation, much like brewing beer, except instead of the yeast turning the sugar into alcohol, they turn it into the raw stuff of spider silk. Bolt Threads spins that into threads using a method similar to the wet-spinning process used to create cellulose-based fibers such as Lyocell. It is  molecularly the same as natural spider silk, with the exception of a few small variations.
Where to find it
It's not yet widely available, but synthetic spider silk could be used for everything from car  parts and medical devices to durable outdoor gear. No wonder Bolt Threads
recently announced
a new partnership with the eco friendly outdoor brand Patagonia. The North Face are also interested in the material. Spider silk ski wear? It could soon be a possibility!
3. Art Silk
As we all know, the bamboo plant is wonderfully sustainable; but bamboo fabric…not so much. Basically, there are two ways to process bamboo to make the plant into a fabric: mechanically or chemically. The mechanical way is by crushing the fibrous parts of the bamboo plant and then using natural enzymes to break these down into a mushy mass which is then combed out and spun into yarn. Bamboo fabric made from this process is sometimes called bamboo linen, but it can have the texture of raw silk. Unfortunately, very little of this fabric is manufactured for clothing because it's so  labor intensive and costly.
The most common form of bamboo 'silk' is chemically manufactured, and has the feeling of modal or rayon, not quite silk. It's made  by "cooking" the bamboo leaves and woody shoots in strong chemical solvents such as sodium hydroxide (NaOH – also known as caustic soda or lye) and carbon disulfide in a process also known as hydrolysis alkalization combined with multi-phase bleaching. Both sodium hydroxide and carbon disulfide have been linked to serious health problems – and when these chemicals are dumped into the water table as part of the manufacturing process, they do serious harm to aquatic life.  Because of the potential health risks and damage to the environment that it causes, Art Silk and most  bamboo textiles cannot be  considered sustainable or environmentally supportable.  Still, many vegans prefer this to a natural fabric that comes from animals.
Where to find it
Bamboo Blonde: This Australian brand is well known for its silky bamboo fabrics and light, summery designs. The label is popular in Boho chic hotspots like Byron Bay and Bali.
4. Ramie
There's no doubt that silk bio-degrades easily, and is therefore kind to the planet. And that's true. Silk is also gloriously soft, drapes like a dream, and feels wonderful on the body. So what's an animal-and-planet loving fashionista to do?
Well, apart from the options above, there's also something called Ramie that's derived from a flowering plant in the nettle family. It has actually been used for over 6,000 years for the production of fabric, mainly in China, Brazil, Indonesia and the Philippines, and it has the look, feel and drape of raw silk.
Where to find it
The Italian label Balossa has centred its entire collection on Ramie, and the designs are spectacular, as you can see below.
This site uses affiliate links with brands we trust, and if you make a purchase using a link, we may receive a commission.
Did you enjoy this post? Want to show your gratitude? Please support us on Patreon!