These luxurious sustainable vegan silks are a wonderful, cruelty-free alternative to the real thing
For thousands of years, silk has been associated with luxury. From emperor's robes to concubine's scarves, the fabric represented wealth, refinement, and sensuality. Of course, this is all true today, too, but we can add garments made of vegan silks to that list!
Silk is a biodegradable material that takes to dye quickly, meaning that unlike some other fibres, it doesn't need multiple dye baths, which is good news for the environment. But silk can be bad news for animals!
Most people know  that the refined textile is the outcome of the silkworm spinning a fibroin protein into a cocoon, which can be comprised of up to a  hundred metres of silk thread. To emerge from its cocoon, the silkworm secretes a fluid, which burns a hole through the strands. But since this damages and breaks the fibre, farmers habitually boil the silkworm alive to save the integrity of the silk. Finding this to be cruel, various designers to find alternative ways of making silk.
Here are 6 of the best – and most sustainable – forms of vegan silks, and the wonderful designers who use them.
6 Sustainable Vegan Silks That Do No Harm
1. Cupro
We first came across this vegan silk fabric through the wonderful work of Nulufer Bracco. Her brand Niluu specialises in silky kimonos, pillows and sleeping masks that are 100% cruelty free.
Cupro has some good and bad qualities. On the one hand, it's made from recycled cotton or other cellulose-based fabrics. This appeals to our eco-minded sensibilities.
On the other hand, copper, ammonia, and caustic soda are all used to break down and harden the fibres. Unfortunately, all three of these can be toxic when they aren't disposed of properly.
That being said, technologies to create this fabric are becoming increasingly sustainable. And we do love that cupro makes good use of old fabrics. It also boasts the silky smoothness and delicate sheerness of real silk.
Where to find it
Well, apart from Niluu (pictured directly below), several mainstream fashion houses such as Loewe are increasingly using this vegan silk alternative in their creations.
2. Spider Silk
You may never have guessed it, but those spider webs in your home are five times stronger than steel. And they're more elastic than rubber bands! Its potential for fashion use is incredible, as it's both strong and flexible. So much so, in fact, this silk could be used in everything from bulletproof vests and biodegradable water bottles to shoes and jackets!
Spider silk is nothing new. In 2009, the world's largest and rarest fabric, made entirely from the silk of the golden silk orb-weaver spider, was exhibited at the American Museum of Natural History in New York. The Museum claims this is the "only large piece of cloth made from natural spider silk existing in the world today."  It took five years to make, and cost over $300,000 to make a 11.2 ft by 3.9 ft piece of cloth.
However, until recently, anyone who has attempted to produce enough to bring it to the mass market has pretty much failed. Which is fine. Because, since it comes from spiders, it's not really one of those vegan silks, is it?
That said, Bolt Threads makes a fabric molecularly equal to natural spider silk, with a few small variations. It does NOT use spiders to make its silk. The principal ingredients are yeast, water, and sugar. The resulting raw, purely vegan silk is produced through fermentation, much like brewing beer. Except instead of the yeast turning the sugar into alcohol, they turn it into the raw stuff of spider silk.
Where to find it
Actual spider silk is not yet widely available. But synthetic spider silk is so incredibly durable, it could be used for everything from car parts and medical devices to outdoor gear.
No wonder
Bolt Threads
recently announced
a new partnership with the eco friendly outdoor brand Patagonia. The North Face are also interested in the material. Spider silk ski wear? It could soon be a possibility!
3. Lotus Silk
Lotus thread is one of the world's rarest -and most sacred – threads. It is, by far, the most luxurious of all the vegan silks. Its natural colours range from café latte to deeper mocha, with wonderfully subtle variations in both hue and texture, guaranteeing the uniqueness of each garment that uses them.
Lotus fabric has unique properties: it is naturally soft and light. It's very breathable, and unlike silk or linen, it's difficult to wrinkle. It's also a highly eco-friendly, as it needs no finishing chemicals or toxic products to produce. In fact, it's probably the most ecological fabric in the world, and as mentioned above, it's nothing new: thousands of years ago, lotus fabric was widely known in South East Asia, but the art of creating it was soon forgotten.
Lotus flowers, however, are still highly popular commercially – but the flower's stems are left behind after the blossoms are cut. Textile makers use those stems, which would otherwise go to waste, into luxe textiles. This is a highly laborious process, with some 6,500 lotus stems required to make a single length of hand woven fabric.
Where to find it
Moyadi ensures they provide an ethical luxury experience for their customers. All the ingredients used to create and present their lotus silk scarves and wraps are selected with intent and uphold the highest ecological standards. For example, they package their products sustainably in reusable glass jars, plant-based certified compostable pouches, and use unbleached sugarcane labels.
Maylyn & Co. is a slow fashion brand with a vision to make the world a greener place for both planet and future generations. Promoting a sustainable means of designing and producing garments, their lotus fibers are grown and handpicked from sustainable farms in Persia without the use of hazardous pesticides or chemicals. 
4. Art Silk
As we all know, the bamboo plant is wonderfully sustainable. But bamboo fabric…not so much. Basically, there are two ways to process bamboo to make the plant into a fabric: mechanically or chemically.
The mechanical way goes like this: bamboo fibres are crushed. Natural enzymes then break these fibres down into a mushy mass. This is then combed out and spun into yarn. Fabric made from this process is sometimes called bamboo linen, but it can also have the texture of raw silk.
But the most common form of bamboo 'silk' comes from a highly chemical process. The resulting textile has the feeling of modal or rayon – but not quite silk.
To make it, you have to bathe the bamboo leaves and shoots in a strong chemical solvent, such as sodium hydroxide (NaOH – also known as caustic soda or lye) and carbon disulfide. This process is also known as hydrolysis alkalization.
This process has been linked to serious health problems. And when these chemicals are dumped into the water table, they harm aquatic life. Thus, Art Silk cannot be considered sustainable. Still, many vegans prefer this to a natural fabric that comes from animals.
Where to find it
Bamboo Blonde: This Australian brand is well known for its silky bamboo fabrics and light, summery designs. No wonder the label is popular in Boho chic hotspots like Byron Bay and Bali.
Kokoro Organics also makes kimonos, pants and loose tops from silky bamboo fibres. All garments are fully breathable, protect the skin from UV rays, and are designed to suit both men and women. Furthermore, Kokoro Organics' textiles are Oeko-Tex certified. Their vegan silks are super soft and perfect for bedtime.
5. Ramie
There's no doubt that silk bio-degrades easily, and is therefore kind to the planet. And that's true. Silk is also gloriously soft, drapes like a dream, and feels wonderful on the body. So what's an animal-and-planet loving fashionista to do?
Well, apart from the options above, there's also something called Ramie that comes from the fibres of a flowering plant in the nettle family.
This form of vegan silk sounds innovative, but it's actually over 6,000 years old! It has been a popular fabric in China, Brazil, Indonesia and the Philippines for centuries, and it has the look, feel and drape of raw silk.
Ramie makes for beautiful blouses and dresses, as well as scarves and wraps.
Where to find it
The Italian label Balossa has centred its entire collection on Ramie, and the designs are spectacular, as you can see below.
Another brand that's proud to use ramie is Joslin. This label only uses fabrications derived from natural compositions in each and every design. Synthetics and plastics are only used when there is no natural alternative – a situation they rarely find themselves in! Their high fashion designs often have the feeling of raw vegan silk.
6. Orange Silk
The fibres from the discarded husks of oranges squeezed for the juicing industry form the basis for this incredibly soft vegan 'silk,'
Called, unsurprisingly, Orange Fiber Fabric, the material made its high fashion debut with Salvatore Ferragamo. The Italian brand created a limited edition capsule collection of exclusive garments sporting images inspired by the Mediterranean coast. In particular, stories of Sicily – the island's nature, and fruits and flowers – were told through abstract etchings.
Since then, the sustainable fibres have gone more mainstream, thanks to the Orange Fibre x H&M Conscious Collection, which launched worldwide in 2019.
Where to find it: If you're lucky enough to get your hands on the H&M Conscious Collection (pictured below) on eBay, you'd be pretty lucky! These pieces are now collectors items.
We Need To Talk About Peace Silk (or Ahimsa Silk)
The brainchild of Kusuma Rajaiah, a government officer in India,  peace silk is a somewhat controversial fabric.
Rajaiah applied the theories behind the peaceful Ahimsa way of life to his way of making of silk in 1990. Whilst normal silk boils silkworms alive in their cocoons Peace Silk, also known as Ahimsa Silk, allows the silkworm to emerge out of the cocoon naturally. Fibres from the damaged cocoon are spun together to form a thread with the same luxurious feel of silk. It does, however, have a slightly 'raw' appearance.
From a purely economic standpoint, it's hard to justify using this kind of silk. It requires 10 extra days in the process to let the larvae grow and the moths to hatch out of the cocoons. They're then free to fly away and live their mothy lives in peace. In contrast, the less humane process takes about 15 minutes. The damaged cocoons yield six times less filament, too. No wonder the price of this silk is around double that of conventional silk!
But of course, true vegans believe NO animals should EVER be exploited for human use. Even if they're not killed or harmed.
Where to find it
Ayten Gasson: This lingerie brand shows off  the wonders that can be achieved with organic peace silk. Launched in 2005, by designer Ayten Roberts,  the label  has become recognised for the firm commitment to support the UK manufacturing industry, whilst demonstrating a passion for sumptuous design and the importance of quality construction.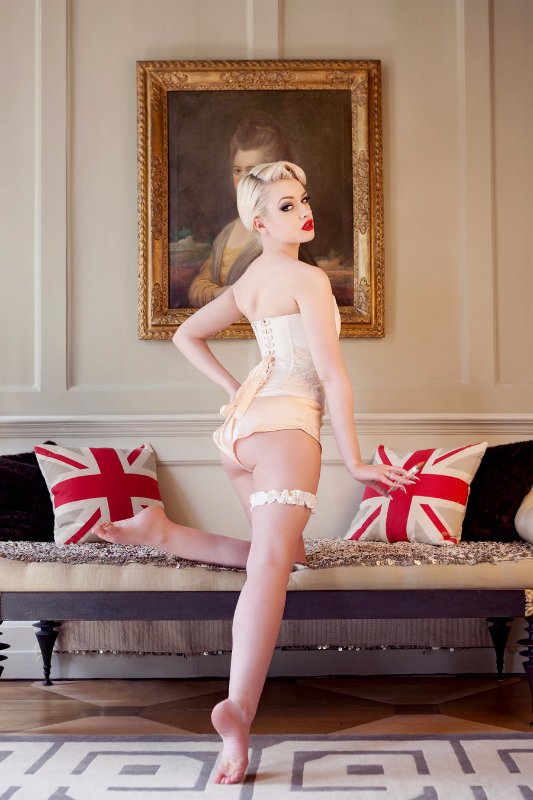 Tiziano Guardini: The young Italian design genius is a name to watch. Creating both pret a porter collections and haute couture (including bridal wear), much imagination and innovation are evident in every garment. He loves using vegan silks and other innovative plant-based materials.
Do you know of any other vegan silks we didn't mention? We'd love to hear from you in the comments, below!
Latest posts by Chiara Spagnoli Gabardi
(see all)