Many of us use them every day. But did you know that toxic Black hair care products are hurting our health?
By Amma Aburam
Finally, beauty companies and hair salons are waking up to the fact that – surprise surprise – their customers come in all ages and colours. Increasing numbers of cosmetic companies are offering a wide range of shades, and many of these companies are cutting out the nasty ingredients from their products.
The same is true for hair care brands. With one general exception.
As more black women choose to embrace the aesthetic of naturally textured African hair rather than aiming to chemically straighten, relax or otherwise change their hair into a Eurocentric based standard of 'beauty', the manufacturers of toxic black hair products are exploiting this trend by using the word 'natural' on their products. Which can be a bit misleading.
Why? Well, basically, there is no regulation of the word 'natural' in cosmetics in the USA. That's fine, if you're marketing something as 'for a natural look.' Or if you're referring to the fact that the product may have, for example, some plant-based ingredients.
But what the labelling often neglects to mention is that the product may also have tons of chemicals, too. Some of which may be very harmful to your health.
Studies Show Black Women Suffer More
In fact, according to a recent study by the Silent Spring Institute, a nonprofit focused on  identifying and breaking the links between environmental chemicals and women's health, black women are particularly exposed to dozens of potentially hazardous chemicals through the products they use on their hair.
So much so, one has to ask: is the hair care industry racist?
The study measured a range of hormone-disrupting chemicals in hair products marketed to black women. And this is just one of several studies that have brought increased attention to this issue over the past few years.
Another study by the Environmental Working Group found that over 70 percent of products marketed for black hair contain dangerous ingredients. That's a lot, especially when compared to 40 percent of hair products that are aimed at the 'general public.'
The EWG study of more than 1,100 hair products marketed toward black consumers revealed that fewer than one in four products tested "low hazard" for the inclusion of dangerous ingredients, with most containing toxic chemicals that can potentially cause cancer or developmental and reproductive damage, disrupt hormones, and trigger other adverse health effects.
Toxic ingredients such as lye (found in relaxers) and formaldehyde (found in keratin straightening treatments and Brazilian blowouts) are still commonly used in black hair salons.   
"We know from previous research that black women suffer disproportionately from hormone-related health problems," said the lead author of the Silent Spring study, Jessica Helm. "The study tested hair products used by black women to see if they could be a source of some of the chemicals of concern." And it seems that they are.
Poor Regulation
In 2016, black consumers spent over $2 billion on hair products. But largely toothless federal regulation has made it easy for the cosmetics industry to get away with making highly toxic black hair products. The Federal Food, Drug, and Cosmetic Act of 1938 and the Fair Packaging and Labeling Act of 1967 are meant to protect the American people from misbranding, but neither of these acts require cosmetic products to undergo FDA approval before entering the market.
What's more, terms like natural or organic are open to misinterpretation.
For example, many chemicals in the periodic table are natural, but harmful. The same could be said for ammonia, alcohol and lye. And even if you're aware of the dangers of lye, which include skin rashes, burning, blindness and even death, when you see 'lye-free' on the label, this may only indicate that lye was replaced with another harmful ingredient. Usually calcium hydroxide, a caustic irritant. 
What To Look For In Black Hair Care Products
When choosing any product, pay attention to the first five ingredients on the list, as they make up over 90 percent of what's in a product. And if you see any of these ingredients below on the product label, drop it and find something else that won't hurt your health.
Hazardous Ingredients to Avoid
Calcium hydroxide (see above)

Formaldehyde (one of the very worst chemicals, which can actually cause death) 

Methylene glycol 

Lead acetate (common in hair dyes)

Methylisothiazolinone

Parabens in all their forms (propylparaben, butylparaben, or methylparaben)

Petrolatum

Retyinal palmitate

Alcohol in all its forms, which can dry out hair (includes a

lcohol denat, ethanol, propanol, isopropyl, propyl, wood alcohol

Sulfates

Fragrance or parfum (which can contain just about any unknown, unlisted chemical)
How To Stay Beautiful – And Healthy!
Luckily, there's now a plethora of natural black hair influencers and bloggers like:
They all help women share information and natural hair care tips.
There are also some apps that can help you navigate the world of hair care products. Here are a few:
Natural Hair Care Apps To Try
Detox Me: A free app from Silent Spring Institute helps you find potential sources of toxic chemicals. Get tips on what ingredients to avoid, recipes for natural products and reminders to help you stay on track.
Skin Deep: The Environmental Working Group recently created a category that specifically ranks hair products marketed to black women. Use the searchable database to look up products you already use or search the rankings to find safer alternatives.
GoodGuide.com: A great database of more than 75,000 products that maps ingredient hazard information from government lists to create a score from 1 (bad) to 10 (good) for a broad range of products
There's also a range of great truly natural or organic, cruelty-free hair care products for black women that really work. Check them out below. Happy styling!
The Best Non Toxic Black Hair Care Products
Sick to death of toxic black hair care products? Mielle Organics makes a range of shampoos and styling products that are great for black hair. Their Pomegranate and Honey Leave-In Conditioner penetrates each hair strand, adding moisture and sealing it in. It prevents frizz perfectly, without weighing down the hair, and helps detangle after a shower.
Price: Average prices for products are from $10-12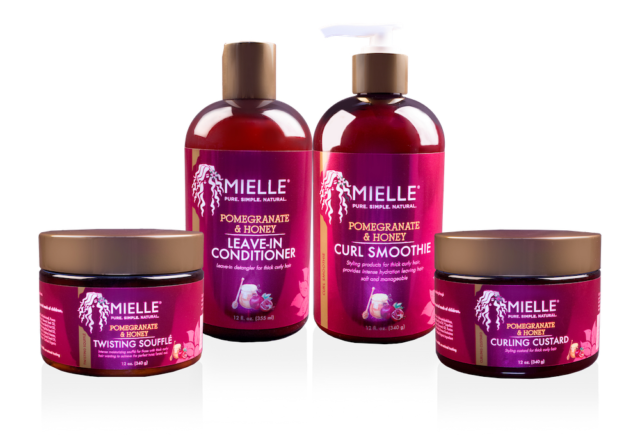 This brand makes a great range of shea-butter infused products for both men and women with black or thick hair, from type 2 to type 4. It defines your curls, with zero frizz, and delivers volume, too. It's extremely affordable at just over $6, and is packed with coconut oil to protect your locks.
Price: From around $5-12
If you want to avoid toxic black hair care products, As I Am is a great option!
Coconut and shea butter are the two stars in this cult-favourite hair care brand. Their range of products styles, smoothes and conditions textured hair perfectly.
As I Am uses only the finest natural ingredients, such as shea butter, coconut oil and royal jelly. These gently and effectively cleanse and protect the hair. They also inject much-needed moisture to your mane in the way nature intended.
Price: From around $12-17
Given the love-hate relationship many of us have with our hair, this is an essential British brand to know! Whether your curl type is loose waves or tight curls, Holy Curls has a range dedicated to your tresses and its needs.
Their non toxic black hair products are totally cruelty-free and 100% vegan. These products are also sulphate and paraben-free, and essential oils provide their delicate fragrance. This stuff will leave your hair hydrated, softer and more defined. And I love their packaging as well!
Price: Average is around £21 ($27)
Afroani is a vegan and cruelty-free brand catering to the demand for clean hair care products. They also make accessories that will help textured hair look and feel its best. Their combs provide textured hair with the perfect hair care tool to glide through hair without scratching the skin underneath. As they move through damp hair, they gently detangle and separate each coil without snagging the hair.
Using the best ingredients that nature has to offer, all their products are clean. They're created without the use of sulfates, parabens, silicone and artificial colourants. This means your hair won't be laden with toxic chemicals. Instead, it's left nourished and hydrated. Your curls can truly live their best life!
Price: Average is around $20
Whether your hair is long or short, Nylah's Naturals brings a welcome end to toxic black hair care products. Their everyday hair care range is aimed at women of colour. Each item is clean and sustainable. There's something for everyone!
Celebrating and combining the heritage of textured hair with a science-based approach, this British based natural hair styling line is redefining the haircare standards for Afro-textured hair.
Nylah's Naturals is pushing boundaries and spreading the message that beauty is echoed in your mane. Celebrate every curl, kink and coil with their award winning range!
Price: Average is around £16 ($20)
Got frizzy hair, no matter what the weather? You'll love this 'Gello' by Taliah Waajid! It defines curls, waves, and coil patterns whilst moisturising and conditioning without any sticky build-up.
It's light, it's affordable, and it will leave your hair with a nice shine, without looking 'wet'.
Price: Around $10
Click here for more organic hair styling products. Here's to your health – and beauty!
Latest posts by Amma Aburam
(see all)