These feminist fashion brands are ethical, sustainable, and fierce!
By Amma Okobea
I'm just going to say it: fashion is a feminist issue. Not just because women buy and wear more clothes than men, but because 80% of garment workers are women.
These women form the real backbone of the fashion industry, but they are often neglected and mistreated in the world of fast fashion. Sure, you can buy a T-shirt with a feminist slogan splashed across the front which profits off of the underpaid female workers who made them. Sure, you can convince yourself that you're a part of the change because of that. But it requires so much more. 
Luckily, ethical fashion brands are taking the lead in empowering the women behind the labels like never before. And guess what? Most owners of ethical fashion brands are indeed, women. Or at least, the owners of the feminist fashion brands we've found are!
Some of the brands we found help women living in poverty break the cycle. Others donate a portion of their sales to charities. Still others are simply ethical fashion brands that empower women worldwide in diverse ways.
Now, you can shop and really feel like you're doing your part to support the feminist movement, through fashion!
Ethical Feminist Fashion Brands We Love
They say 'sisterhood is powerful'. And that's especially true when actual sisters form an eco-friendly business together!
Nicky and Simone Zimmermann loved floaty dresses and sophisticated, feminine fashion, but they couldn't find sustainable brands that made it. So they launched their own.
Today, their eponymous label creates the kinds of clothing women dream of. And they do so in planet-friendly fabrics. But that's not all!
Zimmerman helps women, too. For example? They help smaller brands, such as the Social Outfit (more of which below), by donating leftover fabrics to them. That way, Zimmerman is essentially a zero-waste brand, and they also give a leg up to smaller (female-owned) labels, too!
To ensure their (mainly female) employees are treated well, they've hired a Sustainability Group and Sustainability Manager to check that their entire production, supply chain and retail operations are all ethically operated. This extends to the concepts of diversity and inclusion, too.
Finally, Zimmerman is a great feminist fashion brand because it helps younger women with their Graduate Program. This assists the development of the next generation interested in working in fashion.
What they sell: Absolutely gorgeous dresses, pantsuits, swimwear and more.
Based: Australia; worldwide
What we love: The 'women helping women' ethos of the brand.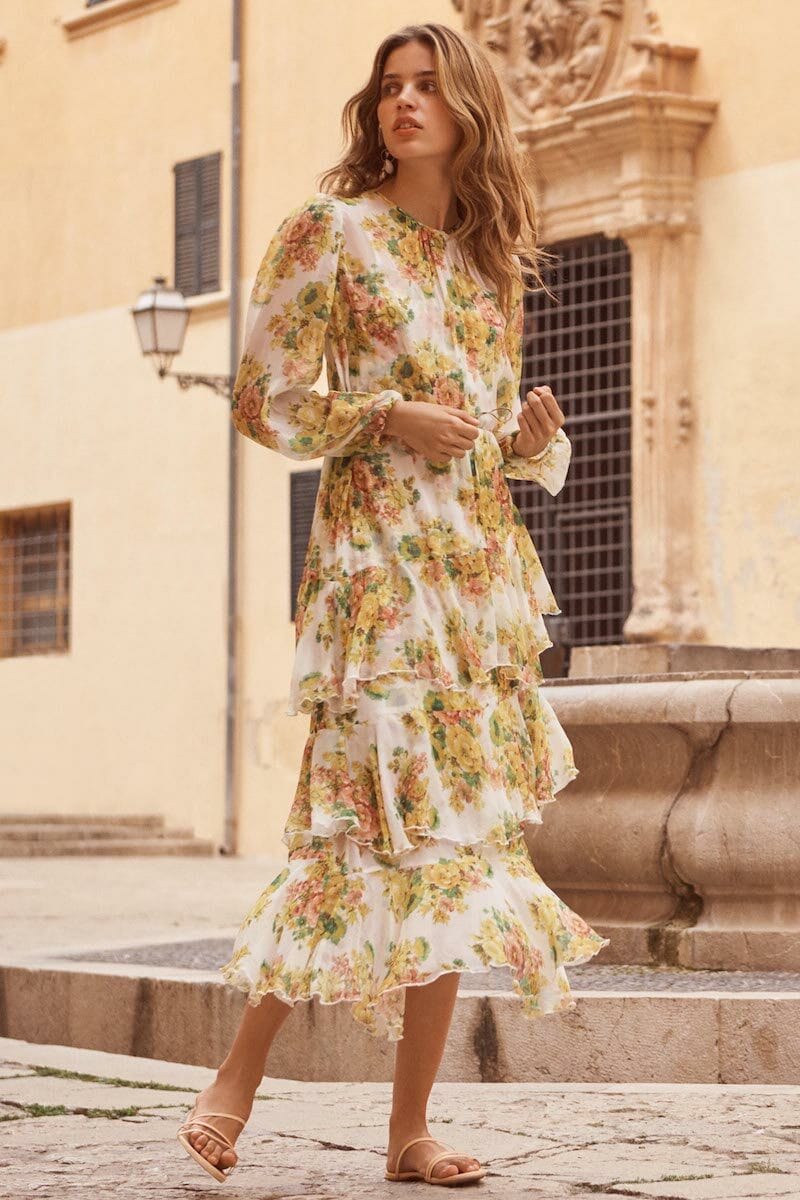 Sure, PACT makes all their goods from eco-friendly fabrics, like organic cotton, Tencel and linen, making them one of the most sustainable fashion labels around. But we'd consider it a feminist fashion brand, too. That's thanks to their Fair Trade Certified™ factories, which ensure safe working conditions, community support, and additional development funds to their mainly female staff.
But they help women in other ways, too.
Take their The Give Back Box, for example. This program delivers their customers' gently used clothes – even those not from PACT – to nonprofits. In turn, these NGOs donate those garments to those in need.
What they sell: Daily essentials for the whole family: women, men, children and even home goods
Based: USA
What we love: PACT is carbon neutral and plastic-free, too!
Supermodel/actress and former World Health Organisation's Goodwill Ambassador for Maternal, Newborn and Child Health, Liya Kebede discovered that traditional weavers in her native country of Ethiopia were losing their jobs due to a decline in local demand for their goods.
She wanted to do something about to help the mainly female textile workers maintain their livelihoods. Recognising the beauty, quality and historic significance of their work, Liya started Lemlem in 2007 as a way to inspire economic independence for women in her native country and to preserve the art of Ethiopian weaving.
What they sell: Delicate blouses, dresses, tops and scarves that are light and airy. Perfect for summer, or a trip to Ethiopia!
Based: USA
What we love: Kebede also works with a group of female artisans in Addis Ababa who craft intricate embroidered patterns for each soft, hand-spun piece.
Shop Sseko, and you can send a girl to college. That's the powerful impact this ethical feminist fashion brand makes for its workers and their families.
Sseko hires women in Uganda to make their clothing, footwear and accessories, enabling garment workers to earn good money. As mentioned, the brand also ensures these workers receive college educations, allowing them to get out of factories and pursue their larger dreams.
The company also sources other ethically made products from East Africa. Through their educational mission, they're ultimately helping break the cycle of poverty many women face in that part of the world.
What they sell: Everything! Clothing, footwear, handbags, homeware, cute gifts…
Based: USA
What we love: That shopping with Sseko can really change the lives of the women who make the garments.
Ethically made and female owned in Malawi, Mayamiko is an ethical fashion brand that was founded by Paola Masperi. It began as a charity to give creative business training and opportunities to disadvantaged communities in the developing world. But over time, Paola realised that more than aid, women really wanted the chance to earn a decent wage for themselves. Consequently, she decided to partner with artisans in Malawi to create Mayamiko.
Today, besides being known for their chic styles created from sustainable textiles, the brand is lauded for the Mayamiko Trust, which trains and empowers disadvantaged African women so they can earn a decent, independent living.
Another project of theirs is the Mayamiko Lab, which has the rather ambitious mission of providing skills training, education, nutrition and sanitation in Malawian communities, whilst also  promoting Fair Trade practices in Malawian communities.
What they sell: Clothing, accessories and homeware
Based: UK
What we love: The slow fashion brand uses so many strategies to elevate women!
In a world that has sexualised pretty much everything, Naja is a brand providing women with underwear that does good and feels good! The brand is offering up empowerment to both the impoverished communities that they bring work to and the women who wear Naja.
Specifically, Naja is another of our favourite feminist fashion brands because it aims to employ mainly single mothers so that they can provide for their children with above-market wages, health care benefits and child education assistance.
The brand also breaks the typical lingerie marketing strategy of objectifying women for the male gaze. Instead, Naja empowers women to feel sexy, courageous and smart through lingerie made by women, for women – no matter what their shape or size.
What they sell: Gorgeous underwear that feels good to wear, no matter what your size or shape.
Based: USA
What we love: Naja also creates zero waste collections made from recycled remnant fabrics.
Showcasing what women can truly do is one of our favourite feminist fashion brands, Mata Traders.
It was created by three best friends with a serious case of wanderlust. They all fell in love with everything to do with India: the culture, the markets, the colourful textiles. The trio then vowed to make the country a huge part of their story. Mata Traders is now putting smiles across the faces of female artisans in Nepal and India by providing empowering their work.
The label has joined up with multiple Fair-Trade cooperatives with the goal of reducing the impact of poverty in these countries. Services such as health care, paid maternity leave, retirement pensions and even daycare are being provided to these female garment workers. As a result, these women are now able to thrive while looking after their families.  And did I mention: those women are creating some seriously cute jewellery and dresses?
What they sell: Clothing, accessories and chic homeware
Based: USA
What we love: Every time you shop at Mata Traders, you help to preserve artisan crafts. You'll also be helping to empower women, fight gender inequality, and combat child labour. Pretty cool, huh?
In a world setting unattainable standards for women, Birdsong is a brand keeping it refreshingly real. Handmade in their East London Studio by knitters and seamstresses who earn above the minimum wage, the motto behind this feminist fashion brand is "no sweatshop, no photoshop."
All garments are fun, fashionable and crafted with amazing ethics, inspired by art, nature and culture. 
From dresses, chunky knitwear and hand-printed trousers, Birdsong designs its garments for women who like their clothes to be a visual representation of their beliefs. Inclusively sized from 2XS-3XL, each item is sketched in detail and then shared online. Birdsong then takes on board any feedback the community lends. And if you love a design, you can then order it, in your size. On-demand production means less waste!
What they sell: Clothing and accessories
Based: UK
What we love: Birdsong's founders know every woman in their supply chain. And they only work with  eco-friendly and high-quality suppliers, of course.
An Australian label making a real difference, The Social Outfit is one of those feminist fashion brands that provides customers with unique items that tell a real human story. 
The company mainly aims to help refugee and new migrant communities kick-start their careers and thrive through employment. They operate an ethical manufacturing workroom and retail store, where 100% of the profits from their clothing sales go towards supporting their training and employment programs in retail, manufacturing and design.
The Social Outfit is passionate about sustainability too! Their clothing collections use remnant fabrics donated by various fashion industry partners.
In fact, everything about this brand makes us smile, from their vibrant clothing to their inclusive sizing.
What they sell: Everything! From everyday staples to unique clothing, hair accessories, jewellery and handbags
Based: Australia
What we love: Their free Quick Mends series, which encouraged people to fix their own garments instead of buying new during lockdown.
Are there any feminist fashion brands we missed? Let us know in the comments, below!
Latest posts by Amma Aburam
(see all)