These ethical fashion brands owned by celebrities allow A-listers to show off talents besides acting or singing!
By Katy Caric
Loads of celebrities have their own fashion brands, beauty labels and perfumes. But frankly, these are usually pretty crap, and the celebs themselves don't even have much of a hand in designing them at all. It's all just part of marketing 'brand me'. 
But things are somehow different when it comes to ethical fashion lines. The A-listers who create their own deliberately sustainable fashion labels usually do so for two reasons: a love of fashion, and a love of the planet.
Here, I've found 10 ethical fashion brands owned by celebrities that rate high both on style and sustainability.
Sustainable Fashion Brands Owned By Celebs
This is one of our favourite ethical fashion brands owned by celebrities!
Bayou with Love is the passion project that was born out of Nikki Reed's sustainable living and activism and her partner Morgan Bogle's years of experience with vegan label Freedom of Animals. The duo have created a truly ethical lifestyle brand that produces everything from clothing and home goods to beautiful minimalist jewellery.
Celebrity owner: Nikki Reed
Best for: Ethical jewellery
How sustainable is it, really? Local artisans make all garments in ethical facilities in LA. The materials they use are all eco-friendly, with fabrics like recycled cotton canvas, Tencel, and organic cotton. And that jewellery? It's made from recycled materials. Specifically, recycled gold from old computers. And their diamonds are lab-grown using solar energy. I'm definitely a Bayou Girl!
Fabletics is one of the most famous ethical fashion brands owned by celebrities! Kate Hudson and Don Ressler launched the brand way back in 2013. Their ethos is fitness meets fashion and it was meant to act as a bridge between high-quality workout wear at affordable prices. Today, Fabletics is renowned for its fashion-forward, sustainable designs. In April 2020, they started incorporating some eco-friendly materials, like recycled PET bottles and organic cotton.
Celebrity owner: Kate Hudson
Best for: Athletic wear
How sustainable is it, really? The activewear brand faced criticism from Day 1. But they've recently taken steps towards being more sustainable. For example? They've traded plastic packaging for biodegradable, better-for-the-earth materials. They're also using less energy and producing fewer overall carbon emissions. Not to mention 100% of their physical stores are climate neutral. So, not bad, but their materials are all far from eco-friendly still.
Sustainable plant-based dyeing techniques, supporting community-led initiatives, and empowering female artisans in Africa. These are just some of the amazing things Studio One Eighty-Nine does.
I love their stunning statement-making, African-inspired patterns that celebrate traditional craftsmanship. And did I mention that the brains behind Studio One Eighty-Nine is none other than the fabulous actress and feminist Rosario Dawson? 
Celebrity owner: Rosario Dawson
Best for: Gorgeous, printed maxi dresses
How sustainable is it, really? The brand uses a majority of eco-friendly materials including organic cotton. They also make products by hand to reduce their climate impact. The brand never uses fur, down, exotic animal skin, exotic animal hair or angora. But they do use leather, wool and silk. Hmm….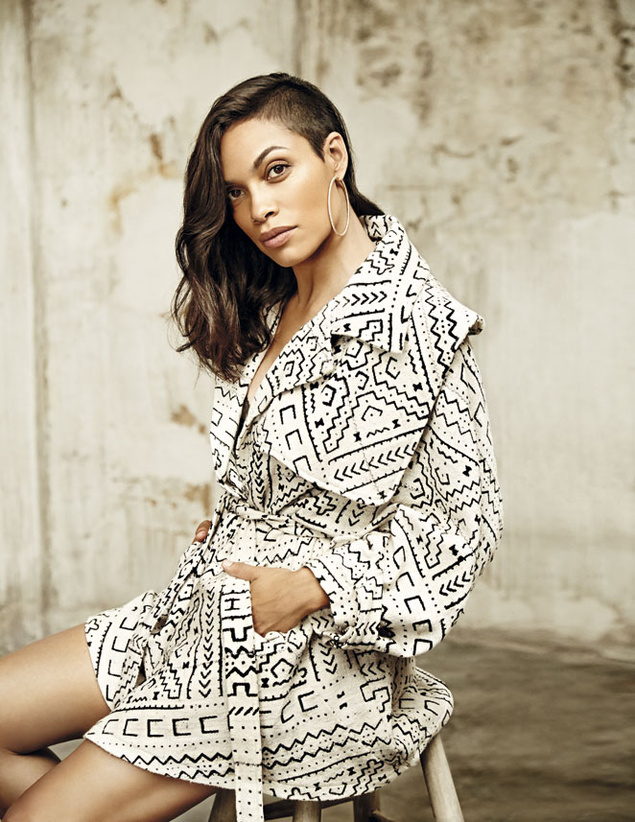 Of all the ethical fashion brands owned by celebrities, this is probably the best known and most widely available.
Since she launched GOOP, Gwyneth Paltrow has been educating us about her healthy, holistic, and sometimes wacky lifestyle. So it seems only natural that she would want to share her fashion style with us too.
Celebrity owner: Gwyneth Paltrow
Best for: Minimalist basics
How sustainable is it, really? Like GOOP skincare, the G. label is perfect for those living a natural, sustainable life. The capsule line is designed to be trend-proof, staple pieces that can be worn season after season. Gwyneth also made sure both the design and production of the garments were ethical. Everything is produced in Italian factories with the finest materials like natural linen.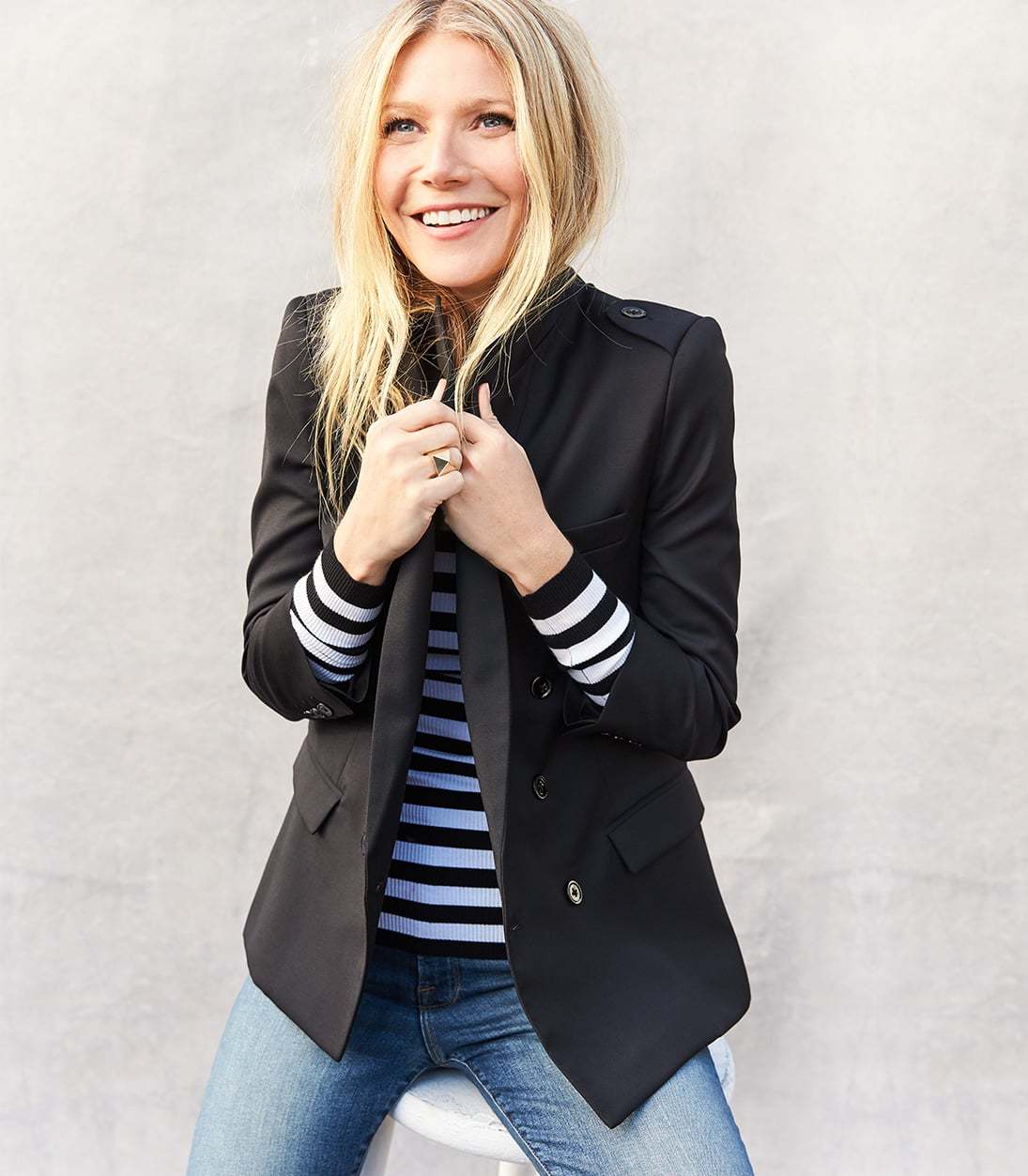 Pour Les Femmes is the celebrity ethical fashion brand owned by House of Cards actress Robin Wright and her pal Karen Fowler. They launched it after taking a trip to Congo. There, they learned about the struggles of many of the local women. Today, their soft organic cotton and bamboo sleepwear provides comfort to the wearer and economic security for the women living in conflict regions. I love the socially conscious sleepwear, and I'm also a fan of the super chic minimalist shirt dresses and tops they craft, too.
Celebrity owner: Robin Wright
Best for: 2 piece pyjamas
How sustainable is it, really? From their soft cotton pyjamas to their silk charmeuse jumpsuits, every Pour Les Femmes garment is sustainable. They're all fair-trade, hand-cut and crafted in small workouts as opposed to being mass-produced. The brand transforms leftover material into sweet lingerie bags and eye masks, thus reducing waste. Quality over quantity is always at the forefront of this luxury brand, which of course, we love!
She may have risen to fame for her incredible acting talents, but we love Rooney Mara for trying to make the world a bit of a better place. The vegan activist-actress and her partners Sara Schloat and Chrys Wong created Hiraeth Collective to promote cruelty-free fashion and accessories. This is one of the best ethical fashion brands owned by celebrities for those who support vegan values.
Celebrity owner: Rooney Mara
Best for: High fashion vegan clothing
How sustainable is it, really? The brand's values are: "craftsmanship, quality, comfort and respect for all living creatures." They make garments that are ethical, stylish and above all else, completely free of animal products. Hiraeth is a totally vegan-friendly brand. All items are leather, fur, wool and silk-free.
Jane on the top rated Netflix series Jane the Virgin is one of my favourite relatable females on TV. So I was thrilled to learn Gina Rodriguez, the actress who plays Jane, is just as awesome in real life as she is on screen. 
Gina is one of the co-founders of Naja, an underwear line dedicated to making a positive social impact and encouraging female empowerment. Naja's garment factory mainly employs single mothers or the female head of the household. They make above-market wages and have great education and healthcare benefits. And in keeping with Gina's personality, Naja's designs are feminine, sexy, and a little bit cheeky!
Celebrity owner: Gina Rodriguez
Best for: Panties with a sense of humour.
How sustainable is it, really? Naja strives to make most of its lingerie, activewear and swimwear out of recycled PET or scrap materials that would have otherwise gone to landfill. The brand also prints items digitally instead of using rotary wet dyeing processes. By using this method, they save on water usage, big time. Finally, they create zero waste collections made from recycled remnant fabrics. The problem? Quite a few of these will shed microparticles of plastics, since they're frequently washed. Boo!
For Liya Kebebe, being a top model just wasn't fulfilling enough, so she turned her hand to philanthropy and fashion design. She became inspired to do so after a conversation with local artisan women on a trip to her home country of Ethiopia, and soon after, she created her own fashion label, Lemlem, to help preserve traditional craftsmanship and to bring the beauty of Ethiopian woven cotton to a global market.
She has since expanded her goals to include the philanthropic arm of Lemlem, the Lemlem Foundation. This works with African women to help connect them to healthcare, education opportunities and stable jobs.
This is one of the easiest ethical fashion brands owned by celebrities to find online. You'll find it with all the big retailers, from Net A Porter to Nordstrom and beyond.
Celebrity owner: Liya Kebebe
Best for: Easy, breezy cotton dresses
How sustainable is it, really? Lemlem makes their products by hand to reduce their climate impact. Alongside this, the brand partners with independent artisans in Africa and has a mission to help improve social conditions. It traces most of its supply chain including all of the final stage of production, and the range is made of cotton. However, not all of that cotton is organic. So, not great.
Yes, we have a man in our list of ethical fashion brands owned by celebrities! In between writing, singing, and producing hit tunes, Pharrell Williams is investing in and designing sustainable fashion through the company he co-owns, Bionic Yarn. This textile maker creates textiles from plastics rescued from the oceans.
Celebrity owner: Pharrell Williams
Best for: Running shoes
How sustainable is it, really? Yep, we know that clothes shed microplastics when washed if they're made from recycled plastics. But Bionic Yarn also creates luggage, furniture, and outerwear from rescued ocean plastic. Great! But the clothes, not so much. They've collaborated with H&M for their conscious collections, Adidas, Kiehl's, Timberland, and G-Star Raw (where Pharrell is also creative director). So, not sure how you feel about his connections to fast fashion.
It doesn't feel right to put Stella McCartney in the category of 'celebrity labels' because she is such an accomplished designer in her own right. But she is proof of how a celebrity can defy the odds in fashion.
Despite being born to one of the most famous musicians on the planet, McCartney worked and studied hard to launch her fully vegan label in 2001. From Day 1, it received incredible critical acclaim and commercial success. Today, her brand collaborates on several ethical fashion projects, such as Adidas + Parley for the Oceans.
Celebrity owner: Stella McCartney (and the Kering group!)
Best for: Running shoes and vegan bags
How sustainable is it, really? Stella McCartney is dedicated to making the planet a better place in more ways than just through clothing. All of her stores, offices and studios in the UK use wind energy for power. Abroad, they use renewable energy to fuel their stores and offices. BTW: we've done a whole article on why she's sustainable!
2nd image below: ejstyle.co.uk
Did we miss any of your favourite ethical fashion brands owned by celebrities? Let us know in the comments, below!
Latest posts by Katy Carik
(see all)