Got fine hair? Not sure what to do with it? Check out these cool hairstyles for thin hair!
By Chere Di Boscio
If you have wispy baby hair as I do, you know very well that finding the best hairstyles for thin hair can be tough.
Whilst those blessed with thicker hair can pull off blunt cut bobs, Rapunzel waves and loads of layers, we finer-haired folk need to create the "illusion" of thicker hair.
Luckily, there are plenty of ways to do that.
The right haircut, great highlighting and using the right styling products can transform thin hair into a seemingly thick, voluminous mane. Stars like Natalie Portman, Keira Knightley, Dakota Johnson, Victoria Beckham, Angelina Jolie and others have thin hair, but they know how to rock it!
First, let's talk about products. You'll need a good, all natural volumizing shampoo to begin with. These shampoos work by eliminating the pollution and product residue that can overload your hair, weighing it down and making it look stringy and even thinner. For best results, use a volumizing conditioner too, and once your hair is dry, spray in a hair volumizing product like this one.
When your hair is styled, if it's thin it may have a tendency to fall flat fast, or to lose shape with even the tiniest bit of a breeze. To keep it in place, try an all natural hairspray like this.
Secondly, one of the best solutions to make thin hair look better is to chop off dead, fly-away ends. Lots of  breakage  can inhibit healthy hair from flourishing. Ask your hairdresser to cut your strands at an angle to speed up the growth.
Finally, the right haircut is just as important as how you style your hair and the products you use on it. Here are some seriously cool hairstyles for thin hair; there's bound to be one that suits you!
Image credit: Instagram @mane_ivy
12 Cool Hairstyles for Thin Hair
1. Blunt Cut With Bangs
You might think that this hairstyle is impossible to pull off, but the truth is that wispy bangs can look like breakage and make the hair look even finer. Make a statement with your bangs and wear them thick! This adds density and body to the front. Bangs also bring attention to the best feature of every woman's face…the eyes.
Especially good for: Those with fine hair, but lots of it!
2. Slicked Back Ponytail
When your hair is slicked back, it doesn't really matter how thick or thin it is – what's noticed is the front of your hairline surrounding your face. Pull it up into a high ponytail for a bit of everyday elegance, but if you want a sexier look, you can always add on a clip-on ponytail like this for some extra drama!
Especially good for: Oblong or oval face shapes
Image credit: Instagram/KimKardashian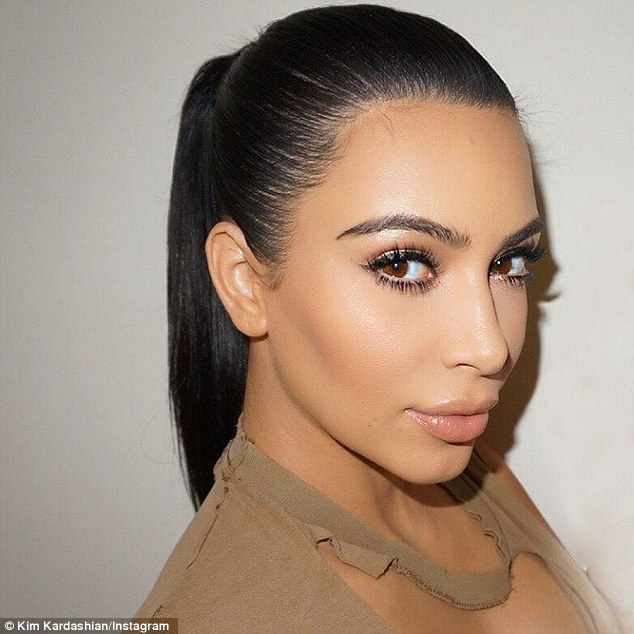 3. Pixie Cut
The pixie haircut has been one of the most loved hairstyles for decades, and having fine or thin hair will work perfectly with this cut. It's cute, easy to style – you can just wash it and go out without too much fuss. If you're looking for more detailed thin hairstyle guides, you can check this website for more information.
Best for: Heart or diamond shaped faces
Image credit here.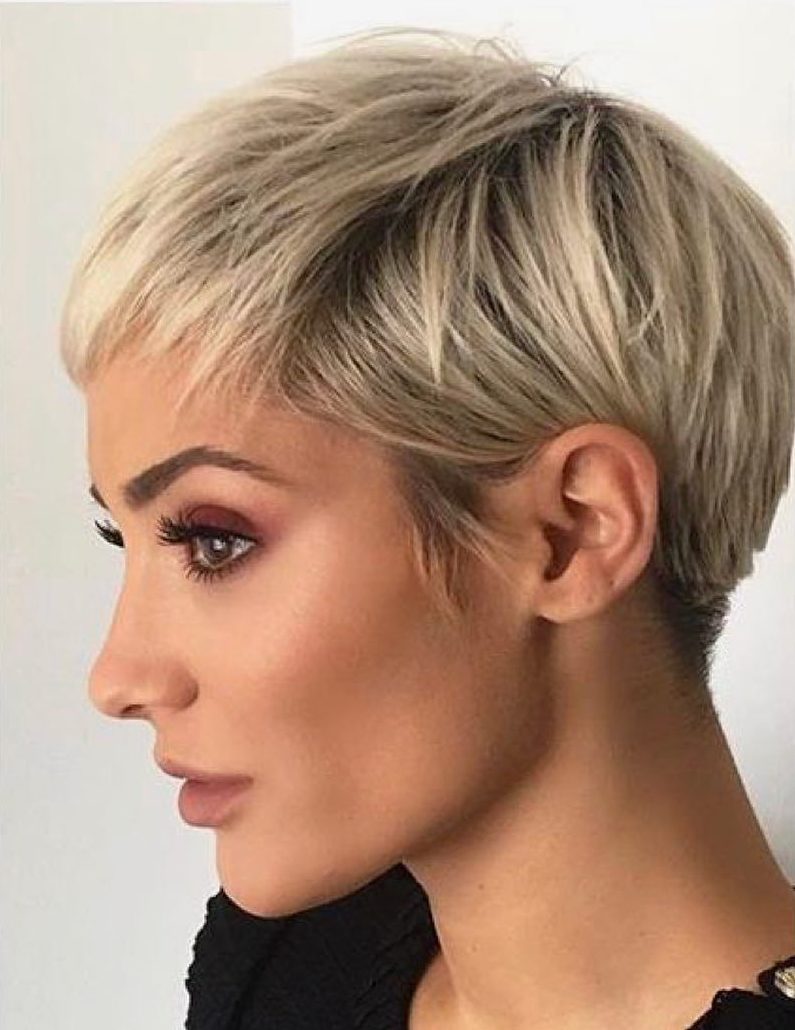 4. Messy Top Knot 
Yoga bunnies of the world unite! The messy top knot has become something of a hipster classic. It's easy to do, and is perfect for yoga class, gym days or just hanging out with friends at the weekend. If a few hairs framing your face fall free, all the better!
Best for: All face shapes! And hot, sweaty activities.
Image credit: Instagram/idamarieoestergaard
5. Curtain Bangs + Loose Bun
Ok, so our 'curtain' may be less velvet and more cotton gauze, but thin haired women can still pull off curtain bangs, as Victoria Beckham illustrates beautifully, below. This is a centre parted hairstyle, and the bangs can be cut in separate to a longer blunt cut, or as part of further layers. For a casual look, show off your bangs by pulling the rest of your hair back into a lazy bun.
Best for: Square, oblong or heart shaped faces.
Image credit: Instagram/VictoriaBeckham
6. Asymmetrical Bob 
The world went wild for Katie Holmes' Elle cover, and with good reason: her layered, asymmetrical bob was simply stunning! It's a look that many women realised they could pull off, no matter what their age or hair texture. The asymmetry of this cut means you can part it wherever it suits your face best.
Best for: Round or heart shaped faces
Image credit: Elle Magazine
7. Deep Side Part
A deep side part helps to give the top more volume and thus giving the style a look of more fullness. Tousled or textured hair also gives the look of more thickness instead of a sleek, straight style. For this style to really look voluminous, avoid a center part: in that case, the hair has nowhere to go but straight down, giving the hair a lank, lifeless look. Also, this look is best if cut just above the collarbone – any longer will drag your face down.
Best for: All face shapes
Image credit: Jason Merritt/Getty Images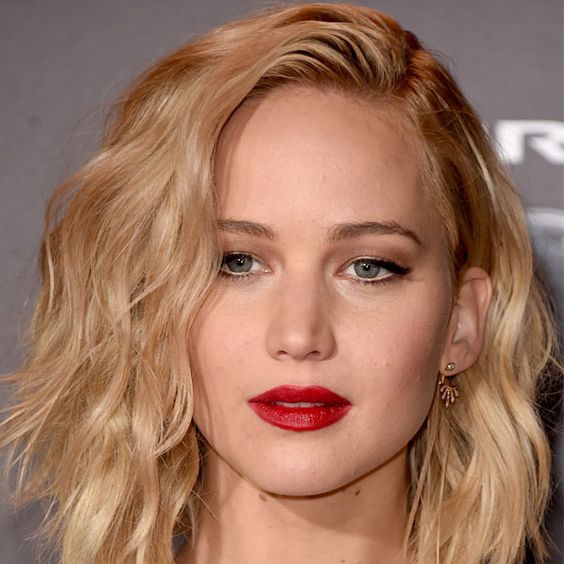 8. Medium Layers
Believe it or not, medium hairstyles for thin hair can make your mane big and vivacious. Loose and messy barrel curls teamed with layers and side swept bangs will give you the va-va-voom you are missing. Sophisticated and yet a bit sexy, this look is seriously boosted with a hair volumizer, as mentioned above. Note that the cinnamon hue also makes any patches of scalp less apparent as the colours of the skin and hair are complementary.
Best for: Square, oval and oblong face shapes. The look can overwhelm heart and round faces.
Image credit: Instagram/@MARKGARRISONSALON
9. Texturized Back Layers
Add some volume to your overall look with some texturized layers in the back. This will 'puff up' your hair overall, making it look thicker. It also helps to have a few strategically placed highlights – rich reds and browns give the illusion of weight and depth, therefore thickening the hair to the eye.
Best for: Anyone!
Image credit: Pinterest
10. Wispy Front Layers With Highlights
Centre parts can really flatter oval and oblong faces. This is one of the simplest, most modern hairstyles for thin hair, and it offers symmetrical framing and long, loose waves slightly accentuated with balayage highlights – sweet and feminine!
Best for: Longer face shapes; those with fine hair, but tons of it
Image credit: Instagram/DIANASHIN
11. Highlighted Short Layered Bob
Sometimes, length weighs hair down and maximizes thinness, so a short layered bob is one of the best hairstyles for thin hair, by far. The only things that can make it even better? Adding texture and color. Dark roots against light hair instantly give the illusion of density in your strands, while choppy layers boost volume.
Best for: Round or heart shaped faces
Instagram/@loveyourhair
12. Chopped Shag
This is a modern take on the classic shag. The choppiness gives it a fresh, slightly punky appearance, and the layering offers some much-needed body, just like the style above. This is a fabulous mid-length cut for any woman of any age who has thinner hair.
Image credit: Instagram/salsalhair
Latest posts by Chere Di Boscio
(see all)