Finally! An awesome collection of natural and vegan makeup brands for black skin specifically!
By Amma Aburam
Let's face it: finding makeup for black skin is still not as easy as it should be. Whether you're shopping in a drugstore or a department store, it seems huge brands like Boots, Dior or Lancome fail to cater to the diversity in the black skin tone.
Now, imagine looking for natural and ethical make-up for darker skin tones- I can tell you from personal experience that it's beyond difficult! I've been working on this article for ages, and it was delayed again and again, mainly because some of the brands I found were too chemical (though they looked great on black skin), or not vegan friendly.
Finally, I've come up with this fab list of natural and vegan makeup brands for black skin, most of which I have tried and tested myself. What's interesting about this list is that for the most part, they're all 100% owned by people of colour – mainly women. Bonus!
If I've missed any brands, please let me know in the comments, below – we need all the info on these products we can get!
Image below courtesy Iman Cosmetics
10 Amazing Natural & Vegan Makeup Brands for Black Skin
Packed with organic, natural and sustainable goodness, Shea Moisture makes not only makeup geared to black skin, but also produces an array of hair care and skincare products you'll love.
The Fair Trade brand strives to be sulphate free, paraben free and is even tested on members of the founding family – not on animals. In addition to this, 10% of commercial sales go to women-led businesses that are involved in providing the ingredients for the brand's products.  How great is that?
Vegan? No, but it's cruelty-free.
Hero Products? Black Plum lipstick and CC Cream SPF 15
Blac Minerals incorporates healthy, skin-enhancing ingredients into their products. It's all created without animal testing, FD&C synthetic lakes and dyes, phthalates, parabens, sulphates, propylene glycol, benzene, mineral oil, petroleum, peanut oil, triclosan, and other ingredients you just don't want on your skin.
I love their chic, minimalist packaging, and the M.A.C. foundation shade matching feature. And the best part? They sell small samples you can try before committing to larger size.
Vegan? Cruelty free
Hero products?  Flawless Finish Dust and their Mineral Foundations
This is one seriously ethical lipstick brand! Not only are their cosmetics cruelty-free and free of all nasty chemicals normally present in deeply hued lipstick (i.e. heavy metals), but their Latina founder, Ericka Rodriguez, also donates a nice chunk of profits towards saving orangutans.
And did I mention that their recycled, recyclable packaging is made by a Bali women's collective?
Vegan? Yes.
Hero product? I am loving their Elusive shade right now.
This gorgeous makeup brand is watertight when it comes to ethics! It's all natural, gluten free, vegan friendly, cruelty free and 91% organic, with no parabens, talc, mineral oil, or other nasties. Sounds heavenly, right? But it gets even better: they offer a free, online skin consultation.
Vegan? Yes.
Hero products? Their perfectly shaded mineral foundations and concealer sticks.
Plain Jane Beauty is an eco-friendly brand that blends aesthetics with ethics with the aim to make sure that everything that goes on your skin is healthy, effective, safe, and cruelty-free. With a whopping 17 organic foundation shades, there's certainly something here for everyone!
Not sure you want to commit to a product? No problem – you can purchase small samples cheaply. The brand is part of the Green Business Leadership Forum and owns a Leaping Bunny logo (proving they don't test on animals), but what I love the most is that they also offer a monthly subscription beauty box (called Eco BeautyBytes), so you can try and test new products.
Vegan? Cruelty free
Hero product? Their retractable brow pencils are the perfect texture, never need sharpening and come in an array of colours.
This brand was created to highlight women's natural beauty through organic, NPA certified skincare and vegan/gluten free cosmetics. Some extra offerings from Gabriel Cosmetics that the other brands mentioned above don't have is an array of nail polishes, and a 'clean kids' range, which is a great idea.
Vegan? Yes.
Hero product? Their Zuzu Luxe oil-free foundation that comes in a wide variety of shades, from a honey complexion to darker tones.
Oh, how I love this Paris based brand! It's an exception to the list, as its original founder, Fabrice Mahabo, is, of course, a man. But he is a man of melanin, and really knows how to make a lippy that will make your skin tone truly pop!  This brand creates some of the most richly pigmented colour cosmetics on the market. Why not try their perfectly tinted foundations, bold eyeshadow palettes or blushes to see for yourself?
Vegan? Almost. Most of their products are – a few contain beeswax. All are 100% cruelty free
Hero product? You will love their Black Up x Shy'm Eyeshadow and Blush Palette, below! It's got amazing colours in it, and I can honestly say they last all day.
Stephanie Belleci Manna, beauty expert and the Founder of Belleci Cosmetics, just recently launched a very unique, patent pending, anti-aging custom foundation system with only 4 SKUs that works on all skin tones and ethnicities.
It took ten years and a tremendous amount of market research to create this mistake proof product, which is free of parabens, propylene glycol, alcohol, dyes, fragrances, mineral oil, gluten and talc.
Vegan? Nope Hero product? Well, it's really all about the foundation, but the lip palette looks good, too!
Founded by the gorgeous former model and widow of David Bowie, Iman, this brand offers over 10 best-selling foundation shades to match the skincare needs of African American women. This halal beauty brand features a full line of cosmetic and daily skincare products to embolden your look, no matter where you go.
Vegan? No, but they are halal and cruelty-free. They never test their products on animals, nor do they ask others to conduct animal testing on their behalf.
Hero product? Their lipsticks are out of this world!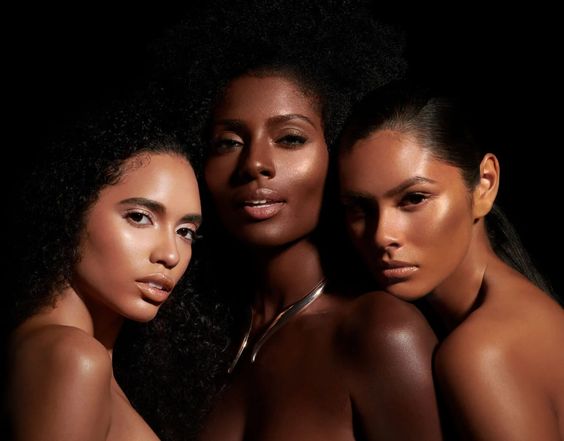 The brand is 100% cruelty-free, and most of their products are also vegan – some products, such as their Old Saharan Palette colours used carmine to create their red shades. But that was then – today the label is aiming to be vegan friendly and is phasing out the insects. However, that doesn't mean Juvia's Place cosmetics will be any less richly pigmented!
Vegan? Kinda. See above.
Hero product? Their 'I Am Magic' concealers and foundations are pretty much…magic!
Ok, this may not qualify as one of our vegan makeup brands for black skin, but given the love-hate relationship many of us have with our hair, I thought this was a brand to include!
Whether your curl type is loose waves or tight curls, Holy Curls has a range dedicated to your tresses and its needs. The brand is totally plant-derived, cruelty-free and is, of course, 100% vegan. Their products are both sulphate and paraben-free, and naturally fragranced with essential oils. This stuff will leave your hair hydrated, softer and more defined, too.
Vegan? Yes! Hero product? The Curl Gel is great for keeping your hair looking fabulous for days at a time!