British vegan beauty brands are amongst the best in the world! Here are some of my top picks
By Lora O'Brien
Some may know we Brits are famous for our love of tea, or how we always find ways to moan about the weather, be it rain or shine. But did you know we're famous for something else? British vegan beauty brands!
Yep, that's right. The British public has one of the strongest vegan populations in the world. In fact, according to some studies, up to 7% of the UK's population is vegan, making us the biggest vegan population in the whole wide world. Woohoo!
This would explain the increasing number of British vegan beauty brands on the market. Though vegan cosmetics and skincare are still a fairly small niche, it's one that is only set to grow bigger as more people demand grooming and beauty products that don't harm animals in any way.
From home spa treatments and power serums to gender-neutral makeup and , these are the best British vegan beauty products I feel you all need to know about right now.
The Best of British Vegan Beauty Brands
This is one of my very favourite British vegan beauty brands, because the stuff works!
Oskia specialises in skincare. They create a range of products that are designed to be anti-ageing, anti-pigmentation, anti-UV and pro-vitamin, collagen and elastin building. Choose from serums, creams, vitamin drops, mask, exfoliators, and more.
I was given one of their serums as a gift, (the Isotonic Hydra Serum, if you're asking), and was surprised. Honestly, I'd never have thought to have bought this for myself (at £78, it's a bit out of my usual price range), but now I'm hooked on Oskia!
It was crazy, dear reader: after a few weeks of use, I really noticed a difference in my skin tone (normally red and a bit puffy). I had the clearest complexion I'd had in ages, and my face felt softer than ever. I also didn't get my usual eczema flare-up (a tiny patch under my eye). So I've become a bit evangelical about this brand.
I've since bought the Super 16 serum, and will tell you more about that, below.
Hero product: If you're looking for something that will really make a difference to your skin, you could try the Isotonic Hydra Serum I mentioned above, or Oskia's fragrance-free 'Super 16' serum. It's packed with – surprise! – 16 nutrients and bio-actives that firm the skin, diminish fine lines and reduce inflammation.
It contains Bakuchiol – derived from Indian Babchi seeds and traditionally used to heal cuts – which boosts the production of collagen and elastin, as well as suppressing the effects of melanin-producing cells, reducing the appearance of age spots and pigmentation – all without causing irritation or sensitivity.
Price: £90
Made with sensitive, allergic skin in mind, Pai ensures that each of their products is 100% free from all irritating chemicals and alcohol. The brand carefully selects ingredients with proven remedial and skin soothing properties, such as chamomile, rosehip and calendula.
This is a favourite brand with moms, for good reason. Their skincare range is safe enough not only for pregnant women, but for their babies, too!
Hero product: This day cream is perfect for anyone who lives in a polluted city and/or finds themselves with red blotches that need covering up with makeup.
Price: £50
Ever wondered what PHB stands for? Pure. Handmade. British. PHB's ethos has always been to provide its customers with the purest AND most effective ingredients.
This is one of the best British vegan beauty brands for 100% naturally derived and ethical ingredients. All their products are, of course, also free from chemicals, harsh alcohols and GMO's and are never tested on animals. And get this: the founder's dad was in the rock band UB40. How British is that?
Hero product: Brows really do frame your face, so if you're looking to enhance yours, then this mineral based brow powder is perfect. It won't smudge, and its staying power makes it great for day to day use.
Price: £9.95
From organic hair perfumes and dry shampoos to a superb range of conditioners and hair washes, Tabitha James Kraan has it all! Made from high quality, cruelty-free, vegan and organic ingredients, these products not only do your hair a world of good, but they look great on your bathroom shelf, too!
In case you're wondering who this 'Tabitha James Kraan' person is, she is a former hairstylist, who started her brand after having an epiphany when she was preggers: "I was enlightened to the fact that what I was putting onto my body, would be passed on to my unborn child. If this was what I was exposing my body, and my child to, undoubtedly it was also putting my salon clients at risk. I had to find better ways to work," she says.
The result is a wide range of products that are as organic and vegan friendly as can be!
Hero product: It's hard to pick just one! But their Amber Rose conditioner smells like a dream, and deeply conditions all hair types.
Price: £32
Founded with the belief that we need to be mindful of our connection to the earth, Bamford is based at Daylesford Farm and Spa in the Cotswolds, and is home to one of the most sustainable organic farms in the UK. Made with only the purest ingredients, it's no wonder Bamford is one of the most loved British vegan beauty brands for top British fashion designers and celebs like Kate Moss and Lily Allen.
The brand offers a wide range of products that you'd love to have in the bathroom. Think: bath oils, shower gels, shampoos, soaps, body oils, masks, balms and creams. And each product is stuffed with the goodness of all the gorgeous plant-based flowers, oils and botanical extracts from the Bamford's organic farms.
Hero product: A bath can feel therapeutic to many, so why not kick things up a notch with this super indulgent bath oil? Infused with apricot kernel oil, vitamin-rich almond oil and oleic acid, this relaxing bath oil will soften and nourish skin, while sweet notes of jasmine, orange blossom and cedarwood will transport you to a place of tranquility.
Price: £40
It seems more people are waking up to chemical-free beauty these days, but REN is a British Brand that launched clean skincare way back before it became mainstream. REN, which means 'clean' in Swedish, uses bio-active ingredients that actually benefit your skin's health. REN is also on a mission towards a waste-free future, aiming to have 100% recyclable packaging, refillable solutions and bottles using reclaimed ocean plastic by 2021.
Hero product: REN's Rose Centifolia™ Cleansing Gel is not only designed for all skin types, but it's super gentle and works to thoroughly cleanse skin without stripping away moisture. It's also designed to remove make-up, oil and the day's dirt and pollution from the skin, so it's a bit of a multitasker!
Price: £17.00
This family run business is something of a pioneer in the world of clean beauty in Britain. Certified organic, vegan-friendly and packed with up to 99% active natural ingredients, the wide range of products from Green People (which range from men's grooming, babies and makeup products) all protect, nourish, balance and beautify.
Hero product: It's hard to choose from such a wide range, but their reef-safe, scent-free SPFs are really amazing!
Price: £22.50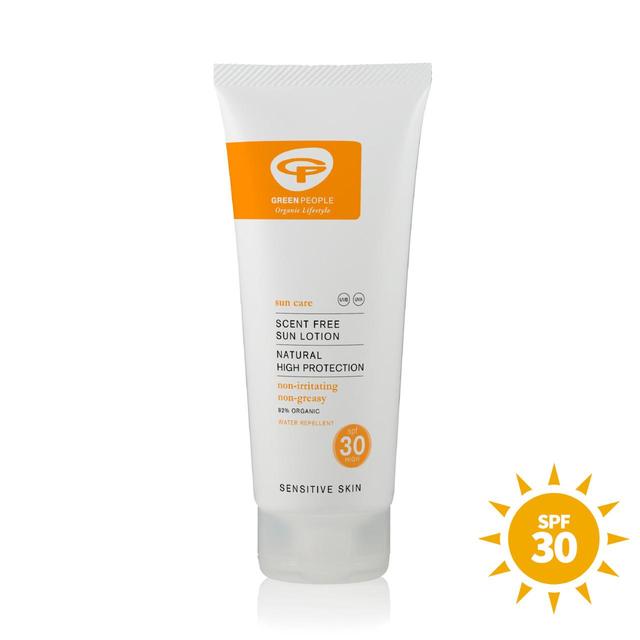 This family-run business may have their roots in India, but their business is purely British! Harvinder, the owner of the brand, uses Ayurvedic principles and Indian traditions to create a highly effective line of hair dyes, shampoos, creams, conditioners and hair oils.
She strongly believes in the power of plants – not chemicals – for treating, shampooing, conditioning and even colouring hair.
Hero product: Their dyes are their best selling product – no chemicals are used at all, and the results are permanent, and stunning!
Cost: £12
Behind Clockface Beauty is a mother and daughter duo that has created a luxurious skincare range that's dedicated to wellness. Knowing that beauty and well-being is truly skin deep, Clockface Beauty works to leave both you and your skin looking and feeling amazing.
Made in Yorkshire, the brand is 100% natural, organic, vegan and cruelty-free and uses only ingredients that draw on nature to rejuvenate both mind and body. They've also recently released a range of waterless beauty products, from serums to shampoos. These not only boast a higher concentration of active ingredients, but also last longer in your bathroom cabinet and save CO2 in transport, since they're lighter!
Hero product: Skin a little on the dull side? This serum is made with a blend of 9 essential oils, each selected for their renowned healing properties, and combined with vitamin E, jojoba, avocado and argan oil to hydrate skin quickly and effectively whilst protecting against damage.
Price: £48
Clive Christian's luxurious scents are all cruelty free, but unlike most perfumes, this British artisan includes a vegan line, too. For example, the label includes notes of leather….without the use of dead animals. Using only the finest and highly concentrated ingredients provided by nature, Clive Christian recreates aromas from the ancient gardens of British nobles.
Hero product: 'Rock Rose VII' has invigorating top notes of Citrus, Bergamot, Black Pepper and Neroli. This is an oriental floral, with fruity top notes of Mirabelle Plum, white Peach and Bergamot which slowly and sensually unravel to reveal Jasmine, Carnation and a heart blooming with Rose.
Price: £450.00
With 30 years experience under their belts, Beauty Without Cruelty was one of the first cruelty-free, vegan and ethical makeup brands in the business – not just in Britain. All of their products are made with natural ingredients. They're all hypoallergenic and fragrance-free, making them great for even those who suffer from sensitive skin. Their packaging is also recyclable, and recycled material is used wherever possible.
Hero product: If you're prone to oily skin, then you need this product in your life! The ultrafine loose powder blends with your natural skin tone to give skin a super-sheer matte finish. It will set your makeup perfectly! The light reflecting particles not only give skin a radiant glow, but the natural kaolin clay helps to combat shine. Guaranteed: your skin will stay matte all day long!
Price: £8.50
BYBI was founded in 2017 by two beauty bloggers who were determined to make beauty products more transparent. Using only high-quality ingredients that they know will directly benefit our skin, BYBI proves that 'natural' skincare doesn't need to mean basic. The brand is not only 100% vegan and cruelty-free, but also uses 'climate conscious packaging, production, and ingredients'.
Hero product: Their lip plumper! Want a plumper pout but don't like the idea of pumping lip fillers into your mouth? BYBI Beauty Lip Plumper work to enhance the shape and volume of your pout (thanks to all natural ingredients and essential oils). It also promotes healthy, well-conditioned lips so your lips will be perfect kissable all day long.
Price: £9
Daniel Galvin Jr has been one of the world's most sought after colourists for over 20 years. He provides clients with incredible service, rooted in Daniel's own vegan values.
As a beauty expert, Daniel has been at the forefront of the organic and vegan beauty movement since its inception. He has tenaciously lobbied on behalf of his industry and the wider organic community.
Hero product: The Detox & Purify Shampoo is an antioxidant-rich blend of organic extracts blended with essential oils as well as Mediterranean grape seed oil, coconut, seaweed, Arabian coffee, banana and organic orange oil. The formula lathers beautifully (despite zero SLS!) and was designed to detox, purify and rehydrate tired, stressed and over processed hair.
Price: £20.00

Tropic Skincare is an all-vegan skincare brand that has been on the receiving end of countless awards. And that's despite being in the industry for a short time! Founded by Susie Ma and backed by business mogul Lord Alan Sugar, (he of Dragon's Den fame), Tropic Skincare is one of the fastest growing of all the British vegan beauty brands.
They offer skin care, body care, makeup and hair care for all ages, skin tones and genders. We just wonder about that name. Tropic? I mean…have you been to the British isles? LOL. Actually, it makes sense if you look into it. It was so-called because Ms. Ma missed the weather of where she was born: Australia.
Hero product: Lash Extensions Mascara. Fake lashes or lash extensions may look great, but they can hinder the growth of your own lashes in the process. Lengthen your lashes by creating a false lash effect with this dynamic duo. The nourishing fixing gel is applied first, and then you add the extension fibres, which work to layer your lashes for up to 5x more volume, and double their length.
Price: £25.00
After working as a MUA, founder and director Jessica Blackler spent a lot of time catering to a diverse range of clients. After some time, she spotted a gap in the market when it came to gender-free makeup. A firm believer in the transformation of makeup, Jessica created a unique range of makeup. It allows all wearers feel confident and celebrate their uniqueness.
This is one of the newer British vegan beauty brands that we've just learned about. But we're loving the wide range of colours they offer!
Hero product: Jecca is cruelty-free and vegan and made in the UK. This concealer palette works to create a luminous base for all its wearers. It works hard to cover everything from birthmarks to acne, thus helping even those who feel self-conscious to feel flawless.
Price: £20.00
Latest posts by Lora O'Brien
(see all)