Yes, there ARE Afro vegans on Instagram! Here are some should be following
By Amma Aburam
Once upon a time, the word 'vegan' evoked images of pretty, glowingly healthy white girls. Think: Deliciously Ella, Freely the Banana Girl, or the Vegan Foodie, for example. But what about those of us with a bit more melanin?
Sure, Beyonce and Oprah went vegan for about 5 minutes. And recently Ne-Yo has declared himself vegan (after watching What the Health). But where is that Afro-vegan community?
The answer is: everywhere. There are loads of Afro vegans out there. Sure, they may not have the hundreds of thousands of followers like Ella or Freely, but let's change that!
Personally, I am embarking on a journey to try out veganism for the first time, and in preparation for that, I found 12 inspiring Afro vegans on Instagram to help me on my way. Discovering them has opened a up a whole new world of food for me and I'm sure they will inspire you too – no matter what the colour of your skin, or the food you love!
Afro Vegans On Instagram To Follow Right Now
Our first of the Afro vegans on Instagram to follow is also one of the most experienced.
Tracye McQuirter has been a vegan for a whopping 30 years – so she knows her stuff! She's a best-selling author, public health nutritionist, international speaker and vegan pioneer. Her passion for veganism has become her whole life's work. Her most recent African American Vegan Starter Guide is a bible for anyone who wants to go vegan, but specifically black people as it underlines the benefits of veganism for black communities and how to navigate being a vegan in their socio-cultural environment.
With a name like that you can only expect the sweetest of recipes! As a professional vegan chef who's been featured on The Today Show, VegNews, InStyle, Reader's Digest and more, Jenne Claiborne shares tasty and unique vegan recipes on her social media channels and blog. This gorgeous woman promotes a compassionate lifestyle. Which, of course, logically extends to ethical fashion and natural, cruelty free beauty.
Ashley Amanda is an experienced vegetarian who transitioned to veganism after 10 years as a vegetarian. Becoming a vegan worked miracles for her health and she felt transformed from within and more connected to life. Since, she has made it her passion to bring people into the beautiful world of veganism and she travels the world to teach others about a plant based diet. She also offers inspirational messages with a lightly spiritual touch.
Our next of the best Afro vegans on Instagram is Afia Amoako. Afia is a Ghanaian living in Canada. She makes vegan inspired Ghanaian dishes that will have any West African's mouth watering! You can find her recipes on her Youtube channel as well as some stunning food photos on her Instagram page. Even better is her free ebook, featuring simple vegan Ghanaian dishes. Which I cannot wait to try!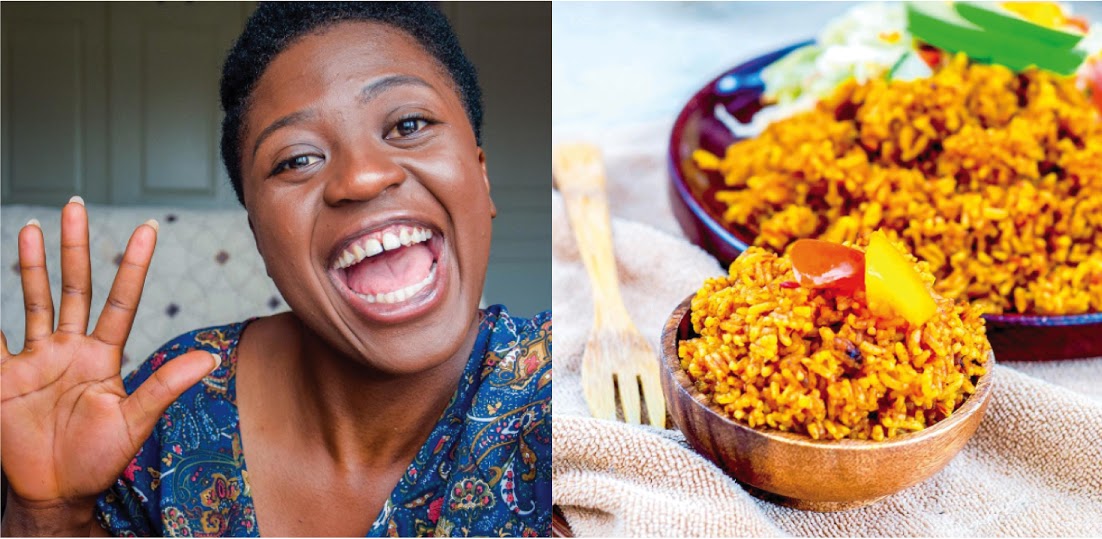 Yes, there are some men in our list of Afro vegans on Instagram! This African-American vegan eco-chef, author, and food justice activist wrote the amazing Afro-Vegan: Farm -Fresh African, Caribbean and Southern Flavors Remixed, his fourth book. He is proof that vegan cooking isn't just about steaming veggies! In fact, he's a James Beard Foundation Leadership Award-winning chef. He's also known for his activism to create a healthy, just and sustainable food system.
We couldn't do a list of Afro vegans on Instagram without a Brit or two! And Esme is a proud London Afro Vegan. Her passion is to show vegans and non-vegans alike just how fun and easy living a plant based life can be. She's inspired by the myriad of different cultures that co-exist in London, and loves to experiment with exotic ingredients. She definitely knows how to have fun with her food – and it's pleasantly contagious!
This is one of the best pages for Afro vegans on Instagram. It's all about learning how plant based living is better for your health. It's really an extension of their Facebook page, which is a platform for vegans of colour who share an interest in veganism, cultivating new relationships and memorable experiences through events, as well as local and international travels. It encourages making direct connections to vegans across the world. There's also up-to-the-minute vegan news and info on upcoming events.
Black Vegans Rocks rocks! It's a space that aims to spotlight everyday black vegans who want to expose their work, art, music, restaurant or projects to other vegans. Founded by Aph Ko, the team behind Black Vegans Rock's mission is to bring together a black vegan community that is focused on diversity rather than differences and it does it beautifully. If you're a black vegan, this initiative will make you feel like you're not alone in your vegan quest! 
Chef Babette is definitely one of our favourite Afro vegans on Instagram! She's a specialist in that most loved of all foods – vegan comfort food. Chef Babette creates delicious, drool worthy entrees and desserts that are filling, yet healthy, at her restaurant called Stuff I Eat. Besides comfort food, her other passions include improving the quality of your life and successful ageing. Which she seems to be very good at, if her pics are any indication!
Ruth Truth, vegan chef, caterer, educator and mother to three vegan children, is the woman behind this page. The cultured vegan Instagram page and website is a practical space for vegans to discover customized meals, nutritional information, recipes that are great for kids, and more.
Gloria Clay is the woman behind this popular Instagram account. Winner of the Vegan Outreach Mac Down competition, thanks to her Adams Vegan Mac & cheese Collard Green bake (below), Gloria says her cooking is often inspired by her husband. On Instagram, you can expect to find not only some mac & cheese, but creamy cakes, healthy lunches and hearty dinners – all made without any dead animals, yay!
Do you know of any other Afro vegans on Instagram we missed? We'd love to know about them! Tell us in the comments, below!
Main image: BVR via Afropunk
Latest posts by Amma Aburam
(see all)