These 20 sexiest vegan women of all time span all ages and all kinds of talents – but each is a true inspiration!
By Diane Small
They write books, star in films, create fashion lines, and sing pop songs you just can't get out of your head. But more than being hot A-list entertainers, these women are also models of sustainability thanks to one of their lifestyle choices: veganism.
Emissions from animal husbandry have been proven to contribute more to climate change than the emissions from all forms of transportation combined, so not eating animals certainly helps to save the planet. But of course, it also saves animals' lives, and possibly even your own: vegans have been proven to have far lower cancer rates, heart attacks and strokes than meat eaters or even vegetarians, and they live longer, too.
Upping your intake of fruit and vegetables also means increased vitamins and nutrients in your diet, which leads to a slowing of the ageing process. No wonder a vegan diet has been embraced by so many elite athletes and celebrities!
Bill Clinton, Beyonce and Jennifer Lopez are but a few who have dabbled with veganism (but still admit to eating meat every now and then). Other stars, such as those below, are more committed to shunning the animal products, not only on their plates, but in their wardrobes, too.
Here, we present in no particular order, our 20 sexiest vegan women, all of whom are truly inspiring.
Oh, and if you'd like to check out the sexiest vegan men, we have that list, too!
Image credit below: Andres Otero/WENN.com
Our 20 Sexiest Vegan Women Of All Time
1. Christie Brinkley
If there's anything the sexiest vegan women can teach us, it's that a vegan diet can help slow ageing. And no one shows this better than Christie Brinkley! The super stunning blonde rose to fame in the late 1970's as a (if not the) Sports Illustrated supermodel. She went on to be featured on over 500 covers of the world's most coveted magazines.
Christie has dedicated the majority of her adult years to adopting a vegan lifestyle. In recent interviews, she declares her astoundingly ageless face and body are due to  her plant based diet. At nearly 70 years of age (and still gorgeous!), Christie remains a devout animal rights activist. She's also a long-serving supporter of PETA. In  March of this year, she launched her own vegan skincare range. It includes effective serums, exfoliators and creams. And yes, even the champagne in the pic below is vegan! We love her choices!
Image: D DIPASUPIL/GETTY
2. Leona Lewis
London hottie Leona Lewis shot to fame in 2006 after winning the world's largest televised talent contest, The X Factor, and has since gone on to sell more than 20 million records worldwide ever since.
A vegetarian since the age of 12, Leona has more recently made a permanent transition into veganism after further educating herself of the health risks connected to egg and dairy products.  Winner of the PETA sexiest vegetarian awards in 2009, Leona is also a loyal ambassador for Hopefield Animal Sanctuary  and has created her a  line of cruelty-free cosmetics in a collaboration with  The Body Shop.
3. Rooney Mara
When you're married to someone like Joaquin Phoenix, you'd better be a hardcore vegan. And luckily, Rooney Mara is!
The actress is passionate about saving animal lives, and has even insisted that the Sundance Film Festival go totally vegan. She was delighted when they did, in 2016. They offered up snacks like cauliflower wings and meals like vegan shepherd's pie and roasted blood oranges with beetroot.
Mara has also recently launched her own vegan clothing line, called Hiraeth. It's stunning, check it out!
Image: @givenchyofficial
4. Emily Deschanel
Brunette beauty Emily Deschanel is an actress on the smash hit series Bones. She has been a dedicated vegan since around the age of 15 after being inspired by an animal rights documentary presented to her class at school.
Emily's commitments to animal rights include her support toward the Farm Sanctuary, PRCM,  a non-profit organization proudly promoting preventative medicines and encouraging higher standards for ethics in research, and the Humane Society.
Emily is very vocal on the subject of animal rights – especially in the farming industry. She is happy to spread  awareness of these issues  whenever possible. In fact, she even ensures her red carpet looks are vegan!
Image: @emilydeschanel
5. Ellie Goulding
The beautiful, British born singer/songwriter Ellie Goulding is another vegetarian that has recently jumped on the vegan train. She speaks openly about how much she's enjoying the journey, insisting that she feels much more 'leaner and healthier'. Quite a strong statement from someone who's already known for her athletic frame!  
Ellie says that it's not always possible to be strictly vegan, especially when on tour. She also states that that veganism at times can definitely be 'challenging'. But she also insists it's 'not impossible', and says 'it's worth it!' We'd agree: for people, the planet, AND the animals!
Image: EllieGoulding
7. Ruby Rose
Apparently, it was sharks that made one of the sexiest vegan women go vegan.
In a question to the actress, Shark After Dark host Julian McCullough hinted that the actor went vegan in part because of sharks. She explained: I used to get something called "shark fin soup and I didn't know. … I said to my mom, "Wait, is this made out of an actual shark's fin? and she was like, "Oh no, darling, of course not. … I later found out that it was and ended up being so sad that I cried for three weeks. … I thought that it was even worse that they just cut the fins off and the sharks were out there not able to move. … That really scared me and I used to have nightmares that they were finless in the ocean and I couldn't eat any fish ever again.
We feel ya, Ruby!
Image: @rubyrose
6. Daryl Hannah
Sexy and strong, Daryl Hannah made her way onto our screens back in the late 1970's by  starring in mega movies like Blade, Roxanne, Splash and Kill Bill. Also an accomplished stage  actress, Daryl has never been one to shy from  making statements in favour of the environment and animal rights.
A passionate vegan and lover of 'life and the wonderful creatures on this planet' – Daryl created www.dhlovelife.com with the aim of inspiring and informing a more ethically mindful species through light-hearted weekly video uploads. She is now an established vlogger and the site sees thousands of the eco-conscious flock to it for environmental and animal friendly updates each week.
Image: @dhlovelife
8. Demi Moore
Hollywood hottie and star of dozens of films from GI Jane and Ghost to Charlie's Angels , Demi Moore looks nothing short of incredible at the age of 53, effortlessly putting some women half her age to shame in a bikini! Demi credits her age-defying appearance solely on a raw vegan diet topped off with weekly yoga and Pilates sessions.
Moore reveals that she always felt immensely pressured to stay super thin and sexy, but found that a natural approach to wellness involving veganism and lower-impact exercises has given her the confidence, health and beauty she's always aspired to.
Image: @demimoore
9. Pamela Anderson
Baywatch star  Pamela Anderson has a big heart that has forced her not only to give up eating animal products, but also to support animals in other ways too.
She's a huge supporter of PETA and even posed nude for the brand. She's also launched a line of vegan boots this year, and has recently slammed M.A.C.'s parent company, Estee Lauder, for doing animal testing for their cosmetic brands in China.
Image: @pamelaanderson
10. Famke Janssen
Dutch stunner Famke is another of the sexiest vegan women on the planet! She's best known for her intense acting roles in films such as X-Men, Taken, and as a Bond girl in GoldenEye. A compassionate animal lover and owner of pet dog Liquorice, Famke believes that 'when you get that close to an animal, things change, and it doesn't seem to matter if it's a dog, chicken or cow'.
Famke and her adorable canine companion appeared on PETA's very popular 'Be an angel for animals' campaign, It was aimed at educating people about  all aspects of animal cruelty.
11. Nikki Reed
Another of our sexiest vegan women is also one of the busiest. The actress, model, photographer, musician, mom, writer and jewelry designer wears a lot of hats! And where does she get all that energy from? Well, from a vegan diet, of course!
She and her husband, Ian Somerhalder, are both passionate about saving animals. In fact, they're both spokespeople for the American Humane Society, and their work through the Somerhalder Foundation aims to save animals and the planet in a wide variety of ways.
No wonder the couple received the Jameson Animal Rescue Ranch Humanitarian Award, which celebrates individuals who have shown outstanding compassion, advocacy and dedication to animal protection issues.
Image: @nikkireed
12. Carrie Anne Moss
Carrie Anne kicked butt in all 4 Matrix films (Eluxe faves!) and even did her own stunts in these. Since her time wowing audience on screen, Vancouver born Carrie Anne Moss became a mother. Consequently, she's become more concerned about the planet and how we interact within it.
Moss recounts the story of how she took a walk in the countryside one day, and happened to be followed by a few curious cows. She then found  herself making the connection between these animals she was quickly growing fond of, and the steak she was due to have on her plate for dinner that evening.
She didn't have the steak, of course. And has since then, she's become enticed by the wonderful foods a vegan diet has to offer. She can often be spotted at her local organic farmers' markets picking up healthy food for her family.
Image: @carrieannemoss
13. Michelle Pfeiffer
Due to the desire for a healthier body and mind, the smoking hot Catwoman took to educating herself more on the health benefits associated with a plant based diet. Today, Michelle totally owns her ageless looks and of course, credits this to her vegan lifestyle.  
She openly admits that before finding veganism, her daily diet consisted mainly of coffee, cigarettes and Coca-Cola. Since ditching meat and dairy and taking up meditation, Michelle has also stopped eating junk food. She enthuses that the health benefits have been tremendous.
We'd agree: she's for sure one of the sexiest vegan women!
Image: MichellePfeifferOfficial
14. Jessica Chastain
This stunning redhead and eco-conscious A-lister is another of the world's sexiest vegan women. She was raised by a vegan mother who made a living from running vegan restaurants. Adopting a vegan diet would have come more easily to Jessica, having been introduced to a greener lifestyle from a young age.
However sustainable her dietary choices may be, she has not yet extended this to her wardrobe choices. Unfortunately, Chastain has been spotted donning leather clothing and accessories at many red carpet events. We have faith in her yet, though! It's never too late to make the change and there are an abundance of vegan fashion labels out there, as she surely knows.
Image: @jessicachastain
15. Olivia Wilde
Dubbed the 'Real Deal Vegan' by OneGreenPlanet.org and winner of PETA's sexiest Vegetarian celeb of 2010, Olivia was an easy choice to shortlist for our sexiest vegan women. The cat-like beauty has  previously promoted cruelty-free cosmetics for Revlon. She also proudly shows off her veganism through her website, which has an entire page devoted to vegan and greener living.
16. Lily Cole
Lily Cole became a vegetarian aged 10, but aims to eat vegan when possible. She used to get annoyed when people asked what difference it made. "But actually, my one measly decision not to eat (meat) is important, because it's like a chorus. You're only ever responsible for yourself. And anyway, it makes you feel good to make choices you can be proud of. So having the intention behind it is the key. Just having the intention. Then the more people have those intentions, the bigger the chorus gets," she said.
17. Portia de Rossi
This spot for the 17th sexiest vegan women should go to both Portia and her wife, Ellen DeGeneres! They have been vegan since 2008. But their dedication to animal welfare doesn't end there. They're both strong supporters of the Gentle Barn, a California-based sanctuary for abused animals. They also stand behind  Alley Cat Allies, an organisation dedicated to protecting and improving the lives of cats.  
18. Petra Nemcova
The lingerie model and founder of the Happy Hearts Fund for children is another of the sexiest vegan women on Earth. Once a pescatarian, she said that she went vegan because a fear of the health effects of fish farming and how close the planet is to destroying many fish species. Since changing her diet, she's also acknowledged that her body has changed for the better. Though many would say 'for the hotter!'
19. Sophie Monk
The English born actress, singer and lingerie model is as compassionate as she is beautiful. She has jumped at the opportunity to speak up for animals by shedding her clothes and posing nude in a bed of chili peppers alongside the tagline "Spice Up Your Life–Go Vegetarian" for PETA. Definitely one of their sexiest  public service announcements yet!
Sophie clearly wants fans to know that giving up animal products is one of the best things you can do to for your health and the planet. She has even said that she would only have gotten nude for one reason – to promote a worthy cause.
20. Billie Eilish
One of the sexiest vegan women is also one of the youngest!
The pop star was born Billie Eilish Pirate Baird O'Connell. She has been vegetarian since birth, and has been a vegan since 2014.
Eilish is often outspoken out about animal cruelty in the food system. For example, she has used Instagram to share undercover footage of the dairy industry taken at Fair Oaks Farms, a facility in Indiana that supplies cow's milk to dairy brand Fairlife, a subsidiary of Coca-Cola. On her Insta story, she wrote:
"I keep my mouth shut most of the time about this because I believe everyone should do, eat, and say whatever they want… and I don't feel the need to shove what I believe in in anyone's face. But man… if you can watch the videos that I just posted and not give a [expletive] that it's YOU contributing by LITERALLY EATING the creatures that are being fully tortured just for your pleasure. I feel sorry for you."
Who are some of the sexiest vegan women you know? Tell us in the comments, below!
Main image: HD Wallpapers  Other images: Wikicommons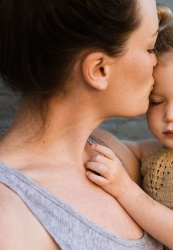 Latest posts by Diane Small
(see all)