This list of the sexiest vegan men alive may be the dreamiest thing you see all day!
By Diane Small
For all of us here at Eluxe, we honestly think having a  great body and handsome face just isn't enough to make a man sexy. And we're sure you'd agree – there are lots of other characteristics that add to a man's charm (and no, we are NOT referring to the size of his bank account!) Intelligence, wit, ambition, conviction, talent, and compassion are all qualities that we think are even hotter than dazzling eyes and good hair – and these men have them all.
There are a surprising number of hot, famous vegan men these days it seems, so narrowing it down to 15 was a bit tough. But after some debate and a few disagreements, we've come up with these: our 15 Sexiest Vegan Men, in no particular order (to save even more debating!). There's also a video, below, with even more hot vegan men, because….well, why the hell not?
Who's your favourite? And did we miss anyone?
Oh, and Anthony…if you're reading this, and are single and free, erm…you can get in touch with me by leaving a comment after this article. (A girl's gotta dream, right?)
Eluxe's List of the Sexiest Vegan Men Alive
1. Colin Kaepernick
The handsome but highly controversial football player gets his energy from a vegan diet. In 2016, he told the world that he and his girlfriend, Nessa Diab, were now eating a vegan diet. The switch was made to help Kaepernick recover from injuries sustained during his career. It seemed to work: he showed off his muscular physique on Instagram and captioned the photo: "Always ready #NotBadForAVegan." Now, we can only hope that the social justice warrior also makes the commitment to going vegan with his wardrobe, too!
2. Casey Affleck
Ben's little brother isn't just a bit more handsome (if you ask us), he's also more compassionate. He's been a vegan for years, but his love for animals runs deep: he believes so deeply that 'meat is murder' he did a  public service announcement (PSA) for PETA that exposed the beef and pork industry's abuse of animals.
In the PSA, Casey bluntly states why he went vegan: "When people ask me why I don't eat meat or any other animal products, I say, 'Because they are unhealthy and they are the product of a violent and inhumane industry.'" Neither does he pussyfoot around what goes on in  factory farms and slaughterhouses: "Chickens, cows, and pigs in factory farms spend their whole lives in filthy, cramped conditions, only to die a prolonged and painful death."
For those reasons, and because he thinks meat is 'poison that contributes to heart disease and cancer", Casey strongly urges his fans to avoid meat too.
3. Thom Yorke
The Radiohead frontman is also a spokesman – against meat consumption. He was strongly influenced strongly as a youth by Brit band The Smith's Meat is Murder and the band's leader, Morrissey, who is also a lifelong vegan, Thom is fond of telling people that once he went vegan, he felt much more energetic and healthier, and never ate animal products again.
But you know what? We're confused. He has been seen wearing leather more than once, and it also seems he needs to check out Eluxe's vegan recipes, as his diet sounds pretty limited. As he told Esquire magazine in 2013: "If you're going to be a vegetarian, you really do have to like lentils. Otherwise you're f**ked." C'mon, Thom, there's a heck of a lot more than lentils you can eat!
4. Will.i.am
The Black Eyed Peas frontman decided to go vegan later in life. And his reasons for doing so are quite interesting. He told the Belfast Telegraph:
"I thought about what I was eating – I was gnawing on flesh, dead animal. If you think about it, it's kind of sick."
After decades of eating meat, he finally realised how unnatural it is. "Imagine you're hungry – almost starving. You have a bushel of broccoli and then a chicken walks by. Are you going to rush the chicken, no utensils, and just eat it? Defeather it – eat the skin and cartilage, no seasoning and salt? No, you're going to dive into that bushel of fricking broccoli."
The rapper/songwriter has been delighted to report that his new vegan diet caused his cholesterol and blood pressure to fall dramatically. Win for him, win for the animals!
5. Joaquin Phoenix
It's hard to find a celeb as passionately vegan as Joker star Joaquin. Apparently, after he saw how fish suffered when his parents took his siblings on a fishing trip, the traumatised little Joaquin vowed to never eat animals again. And he encouraged  his whole family to become vegans too! In fact, his sister Summer is married to our number 2 vegan dude on the list, Casey Affleck, above. Small world!
His concern for animal welfare and rights led him to narrate Earthlings, a film that many say 'turned them vegan.' It's definitely one of the most hardcore documentaries on animal exploitation I've ever seen!
Perhaps because he truly knows just how much animals suffer for meat, leather and other commercial purposes, Joaquin is super strict in his veganism. He gets specially tailored, non-wool suits made just for him; owns a vegan car, and even refuses to get into vehicles that have leather seats. Phoenix is a member of In Defense of Animals and PETA and has campaigned for both organisations.
And if you ask me, that kind of passion makes him worthy of being one of the sexiest vegan men ever!
6. Jaden Smith
The only thing better than vegan food is sharing vegan food with those in need, as Jaden Smith knows well. The American actor, rapper, singer, songwriter and son of Jada Pinkett Smith and Will Smith launched a mobile restaurant that provides free vegan dinners to the homeless. Aww! It seems an entrepreneurial streak is deeply embedded in Jaden. He became a partner in a spring water company called Just Water when he was only 12. The company aims to create water filtration systems that are cheap and which can be used in underdeveloped nations.
For his dedication to veganism, the Karate Kid star was crowned 'the hottest vegan celebrity' by peta2. That's the youth division of the largest animal rights organisation in the world, PETA. The star joins the list of previous winners that include Ariana Grande and Fall Out Boy's Andy Hurley.
Image: Jaden Smith Instagram
7. Russell Brand
It may come as no surprise to learn the yoga loving, compassion preaching, cat keeping actor/comedian is a vegan. After all, if you watch is Trews on YouTube (which he's just stopped filming, apparently), you'll learn that Brand is really into peace, love and veganism.
Brand has apparently lapsed in his dedication to veganism, but he recently announced on Instagram that he has returned to the fold. According to Veg News, Brand became vegetarian at the age of 14 but embraced a vegan lifestyle in 2011 after viewing the documentary Forks Over Knives, which focuses on the health benefits of a plant-based diet.
8. Alec Baldwin
Baldwin may be a bit pugnacious with the press, but he's a big softie when it comes to animal rights: he's been an  activist and a strong supporter of PETA  for years. In addition to nixing meat for decades, our favourite 'dad crush' has  narrated  PETA's video called  Meet Your Meat, and even got his wife to front PETA's Cruelty-Free Shopping Guide.
A huge animal lover, Baldwin also lent his support to the Save the Manatee Club by donating his time to record several public service announcements for the group, which is dedicated to protecting these gentle giants.
9. Tim Commerford
While his former bandmates Tom Morello and Zack de la Rocha may be more well known for their hardcore left wing views, and hardcore funk, it's actually Rage Against the Machine's bass player, Tim Commerford, (pictured left) who is the hardcore vegan.
Although he's pretty outspoken about his political beliefs (he declares himself to be a proud 'conspiracy theorist'), the buff bassist is much more silent on his reasons for going vegan.
Frankly, we don't really care. We just love that he is, and hope that his bandmates, who are vegetarian, will be inspired to make the switch and go all the way vegan, too. (And with that muscly, shirtless torso? Definitely one of the sexiest vegan men alive!)
10. Zac Efron
Zac Efron is a country boy at heart. His YouTube channel "Off the Grid" features him and his brother Dylan as they participate in outdoor activities and trips with zero electronic devices. Efron prefers to be in nature, focusing on the beauty of his surroundings, including wildlife.
But it seems he's vegan for his health, more than for the animals. As he told Women's Health magazine, "I've been experimenting with eating purely vegan. That's completely changed the way that my body works, and the way that I metabolise food, the way it turns into energy, the way that I sleep. It's been brilliant. It's been great for my exercise and great for my routine."
That being said, the actor was caught eating bugs in a documentary he made for Netflix. What do you think? Should he be booted off the list of the sexiest vegan men alive?
11. Toby Maguire
It's no surprise that the bestie of THE biggest celebrity ecological force on the planet–that being Leonardo DiCaprio, obviously–would be an animal loving vegan. It seems he was born that way: "I've never had any desire to eat meat. In fact, when I was a kid I would have a really difficult time eating meat at all. It had to be the perfect bite, with no fat or gristle or bone or anything like that. I don't judge people who eat meat – that's not for me to say – but the whole thing just sort of bums me out," he said to Parade magazine.
The Spiderman star is so strict about adhering to his principles, he refuses to ride in cars with leather seats – but that being said, he admits he does slip up every now and then and have some milk chocolate, or may eat sweets that contain honey.
PETA declared him the World's Sexiest Vegetarian in 2002, but we think he's still got it!
12. Bryan Adams
One of Canada's biggest singer-songwriters, Bryan Adams has been a proud vegan for over 30 years. He decided to quit eating meat and dairy in 1989. Why? He realised that changing his dietary habits would benefit not only his health, but animals as well.
As he told PETA in an interview: "My motto has always been, If you love animals, don't eat them." He added: "Being sympathetic to animal rights is just something that came very naturally to me. The moment I began to understand what was going on with the treatment of animals, it led me more and more in the way of the path I am [on] now, which is a complete vegan."
13. James Wilks
Did anyone else kinda crush on the narrator of the Game Changers documentary? I personally thought James Wilks was super hot. I especially loved how close he seemed to his dad. Aw!
The British film producer, vegan activist, and former professional mixed martial artist was the winner of Spike TV's The Ultimate Fighter: United States vs. United Kingdom. And he attributes that to diet.
He prefers the term 'plant based' over 'vegan'. Not because he wavers, but because he believes it's more important to stress what you should be eating. Essentially, plants. He is passionate about how the human body was not meant to eat meat. In fact, his whole purpose in the Game Changers was to show that even professional athletes thrive on vegan diets.
Articulate, driven, and athletic. How could he not be one of our sexiest vegan men?
All images: Wikicommons unless otherwise marked. Main image: Tony Kanal, from No Doubt. Yep, also a vegan! Bonus!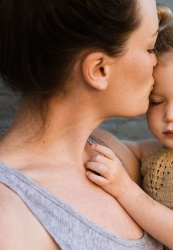 Latest posts by Diane Small
(see all)