Looking for style advice? Eco living tips? These 10 eco friendly bloggers can help!
By Alexandria Beyer
It's  fair to say that  blogs are as popular today as magazines were for years. Today, instead of popping into the local newsagents for a weekly fix of glossy gossip,  we're now opening up our phone, laptop and tablet browsers and reading our favourite sites.
For eco-lifestyle lovers, this is a great thing. Sustainability hasn't yet hit the mainstream, so blogs are still our very best source of information on the topics that interest us most. The issue is, they can be a little bit difficult to find. Unless you know exactly what you're looking for, of course.
But never fear! Whether it's organic beauty, zero-waste living or sustainable fashion, we've found 10 eco friendly bloggers. No matter if you're into green fashion, eating or travel, we think you'll love these women!
10 Eco Friendly Bloggers You Need to Know
Super stylish and super cool, this is a woman who walks the walk and talks the talk! Nini is a beekeeper, organic farmer, off-grid pioneer, and eco-consultant. She is also the voice behind the green lifestyle blog, Eco Warrior Princess.
Proving you can still love fashion without compromising your beliefs, Jennifer is a shining example of a blogger who is fully dedicated to promoting not only green fashion, but living a full-on green lifestyle, beautifully.
Based in: Australia
One of the best eco friendly bloggers for: Those already into sustainable fashion, but seeking more info on that and organic living
Electra's blog, the Eco Gypsy is a place that all nomads, adventurers and wanderers will love. This site is a virtual Mecca of information for those that care about the planet and wish to experience all its beauty, in five star style.
The Eco Gypsy guides restless souls to eco-escapes round the world whose purpose is both to pamper and preserve. There's also a wonderful Shop on the site that features eco-friendly bikinis and accessories, all hand-made from natural materials in Bali.
Based in: Bali
One of the best eco friendly bloggers for: Rich hippies with big hearts
Besides writing the occasional travel post for Eluxe, Danish native Katrine Carstens keeps busy running a blog called SusDane, which she uses to write about the treasures of a sustainable and socially aware world. With the aim to ignite your inner curiosity, Katrine brings you on a journey  to explore which fascinating places this wonderful planet we live on really has to offer.
Based in: Denmark
One of the best eco friendly bloggers for: Conscious foodies and travellers
The Zero Waste Home Queen once boasted that her family of four created no more than a Mason jar's worth of rubbish in a whole year! This requires careful planning, from buying food in your own containers, cooking all meals from scratch, recycling, composting and of course, reducing your consumption to only that which is truly necessary.
She's a true inspiration for us all! And her blog became so popular, it's now a book.
Based in: America (but originally from France)
One of the best eco friendly bloggers for: Learning how to live with as little as possible, very stylishly!
This is a healthy beauty and lifestyle blog by Danielle Messina. She's a young breast cancer survivor whose story motivated her to go green with her skincare and makeup.
In 2009, when she was only 31, Danielle was diagnosed with stage II breast cancer. This came totally out of the blue: there was no history of the disease in her family, and was a huge shock, as this young woman was a healthy former pro figure skater. After two surgeries and radiation, (she opted out of chemo and Tamoxifen after learning that the side effects included other forms of cancer) Danielle is thankfully well again, and has since chosen a more natural  lifestyle.
As a figure skater, she had been wearing makeup since she started training at the age of 4, and she clued in that maybe chemicals in cosmetics contributed to her cancer. Determined to turn her pain into purpose, Danielle has publicly documented her journey on The Glamorganic Goddess and is on a mission to find the very best clean beauty products.
Based in: USA
One of the best eco friendly bloggers for: Anyone concerned about chemicals in skincare and makeup
Style with a Smile is a vegan fashion, beauty, lifestyle and travel blog written by a super sweet young woman called Noa Ben-Moshe. "In my blog, I want to show everyone that all the beautiful things in life are cruelty-free and that we can still enjoy life, dress well, travel the world and have so much fun without hurting other beings- all in a very positive, approachable way," she says.
We love Noa's style – and her open, warm and eternally friendly attitude!
Based in: Germany
One of the best eco friendly bloggers for: Animal loving and vegan fashionistas who need a daily smile!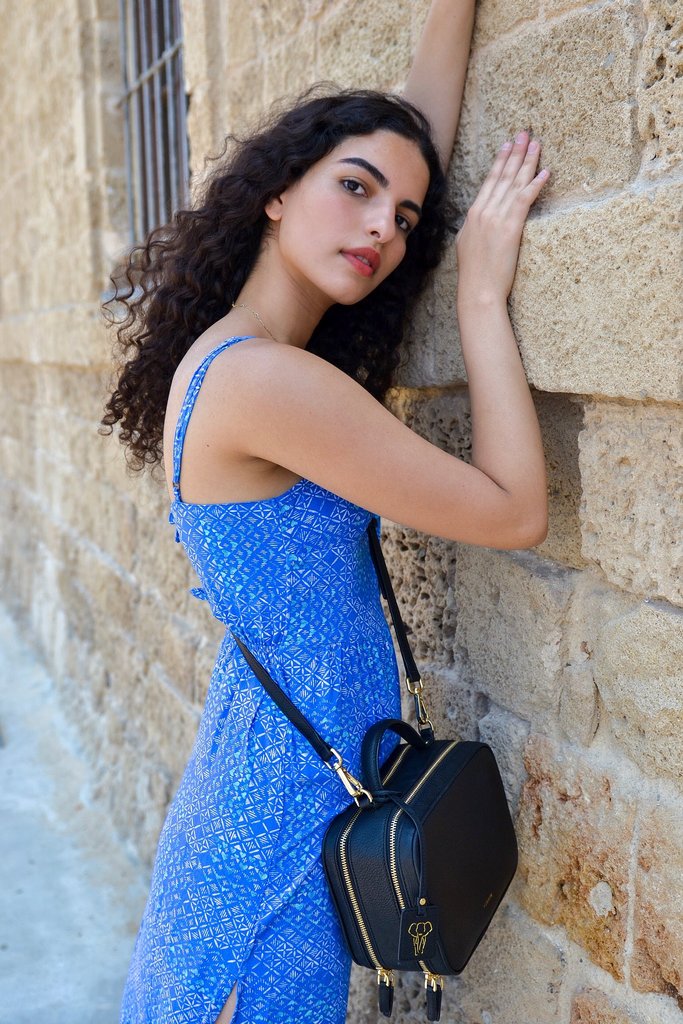 Kasi loves all things sustainable. But she questions whether it's possible for us, in the age of fast fashion and Instagram, to really make an important shift into sustainability in fashion. She asks all kinds of relevant, intelligent questions, and makes salient points about our addiction to fashion.
But the best part? She makes great suggestions for what we can do about it.
Based in: The UK
One of the best eco friendly bloggers for: The thoughtful fashionista
Professional makeup artist Tahira Herold shares everything she knows about natural makeup and beauty. And it's quite a bit, considering she's spent 20+ years in the industry. Tahira has a host of video tutorials where she uses an easy-to-follow, direct approach to share all kinds of beauty tips. Tahira also advocates for small brands, new companies and people 'striving to create beautiful products in beautiful ways.'
Based in: London
One of the best eco friendly bloggers for: Organic and vegan skin care and beauty
"We are proud to be a safe space promoting non-toxic style and diversity at the SAME DAMN TIME," says MelaninASS founder, Dominique Drakeford.
Hers is a platform for communities of colour in the ethical fashion and beauty spaces. where inclusion and representation is lacking, (as she points out in an article she wrote for Eluxe).
Drakeford is as dynamic as she is passionate in all of her fields. She is an environmental educator, publicist, writer, creative director, and community advocate.
Based in: The USA
One of the best eco friendly bloggers for: Women of colour looking for empowerment and social change
Carley's blog, Thoughtful Flamingo, is a fun guide to the ethical fashion world. She believes you don't have to sacrifice style (or sequins) to be sustainable and overconsumption is (so) last season.
In 2017 Carley moved from Los Angeles to San Francisco to much less space and a job that kept her traveling. Around this time, she started reading about the true cost of fast fashion for both the environment and people in the supply chain. She needed a clothing change but didn't want to lose her love for fun fashion. So she asked kickass women how they built conscious wardrobes that didn't sacrifice their diverse, unique styles.
Thoughtful Flamingo is a place where she shares their stories, tests out ethical clothing practices, and provides guides to the best places to buy sustainable (and fun!) clothes around the globe.
Based in: USA
One of the best eco friendly bloggers for: Those who are looking for ethical city shopping guides.
Latest posts by Lora O'Brien
(see all)