Want to learn more about clean skincare? Natural makeup tips? Follow these organic beauty bloggers!
By Chiara Spagnoli Gabardi
In all modesty, Eluxe's beauty section rocks. We cover some areas that few others do, and our beauty articles, like Our Top Natural Shampoos, Natural Alternatives to Botox and the Best Natural Hair Dyes, are also some of our most popular. We never accept sponsored beauty posts, and even when we get free stuff, we review it honestly.
But there are plenty of other voices in the realm of organic and natural beauty, and they have a lot of interesting information to share. From teaching you about which cosmetic ingredients are the best (and worst) to introducing you to  new products and makeup techniques, finding a good beauty blog could literally change your life.
Here, we've found some organic beauty bloggers who have gained a cult following thanks to their vast knowledge, awesome beauty advice and gorgeous photography. When we say 'organic', we use that term a bit loosely – all the bloggers mention at least a little about organic beauty, but not everything they cover is necessarily organic; rather, we selected them based on their holistic, natural approach to beauty. So why not pay them a visit right now?
Organic Beauty Bloggers You Need To Follow
Blogger's name: Inga
Bio: With a real passion for non-toxic beauty, Inga offers very detailed and practical reviews of a variety of organic beauty products with a particular focus on cost-effectiveness.
We Love: Inga's beauty routines! She's really good at teaching viewers how to introduce the products in your everyday beauty regime. She also shares some diet and exercise tips, too.
Blogger's name: Katherine Johnson
Bio: Skin Care Central was created to make clean and healthy skincare options accessible to everyone on one easy platform. The blog provides health and beauty advice that helps you to switch over to more natural brands. There's a special focus on cures for skin conditions such as rosacea and acne.
We love: It's a great place to not only help with your skin needs, but to also learn what causes certain skin ailments, such as acne and even scarring.
Blogger's name: Britanie
Bio: Britanie's dedication to a clean and detox life comes from her personal struggle with several chronic illnesses. After learning to detox her system via changing what she puts into her body, it soon dawned on her that what she put on to it counted, too – including skincare and makeup. She has also co-created the Bohemian Natural MakeUp Collection with Modern Minerals and Lotus Wei.
We Love: Her healthy attitude about self-love, and helping others to live their best life. She says: "I am passionate about inspiring others to be their most authentic selves and to live a more conscious lifestyle through mindfulness, balance and healthier alternatives."
Blogger's name: Suzanne
Bio: This is the blog of Suzanne's luxury skincare brand, One Love Organics. She created the skincare line on the notion of Less Being More in all things, including beauty rituals. With the support of her loving husband Chase, her dream to pass on the knowledge she gained through many years of experience in the beauty sector was realised through the creation of her natural and organic products, and her blog, of course!
We love: Her Instagram. It's packed with quick, informative how-to's and makeup tips! You'll also find the occasional invite to a cool beauty event.
Blogger's name: Mary Helen
Bio: Why buy when you can DIY? Mary Helen is a true DIY beauty star! As the name of this natural and skincare blog suggests, it is a place to learn how to create your own organic beauty products made of unique combinations of ingredients from scratch. Never fear, the recipes are very well explained! Even a beauty novice can create some amazing stuff, including their own skin balms, soaps and even toothpaste.
We love: In-depth profiles of the most interesting of ingredients such as Vanilla Bourbon CO2 extract or Rosehip Seed Oil.
Blogger's name: Sarah Steele, of course!
Bio: Sarah is an organic hair stylish by day, but a green beauty blogger by night. Born with a conscience to do better, she fell in love with the environment and living as ethically and sustainably as possible, in all aspects of her life. Her blog is a platform to those organic beauty products; from sharing soy candles to organic lipsticks, her blog is a treasure trove for organic lovers.  
We love: Occasionally Sarah will share skincare reviews and insights into items that she's recently purchased. We adore her openness and honesty about her experiences with products.
Blogger's name: Mademoiselle Nature is the handle she goes by. We don't know her real name!
Bio: The creation of a Biochemistry/Cell Biology PhD, this blog backs its reasons for avoiding certain ingredients with hard scientific facts. Mademoiselle Nature is definitely one of the most knowledgeable organic beauty bloggers out there! Here, you'll find concrete info about beauty products that may just blow your mind.
We Love: The tips section is full of honest advice that will help guide you towards making better beauty choices.
Blogger's name: Jade    
Bio: This is a super fun blog made with love by a young natural lifestyle lover. She doesn't claim to have professional expertise; just  a strong passion for  healthy living. Her fresh writing style, enthusiasm and friendly tone makes this a blog you'll want to visit every day.  
We love: Her simple, honest advice and approach to beauty.
Blogger's name: Liz, or @lizthegreenspirit
Bio: Using the writer's words "Switching to a greener and more eco-conscious way of life seems like a daunting and confusing task at first, but once you take the leap you won't go back." Next to Beauty and Make Up, Liz navigates her readers through Food and Wellbeing tips. The general atmosphere of the blog is very personal and fun, it seems truly you're having a chat with a close friend while discovering the best selection of green and sustainable products.
We love: The Little Gems category, the writer's best finds of the web's artisanal online beauty shops.
Blogger's name: Julie
Bio: This is an usual blog in the sense that it's bilingual – English and French. Canadian blogger and mom of 5 (!) Julie ensures her readers that she never accepts sponsorships for articles, so all the opinions are her very own.
We love: Hailing from Quebec, Julie has some interesting products here that you won't find on other sites. She sells some of them in her online shop, too. You're almost guaranteed to find a new product you'll love!
Blogger's name: Ria, as in 'NatuRia'.
Bio: Mom of one, Ria is a nutritional therapist with a strong interest in becoming a more conscious beauty consumer, too.
We Love: The product reviews. From Pai and Vapour to Ren and Nourish London, you'll find loads of different natural and organic beauty products here. The good and bad points of each are discussed frankly and honestly. Naturia Beauty is a kind of sharing economy applied to blogging, with an ever-growing community of green supporters that exchange tips and products thanks to beauty swaps.
Blogger's name: Katie
Bio: A true native New Yorker, Katie has turned an obsession on everything green and non-toxic in a very practical blog. Along with in-depth presentations of beauty, makeup and homeware green products, she rewards her readers with great news about sales and promotions.
We Love:  It may be slightly off topic, the ECO HOME section is filled with well-curated information for a helping you to get a more fully eco-friendly lifestyle.
Blogger's name: Kate
Bio: Kate's passion for natural living and holistic health is apparently inspired by her mom. Aw! And Kate really knows her stuff. She's fully versed not only on which ingredients really work for you in skincare and makeup, but also on which ones are to be avoided. Not only in beauty products, but household cleaning products, too.
We Love:  There's a ton of great info here, covering yoga, wellness, cleaning your home healthily and recipes too.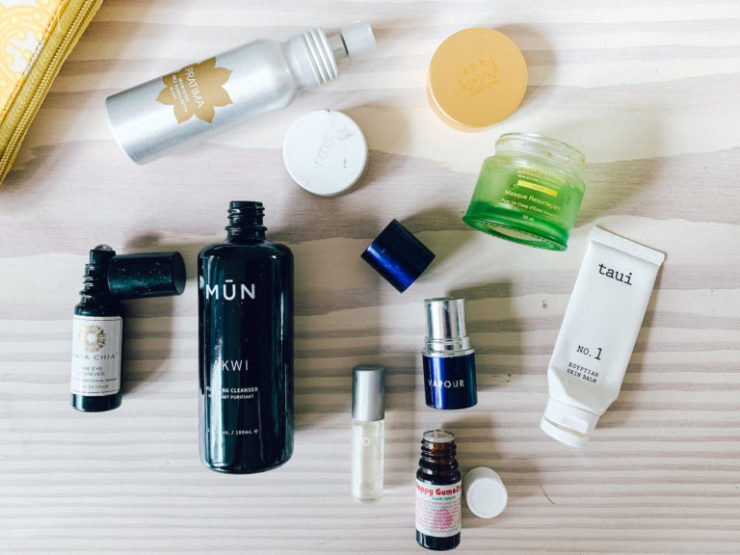 First two images: Living Pretty Naturally.
Did we miss any of your favourite organic beauty bloggers? Let us know in the comments, below!
Latest posts by Chiara Spagnoli Gabardi
(see all)