Who says vegan food is for hippies? These fancy vegan recipes are perfect for dinner parties, or impressing a special someone
By Lora O'Brien
Here's a hard to admit fact: the reality is that when people are invited over to a vegan's place for dinner, most of them are expecting something nasty. Maybe a dry old nut roast, or basic lentils and rice, with a dusty cake or applesauce for dessert. How sad. And how very wrong!
The reality is that even top rated chefs around the world are embracing gourmet vegan food, and it's more exciting than ever. Think: vegetable 'foams' accompanying mains; all kinds of plant-based subs for meat, and vegan sauces made creamy by coconut milk or avocado cream.
Whether you're looking to make hors d'oeuvres to serve up as guests pop in and out, or you're putting on a full on spread, I've got some pretty fancy vegan recipes that will make your dinner table look super elegant, no matter what the occasion.
Fancy Vegan Recipes – Perfect For Dinner Parties
1. 5-Ingredient Caviar
It doesn't get fancier than caviar. But if the thought of eating fish reproductive units doesn't really appeal to you, you can still recreate the texture of the popular dish using…chia seeds! Serve these as an appetizer to a meal and I guarantee your guests will be suitably impressed.
Get the recipe here.
2. Vegan Mini Blinis with Roasted Red Pepper
The popular Russian canape normally features caviar, cream cheese and salmon. But this recipe offers a vegan version: with red pepper! It's made all the more delicious by the use of fresh herbs. Not got peppers? Carrots make the perfect 'lox' substitute! Why not serve these up with a great vegan wine?
Get the recipe here.
3. Sun-Dried Tomato & Basil Arancini
These 10-ingredients arancini balls are bursting with flavour! Made with cauliflower rice, sun-dried tomatoes and basil, they're crispy on the outside and wonderfully gooey inside. Serve alongside a rich tomato dipping sauce but don't expect them to stick around for long!
Get the recipe here.
4. Sweet Potato Canapes with BBQ Mung Bean Sprouts
These little babies are take from little Indian snacks called chaat which are often a cracker of puffed rice mixed with beans or lentils that are tossed with onions, tomatoes and various chutneys. The BBQ sauce really works well with the onions, tomatoes and cilantro here.
Get the recipe here.
5. Spinach Mini Vegan Quiches
Utterly cute and totally fabulous for parties, this is one of those fancy vegan recipes that everyone will love. The thick pastry of your typical quiche is replaced with a lighter phyllo shell. These are filled with spinach, but of course you could use anything you fancy.
Get the recipe here.
6. Chocolate & Balsamic Roasted Beets
I know you're probably thinking beets and…chocolate?! Yes! They go sooooo well together! In fact, you can even make red velvet cake using roasted beets! But as a side dish, this recipe is something out of the ordinary that will get your guests ohh-ing and ahh-ing with delight. One of the most surprising fancy vegan recipes for sure!
Get the recipe here.
7. Vegan Paté
There's nothing nicer than some warm bread or crackers with a little pate smeared on top. This pate is one of those vegan recipes that's even better with a bit of a garnish. Why not make it even more elegant by adding in some pine nuts, truffle oil or herbs?
Get the recipe here.
8. Epic Vegan Cheese Board
Whether you're having a social gathering or looking to bestow a food gift on someone you love, this vegan cheese board will be a real treat. Add some homemade crackers to it alongside some fruit and you've got a super fancy vegan dish!
Get the recipe here.
9. Mediterranean Vegetable Napoleons
This recipe would make the perfect starter due to the lightness of it. The beetroot apple mille feuille has a delicious beetroot marinade. Once constructed, some cashew horseradish cream is added to give the dish both depth and a burst of spicy flavour. Not only that, but it looks picture perfect, too!
Get the recipe here.
10. Roasted Balsamic Beets & Rutabaga
In keeping with the theme of beets, this dish turns humble veggies into a fun and vibrant dish. It may take some time to plan as it's a little time consuming spiralizing and layered the veggies, but once done you'll be so happy you persevered when you see how fabulous this dish looks. The rutabaga and the red and golden beets are then coated in a mixture of olive oil, balsamic vinegar and thyme, before being placed in the oven to bake. Then all that's left to do is to set this down on the dinner table and watch your guests go gaga over it!
Get the recipe here.
11. Mushroom Bruschetta
Mmm! Garlicky crostini bites are topped with a mixture of  caramelized scallions and savory mushrooms that are then glazed with balsamic vinegar. Quick, cheap and easy to make, yet this recipe is bursting with flavour – your guests will likely be back for seconds.
Get the recipe here.
12. Avocado Gazpacho Soup
We tend to favour a lighter dish as a started if we're attending a dinner party, and gazpacho is a brilliant recipe to serve. It's wonderfully refreshing and cleansing on the palette, and is light enough that your guests will still be hungry for the dishes to follow. This recipe is packed with flavour from the juicy heirloom tomatoes, the basil, cilantro, tarragon and garlic and then the lime juice finishes it off nicely.
Get the recipe here.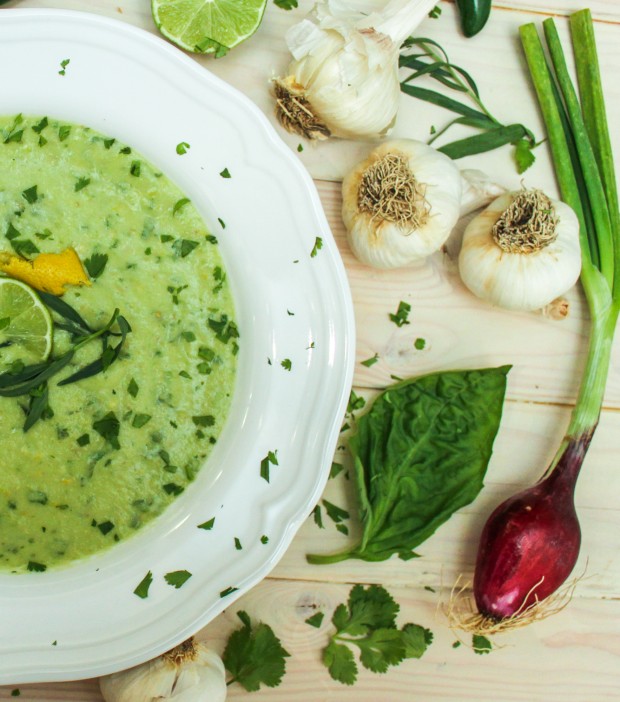 13. Warm Spinach Salad with Figs & Butternut Squash
Yes, fancy vegan recipes DO include salads! This dish works so well with its sweet-and-savoury combo. Plus this is a great recipe as it's a warm salad, making it perfect for those winter months. The figs are caramelized and juicy alongside roasted butternut squash. Serve this as a side or a main – either way it's truly decadent.
Get the recipe here.
14. Vegan Stuffed Mushrooms
This is one of those fancy vegan recipes that's easy to make, but looks insanely elaborate! These are great as either finger food (you could use smaller mushrooms for these) or a main. Just use a bigger mushroom, such a Portobello, and serve alongside a salad. This recipe is packed with herbs, garlic and citrus fruits making it a mouth watering combo!
Get the recipe here.
15. Sweet Onion Tarts with Cream Cheeze & Thyme
Seriously though. Who else is drooling looking at these delicious tarts? This is one of my favourite fancy vegan recipes! Sweet onions are slow cooked and then added to vegan cream cheeze. The tarts are then topped with a balsamic glaze and lots of thyme. The end result is a flaky tart that oozes deliciousness with every bite.
Get the recipe here.
16. Miso Glazed Eggplant Scallops
These 'scallops' definitely qualify as one of the best fancy vegan recipes! They're actually made from king oyster mushrooms and brushed with an umami glaze. These are really easy to make, and are the perfect side dish to serve up if you're holding a fancy dinner party anytime soon.
Get the recipe here.
17. Ravioli with Beetroot Filling
The bright pink hue of this pasta is from beetroot, and the colour and sweet-yet-savoury flavour will truly surprise your guests. These also happen to be gluten free, which is great if you're catering for those with allergies.
Get the recipe here.
18. Mediterranean Polenta Nests
It's funny – at one point, in Italy, polenta was considered 'peasant food'. But now it's served on the most elegant dinner tables around the world. I'd even consider it one of my favourite fancy vegan recipes! This dish is not only rich in texture and flavour, but looks lovely when served in individual 'nests'.
Get the recipe here.
19. Pasta w/ Tomato Sauce & Lobster Mushrooms
Lobster pasta is a popular dish, and now you can recreate it in a totally vegan fashion. Lobster mushrooms actually look very much like the seafood, so it makes a great substitute for dishes like this. The noodles are coated in an olive oil and garlic dressing. Once the dish is constructed your guests will feel like they're dining out.
Get the recipe here.
20. Portobello Steaks with Avocado Chimichurri
If you're serving hardcore carnivores who doubt vegan foods' deliciousness, mushrooms make a really great meat substitute. That's due to the fact they have the same kind of texture, of course. And this recipe tops the 'shrooms off with a classic, spicy sauce that's often served on Argentine beef: chimichurri!
Get the recipe here.
21. Shiitake Nigiri
It may still have a feel of the '90s to it, but in my mind, sushi is still one of the best (potentially) fancy vegan recipes. It's a super-elegant food to serve and eat at dinner parties. It's actually not all that difficult to make, either! Here, the fish is replaced by super-healthy shiitake mushrooms.
Get the recipe here.
22. Sweet Potato Rosti Garden Sliders
Burgers can be damn right messy to eat. And that's why these tiny little sliders are perfect for fancy dinner parties. They're super small and cute, and can easily be munched from a napkin. Guaranteed to be one of the most popular fancy vegan recipes at your dinner party!
Get the recipe here.
23. Bacon Wrapped Scallops with Paprika Cream 
Whether your guests are vegan or not, I guarantee they're going to lap up these vegan scallops wrapped in 'bacon'! King oyster mushroom stems work perfectly as the 'scallop'. They are then wrapped in smoky tempeh strips that act as the bacon. A pinch of paprika is added at the end, and you've got a succulent, smoky dish.
Get the recipe here.
24. Carrot Lox Stuffed + Fried Ravioli
Ravioli is delicious, sure. But this fried recipe is taking fancy vegan recipes to a new and wonderful level! The outside is breaded and crispy, whilst the lemon 'ricotta' inside works really well against the brininess of the carrot lox. You could either serve these as a meal, or bring them out on a place with dipping pots of sauce for a fabulous appetizer.
Get the recipe here.
25. Roasted Asparagus with Pistachio Puree
If you're really looking to impress your guests with some fancy vegan recipes, then this roasted asparagus sitting atop a bed of pistachio puree will do! Not only is it packed full of delicious flavours such as lemon juice, garlic, salt and cumin, but it looks pretty darn gorgeous, too!
Get the recipe here.
26. Tofu & Shiitake Stack with Bok Choy
This stack may look pretty fancy, but it's actually easy to construct. Marinated tofu is stacked between shiitake mushrooms and then pureed bok choy and ginger is drizzled over the top to give it both a pop of colour and a burst of flavour.
Get the recipe here.
27. Roasted Tofu Lollipops with Pesto
In a rush, but need to make an impression with some fancy vegan recipes? These are really easy! Tofu cubes are roasted and then topped with a dollop of hemp pesto. Pierce them with a bamboo skewer and these make a really great appetizer to serve guests with zero mess!
Get the recipe here.
28. 7-Ingredient Hasselback Sweet Potatoes
Calling potatoes one of the most fancy vegan recipes is something most of us would never dream of. But when you behold the beauty that is this sweet potato recipe, your mind will change! These are super-packed, and super-flavourful. The sweetness of the spuds and pomegranate is offset by the tartness of the cilantro and creaminess of the avocado.
Get the recipe here.
29. Blueberry & Vanilla Posset
I couldn't do a list of fancy vegan recipes without dessert! This posset is made the same way a raw cheesecake would be, but is blended until very smooth. You can make these and then leave in the fridge for when guests arrive so you don't have to worry about making them when you've got people over.
Get the recipe here.
30. Figs & Cashew Cream
The creaminess of the cashew cream pairs so well with the sweet and tanginess of the jolly fig. This is a wonderfully rich dessert to serve to guests, and one they'll devour in minutes! The flavours all work perfectly together, and who doesn't love a fresh fig?!
Get the recipe here.
31. Vegan Crème Brulee
Perhaps the ultimate fancy dessert is that French classic, the crème brulee. Yet, normally full of cream and eggs, you may be asking: how is a vegan version possible? And the answer to that, my friends, is: coconut milk and pumpkin puree.
Get the recipe here.
Main image recipe here.
Latest posts by Lora O'Brien
(see all)