These savory vegan pie recipes include Wellingtons, galettes, quiches, and even empanadas! Perfect for impressing guests at fancy dinners, too
By Lora O'Brien
'If the English can survive their food, they can survive anything' said G.B. Shaw. That genuinely makes me laugh because, let's face it, we Brits do have some super weird meals. Toad in the hole, haggis, or bubble and squeak, anyone?
But I wouldn't change my roots for anything! Especially when it comes to the food I've grown up eating. Okay, minus some vegan changes, of course! But the meals we Brits are famous for are the foods that, for me, are infused with nostalgia and fond childhood memories. And one I love more than anything? The classic pie!
Nothing better than a hot pie!
Ah, pies, how I love thee. Many Sundays have been spent in my household sitting down to a pie and mash dinner. Topped with warm gravy, what's not to love? British pies are encased in fluffy pastry and cooked until golden. Inside, there's a juicy stew of veggies and more gravy. What's not to love?
Of course, each culture has their own version of savoury pies. The French have their quiches and their galettes; in the Caribbean, there are pasties, and in South America, the empanada reigns supreme. Greece has its spanakopita, India has samosas, and the Levantines love their borek.
No matter what it's called or how it's made, we all want comfort meals that warm us from the inside out this season, and these savory vegan pie recipes really fit the bill!
Below, I've found loads of yummy veg-in-pastry (a.k.a. vegan pie) recipes, so you can browse them and plan all your autumnal dinners. From vegan pot pies to delicate heirloom tomato tarts and hearty shepherd's pies, there is lots to love!
These recipes prove that pies aren't just for dessert! Oh, and did I mention that any of these beauties would be the perfect main for a vegan Thanksgiving or Christmas dinner?
20+ Delicious Vegan Pie Ideas For Supper
1. Vegan Spiral Vegetable Tart
Whoa, right? Spiral tarts always look SO impressive! They will really wow any guests you're cooking for and brighten up any kitchen table as we venture into the gloomier months. This version is actually super healthy and loaded with veggies from caramelized onion to courgettes, eggplant, sweet potato and butternut pumpkin. You could even add some apples into this if you want a touch of sweetness. It's so pretty, it's perfect for Christmas dinner!
Get the recipe here.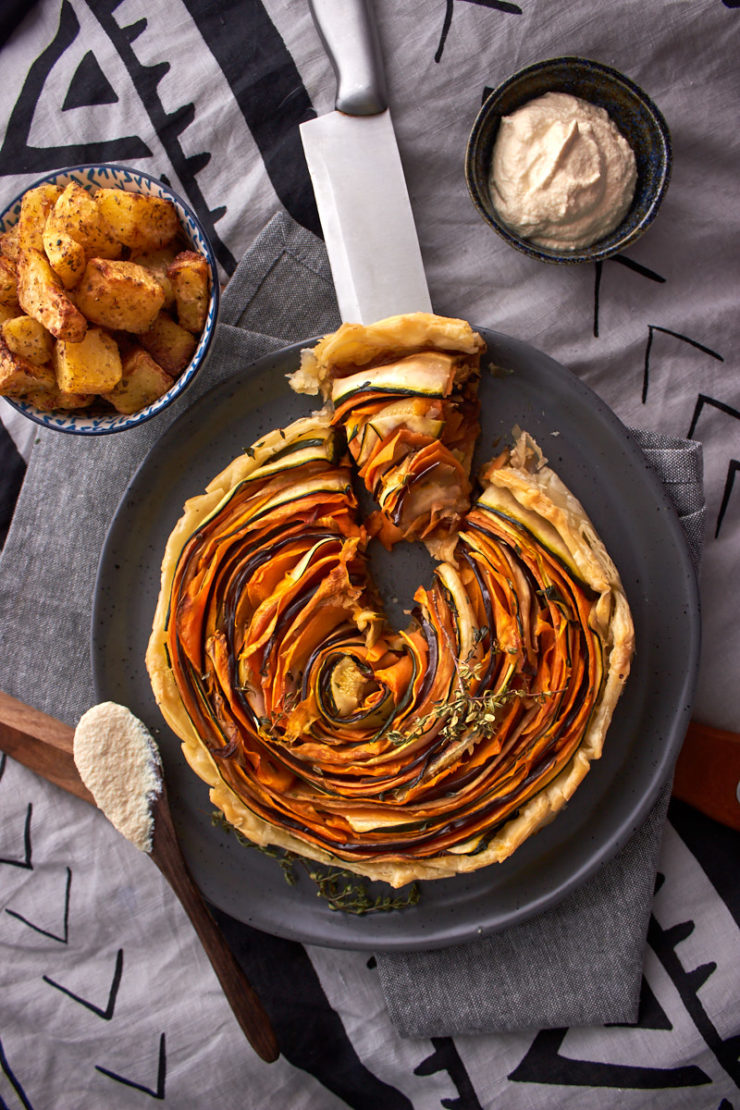 2. GF Vegan Pot Pie
These pot pies are reminiscent to something I grew up eating. Underneath the pastry topping is your pie stuffing, cooked in either stock or a rich gravy sauce. I can attest that a pot pie is tasty as heck, but it's also pretty calorific! Filo pastry is a great way to keep pies lighter, as shortcrust pastry can be a little heavy.
Get the recipe here.
3. Amazing Vegan Spinach Pie
Ready to cosy up with a savoury pie for dinner now the weather is getting chillier? Serve a slice of this spinach and mushroom polenta pie with some fresh greens for the perfect supper!
Get the recipe here.
4. GF Heirloom Tomato Tart
Tomatoes always remind me of my grandad. He would grow them in his garden and there'd always be a tub of freshly picked tomatoes waiting in the fridge whenever we visited. This tart is a great way to enjoy tomatoes, and including a variety of different tinier types makes it look aesthetically perfect – almost too good to eat!
Get the recipe here.
5. Easy Mushroom Leek Quiche
I like to think of quiche as a cold pie. I mean, it's essentially the same, but instead of a pastry topping, you get more of the yumminess that's inside. This mushroom and leek quiche with chestnuts is really simple to make, yet super healthy and incredibly tasty. It's egg-less, dairy-free and can easily be made gluten-free, too.
Get the recipe here.
6. Vegan Mushroom, Cranberry and Chestnut Tart
This tart may look pretty fancy, but it's actually really easy to make! It will be the perfect main dish for any table. You can even make it the day before, heating it up the next day when you're ready to eat. It calls for wild mushrooms, but if you can't source those, simply use more chestnut ones.
Get the recipe here.
7. Vegan Chickpea Pot Pie
This recipe ticks all the boxes when it comes to comfort food: a buttery crust combined with a creamy, hearty and flavoursome filling. Make this pie if you're wanting to feed your soul or give your taste buds a little extra love.
Get the recipe here.
8. Vegan Cheese & Onion Pie
Oh, but I love a (vegan) cheese and onion combo! It's just perfect in sandwiches, in a taco, on pizza, or in this case, in a pie. This pie is right up my vegan cheese alley: potato and onion filling baked between layers of flaky puff pastry – yum!
Get the recipe here.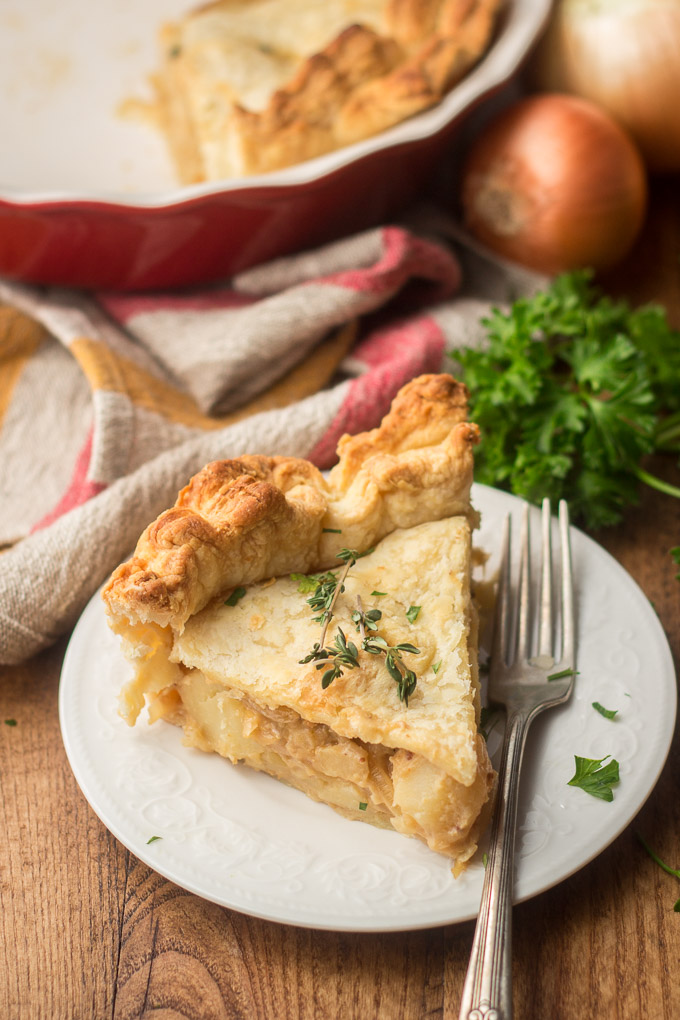 9. Rustic Vegetable Pie
This crunchy-on-the-outside, creamy-on-the-inside rustic pie is full of lots of bold autumnal flavours: pumpkin, mushrooms and rosemary. Cooked in a plant-based 'cream cheese' sauce, it's rich, decadent and rich in minerals and antioxidant thanks to the millet flour used.
Get the recipe here.
10. Vegan Savoury Strout & Vegetable Pie
Picture this: butter, flaky, piping hot hot pie that oozes with an array of veggies that have all been simmered in stout beer. Yep, this is a real comfort pie. Much like what you'd imagined served in a London gastro pub.
Get the recipe here.
11. Broccoli Tofu Quiche
Got leftover veggies you don't know what to do with? This broccoli tofu quiche is full of veggies and is ready in just under an hour. A super impressive dinner that reheats perfectly.
Get the recipe here.
12. Vegan Spring Veggie Pot Pie
Pies aren't just for winter! Spring vegetables, such as leeks, carrots, peas and celery make for a really tasty pot pie recipe. Pair with a stock, a touch of mustard and some seasoning, and baked until golden, this pie will be a crowd-pleaser.
Get the recipe here.
13. GF Vegan Quiche
This tart may look super boujee, but it's actually pretty easy to make, perfect if you're a beginner when it comes to cooking with pastry. Made with a few simple, clean ingredients, this gluten-free quiche pie recipe is healthy and will for sure be a crowd-pleaser.
Get the recipe here.
14. Vegan Broccoli Cheddar Biscuit Pot Pie
Broccoli cheese soup is my favourite, so I'm only too happy to find this broccoli vegan cheddar biscuit pot pie, yum! It's like soup and a pie had a baby, and this was what they created. The creamiest, flakiest, most comforting dish that's ready in under 60 minutes and can be made in just one skillet.
Get the recipe here.
15. Vegan Greek Spanakopita
This is one of my favourite savory vegan pie recipes! The pastry is light and flaky, and the inside is packed with spinach and vegan cheese. One of the best ways to serve this up is with a squeeze of lime or lemon. Yum!
Get the recipe here.
16. Vegan Samosas
Pies exist in India, too! And of course, the most common one that we all know and love comes in the form of samosas. These are packed with traditional flavours, and also boast onion, peas and potatoes. The best part: these babes are baked to get that golden deliciousness – no frying!
Get the recipe here.
17. Vegan Spinach Empanadas
Oh my, these are delicious! Spinach fills these little pockets of yum. They're garlicky, savoury, and best served with a traditional spicy Argentinian chimichurri dipping sauce! Enjoy these hot or cold, either way, they won't stick around long.
Get the recipe here.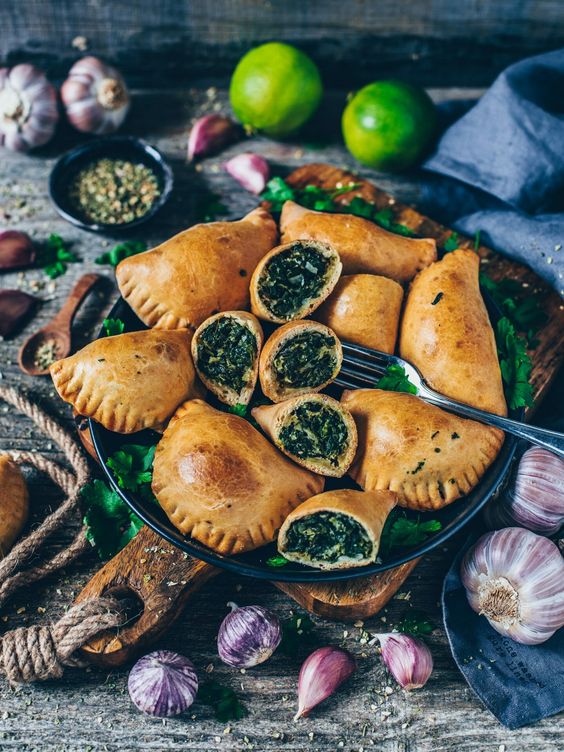 18. Roasted Veggie Galette
How stunning does this veggie galette look? When it's cold and miserable outside, I like to add lots of colour to my food, and this is a great way to not only fill your belly with lots of healthy veggies, but to also brighten any mood. Wholesome, amazingly flavourful and delicious!
Get the recipe here.
19. Sweet Potato Lentil Shepherd's Pie
Shepherd's pie and cottage pie are traditional British recipes. Especially when the weather turns colder, these British staples are popular in any home. Traditionally made with beef or lamb, this vegan version uses…lentils! Great for plant-based protein, and the sweet potato topping adds a hint of sweetness which works super well with the savoury filling.
Get the recipe here.
20. Curried Vegan Pasties
These Caribbean-inspired pasties are brimming with a curried coconut vegetable and chickpea filling, all wrapped in crisp shortcrust pastry. Adding a little turmeric helps to give the pastry that golden colour. These are easily transported to the office or school, so they're perfect to take on the go.
Get the recipe here.
21. Vegan Mushroom Wellington
A Wellington is another fabulous form of British pie: it's literally veggies encased in pastry and baked. The traditional recipe uses beef, but this vegan version uses mushrooms. And they're such a great meat-free option! They're super juicy and lend lots of yummy texture to the Wellington. Perfect for a fancy vegan dinner!
Get the recipe here.
22. Vegan Chicken Potato Pie
While I like my pot pie topped with pastry, it can be made with potato, too. This vegan chick'un and veggie pie is comfort food as its best! The chicken style protein is smothered in a creamy white sauce with a fluffy mashed potato topping, and baked until all the flavours ooze from the pie – mmm!
Get the recipe here.
23. Black Bean Empanadas
If you read Eluxe's recipe column regularly, you'll know I'm loca for Mexican flavours! So I love these vegan empanadas, of course. They're stuffed with zesty black beans and encased in flaky puff pastry. They're packed with flavour and are super easy to make. Serve with chunky salsa for dunking. Perfect for when you have people over! They're an easy snack to serve up.
Get the recipe here.
24. Mushroom Pot Pie
This mushroom pot pie feels me with pure nostalgia! This is just like the pies I grew up eating, and I can't wait to recreate this vegan version. Mushrooms make a great alternative to meat because, when cooked, they take on a meat-like texture. Throw in a creamy sauce, the warming flavours of bay leaf and thyme, and flaked pastry and you've got a winning pie!
Get the recipe here.
25. Potato & Caramelised Onion Galette
This vegan potato and caramelized onion galette has so much to love! It's the perfect balance of sweet, savoury, creamy and buttery! Loaded with flavour, this will go down a treat. Plus, it takes just as delicious cold – and who doesn't love leftovers?
Get the recipe here.
26. Turkish Borek
Yet another one of my favourite savory vegan pie recipes! These are light and crunchy, and quite nutty, thanks to the sesame seed topping. The duo of tangy tomato and creamy dips make this the perfect snack, lunch or dinner.
Get the recipe here.
Latest posts by Lora O'Brien
(see all)