Need a few extra bucks? Not sure what to do with unwanted stuff? Check out these places to sell old clothes online!
By Bona Kim
It's shocking but true that many of us actually throw old clothing away. Like, pack it into bags and toss them into the rubbish. Not only is this disgustingly non-eco friendly and wasteful, it's also silly, too, given the fact that there are loads of places to sell old clothes online. You could well be throwing away what amounts to a generous amount of cash!
The second-hand clothing and accessories market is growing exponentially, and has completely shifted the way we shop. Buying pre-loved clothes has never been easier and more efficient than it is today, thanks to this new sharing economy. Rather than spending an exorbitant amount of money on new items, more consumers than ever are opting to rent, resell or recycle. And they're saving cash in the process.
So, how can you get in on the action? It's easier than you think! Just go through your closet and determine what you love, and what no longer works for you, then choose one of the listed places to make money selling old clothes and bags below.
You can rest assured that if you use one of these services. your stuff will either be given a new home by another woman who has been searching for just the item you no longer use. Or if the items aren't all that wearable, they will be transformed into new yarns or insulation.
In the words of Marie Kondo, if it no longer sparks joy, it's time to give it a second life. And we would add: to make some money while you're at it!
Here's our roundup of the best places to sell old clothes online. We've included places to sell bags, accessories, and jewelry, too. It's easy, it's fun, and it's profitable. Good luck!
Main image: Stella McCartney AW 2019
17 Places To Sell Old Clothes Online
Got some fancy clothes in your closet you barely wear, but you're not sure you really want to be rid of forever? Find Rent Wear make it easier than ever for you to rent out your designer handbags, shoes, accessories – and of course – clothing.
To get started, set up your profile as either an individual, designer, or store. Click on "List your Items" and start adding details and photos, choose a rental price, and submit. Once your products have been approved, you can start receiving rental requests. Your stuff will be collected and delivered to the renter and returned to you at the end of the rental period. Easy money!
Where? Based in the UK 
How? If people rent your clothes, you get a commission.
A newcomer in the sharing economy scene, HURR Collective (also known as "The Airbnb of Fashion") is a peer-to-peer wardrobe rental platform that allows environmentally-conscious women to monetise their under-worn clothing, and snag amazing prices while they're at it. 
Careful reviews of all members in the community ensure that this is one of the securest ways of sharing your wardrobe and getting it back in good condition.
Where? Worldwide 
How? Get the prices you list for the clothing you want to rent out or sell
Instead of throwing away those clothes you bought on impulse back in 2018, why not turn them into discount coupons to use at one of your favourite retailers? Since its launch last year, ReGain has been committed to creating a circular fashion economy by changing the way consumers buy, use, and dispose of their clothing.
For every 10 unwanted items, ReGain will offer discount codes that can be used at any of their retail partners including PrettyLittleThing, Superdry, Asics, and MissGuided. Simply leave your unused stuff at one of their thousands of drop-off points and gain access to discount coupons. If you're wondering what's going to happen to all your old clothes, never fear: landfill is not an option. These babies are about to be given a new life as new yarn!
Where? Based in the UK and USA
How? Sustainably dispose of 10 items of clothing or more for discounts at select retailers
Love the idea of selling anything from that black leather moto jacket you never wear, to those Jimmy Choos that gave you blisters? Material World will make it as hassle-free as possible. They send you a trade-in kit that comes equipped with a shipping bag and a pre-paid label. All you have to do is fill up the bag and send it back. If the items are approved, you have the option to put what you earn towards a "Trade-in Card" that can be used at high-end retailers like Bloomingdale's, Shopbop and Nordstrom or receive cash via PayPal (with a 15% deduction).
Material World only accepts gently-worn items from a mix of designer brands that they then sell on (click here to see the full list). If the items don't meet their standards, you can either have them returned to you or donated to Housing Works – a non-profit based in NYC. Don't worry – all the shipping costs will be covered. 
Where? Based in NY
How? Send your gently-worn designer items for Material World to resell for cash or credit.
Similar to Material World, ThredUp is an online consignment shop that is willing to do the heavy lifting for you. For $10, ThredUp will send you a "Clean Out Kit" which comes with a shipping bag and a prepaid shipping label. But unlike Material World, ThredUp is much more lenient on the brands they accept. They will take on any new and like-new items from both high-and-lower end brands for men, women, and children.
It might be worth playing around with the site's Payout Estimator to get a better idea of what you can expect to receive – a pair of gently-worn Gap jeans may only get you somewhere between $0.70 to $4.20, for example, but a Theory dress could possibly bring in close to $30.
If you have items that are a little fancier, check out Luxe – ThredUp's recently launched portal that will take your more expensive goods and give you an extra 10% payout.
Where? Based in the USA
How? Get cash or credit for your used clothing and accessories
Thanks to the recent partnership between Fashionphile and Neiman Marcus, we now know what to do with those designer handbags or accessories we never wear.
Over the past twenty years, Fashionphile has developed a solid reputation of trust and unparalleled customer service in the world of preowned designer handbags. They currently offer the largest selection of pre-owned vintage, rare, and limited edition handbags from the biggest names in luxury fashion.
Sellers can take their unused luxury handbags to Fashionphile "salons" at select Neiman Marcus stores and receive immediate payment in the form of store credit.
Where? Based in the USA
How? Sell your unwanted designer accessories for cash or credit at Neiman Marcus.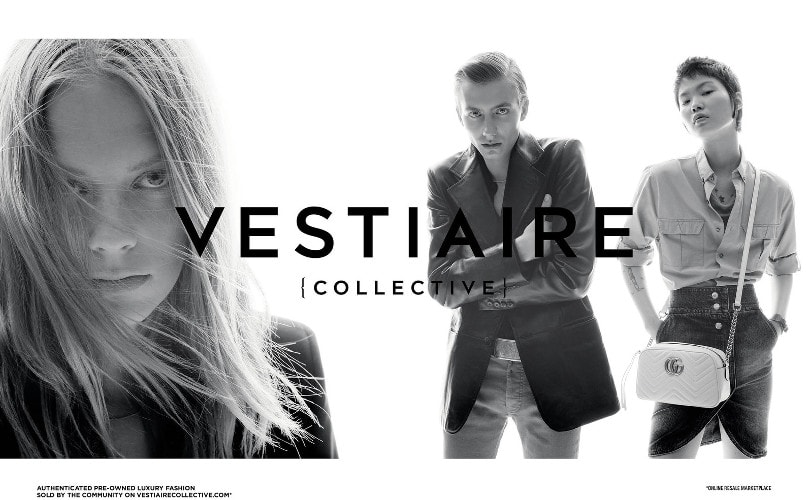 With just five years in the business, Vestiaire Collective has managed to become the destination for luxury consignment. They currently bring in over 20,000 items per week and have offices in both Europe and the USA.
Prospective items will be carefully checked by a team of experts before they go live. Once they're listed and sold, Vestiaire will send for the items and take care of any returns.
The commission rates vary depending on the sale price. A flat fee of $17 will be charged for any items sold for less than $170. For items that sell between $170 and $2,300, they will take a 25% commission. The higher the value, the lower the commission fee. You can check out the full range of commission rates here.
Where? Europe and the USA
How? Sell your luxury clothing and accessories for cash payment
Of all the places to make money selling used designer clothes online, this may be the best known. After all, the RealReal was one of the first big high-end consignment shops, ever. They accept clothing and accessories for men, women, and children, and even fine art.
The RealReal will send over a free shipping label to get your item(s) to one of their e-commerce centres – as long as the item is part of their designer directory. Once they receive your item(s), the item(s) will be inspected and authenticated by a team of experts. After the authentication process is complete, the RealReal will determine the price of each item based on their data and market-demand.
Beware – if products are deemed inauthentic or aren't included in their approved list, the item will be returned at the owner's expense. The entire process can take about 10 to 15 days but it's a great place to get up to 60% of the selling price. Click here to get a more detailed look on their commission rates.
Where? Based in San Fransisco
How? Sell your unwanted designer items for cash payment made via direct deposit
DePop was one of the first places to allow the public to sell old clothes online. It's an app that brings buyers and sellers together, and it now has over 10 million users. DePop has been dubbed "like Instagram with a buy button". Users can create a profile showcasing the items they want to sell and set their own prices. After exchanging a few DMs with a prospective buyer, you will be responsible for shipping it out to them at your own expense.
The key to success on this app is social promotion. If you're able to garner a large following, you can be among the app's top-sellers, who reportedly can make up to £150,000 a year. Depop takes a 10 percent commission, but there are some additional costs if you're checking out via PayPal or in a currency other than USD.
Where? Worldwide
How? Post your items, set a price, and send it out at your own expense.
Image: Depop
Tradesy is the perfect place to sell old clothes online. But not just clothing! They will accept clothing, bags, shoes, and accessories from both high-end and high-street brands/designers.
The process of creating a listing is super simple and you will also have the advantage of setting your own prices. After the listing goes up, Tradesy will send over a prepaid shipping box to have your item(s) sent over to them. Unlike resale apps like DePop, you won't have to worry about coordinating any shipping or returns yourself. On every sale less than $50, Tradesy will deduct a flat commission fee of $7.50; for orders of $50 or more, they will deduct just under 20 percent.
Where?  Based in the USA
How? Get paid for your unwanted clothing and accessories via Paypal or bank transfer
If you have a fairly large following on either Instagram or Facebook, Poshmark may be the best of all the places to sell old clothes online. According to their site, social engagement drives around 90 percent of all their sales.
No matter where you live in the world, you can make money selling old clothes and bags with Poshmark. The process is similar to Depop's: just upload photos of your item(s), set the price(s), and wait for the messages to come flooding in. They will accept clothing and accessories for men, women, and children from over 5,000 brands (click here to see the full list of brands). Poshmark will take a 20 percent commission for items over $15 and a flat $2.95 commission for items under $15.
Where? Worldwide, though based in the USA
How? Receive payment via bank transfer for a low commission fee.
If you're a luxury handbag enthusiast, you might have already heard of Rebag. This is a consignment store specialising in pre-owned luxury handbags. This site is great if you're looking to avoid a long drawn-out process and just want to make a quick buck.
You can submit photos of your handbag using their mobile app or website and get a quote in just 1-2 business days. Send your bag via a prepaid shipping label and receive payment for your little treasure in less than 3 days. You also have the option of taking it to one of their store locations and receiving payment upfront.
Where? Based in NY and California only so far
How? Send your luxury handbag for payment in less than 3 days
Thinking you might want to sell old clothes online….but kinda want to keep your stuff, too? Style Lend is a wardrobe sharing platform that allows you to make money on items sitting in your closet. If you're unsure about whether or not you want to permanently part from an item, this is a great place to see how you feel.
The website will accept gently-used clothing, shoes, bags, and accessories – preferably with a retail value of $250 or more and is less than 2 years old. The great thing about this is that 80 percent of the basic rental fee goes straight to your pocket! Worried you won't get your items back? Don't worry, Style Lend will offer Lender's Insurance for just $5.
Where? Based in the USA
How? Lend your clothing and get 80% of the rental fee
This Aussie-based consignment store that allows you to sell/rent out your unused clothing and accessories. Choose to either sell or rent out your high-end pieces for 4 to 8 days.
Looking for retail therapy that won't leave you feeling guilty? A percentage of EKOLUV's profits are donated to Opportunity International Australia – an organisation that helps to empower women. Use the money you make from the site and shop among their many high-end labels like Kowtow, Mettle/Fairtrade, Hugo Boss, Celine, Ellery, Dion Lee and much more including EKOLUV's own in-house produced fashion jewellery.
Where?  Based in Australia
How? Sell or rent your unworn clothing
Got something really special in your closet? Want to sell old clothes online – but know your item is a bit too special for eBay? Resee is the place for you! They don't take on just any old thing. Your item needs to be something that only collectors would recognise as a treasure, like Chanel's 2.55 denim collection, or an original McQueen skull scarf. Reese focuses on rare vintage pieces from high-end designer labels. The site includes curated collections handpicked by founders Sofia Bernardin and Sabrina Marshall, but also allows users to sell their stuff, too.
To do so, you need to head to the site and fill out a form explaining what you have and what condition it's in. From there, you'll hear back within five days with a yes or a no. Note: Resee prefers "collections" as opposed to one-off items, and makes it clear that it'll only take clothes that are in pristine condition.
Where? Worldwide
How? Get the best price for a vintage treasure sold by true experts who know their market perfectly.
It's fair to say that this year has been a hard hit for many. And many of us are looking for ways to make some spare cash. And while we've been spending time at home in lockdowns, it's dawned on s that we have plenty of stuff that is no longer used. Including jewelry.
Want to get cash for it? Worthy is a fine jewelry marketplace that is dedicated to providing sellers and buyers with that ultimate win-win. Every day, led by the very best in the luxury goods market, the online store hosts a luxury auction marketplace to bring the fairest market value for your valuable items. Whether you have an old ring, necklace or branded watch sitting in your jewelry box, why not sell it on and make some spare cash for yourself?
With 5 easy steps, the process takes under two weeks. And selling via Worthy will help you to bank 2-3x more money than you would get if you sold your unused items to a local jeweler or pawn shop. Simply describe your item in detail via the submission form, then Worthy will pay for your delivery label to send them the item. And while you wait, you can plan all the ways you intend to spend your easily made cash, all while helping your accessories go to a new home.
Where? US and selected countries. 
How? Get 2-3x more than you would selling your items to a local jeweler thanks to Worthy's online auction.
Yes, people – eBay is still a thing! It's one of the best places to sell old clothes online – especially if they're not fancy designer goods. Labels such as H&M, Zara and GAP do well here, but of course, you won't get as much money as you would for designer goods. Which is fine, because ultimately, this is a way of recycling clothing, right?
It might be a bit old-school, but eBay has loads more subscribers than most places to sell old clothes online, meaning you're very likely to make a quick sale.
Where? Worldwide
How: Open an account, then just upload text and pics of what you want to sell. Once sold, get your money on Paypal, wrap up your item, and take it to the post office. Done!
Did we miss any places to sell old clothes online? Tell us in the comments!
All images courtesy the brands listed below each image. Main image: Tradesy