By Chiara Spagnoli Gabardi
Green fashion is mandatory nowadays for the ethical consumer, but it can become tremendously pricey. One reason for this is that many eco brands are smaller than huge fashion conglomerates and can't reduce costs based on economies of scale. Additionally, since their manufacturing processes are more ethical and ecological, that means they're paying better wages to their workers and are using less toxic fabric and dye – which normally comes at a cost.
If you look hard enough though, you can find cheap sustainable fashion faves that are just as chic as the better known, pricier eco-fashion brands. Here's our pick of the best, with the most expensive ones on top…the bargains are below.
Faux Fur
A fashion favourite that will come to your mind is British label Shrimps (top pic). But those lovely fluffy and chubby faux furs that keep you warm all winter may cost you from £300 to £600. If you would rather not spend that much money, a great vegan alternative is Choies, whose two toned faux fur (bottom) looks super awesome with a pair of jeans and is less than £100!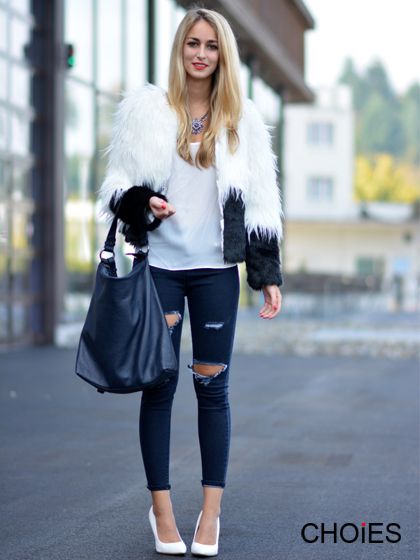 Good Old Denim
There are increasing numbers of 'eco denim' brands on the market today, but one of the most popular is arguably Joe's Jeans, loved for their sexy cuts and variety of styles. But a pair of trousers can cost up to $190! Just as conscious and graceful is The Conscious Denim Collection by H&M. You can drop a "0" to buy a denim garment from the Scandinavian retail giant, that offers a sustainable alternative to your average pair of jeans with the launch of their green line, Conscious, for just $15.
Vegan Handbags
We are in love with Jill Milan's super refined vegan handbags. They're truly stunning and the designs are so refined, rumour has it, one of them even 'inspired' a Saint Laurent design. But these luxury bags can be a bit pricey for the average girl…Alternatively you can buy a handbag from Lulu's for less than $100. Like Jill Milan, the brand always uses PU leather and the most eco-friendly materials around, and its design led styles will have friends and strangers asking where you got that bag from!
Fine Knitwear
Posh Argentinian brand Animana sells soft, comfy alpaca sweaters and ponchos in chic boutiques throughout Paris. The brand prides itself for supporting the people of the Andes, who highly value their alpaca and treat them well. Alpaca is always going to be priced a bit high, but it's worth it – this super soft material keeps you warm on chilly days, but never overheats. It's not scratchy like wool and it has more 'give' than cashmere. We love Animana's loose, classic styles, but if you don't have €300 to splash out on one of their jumpers, you can still get the goodness of alpaca at Ingugu. The alpaca fabric isn't quite as thickly woven, but it is half the price.

Organic Cotton Tees
Project Pietà sure gives a wacky twist to its tees, with edgy quotes on silky cotton. But are you willing to spend $43 for a t-shirt? If you are not Zara's organic cotton T-shirts will cost you less than ten dollars and are cut well enough to end up being a wardrobe staple that you'll surely mix and match into various outfits for years to come.
Vegan Boots
English designer, Beatles daughter, fashion guru and eco hero Stella McCartney sure knows how to charm with her designs. Stella's velvety vegan ankle boots are an on trend piece for any woman's wardrobe. But if you don't feel like spending $400 on footwear, take a look at what Asos' shoe department has to offer for only $54: extravagant funky colourful warm boots that will make you stand out from the conventional crowd. This British online fashion and beauty store offers a variety of consciously lustrous pieces for voguish fashionistas.
Hand Embroidered Blouses
All Things Mochi is a very high end embroidery brand that uses ancient textiles and an outstanding craftsmanship to create modern trend silhouettes, effortlessly merging eastern and western sensibilities and encouraging the talent from the community. Be prepared though to have a budget that can arrive up to $1500, just for one piece. Alternatively if you shop at Chiapas Bazaar you won't spend more than $150. This Mexican-American brand has artisans of the rural areas of Chiapas create extraordinary handmade embroidered garments. This business model is beneficial for the buyer and the consumer, since the client gets unique, one-of-a-kind, beautiful pieces that are not typically available in their area and the artisans are able to sell to a person that they wouldn't otherwise be able to reach out to from their hometown.
Eco Jewellery
One of Eluxe's favourite designers of eco-jewellery is undoubtedly Pippa Small, whose visual tales envisaged on gems have a hippie aristocratic allure. Yet if you would rather not spend $500 to $4000 for one of her jewels, we advise another eco-jewellery brand we have featured in the past. Tatiana Stoppa is the creator of Artedì, a label that expresses the beauty of upcycling. New life is given to old forgotten miniature objects that create works of art that are affordable and completely ecological.
Online Retailers
The digital era is all about online shopping. Surfing for the most reliable platforms, that have convenient prices but top quality items, can be disorienting. Especially if you want to make sure they have a sustainable hallmark. Net-a-Porter has an increasingly wide variety, but you should definitely keep your eyes on The Acey, which is a virtual place to purchase contemporary clothing consciously created. This site embraces innovation and integrity, by showcasing brands that reduce social and environmental impact without compromises.