Need some motivation to get into yoga class? Finding the best sustainable yoga clothing for your vibe can help!
By Arwa Lodhi
Choosing the perfect yoga class can be challenging – you need a teacher you can hear and understand perfectly, one who checks your body alignment and who chooses positions and movements you enjoy doing. In short, you need to feel comfortable and challenged at the same time.
But there's another task that can prove to be just as confusing for newbie yogis: choosing the bes sustainable yoga clothing. I mean, how many times have we seen 'that' new girl struggling to do a spinal twist in her huge track pants and sweatshirt? And don't even get me started on people who do yoga in swimwear – or even pantyhose  (yes, I have actually seen this).
There's a lot more to choosing great eco yoga clothing than (what I would imagine to be) the obvious: it needs to fit close to your body without suffocating it; it needs to stay in place whilst you're twisting around; it has to 'breathe' whilst your breaths intensify; it has to suit the climate of the class, and of course, it has to fit your own style. Here are some tips that should make picking the right yoga (or Pilates, or dance class) gear a whole lot easier.
The Best Sustainable Yoga Clothing For Your Vibe
YOGA TOPS
Picking the best yoga tops isn't just about choosing what looks nice  – comfort and practicality are also highly important. Stay away from tops that are too loose, or they'll ride up when you're doing inversions, covering your mouth and inhibiting your breathing, and maybe showing bits you'd rather not have on display. Look for something that's tight but not overly binding. Yoga tops should have some stretch and be made out of natural, breathable material, of course.
Perfectly Fitted
For some, a tee shirt is too loose. But a tank top is too revealing. So this fitted top by Stella McCartney for Parley for the Oceans is the perfect yoga gear for staying comfortable whilst forming your favourite poses – looks good with jeans, too! It's is constructed with breathable mesh panels at the back and sides, to keep you cool no matter how intense your workouts are. This close-fit style is made from moisture-wicking Climalite® fabric that's woven with recycled polyester yarns to reduce its environmental impact.
Price: $70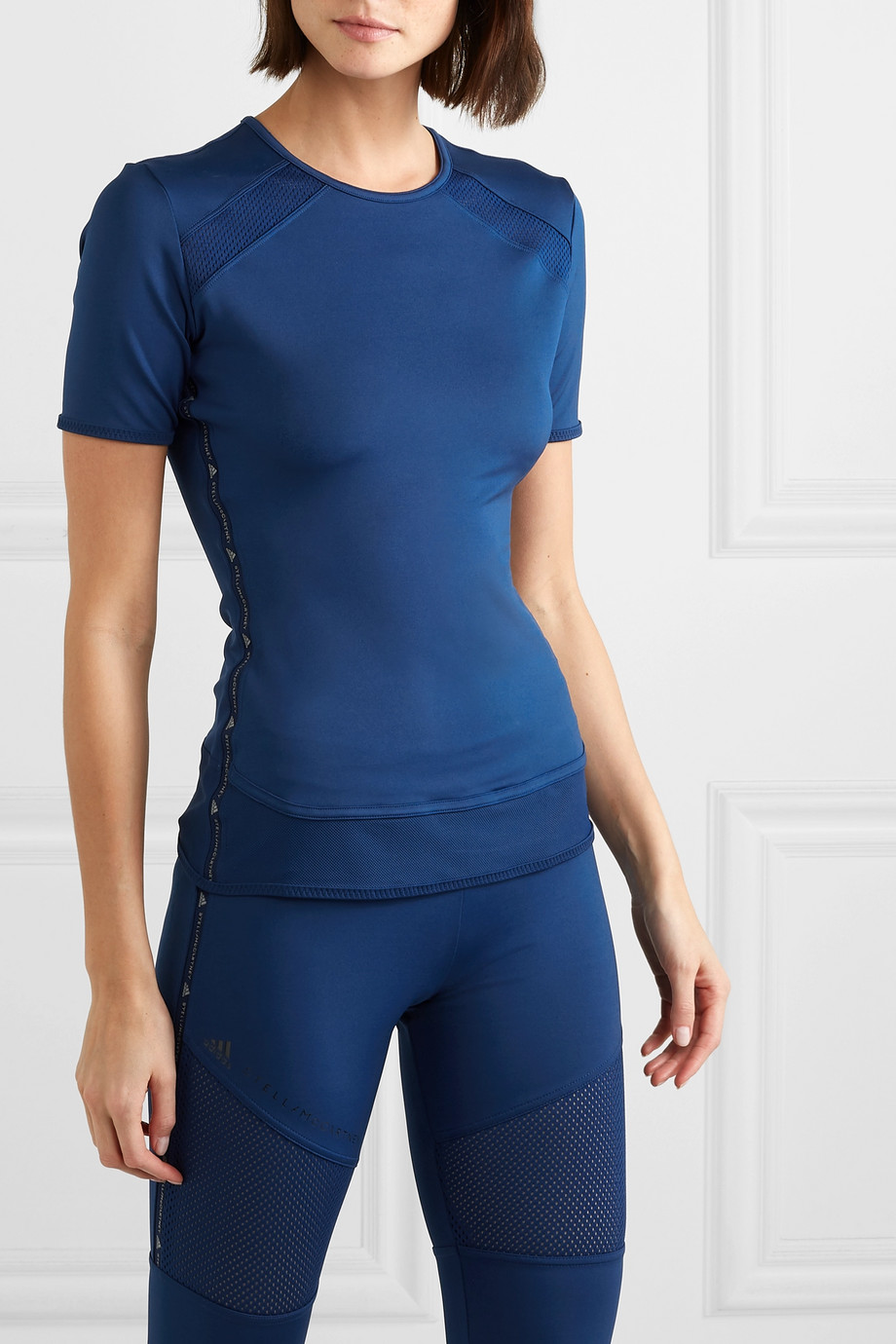 Something Warmer
This long sleeved shirt by Earth Yoga is perfect for cooler classes. Made from a mainly organic cotton jersey, their chic dip-dyed tunic features a comfy slimming style that's perfect for not only yoga class, but for casual weekends with jeans, too. No wonder it's one of their best sellers!
Price: $48
Loose and Flowing
If you prefer to dress in loose layers, this top by Sundried is ideal. It goes perfectly with a snug sports bra underneath, but the best part of this design is that it's made from – wait for it – recycled coffee grounds! Yes, really. The very idea of it kinda perks us up! The fabric feels light and cool and (unfortunately?) doesn't actually smell of coffee…
Price: $30
Tiny and Perfect
Got a great waist? Show it off in this ethical, stretch-jersey top! It's especially perfect for hot yoga classes, and is stylish enough to be worn outside with high rise denim or some cycling shorts. And the best part about this top? Its maker, Ninety Percent all about sustainability, and  it also gives back 90% of its profits to charity, so there's no need to feel guilty about adding the brand's pieces to your shopping bag!
Price: $80
Classic & Comfortable
When it comes to yoga, you want your clothes to move with you. You don't want to step into a downward dog while fighting to keep your top straight. Redefine Your Mind, the brand that boldly proclaims hemp to be the new 'soft-wear' since 2016, creates clothing that's ethically made of just the right blend of hemp and organic cotton, making it the perfect material for activities such as yoga.
Their relaxed and roomy 3/4 length top, featuring sleeves which fall just below the elbow and a flattering round neckline, is the perfect comfort attire when active. Easily pair it with shorts or some yoga pants.
Price: $52
YOGA PANTS
Most – but not all – prefer yoga pants that are form fitting. This prevent your pants from hindering you while practicing yoga moves and makes it easier for your yoga instructor to see your form. Others prefer something a bit looser, as they may not feel fully confident or comfortable in second-skin like pants. It's fine to wear looser yoga pants, just be sure they're not too baggy, or you could get injured if your clothes that get twisted or stuck easily.
Cute with Compression
Girlfriend Collective is focused on making some of the best sustainable yoga clothing in the world, by using  ethical manufacturing, meticulous design, and sustainable materials. These tights are made using recycled water bottles- 79% RPET and 21% spandex – which comprise a breathable fabric with a four-way stretch. Perfect for any kind of yoga class, or any kind of exercise, for that matter! You can choose from six solid colours, too.
Price: $75
Loose & Easy
Sustainable Modal Genie Pants  are the ideal choice for those who prefer a looser fit. Whether you're doing your downward dog, a warrior pose or just sitting in lotus, these soft, modal genie pants are super comfy and roomy, allowing for a wide range of movements without displaying your crotch to the world.
Price: $15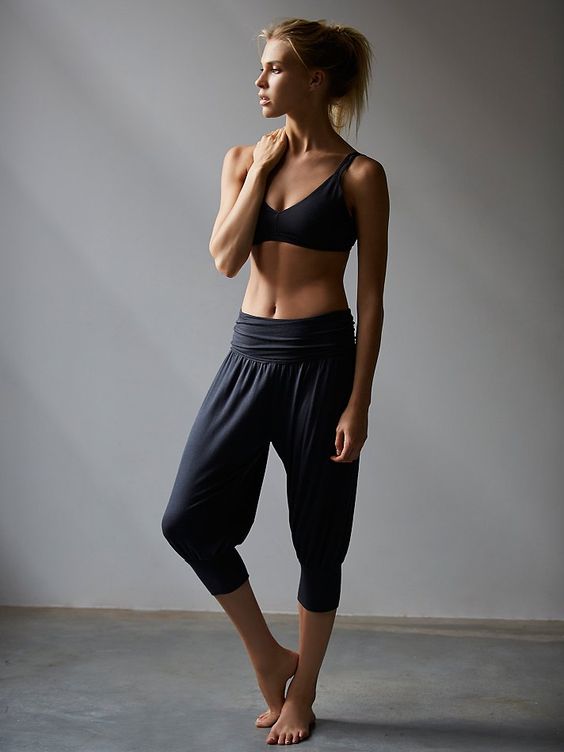 Chic & Stretchy
Coverleg Leggings  are made in Italy from Newlife yarn, a unique, complete and certified system of recycled polyester filament yarns 100% derived from post-consumer bottles. With their slick details and light fabric, Coverleg tights were made for the glamorous yogini. We love their metallic designs, be they in stripe, star or dot form.
Price: $70
Casually Cool
If you're looking for yoga pants that are casually cool enough to wear to lunch and to yoga classes, look no further than Public Myth! This green brand makes their pants from 60% organic cotton and 40% bamboo viscose. Milled in Montreal, their textiles are fully sustainable and ethically produced. Although organic cotton is already softer than conventional cotton, the bamboo added to this fleece makes it really stand out, as do the brand's designs. We particularly love their pocket leggings, below.
Price: $139
YOGA SHORTS
In some cases, full on yoga pants may simply be too warm, so yoga shorts are a perfect substitute. To avoid embarrassing displays, you'll probably want to get some shorts that are stretchy and tight, that stay in place as you move. Just make sure the fabric is thick – some materials become transparent as they stretch. Also, black may be a good choice since you'll be sweating a lot, and dark colors tend to show moisture less.
Butt Hugging Bottoms
Nagnata's organic cotton yoga shorts are for those who secretly wish they could do their yoga au natural – this is as close as you can get to that feeling! They come in a choice of blue or red, and provide enough support and coverage for any movement.
Price: $170
Longer and Stronger
We love these luxuriously soft yoga shorts by SKIN. Made of organic Pima cotton blended with a bit of stretch for comfort, they're double-layered for opacity. The bicycle-length is flattering for all figures, and we kind of love that one-shouldered matching bra, too!
Price: $70
SPORTS BRAS
The Designer Bra Top
If you prefer wearing a 2-in-1 bra top, you'll love this organic cotton one by Nagnata. Organic cotton means there are no nasty chemicals near the delicate lymph glands near your breasts; seamless technology makes for a flattering and comfortable fit, and it's got great support, too.
What we love the most is that it has a ribbed hem for added grip and has been designed with a super sexy, strappy, racer back style to make you really stand out in your class! This is the kind of sports bra that's also a top. Why would you cover up such a gorgeous garment with a tee?
Price: $180
Basic But Pretty
Sundried sports bras are made from recycled cloth, and offer some serious – and I mean serious – support. Stylish and flattering, Sundried activewear features the most advanced technology on the planet, including anti-odour, UV protection, and temperature control, all created ethically and sustainably and sold at a fair price, with delivery around the world.
Price: $25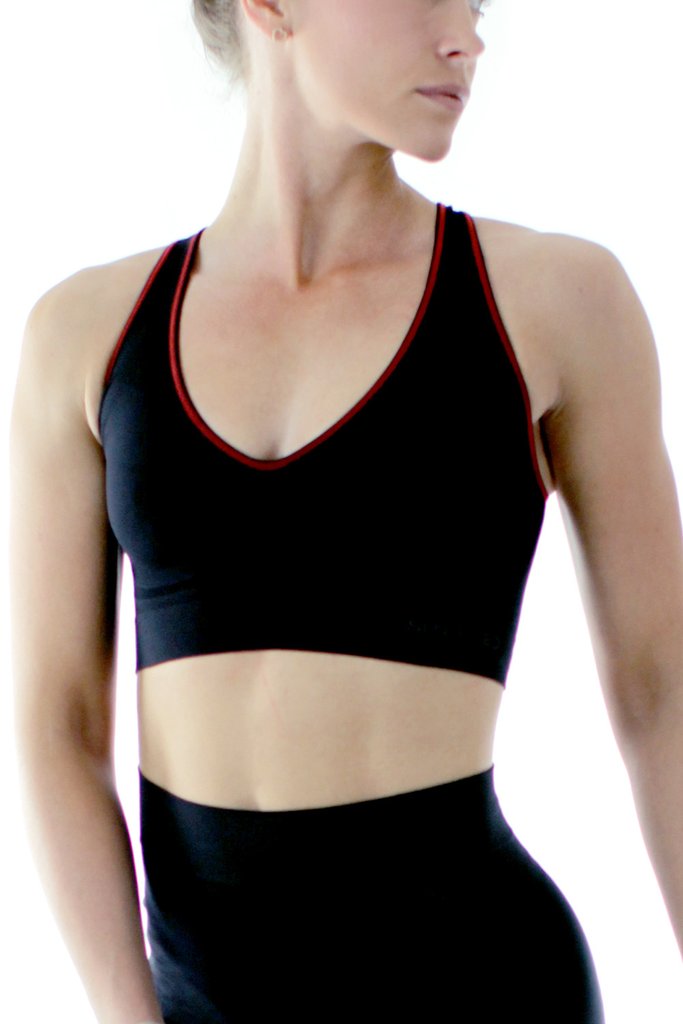 YOGA SOCKS
You may not think of socks when you think of sustainable yoga clothing, but the truth is this: some people's feet are manky. They may have weirdly shaped toes; a bit of a pong, or just be in need of a pedicure. Or, maybe your yoga class is just in a really cold place and your feet are turning blue with cold. In such cases, yoga socks may be the solution to all your problems.
Open Foot
Namaste Yoga Socks  by Free People are made with  organic cotton. They both keep your tootsies warm and with their non-slip grip bottoms and half-toe design, they ensure you won't slip around when you're doing Pilates, yoga, or dance.
Price: $15
Latest posts by Chere Di Boscio
(see all)