Feel better about your workout by wearing sustainable workout gear! We found some great stuff, no matter which sport you love
By Chiara Spagnoli Gabardi
Sure, working out is beneficial for your body and spirit, but have you ever considered whether what you are wearing is beneficial to our planet?
Most clothing made for exercising is really bad for the planet. It's often made from polyester and elastic, neither of which biodegrade, and considering that they shed microfibres of plastic every time we wash it makes these garments even more harmful – after all, apart from undies, which clothing do we wash more than gym clothes?
Fortunately there are several sustainable brands who took care in providing eco-friendly outfits for every activity from yoga to swimming. Many may be made of polyesters still, but at least they are spun from ocean plastic and other upcycled materials. Others are made from organic cotton, yay!
Here, we've picked what we think is some of the best sustainable workout gear for a variety of sports, no matter what you're into.
Sustainable Workout Gear for Every Sport
HIKING/WALKING
Patagonia is, without a doubt, one of the most ethical clothing companies on the planet. Not only do they work with strict Fair Trade and Fair Employment principles, but they also use many recycled products to make their clothing. Patagonia sales happen every few months so you can find some great deals in the off season.
Their fleece, such as in these hiking jackets, is made from post consumer recycled (PCR) plastic soda bottles. This system uses fewer resources and cleans up ocean plastic – IF you wash your clothing infrequently, using a microplastic filter, that is!
English model, environmentalist, and ambassador for Sky Rainforest Rescue, Lily Cole teamed up with Veja to launch a limited-edition footwear collection. For this collection, Lily Cole designed a print inspired by fauna and flora she met during her Amazonian trip in 2012. A trip during which she realised how fragile the rainforest is and decided to get involved in the fight for its protection.
Veja's sneakers soles are made out of wild rubber from the Amazon, the only place on earth where rubber trees grow in the wild. Cole expressed her unconditional support to Veja's project: "I think it is a really important and inspiring initiative. Veja's use of wild rubber offers an economic, market driven solution to discourage deforestation on the ground, and allows people all over the world to participate in the protection of the forest through their purchasing choices."
A hike wouldn't be complete without a place to put your water bottle, sunscreen, mobile phone (just in case!) and other stuff. Luckily, Bobobark creates stylish, comfortable backpacks from cork. They're just big enough to carry all your stuff, and they're super-durable, too!
Image: Style with a Smile
RUNNING
Adidas Originals' 'Ultra Boost' sneakers are knitted from Primeknit yarns made by Parley – an organization that upcycles ocean plastic found on Maldivian beaches and in coastal communities into textiles before it reaches the water. Made for a flexible sock-like fit, this low-top style is set on a signature responsive footbed that gives you an energy-returning spring in your step.
The company uses  recycled polyester in many of its lines, including Capilene ® baselayers, shell jackets, board shorts, and fleece. They now recycle used soda bottles, unusable manufacturing waste, and worn out garments (including their own) into polyester fibres, to create pants like these.
Using recycled polyester lessens their dependence on petroleum as a raw material source, curbs discards and reduces toxic emissions from incinerators. Plus, the pants are fully breathable, supportive, and wick moisture away from skin.
Parley for the Oceans believes no step is too small when it comes to protecting mother nature, so they teamed up with adidas by Stella McCartney to launch a line of eco-conscious sportswear. This layered sports bra is made from recycled stretch fabric and has a generous front cutout and logo-woven elasticated underband for gentle support.
Prefer the freedom of shorts over longer, hotter pants? Shorts by Moving Comfort offer a  lightweight, wicking brief liner, two internal pockets, and are made from DriLayer Eco Stretch fabric. They come in a variety of colourful fabrics, too!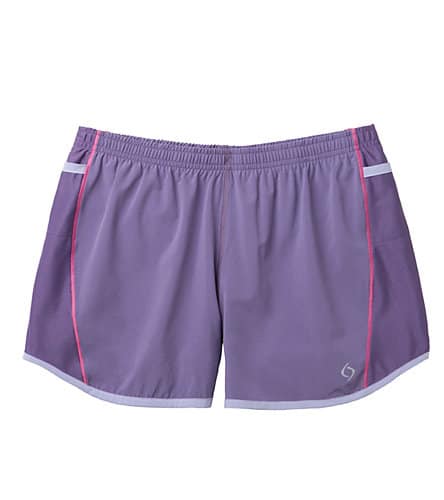 CYCLING
Stella McCartney's wonderfully designed blue leggings are made from adidas' Climalite® fabric – which not only wicks moisture, but is also blended with recycled polyester engineered from plastic that has been intercepted from beaches before it reaches the ocean.
They're cut for a close compression fit to support your legs and spliced with ventilating mesh panels to keep you cool. Wear them with the matching top for a gorgeous cycling look.
Sun on the skin is a serious concern for many avid outdoor cyclists. To protect your face from the ageing and cancer-inducing rays of the sun, a cap is a must. MCap makes a comfortable range aimed at cyclists, and uses only 100% organic cotton in constructing these.
Who knew that corn and hemp could merge to create such an awesome, strong fabric? Reebok has made these unisex sneakers from 100% plant based materials, and they're perfect for going for a stroll, or for jumping on your bike, too!
Your pedalling power is diminished if your socks are bunching in your shoes or your feet feel hot and sweaty, so thank goodness for these Teko Socks! The brand sources their organic, chlorine-free tekoMERINO wool from environmentally friendly farms in Argentina, and blends this with ekoPOLY recycled polyester to create a seamless, naturally wicking product.
YOGA
Did you know most yoga mats are made of very eco-harmful PVC? Not very Zen! eKO Lite mats to the rescue! They may be a bit more pricey than toxic mats, but they're made from  non-Amazon-harvested, natural tree rubber and will leave no footprint in landfills, or toxic fumes in your lungs as you 'remember your breath'!
This new ethical fashion brand based in the UK is a demonstration of how an integrated socially responsible approach to business can work towards contributing to the well being of our planet.
These outfits are designed and manufactured according to an eco friendly criteria for the active and yoga lifestyle, using beautiful fabrics which feel soft against the skin, are kind to our environment and sourced from sustainable resources – a minimum of 90% of the raw materials used are made from either ethically sourced, certified organic and/or sustainable sources.
Another great brand to enjoy your yoga sessions with is OM Girl Clothing.
These clothes are made from the finest materials, soft and colourful, and are entirely custom-dyed. In line with the brand's chosen name, green living is the philosophical and spiritual foundation to Om Girl: the ancient principle of Ahimsa, which translates roughly as "non-harming", is translated in a cloth manufacturing process that is focused on minimising its impact on the environment.
In practice the label teams up with like-minded brands to offer organic and/or sustainable product options. Furthermore, Om girl offsets its entire carbon footprint through Carbonfund.org and hosts its web server in a green data centre, avoiding the use of paper, prevent the damage of trees.
SWIMMING
There are loads of eco-friendly swimsuits on the market, but what if you're really into swimming? You know – more than say, sunbathing? We love how All Sisters makes one pieces that are great for diving and swimming for exercise. And the best part? They're constructed from recycled nylon fishing nets that would have otherwise gone to landfill!
Latest posts by Chiara Spagnoli Gabardi
(see all)