Denmark has always been known for its superlative design. Here, we celebrate sustainable Danish fashion
By Chere Di Boscio
Denmark is having a fashion moment. Again. Danish supermodels Caroline Brasch Nielsen and Freja Beha Erichsen are dominating the catwalks; Copenhagen Fashion Week is on every editor's 'must attend' list; and a slew of sustainable Danish labels are now making their mark globally.
But what is it about Danish fashion that's so appealing?
For us, of course, it's the fact that the Danes are so concerned about sustainability in fashion. Not only are they proud to use organic and natural materials, even if they're a bit costlier, but their factories are often housed locally in eco-friendly facilities.
The Danish mentality about style is never focused on passing trends or fast fashion – it's always more about quality over quantity. In Copenhagen, simple staples are meant to last forever.
In fact, Danes have small wardrobes full of a few perfectly made items of clothing that you'll wear a lot – and most of these will be in a monochrome palette of neutral  shades like charcoal, slate, navy, ecru, indigo and camel that are easy to mix and match. It helps that there's  less of a distinction between "fun" clothes and "work" clothes in Danish offices, as work wear is generally more informal.
Whilst the overall style may be minimalistic, accessories do play a starring role in outfits – scarves are especially huge in Denmark, literally and metaphorically,  shoes are perfectly showcased by basic silhouettes. Chunky heels, thick soled trainers and 'flatforms' are favoured in the Danish capital – nothing tiny, delicate or too ladylike here.
There may be a tradition of clean, modernist lines in all types of Danish design, but here we've found a few Sustainable Danish Fashion Brands that each have their own unique vibe.
Sustainable Danish Fashion Brands
This New York based Danish designer's minimalistic collections are all handmade in a small factory in New York, and boast the highest quality finishings. These edgy, chic designs are futuristic enough to stand out from  the crowd, but also wearable enough to for a night out.
To keep waste to a minimal, the collection is made with zero waste patterns, and the use of  upcycled plastic bags and cutting room fabrics takes the brand's sustainability one step further.
Plus, for each garment sold, a tree will be planted for the Canopy Project in East Africa.  Helping the environment whilst adding futuristic fun to your wardrobe? Win/win.
This denim brand is one of the most creative sustainable Danish fashion brands. It creates sustainable, modern streetwear by upcycling  denim and other waste fabrics into patchwork, fringe and otherwise unique garments. Re.Imagine is famous for its one-of-a-kind handmade attire with an edgy, slightly artistic vibe.
In addition to being sustainable, they're ethical too. Specifically, they use fabrics donated by the Red Cross, and donate a percentage of profits to them, too.
With a core philosophy of empowering imprisoned women, Carcel is an award-winning Danish brand made in Peru that uses 100% baby alpaca wool  to create lightweight knitwear in classic shapes and colours. But don't assume your jumper was made by a murder: most of the women in this Peruvian prison were put there for poverty related crimes. And of course, those who make the clothing are fairly compensated for their work.
By Signe pretty much exemplifies all that is great about Danish design: minimalist and contemporary cuts created directly in  the brand's own studio. All their fabrics are certified by The Global Organic Textile Standard (GOTS) – the world's leading processing standard for textiles made from organic fibres.
Their latest collection was inspired by young writers and artists seeking  natural beauty in unusual places and is comprised of  organic bamboo tees, cotton pants and soft skirts in cool neutrals.
Gender, sexual orientation and age are completely irrelevant to this Nordic brand, whose clothing is designed to give those who wear it the freedom to  truly be themselves. BARBARA I GONGINI's geometric twists and abstract silhouettes are a bit different from  than the usual stark minimalism we often see from other sustainable Danish fashion brands.
But one thing she does share is the Danish love of sustainability. In fact, ethical production processes and recycled fabrics form the core of  the brand's approach to eco-friendliness.
Heralded by Vogue France as being 'fit for an Urban Princess,' Ann Wiberg's eco couture stands out as one of the best sustainable Danish fashion brands. It's quite glamorous and feminine, compared to stereotypical minimalist Danish design. All of Wiber's various collections, be they her Private Couture, Bridal Couture or Trash Couture line, rely on using antique textiles, lace and beads for their sustainability and style.
Of course, ethics come into play too. All items are hand-sewn by fairly paid employees at Wiberg's studio in Copenhagen. With gorgeous attention to detail and much artisanal skill embellishing each design, it's no wonder that Wiberg's collections have gained an A-list following that includes Kate Moss and Penelope Cruz.
Created in Copenhagen, Fonnesbech has been one of our favourite sustainable Danish fashion brands since it re-launched in 2014 with a new focus on sustainability. The innovative fashion brand creates  pieces designed to stay stylish over several seasons, and  versatile enough to be worn in a variety of different ways.
The result is high quality fashion that stresses craftsmanship and usability with an intelligent take on functionality – delicate details, strong standing collars, bold cuts and  silhouettes all define this eco-friendly label.
Aiayu is a marriage of Danish design and top-quality Bolivian textiles. The brand was set up in 2004 with an initial goal of introducing sustainable knitwear to a global market. Fast forward to now, and it's mission accomplished. They now have over 300 stores worldwide!
In addition to using baby alpaca fabrics, locally sourced organic cottons and 100% pure yak wool, the brand has a zero waste programme where they recycle any unused or waste fabrics into tote bags and hang tags. All styles are made in limited editions, reducing waste. Aiayu also donates a percentage of profits to a school in Agra, India for challenged children.
This Danish fashion brand creates feminine streetwear inspired by vintage sportswear – namely the decade of excess, the 1980's. The down-to-earth brand cares for the environment by including  sustainability in different ways, such as by using minimal waste cutting methods and GOTS certified organic cotton jerseys that drape beautifully and feel wonderful against the skin.
Their most recent collection has been inspired by the story of King Christian VIII and his first wife, Charlotte Frederikke. These were a pair of energetic and playful royals, and Charlotte was an avant-garde 'flower child' for her time – embracing nature and wildlife. Her spirit has influenced  this most recent collection with its prints, inspired by royal decorations in her palace.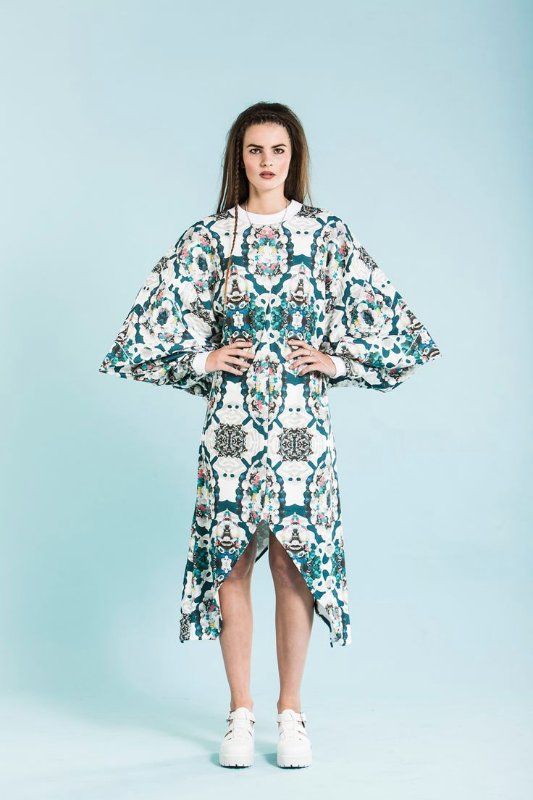 In a modern world where fast fashion is everywhere, it's easy for many to forget that behind each garment there is a human. Hoping to mend the connection between the clothes we wear and the people behind them is Danish brand IMperfectionists.
The brand is hoping to inspire us to respect and care for our clothes, from the hands who make them to the materials they're made from. They use organic fibres to make their clothing, which helps eliminate pesticides and micro-plastics from their supply chain. The carefully chosen textiles ensure minimal environmental impact during production and allow the customer to bask in the natural comfort of the garments.
Encouraging freedom through fashion, founders Dilayla and Olina create clothing that will outlast the throwaway fashion culture and can be worn for years to come. Blurring the line between genders, the unisex garments are produced once sold. The limited releases help reduce waste and overconsumption.
Latest posts by Chere Di Boscio
(see all)