Looking for a natural beauty boost? Check out these 10 beauty brands from Scandinavia
By Sophia Hussain
Scandinavia is known for its nature, social equality, and beautiful people. Sure, genetics play some role in this, but Nordic women's glow can also be attributed to something else, too: a plethora of pure, organic beauty products.
Yep, that's right – despite all that fresh air, thick forests and fresh water up there in the north, it's not the best place for your skin, as the colder Nordic climate actually wreaks havoc on the complexion, sucking out moisture, causing redness and even cracking. To counter these effects, Scandinavian beauty brands are especially rich in nourishing ingredients to soothe delicate skin.
Here, we curate our 10 best organic beauty brands from Scandinavia, with serious global appeal.
10 of the Best Organic Beauty Brands from Scandinavia
Of all the Organic Beauty Brands from Scandinavia, this may be the best known. Danish expat Kirsten Kjàer Weis is an in-demand celebrity makeup artist based in New York City, and the beauty expert behind her namesake line of luxury minimalist cosmetics. With foundation that applies with a paper-thin finish, and a highlighter to accentuate a natural glow – these cream formulas can easily applied and blended with your fingers for a natural finish.
The beautifully presented makeup, which is dense with certified organic ingredients, comes housed in signature sleek refillable mirrored  swivel compacts that  are  much-coveted by industry insiders!
This super holistic skincare collection includes collagen boosting chocolate and smoothie powder, both of which are selling like hotcakes, with good reason: all ingredients from Supermood are designed to nourish, hydrate, and most importantly, protect the skin. Their two main  anti-aging superstar ingredients are chaga mushroom and fish collagen, both of which Scandi women have known and used for centuries to prevent wrinkles, sagging and brown spots.
This Danish skincare brand is actually made in England. Its collection of organic and natural ingredients fuses therapeutic ratios of aromatic essential oils with active components that  work seriously hard to protect your skin from free radicals and the ravages of time.
We've tried and tested many products in this brand's line, and can honestly say if you're after a chemical free luxury brand, Karmameju rivals any top selling designer skincare range on the market today.
The influence behind this Swedish mineral cosmetics collection is Nordic Goddess IDUN who had eternal youthful beauty due to her infinite supply of magical apples, which she graciously shared.  IDUN boasts a stellar cosmetics collection including moisturizing lipsticks and lipgloss which contains nourishing Nordic cloudberry oil, weightless foundations for a flawless face, and a stellar 5-free nail lacquer collection too.
Everything comes housed in chic lucite and black lacquer packaging with the cute apple motif, and adorned by the Goddess IDUN, painted by Italian artist Patrizia Gucci.
Thick, rich and slightly citrus scented, this Swedish skincare and cosmetics collection is infused with organic botanical oils. The core concept behind this brand is "deepskin organics," which means the products work from deep within the inner layers of skin since they only contains cold-pressed vegetable and essential oils – which are best for retaining the ingredients' purity and potency.
The packaging here is clean and minimal, allowing the high quality products inside to really sell the brand.
This Danish eco-certified skincare collection contains antioxidant "it" berry Aà§ai, which also contains essential fatty acids omega 6 (combats hydration) & 9 (plumps fine lines).  We're especially impressed with the Organic Sun Body Lotion, which provides and SPF of 30, goes on with complete transparency, and doesn't contain a single harmful ingredient.
Another bonus: Rudolph Care is also 100% free from the list of 26 allergenic perfumes that should be avoided according to the EU. Housed in pretty soft pastel hued packaging, it is an ode to Scandinavia's subdued beauty.
Don't forget the men up north are just as gorgeous as the women, and they take just as good care! Former model Alexander Sprekenhus has created a holistic hand-made brand from Norway containing an exotic ingredient from Morocco.
Argan oil is infused in everything from the haircare and skincare collection, due to its skin-nourishing antioxidant rich Vitamin E content hailed for its anti-aging benefits. Or, go for the fast-absorbing 100% Pure Argan Oil version and apply it everywhere your body craves soft youthful, moisturized skin. All products come housed in minimalist-glam apothecary-inspired bottles.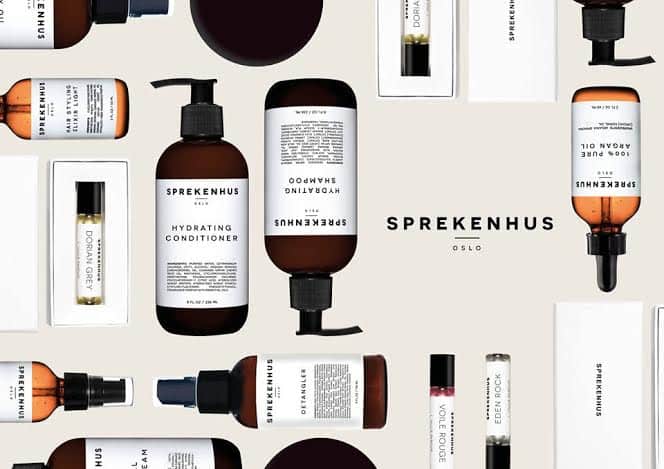 Lapland is the world's largest and cleanest harvesting region in Finland, and home to coveted beauty ingredients – two of which are captured in this skincare brand.  Containing chaga mushroom known for its anti-ageing properties, and arbutin derived from bearberry for luminous skin, this brand's gentle formulae are also designed to provide relief to problems that are typical for fairer skins: redness and  couperose.
Our newest discovery is this brilliant organic brand from Sweden.  Their "All you Need is Me" cream is the perfect substitute for the far, far less natural Elizabeth Arden "8 Hour Cream" produced by unethical parent company, Estee Lauder. This, and the rest of the collection contains nourishing skin-friendly oils including: vitamin E, olives, blueberries, and sunflowers.
Latest posts by Sophia Hussain
(see all)