Want to stay cosily stylish this season? Check out these ethical knitwear brands!
By Diane Small
Ethical knitwear is a term that should be easy to define – but it's not.
The main reason for this is the wool vs. synthetics debate, which continues to rage throughout the sustainable fashion community.
We've covered this debate several times already. And unfortunately, there are no easy answers. On the one hand, vegans quite rightly argue that it's not uncommon for alpaca, sheep and cashmere goats to be maltreated during the shearing process.
They also state that rearing these animals carries a high carbon footprint, due to the land space they occupy, and the amount of food and water they consume.
And finally, this group points out that there are some truly fabulous, eco-friendly fabrics being created that can replace animal fibres.
On the other hand, non-vegan eco-fashionistas argue that the petroleum by-products that are used to create synthetics like acrylic and nylon also consume vast amounts of water and carbon. They assert that these materials are highly pollutive. That's true not only through their production process, but when you wash them, too.
By now, we all know that plastic microparticles are shed every time we wash polyester, acrylic and nylon, right? It's also well known that clothing made from animal fibres is easy to dye with plant based colours. It also bio-degrades quickly.
What's Ethical Knitwear, Exactly?
So, what defines ethical knitwear?
Personally, I'm in the latter camp. If a fabric is made from organic materials, it's kinder to the skin, and the planet. And ultimately, that means it will be kinder to animals, too, since they won't be contaminated with plastic microparticles they gulp up from our waterways.
Organic materials, of course, can also include organic cotton, hemp, linen and even bamboo. And fortunately, there are increasing amounts of recycled wools being used in fashion, and that's set to increase.
Here, I've found a few ethical knitwear brands we love. To ensure they are indeed as stated, ethical knitwear brands, I've included those who source their animal fibres ethically, or even use recycled animal yarns.
Hopefully, this is a compromise that most will agree with.
Love the sweater below? Get it here. Main image credit: hplify.com
10 Ethical Knitwear Brands We Adore
Designer Ulla Johnson's sustainable sweaters are defined by natural fibres, beautiful finishings, and ease of fit and form. Indeed, the Ulla Johnson aesthetic has been described as 'bohemian, free spirited, transportive and feminine'.
Besides insisting on eco-friendly fabrics, Johnson also engages in much philanthropic work. She focuses on causes related to women's advocacy, social justice, the preservation of craft, and of course, environmental conservation.
Price range: $$$$
Sezane is without a doubt, one of our favourite new sustainable sweater brands!
The Paris-based brand not only makes ethical knitwear, but loads of other ethical clothing, too. And each piece comes with a very chic, French-girl aesthetic.
The brand uses planet-friendly materials, like Merino wool, organic cotton, sustainably made viscose and more. But they have. social conscience, too! Specifically, Sezane donates 10% of each day's gross sales revenue and 100% of the net profits of sales from a dedicated solidarity piece from their US website and US boutiques to Baby2Baby, a charity that distributes needed daily items to children and families in need in 260 cities in all 50 US states.
Price range: $$$
The popular Los Angeles based brand has begun to use recycled cashmere yarn to create their sustainable sweaters, which really stand out for their simple yet stylish designs. We particularly love the loose fits, mock turtle necks and intricate knit patterns.
With every item offered on their website, Reformation provides detailed information about how much carbon and water you'll be saving by purchasing one of their items. It's quite impressive, when compared to  a conventional, non-recycled fabric sweater. And the best part? This is one of the best ethical knitwear brands for those on a budget!
Price range: $$
Everlane chooses eco-friendly materials like organic cotton and alpaca to maintain their status as one of the most ethical knitwear brands around.
They choose alpaca for their sustainable sweaters because these animals are lighter on the planet with their soft hooves and gentle grazing. Their airy alpaca yarn is prickle-free, long-lasting, and pilling-resistant. And the best part? When it comes to using animal fibres, they take extra precautions to ensure humane treatment.
Price range: $$
Stella McCartney describes her work as clothing with a "natural confidence and sexy femininity," and her knits really reflect that. Often oversized, sometimes 'torn' or patched, and occasionally sporting a slogan or graphic, McCartney's knitwear comes with a very London, punk aethetic.
As a vegetarian herself, she cares about animal welfare, and has chosen to use regenerated cashmere, organic cotton and ethically sourced wool (from her own farm, apparently) to make her knitwear.
Price range: $$$$
Ethical knitwear brands don't get much more conscious than Alltrueist! Their sweaters are 3D knitted on demand only, meaning there's zero waste – plus, you can specify your measurements. This means not only will your sweater fit perfectly, but also that Alltrueist is a size-inclusive brand.
But that's not all! They use modern, sustainable fabrics, such as a moisture-wicking eco-viscose that's Lenzing Certified, and 100% vegan-friendly, too.
Price range: $$$$
This is one of those ethical knitwear brands with a truly unique concept – protecting wildlife through yarn.
Argentina based fashion brand Maydi cares so much about animal welfare, they've been granted a Certification for Wildlife Friendly Fibres. This is important, because sheep and alpaca ranchers often trap and kill foxes, wolves and other predators to stop them from preying on their animals. And of course, the very creation of such ranches imposes on the natural habitats of these natural predators.
But the wool and alpaca Maydi uses comes from ethical farms. These ranchers are committed to more using wildlife-friendly practices, which also work to conserve native flora and fauna.
Price range: $$$
Myrrhia is the one of the hippest ethical knitwear brands that we know of. Based in California, the brand's pieces are accordingly lightweight. No need for chunky cable knit jumpers when the sun's always shining, right?
The finely knit pieces from the label range from bandanas and skirts to dresses and tops. To reduce their carbon footprint, the brand is dedicated to using zero-waste knitting technologies and adheres to the strictest of ethical business practices.
Is it any wonder why Myrrhia is one of our favourite ethical knitwear brands for this season?
Price range: $$
This is definitely one of the most luxurious of all the ethical knitwear brands! Brunello Cucinelli features unique designs and buttery-soft fabrics in their sustainable sweaters.
Strongly against sweatshop labour, this passionate Italian's mantra is 'profit can be sought without damaging mankind.' Each collection features artisanal products that are strictly Made in Italy. Over 300 talented craftsmen who live in a sustainable village in Umbria work on the garments.
Cucinelli firmly believes that "money only has real value when it is spent to improve the life and development of people." Consequently, he donates a large part of his profits towards lovingly restoring and renovating the hamlet where his workers live. He also supports arts initiatives there. As an added bonus, most of his knitwear comes from 100% ethically sourced pure cashmere and Merino wool.
Price range: $$$$
Spanish based brand Babaa is all about the sheep. They are adamant that their shepherds adhere to a process called Transhumance. This is "a type of pastoralism or nomadism comprising seasonal movement of livestock between fixed summer and winter pastures." In mountainous regions, it implies movement between higher pastures in summer and lower valleys in winter.
This is not only better for the animals, but for the environment, too. For example, it enhances fire prevention. That's because the sheep eat many weeds that are potential fodder for wildfires. Transhumance also helps the steppe ecosystem, and enriches fallow land (making it farmable again). Finally, it helps to maintain alpine areas.
Babaa uses the super-soft fleece of their sheep to create wonderfully oversized sustainable sweaters, scarves and trousers that epitomise slow fashion.
Price range: $$$
Do you know of any great ethical knitwear brands we missed? Let us know in the comments, below!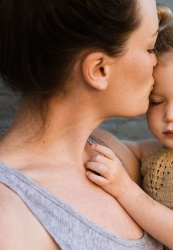 Latest posts by Diane Small
(see all)