Recycled cashmere knitwear brands are even more sustainable than their 'new' counterparts!
By Chiara Spagnoli Gabardi
During the chilly season, we have all lusted after that soft touch of cashmere on our skin. The extreme levity of the fabric keeps us toasty warm and doesn't make us feel prickly like other kinds of wool do.
However, although it might be gentle on our bodies, the making of cashmere isn't always good for the planet.
It used to be. It was once a very expensive luxury commodity, available only for the few, and cashmere goats were mainly living in the wild. But now, thanks mainly to Chinese companies, you can now find cashmere on the high street, and goats are over-bred. Ultimately, this means that the selling of cashmere has grown to a point where it is no longer sustainable.
As mentioned, that's mainly due to the over-breeding of cashmere goats in China, which in turn is causing the desertification of the regions they live in. That's because unlike, say, cows, which nibble the tips of grass, cashmere goats eat the whole grass plant, from the roots up, thus removing the whole plant from the soil.
This not only means the soil loses nutrients and becomes desertified, but also that grass doesn't grow as well there anymore, and the goats get malnourished due to a lack of food.
These issues are causing a number of brands to rethink the process and find a more sustainable approach to making cashmere sweaters. And one great solution is recycling old cashmere!
Recycled cashmere brands use mainly post-consumer yarn that has been reworked in various ways. The result is that the fabric is just as biodegradable and delicate on the skin, but this time, it's also technically cruelty-free, and much more environmentally-conscientious.
Here, we've found a few recycled cashmere knitwear brands whose style – and ethics – we really love!
8 Recycled Cashmere Knitwear Brands
Everlane is one of those recycled cashmere knitwear brands that's making luxury more accessible. The brand has always been committed to producing its garments in ethical factories, using mindful materials. They pride themselves on 'extreme transparency' and believe we, the customers, have the right to know how much their clothes cost to make. Everlane has no problem revealing the true costs behind all of their products—from materials to labor to transportation.
The brand offers a line of affordable, classically stylish cardigans, pullovers and turtlenecks that are designed to take you from college parties to visiting your grandkids!
The queen of eco-fashion has been developing regenerated cashmere since 2016, when her brand stopped using virgin cashmere for their knitwear collections. Instead, Stella decided to use ReVerso, a recycled cashmere made from post-factory cashmere waste in Italy.
Once again, she's a fine example of how commitment to circular fashion doesn't have to go to the detriment of style. I mean, just marvel at Stella McCartney's Cashmere Fringe Jumper, below! It's rock'n'roll knitwear at its best, and can be worn as well at the office as much as at a chic soirée.

This LA based brand has always been an advocate of sustainability, putting upcycling at the core of their philosophy. Their bang-on-trend designs have always begun with an attentive selection of eco-friendly materials. And conscious cashmere is now one of them!
The label is proud to point out that recycled cashmere has 80% less of an environmental impact than the new stuff – but looks just as grand.
They offer a wide range of styles, and many feature one of our favourite trends: Bishop sleeves! But we also love Reformation's Cashmere Boyfriend Sweater, below in black. Just check out that loose fit, sleek design and fine ribbing at the cuff and neck!

Eco-innovation is the driving force at Riley Studio! This is one of the few recycled cashmere knitwear brands that's creating 100% gender-neutral garments from waste.
The London-based label is very thoughtful both in how it sources its recycled materials, and how it works with ethical partners to deliver products that are designed for life – not just a season. They use 'post-consumer' cashmere, consisting of off-cuts, production pieces that have gone wrong, or gatherings from old cashmere jumpers from all over the world.
Riley Studio makes not only gorgeous oversized sweaters, but also beanies, scarves and other warm clothing. Each piece can be shared by couples, and will never run out of style.


This is another of the recycled cashmere knitwear brands that has pledged to produce responsibly, maximize wear and extend life to clothing.
Cuyana has partnered with an Italian-based mill in Bologna to give cashmere yarns a second life through timeless, versatile designs. This family-owned mill has been in business for over 130 years, and the synergy with Cuyana glorifies the Italian tradition of fine design, which is evident in the Mock Neck Sweater, seen below.
This is a must-have item in your closet, that you will carry around forever, thanks to the finesse of the dropped shoulders, with subtle balloon sleeves that drape at the wrists. We love ribbed waist that creates a blouson effect when untucked. But of course, there are many more styles to choose from!
This is one of the most luxurious recycled cashmere brands! They source their fabrics from the most prestigious European yarn fairs, allowing Sphere One to choose the finest yarn from top mills in Italy and Scotland. Their chunky Italian recycled cashmere is of the highest quality and certified to Global Recycled Standard and they also use pure un-dyed and unbleached Scottish cashmere in their collections.
Sphere One takes a zero-waste approach in their work, using all the materials they buy. Their Night Sky Collection is simply beautiful, with its midnight palette drawing inspiration from the Northern Hemisphere seen at night.
Besides their ethical elegance, one more reason why we love Sphere One is their kindness. The brand  donates super soft cashmere hats to ARC Cancer Research, for people undergoing chemotherapy.
Though her sweaters aren't made from 100% recycled cashmere knitwear, they do contain 75% upcycled threads, blended with 25% new wool.
The designer is proud to say that all of her clothing is 'Responsible by Design'. What that means is that her garments meet their highest standard for environmental or social impact. Fisher aims to make her entire range as circular as possible. To do so, she has encouraged customers to return their gently used clothing for over a decade now.
She then gives that clothing an environmentally friendly cleaning and resells anything in perfect condition. It the item is less than pristine, her team finds innovative ways to reimagine the garment. That way, your clothes never have to end up in a landfill!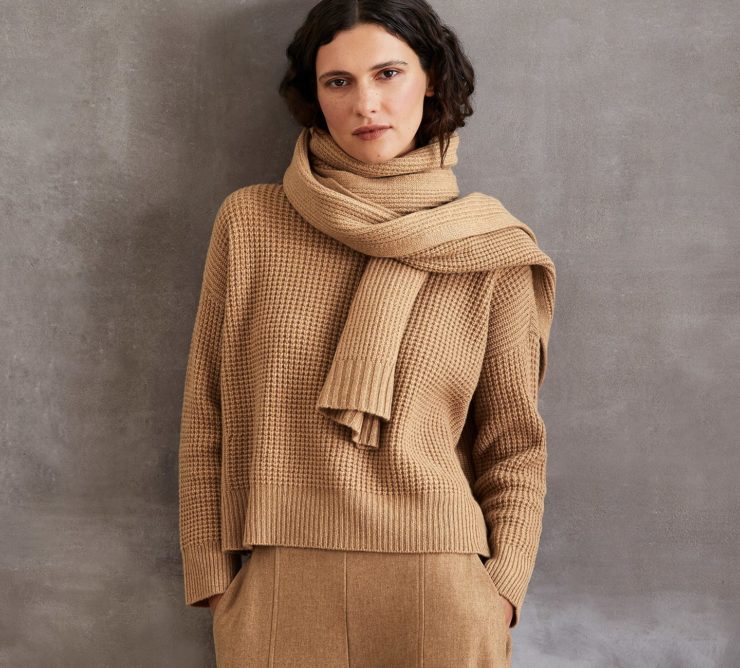 The popular outerwear brand knows that extracting and processing virgin materials takes a toll on land, water and air. Therefore, in an attempt to save energy and make a difference, Patagonia has declared that they are moving toward 100% renewable and recycled raw materials. By using both synthetic and natural fibers made from pre-and post-consumer waste, they are limiting their dependence on raw materials. This practice also helps them to reduce carbon emissions, and any possible cruelty to animals.
And of course, those raw materials they're rejecting includes cashmere. No longer will Patagonia use any new yarns when there's so much existing material in the world! That being said, some of their garments are 95% recycled cashmere, with 5% recycled wool. Which is fine, right?
Main image: Reformation. Image 2: Eileen Fisher
Latest posts by Chiara Spagnoli Gabardi
(see all)