These sustainable sweater trends will keep you warm for 2023 and beyond!
By Gina Gambhir
As with any other wardrobe must-have, sustainable sweater trends have undergone several stylistic changes over the years.
Once upon a time, wives would knit thick sweaters to keep their farmer or fisherman husbands warm. The sweater wasn't really considered all that fashionable. But then, fashion's fairy godmothers – Coco Chanel and Elsa Schiaparelli – transformed knitwear in the 1920s. It was thanks to their delicate, feminine yarns and beautifully designed styles that we saw knitwear transform from its more practical uses to the chic staple we know today.
The 1930's continued the trend for women's sweaters, and introduced dreamy bishop sleeves and decorative collars. The 50's had other plans for this cozy attire. Inspired by Christian Dior's New Look campaign, the female silhouette was to be accentuated once again with more cropped sweater trends. In fact, the 'sweater girl' became a thing – it mainly referred to the look of a tight knit (preferably a twin set) over a voluminous, waist-cinching skirt.
Sweater Trends Go Hippy
During the swinging 60's and 70's, knitwear took on a much more hippy vibe, using crochet patchwork techniques and employing synthetic fibres for the first time. We love how the likes of Janis Joplin sported crochet vests over bra tops, and how Mary Quant made sexy, sheer crochet mini dresses!
The 80's mood was a lot more serious. It was powered up by boxy and broad shoulders, often in neon colours. The 90's and naughties followed with a more androgynous look. Who could forget Kurt Cobain in his grandpa cardigan on MTV Live?
Which brings us to our current chapter. And what a palette of choice we have! We see stories of the old intertwined with the new in the top sustainable sweater trends for this year. Pick from vintage styles, dancer wraps or recycled yarns to be bang on trend this winter!
Image below from @west.ware
Sustainable Sweater Trends To Try This Winter
Balloon sleeves are a 70s trend revival that suit everyone! They're especially stunning when set into a slim rib cuff and a flattering high rib hem, as seen in the sweater below. Knitwear with these showy sleeves pair perfectly with your go-to pair of mom jeans!
Try: We love the Gia Sweater, by ethical retailer St Roche. It was made from super-soft alpaca yarn, sustainably sourced from Peru, and comes in 2 colours.
Price: $385
Cashmere has always been a luxury, but some people have issues with its ethics. Namely, of course, vegans, who don't want to exploit animals for their fur or hair. But recycled cashmere (and wool) doesn't harm animals, and also has a lower carbon footprint. It basically involves the unravelling of existing knits and reusing that yarn to create new pieces. Circular fashion at its most luxurious!
Try: Stella McCartney was one of the first ethical fashion brands to use recycled cashmere and wool. The designer has created some exciting styles for this season, as has Reformation. whose recycled fibre sweaters are seen below.
Price: $345
Love your sweaters with a feminine, Victorian flare? Try an over the shoulder ruffle! Look for a flattering high rib hem, a delicate knit and pointelle stitch details to make this style work.
Try: This alpaca Zadie sweater comes in black or blush, and features not only gorgeously girly ruffles, but balloon sleeves, too. Bonus!
Price: $425
Back in the 50s, tight, cropped sweaters were all the rage, and were worn with circle skirts. Today, that knitwear is back with a bang. But instead of going with a skirt, these pair perfectly with high waisted jeans!
Try: Why not be super-sustainable and search for an awesome vintage knit? But if you can't find an authentic 70s sweater, Simple Retro offers some gorgeous vintage styles of all kinds.
Price: $59
This is one of those sustainable sweater trends for 2023 you probably didn't see coming! Grandpa cardigans are the new jackets. Look for oversized ones with V necks, balloon sleeves and wood buttons to be bang-on-trend.
Try: This is another one of those sustainable knitwear trends that can be sourced from vintage and thrifting stores, since it harkens back to decades past. But if you can't find anything thrifted, Everlane is making some awesome cardis, like this one below.
Price: Around $175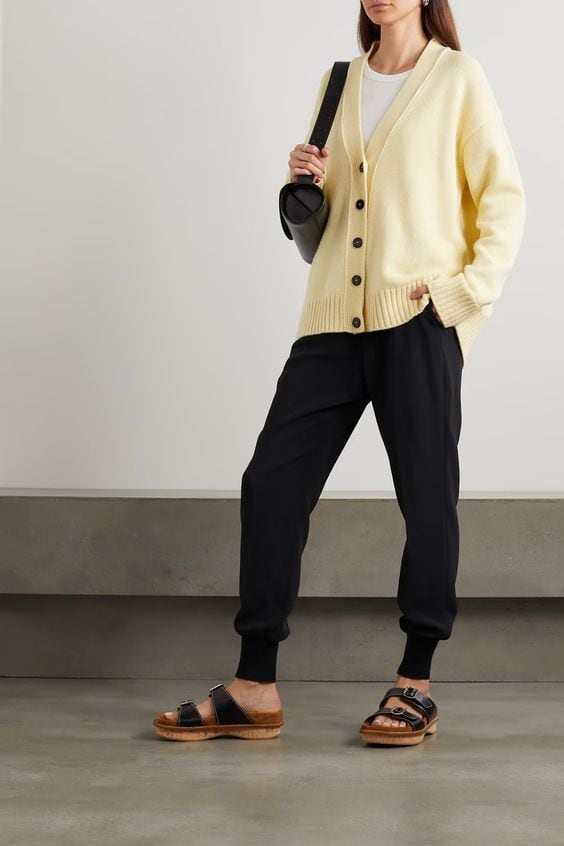 They're big, they're floppy, and they're cozy as heck! The cowl neck is more relaxed than the more typical turtleneck (or Polo neck, depending on where you live). And it's trendier now than ever! To make this look very 'now,' ensure your knit is a nice, loose, thick one, preferably in an earthy hue.
Try: The Siro sweater, below, is made from regenerative wool. Not sure what that means? The first definition is "wool created from the recycled wool scraps of reclaimed garments." The finished product is a fabric made from post-consumer textile waste, with the same quality of style as virgin wool fabric. Regenerative wool can also mean wool that is produced on farms that practice regenerative land management. Both are equally positive.
Price: Around $399
His? Hers? Ours! This is one of the easiest sustainable sweater trends to pull off, for both men or women. You can easily find a sweater a few sizes up in a thrift shop – just hit the 'mens' section! The best part? This trend is also easy to share with the man in your life, be it your dad, BF, brother, son or husband.
Try: TenTree makes some of the most luxurious androgynous sweaters around. And they use a lot of recycled yarns, including cashmere, to do so. But that's not all – as implied in the name, they'll plant ten trees for every purchase!
Price: $79
One of the best ways to stay warm this winter is by literally wrapping yourself up from neck to knees in knits. So this is one of our favourite sustainable sweater trends for this year! We also love how awesome sweater dresses look when paired with tall boots and a belt. Chic!
Try: The Robin is a long sleeve, turtleneck cashmere midi dress with a slim fit. It's made from 90% recycled, 10% virgin cashmere. It comes in 4 colours, too!
Price: $450
Don't like the casual style of sweaters? You may love the budding trend of collared sweaters. They're giving a formal vibe to the much loved winter essential and they're super chic. Whether you like them baggy and oversized or fitted, this style suits everything from jeans to vegan leather pants!
Try: Eleven-Six's Tatum sweater combines a trendy collar with balloon sleeves, making this an ultra-fashionable piece for 2023. And did we mention it's made from super-soft baby alpaca?
Price: $298
A sweater vest may have you envisioning your grandad, but I promise this style has had a seriously modern overhaul. The sweater vest slipped onto our radar during autumn last year, and it's a trend that has gotten even hotter in 2021. And the sweater vest is as versatile as it is stylish. Whether you want it with a high neck, low neck, splashed with a bold print or oversized in style, the options are plentiful!
Try: Everlane has some gorgeous sweater vests made from regenerative and recycled wool. These vests  are perfect for pairing with oversized shirts for a work-vibe like @christietyler has done below. 
Price: From $83
Is it a blouse? Or is it a sweater? With ultra delicate knits, it's actually sometimes hard to tell! We're talking about fancy, lacy patterns here. Not to mention beautiful little details, like tiny buttons, lacy cuffs or pretty collars.
Try: The OEKO-TEX certified Louis cardigan by Sezane is simply stunning. It goes with everything from skirts and trousers to jeans.
Price: $130
Classic? More like classy! Our final sustainable sweater trends for 2023 is the black turtleneck. It's a capsule wardrobe must have! Make yours slim with a fine knit to keep it looking timeless and chic.
Try: The Mira turtleneck bodysuit is designed to be comfortable and absolutely seamless when worn with body-hugging pants or skirts. Its material is biodegradable viscose, and is certified by the Forest Stewardship Council to come from renewable resources. The panty portion is made of a moisture-wicking jersey that prevents sweating and has laser-cut leg openings and snap-closures at the front.
Price: $245
Which is your favourite of these sustainable sweater trends? Let us know in the comments, below!
Main image: Cosac