We've got five spookily cool, easy Halloween makeup ideas with clean beauty products that anyone can achieve!
By Sophia Hussain
Halloween night is around the corner, and getting the perfect costume together can be stressful on the environment. I mean, how many of us buy something only to wear it once, or worse – throw it in the bin – after a big Halloween bash?
A simpler idea is to use the clothing you have and some makeup to create stunning costumes that you simply need to wash off after the party.
That being said, be careful: a lot of makeup used for this fun season can be pretty damn toxic! But no worries: we've got some tips on how to do Halloween makeup with non-toxic beauty products that will help you achieve the perfect ratio between pretty and scary!
Really Easy Halloween Makeup Ideas
1. The 'Undead' Look
This is one of the easier Halloween makeup ideas to achieve. You can pretty much wear whatever you like – in my opinion, 'normal' clothes make this costume even creepier! If you want this look to be a bit scarier, you could add some smeared 'blood' around the mouth to create a zombie.
What you'll need
What to do
1. First, use the Manic Panic hair colour according to instructions.
2. Then, do your makeup! Start with your foundation, covering the entire face and eyebrows.
3. Draw on brows with a brush and brow powder, then use a fine brush to line the lower and upper lids with purple eyeshadow.
4. Draw a line under the lash line with the black eyeliner, and add some mascara to the upper and lower lashes.
5. Apply lipstick in the color of your choice (preferably the same as your hair), and you're done!
Tip: For a super spooky look, wear some oddly coloured contacts!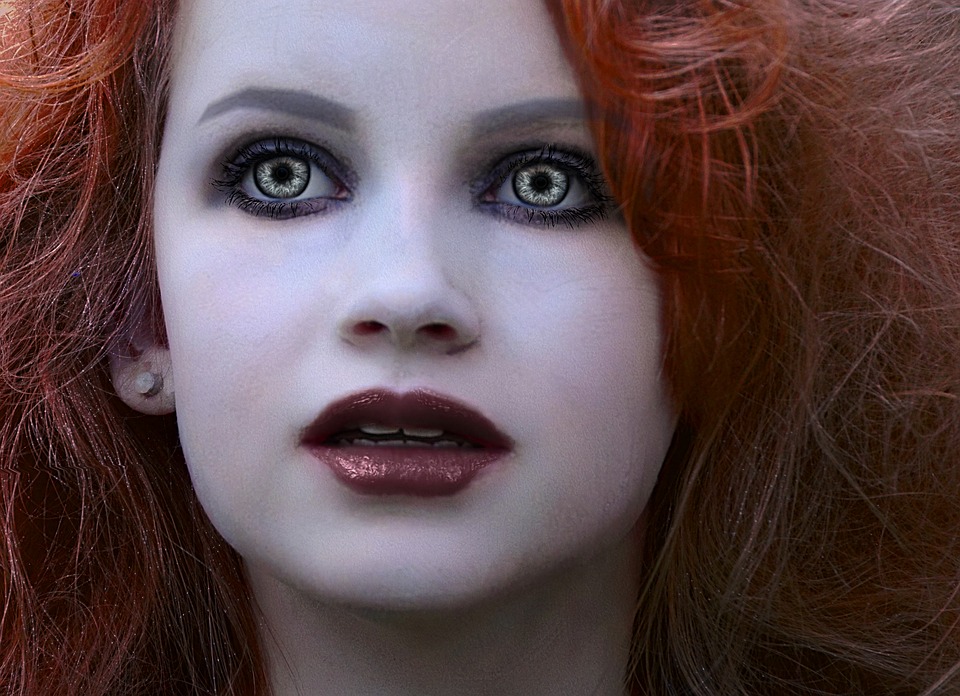 2. The Classic Skull
Got a bit of artistic talent? This is one of the best Halloween makeup ideas for you! All you need to do is concentrate on your face – the costume is easy: just wear a black hoodie, some jeans, and black boots or slip on shoes.
What you'll need
What to do
1. First, cover your whole face and eyebrows in white face paint.
2. Then, start outlining the space where you want your eyes and nose to be blackened out with the black eyeshadow cream pencil.
3. Once done, start 'coloring in' those spaces, with emphasis on coloring the outer borders, with the eyeshadow cream pencil. When the coloring is complete, use your fingers to smear the color all around the eye.
4. Next, take a reusable cotton swab to remove bits of black closer to the eye socket and nasal bones to give more depth to your look. Alternatively, you can use a fine brush to swipe on dabs of white across the bridge of the nose and under the eyes.
5. Finally, sketch in teeth and bone 'cracks' with the eye pencil.
6. Keep it all in place with a good, pale finishing powder.
Tip: If you make a mistake, just apply more of the white foundation and try again until you get it right.
3. Lady MacBeth
If you like looking more elegant than spooky or sexy over Halloween, this is one of the best Halloween makeup ideas for you! The evil queen, best known for crying 'out, out, damned spot' about the blood on her hands, is easily represented with a bit of makeup, and lovely maxi dress, and a 'crown' you can make from tin foil and/or pipe cleaners.
What you'll need
What to do
1. Apply foundation all over your skin. You should look a bit pale and sickly.
2. Fill in brows with eyebrow powder as needed for a natural look.
3. Apply thick strokes of purple shadow to the lid. From the inner corner of the lid following the brow arch to the outer corner of the eyelid, apply the blue eye shadow.
4. Line the upper and lower lash line with the purple eyeliner. Outline the blue shadow with the black eyeliner, starting from the inner corner of the eye.
5. Apply mascara to the lower lashes and fake lashes to the top lid. Apply scarlet red lipstick, and fake blood on your hands if you wish, and you're good to go!
4. The Sexy Cat
Of all the Halloween makeup ideas, this is one of the most common go-to looks for many of us. It's super easy to do, too. Just get yourself a 'cat ear' headband, wear a brown tee and pair of brown tights (or better yet, a brown jumpsuit if you have one), and make sure your eye makeup looks great!
What you'll need
What to do
1. Start with the foundation and apply all over to create a matte look. Dab some powder below the eye to protect your under eye area from the shadow you're about to apply. Fill in brows with your brow pencil.
2. Now, start with the lightest brown eyeshadow and apply from the inner to the outer corner of the eye, right up to under the brow bone. Then, layer on the next shade of brown shadow, going one level lower than the first shade. Then, apply the gold hue to the lid alone.
3. Next, use your liquid eyeliner to draw a cat eye line from the inner corner of your eye, reaching way out past the the outer lid with a flick. As a measurement, this line could go all the way out to meet the outer corner of your brow.
4. Now, line the lower lid with your second brown shadow using a brush, and go over that line with a black pencil liner. Blend well, then apply fake lashes.
5. Next, use your blusher to really create a high cheekbone! Suck in your cheeks and apply the blusher to the hollow.
6. Now, blacken the tip of your nose with your black eyeliner, and draw a line down from your nose through your cupid's bow down to your upper lip. Fill in lips with your lipstick, and line lips with the black liner.
7. Use your eyebrow pencil to dot in whiskers along your upper lip, and if you like, extend a line to indicate 'whiskers'.
For more Halloween makeup ideas, tips and instructions, watch this video, below.
5. The Blair Witch
Green skin and big, warty noses are so cliche! Today's modern witch is more like what we all imagined the Blair Witch from the infamous movie to be: an edgy/scary pagan-looking sorceress. To get this look, just wear a black dress, and maybe carry a prop like a book full of cryptic symbols, or a Voodoo doll. If you're in a rush, this is one of the easiest Halloween makeup ideas!
What you'll need
What to do
This look is fairly easy to do and is one of the best Halloween makeup ideas for last minute party plans.
1. Start with your foundation, applying where necessary.
2. Then, ring the eye in pink shadow, in an 'O' all around the eye. Blend well, then line the upper and lower lids with black eyeliner and apply mascara to the upper lids.
3. Next, apply the lipstick. I'd line the lips with a dark brown or black eye pencil first to ensure the colour doesn't bleed.
4. Finally, use your black crayon eyeliner to draw some creepy symbols on your forehead – I also do this on my hands. And speaking of hands, a black nail look really helps pull this costume off!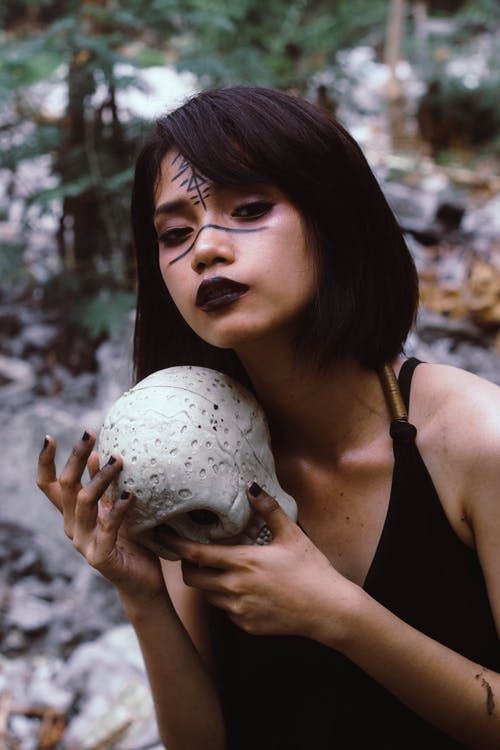 Once the party is over . . .
You'll no doubt be eager to clean your face once your night is over. And whether you used make-up or face paint, you'll be needing make-up remover and cleanser to give your skin a good clean. And one thing you'll probably be using a lot of are cotton pads! Make sure your pads are as ethical as your Halloween look.
Last Object's LastRound is a sustainable version of the traditional single-use cotton pads that can be reused again and again without a huge environmental footprint. Simply apply your make-up remover of choice to the pads and use as you would. Then, once dirty, simply wash with some eco-friendly detergent to freshen them up again!
Now you should be ready to party! What are you dressing as this year? We'd love to hear your Halloween makeup ideas in the comments below!
Latest posts by Sophia Hussain
(see all)