By Sophia Hussain
Let's face it–most organic beauty products we read about in English language magazines are from America or the UK. Whether it's Josie Maran, Green People or Cowshed, most of us are already familiar with top US/UK brands, thanks to shopping sites like EcoDiva Beauty, and magazines like Eluxe, of course!
But organic beauty is a trend that's growing throughout the world, and so I thought I would introduce you to some brilliant brands I've discovered from around the globe.
All of these offer  organic and/or natural ingredients – an absolute must for maintaining beautiful healthy skin. Often housed in minimalist packaging, these eco-friendly beauty brands offer chic collections created by brilliant founders whose personal visions inspires the creation of an eco-friendly healthy cosmetics collection.
Discover now why you must add some of these stellar additions to your personal apothecary supply. After all, it's chic to go global!
Africa & The Middle East
The abundance of luxury and beauty is captured in this elite organic skincare collection created by a Dubai-based dermatologist. Shiffa, (Arabic for "heals") offers simple solutions to hydrate, tone, and nourish the skin, using exotic ingredients such as: roses, frankincense, and meadowfoam.
Born into an Irish family that consumed homemade, homegrown, and natural as much as possible, Shirley Conlon went on to create her own line of all-organic skincare products. Today, her line includes everything from serums and cleansers to masks to look after your skin from the inside out.
Long a favourite at Eluxe, Savane unleashes the power of organic African oils to care for your skin. Just some of the exotic but effective ingredients include Cape Snowbush oil, Kalahari Melon Seed Oil and Marula Seed Oil, all of which have been used by African women for centuries to protect their skin from the sun and ageing.
Hailing from South Africa is SOiL, a range of organic-certified aromatherapy and skincare products to heal the mind and body.  The aromatherapy line consists of an array of oils and remedy rollers to create an overall sense of well-being, and hydrosals designed to treat ailments including respiratory conditions. Whilst the skincare collection consists of body balms rich in skin nourishing coconut oil and shea butter.  SOiL is a socially conscious brand as the essential oils are farmed in Zululand through self-sustained community initiatives.
Scandinavia
The natural beauty of Scandinavia has lead to a fabulous Finnish beauty invasion. Put yourself in a Supermood, a holistic natural beauty line in three moods: Ego Boost (reinforces immunity and self-esteem) Beauty Sleep (restores the skin and promotes restful sleep), and Youth Glo (launching this summer).
Capturing the essence of pure beauty is Mia Hoyto Cosmetics, a nurturing organic skincare collection with eco-certified nourishing vitamins, antioxidants, and botanical extracts, including sumptuous rose oil.
Go with the flow to restore your harmony with this botanical infused skincare collection. Flow Kosmetiikka has a unique range of shampoo and body soaps using ingredients native to the region, such as eucalyptus.
Maria Akerberg makes not only natural makeup, but also gently scented organic skincare products. One of our favourites is her Cardamom Orange hand cream, which is packed with nourishing Shea Butter, bee's wax, and Jojoba oil to hydrate hands, and vitamin C to prevent wrinkles and brown spots. Her lipsticks, which are highly pigmented but contain absolutely no harmful chemicals, come in a wide array of flattering hues, and are exactly the kinds of formulations that beg to be kissed.
One more top brand we'd like to share is from Norway. Alexander Sprekenhus makes minimally packed, basic skincare such as body oils, facial cleansers and scrubs that are designed to be perfect for both male and female skincare routines (and bathroom designs!)
Eastern Europe
This Baltic beauty brand merged the passion for a healthy lifestyle of four passionate Latvian ladies who co-founded to create MàDARA Organic Skincare. Named after the wild madder plant (bedstraw) which is grown in the Baltic meadows, and comprises organic botanicals in the skincare and cosmetics collection designed to enhance your natural beauty.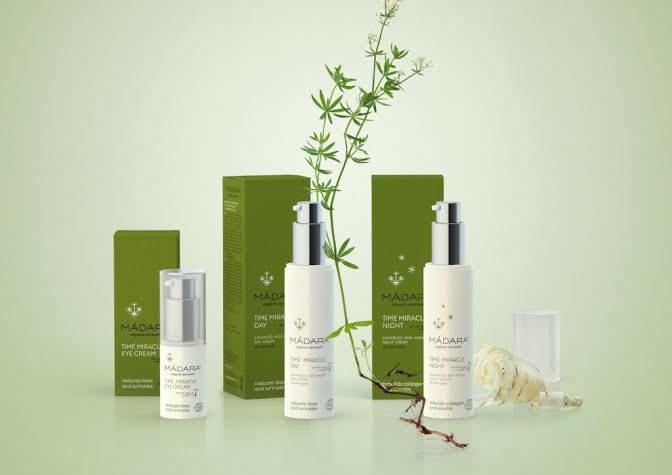 A popular Bulgarian beauty regimen is using rose water or rose oils for maintaining youthful skin.  Organic-certified luxury beauty brand Arbu Cosmetics offers a fragrant Rose Garden line and an anti-aging line comprised of botanical extracts, essential oils, and natural active ingredients – touted as a natural alternative to botox.
Southern Europe
Matarrania is a pampering organic skincare collection, handmade in the Spanish village of Terul, and infused with cold-pressed extra virgin olive oil – which retains the olive's vitamin E content, an essential potent antioxidant for promoting youthful skin.
Hailing from Greece is Odeia an organic skincare collection influenced by hydrosols (floral waters) distilled from either lemons or oranges.  There are five lines (red, yellow, orange, purple, and green), with each corresponding to the colours of the fruits and botanical blends included in each cohort.
Asia & The Far East
Though China is reconsidering its law that requires all cosmetics to be tested on animals, there are still very few pure, organic beauty brands coming from the most populated nation on Earth. However, Japan is extremely forward thinking and produces several great  brands, many of which  focus on skin lightening and sun protection. One of the best organic brands for this is Naturaglace, which produces a light, transparent SPF 43 cream that contains no nasties. The brand is also well known for its skincare and makeup range.
SLY Japan is another full range of skincare products, with a focus on skin lightening and general skincare. Aromatherapy is a huge component of the brand's appeal, as are the patisserie-inspired packages each unit is housed in.
Ayurveda rules in India, and there are plenty of brands using this ancient knowledge. Kama Ayurveda is one such brand.  Launched  in 2002, this company represents top of the line luxurious Ayurvedic care. They have a wonderful package that involves a complete care pack for three months prior to a wedding, consisting of Bringadi Intensive Hair Treatment, Kumkumadi Brightening Ayurvedic Scrub, and the Nalpamaradi Tailam Skin Brightening Treatment. The pack uses the power of 12 herbs to bring vibrancy to the skin and the powerful Nalpamaradi treatment has a similar effect on the entire body.
Australia
There can be no doubt that Australia is on the cutting edge when it comes to eco-beauty brands, worthy of an entire article on their own. But one I've grown to love myself is Inika,  a luxury certified-organic and mineral makeup collection with a brilliant line of vegan cosmetics brushes.  Given that it was born in a sunny clime, one of the main ingredients used in this comprehensive range is zinc oxide which acts as a natural sunscreen. Inika goes a step further in the natural stakes by ensuring their sunscreens are non-nano, and non micronised, meaning the particles are not absorbed into the bloodstream. Their award-winning Mineral Foundation is a triple threat product: concealer, foundation, and powder all-in-one, and their creamy lip glosses and lipsticks will leave your lips feeling  sensuously soft.
South America
How could we possibly leave out South America when it's home to so many great eco-friendly brands? One being Boti-k, a company that was founded by Argentine couple Florencia and Ignacio after they faced a challenge with their son. Born on the autistic spectrum, he was very sensitive to the chemicals such as preservatives and parabens, so the pair decided to create their own range of soaps and shampoos to help him. Now Boti-k has  developed a range of products that can be used by other people that find themselves sensitive to synthetic chemicals, whether they be babies, children or adults.
Right beside Argentina, you can find Brazil, a nation also known for its beautiful women and stunning natural scenery. Natura is one of their biggest brands, and contains many of the organic and natural ingredients the country is rich in, from Acai and guarana to mate and more. Their Ekos skincare range is a top seller in the country.
This site uses affiliate links with brands we trust, and if you make a purchase using a link, we may receive a commission.
Did you enjoy this post? Want to show your gratitude? Please support us on Patreon!