No matter what the season, these 5 comfort pieces will always be a welcome addition to your closet
By Diane Small
We've all been there. Out and about….and wishing we were at home. Why? Because we want to change outfits. NOW.
There's no doubt that some clothes are, quite literally, a pain in the butt. Think: bras that don't fit right. Jeans that are too tight. A scratchy sweater. And that's why we all need comfort fashion pieces in our closet!
You probably already have a few things you can't live without. That sweater you've had for years; those sneakers that just seem to go with everything. But here below, we have a few suggestions for comfort fashion pieces that may well become your new favourites. And the best part? Owning these five basics forms the foundation for a great capsule wardrobe.
Main image: Net A Porter Image below: Maydi @maydi_az
Comfort Fashion Pieces You Need Right Now
1. Non Skinny Jeans
WHEW! Skinnies are out, and looser jeans are IN. Namely, 'mom' jeans. Yep, you heard that right. These jeans are really, really back in fashion, with a bang! The high-waisted trouser is loose around the legs, and is great for a number of reasons. Firstly, mom jeans look great on just about anyone, no matter what your body type. Secondly, they tend to be made out of eco-friendly fabrics, like TENCEL or another roomy, stretchy material. And finally, with all that room in the leg, you never need to worry about chafing.
Try: Always the coolest shop on the block, Everlane makes loads of super cool mom jeans! Whether you like them in faded denim, cropped, frayed or wide-legged, they've got a style for you.
2. All Natural Lingerie
Here's something most French girls know: what you're wearing under your clothing can have a big impact on how you feel throughout the day. For example, if you're wearing something super sexy by Wild Crush. lingerie, you're going to feel empowered. Beautiful. Bold!
But the truth is, fancy lingerie might look good on certain occasions, but it doesn't always feel the part. It can dig into your skin, cut it or leave red marks. So owning some soft, natural, sustainable lingerie is a must!
Try: The Invisible Bra and Panty Set, below, is another of our essential comfort fashion pieces. It's soft to the touch and molds beautifully to your body. It's all made from ECONYL, which is derived from recycled plastics.
3. A Roomy Jumper
On a cold rainy night, all you want is to wear something that you could happily sleep in, too. A soft, chunky jumper is one of the top comfort fashion pieces for many women, with good reason! It's soft, comforting, stretchy. You can 'let it all hang out' with no inhibitions. It will look awesome paired with tights, jeans, or tossed over a dress.
There are loads of materials to choose from, too. Non-vegans might opt for a biodegradable fabric like wool or alpaca, while vegans can choose cruelty-free fabrics made from organic cotton or upcycled yarns.
Try: Maydi makes some of the most stylish jumpers around. They use Certified Wildlife Friendly™ fibres than ensure the wellbeing of all wild animals surrounding their sheep farms. The brand also insists on using only eco-friendly dyes for their wools.
4. Soft, Comfy Leggings
We couldn't end this list of comfort fashion pieces without mentioning leggings. Sustainable leggings are a must-have, not only when you're working out, but any time. They're perfect for pairing with a chunky sweater in winter, or a tee or crop top in summer. Throw on any pair of vegan sneakers, and you've got yourself a daily uniform!
Try: Tripulse makes some of our favourite leggings. They're absolutely solid – no hints of your undies will appear, even if you're in downward dog! Unlike most 'sustainable' brands that use recycled plastic bottles for their fabric, these pants are made from truly eco-friendly material: TENCEL. As you probably know, TENCEL is made from sustainably managed wood pulp, and it's soft as heck! And finally – we love these leggings because they have slender side pockets. What more do you need?
5. A Flowing Dress
Sure, you're probably thinking this is for summer only. But no. Flowing dresses can be worn all year round! When it gets chilly, just throw tights on underneath and a sweater on top. Done!
Of course, this is another one of those comfort fashion pieces that should be made with natural materials so it can stretch, flex, twist and never decrease your range of movement. Organic cotton is by far the most popular choice. However, you can find stunning dresses made out of deadstock fabric, upcycled materials, or linen.
Try: Reformation is the undisputed Queen of the Dress. Just look at this Landon frock, below. It's made from organic cotton. The white version would look sweet on its own in summer, or buy it in black and wear it with a cardi thrown over it in fall.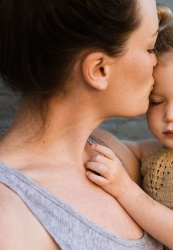 Latest posts by Diane Small
(see all)