Looking to start up a French girl wardrobe? These 10 eco essentials are a must!
By Zara Williams
French women are smart. They know makeup secrets that give them that 'just woke up this way' natural beauty. They manage to eat cheese, bread and macarons without gaining an ounce. And they look stylish all the time, whether they're torn between lovers in a 60s French film or taking a selfie at a cafe in St Germain.
Here's what they know: the key to a stylish and sustainable wardrobe is having a selection of carefully chosen, mindfully made essentials; a classic capsule wardrobe allows you to mix and match timeless pieces that never go out of fashion. The secret to keeping this eternal wardrobe fresh is accessories: while the French may prefer demure earrings and tiny bracelets, you can use jewellery and scarves to punctuate each look with a serious statement. And let's not forget the power of shoes: pencil skirt + white shirt + heels = work, but pencil skirt + boyfriend jumper + ballet flats = weekend.
The French wardrobe palette is neutral, but consider this to be a backdrop for colour popping accessories, patterned scarves or  a slash of red lipstick. Keep the look young and carefree with tousled hair, or polish it with a chignon.
Following French style is  a very wise investment, too: if you stop splurging on poorly made garments that look tired after one season and instead spend a bit of more beautifully made, well fitting  items, not only will you look more polished overall, but you'll probably have some cash left to spend on a relaxing massage or the perfect haircut!
Wondering exactly what you need for that timelessly chic look? Here are our top ten closet classics, with examples from ethical and environmentally conscious brands, to ensure you have the perfect French Girl Wardrobe.
10+ Eco Essentials For A French Girl Wardrobe
It's the essential of essentials! A simple white tee can be worn with boyfriend jeans, skinny trousers, under a jacket at work, or even as pyjamas! Da Londra makes a fabulous one from a sustainable bamboo/organic cotton blend that features the quintessential French-girl scooped neckline. We love that it's just a tiny bit sheer due to its fine weave, making it all the sexier….
A simple and stylish trench coat is essential for a classic look. Take your time to find a timeless piece you'll wear over and over again for many years to come, like a black or charcoal grey one in a loose shape to compliment whatever you wear underneath. This organic cotton number by Bite Studios is naturally waterproof – and has a classic storm flap and epaulettes. Wear yours over neutral tailoring to enhance the beautiful cut of the sleeves.
A little black dress is a definite must-have. Whether you like yours long and flowing or short and sassy, find a versatile style you can wear for a variety of different occasions, like the Penny dress by Reformation. The wrap front is subtly sexy, and the tie waist helps create an hourglass silhouette. The Penny dress uses 74 gallons less water to make, emitting 11 lbs less carbon dioxide than the industry standard.
A chic white blouse is the perfect foundation for just about any outfit, and is a must for any truly French girl wardrobe. The flared sleeve on this Mother of Pearl top makes you truly stand out from the crowd, and the fact that it's made out of GOTS certified organic cotton adds to its sustainability creds, too. Wear it dressed up with a skirt and heels, or dressed down with ripped jeans.
It's definitely worth taking the time to find some really well-fitting, flattering black trousers. Depending on how you wear them, basic black pants are great for the office with pumps, out for dinner with a pair of heels, or on a lazy Sunday with your favourite sneakers.  This pair below are made from organic cotton, are vegan friendly, fit just about any shape beautifully and look great with a white shirt, of course.
Get yours here – but hurry, they're going fast!
An oversized crew or V necked jumper is the ideal layering piece for a minimalist and timeless look that keeps you warm throughout the winter. Stella McCartney practically invented the boyfriend jumper, and you can rest assured that whatever fabric she uses is going to be animal friendly.
Get yours here.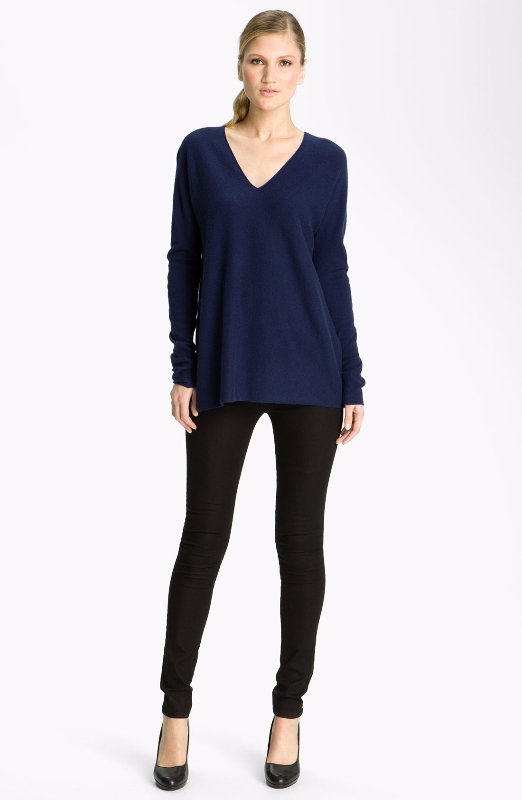 A plain pencil skirt is another super versatile item great for a capsule wardrobe. You can dress it up with a tight top and heels, make it smart by tucking in a shirt or blouse, or keep it casual with a plain tee. This People Tree Petra pencil skirt goes with just about anything, won't break the bank, and is made of 95% organic certified cotton  as  certified by the Soil Association's organic textile standard.
Get yours here.
A good pair of jeans should enhance your assets and flatten and firm any wobbly bits. Try on every pair you can until you find ones that make you look and feel great – these are meant to be some of the most comfortable trousers in your wardrobe and should last a decade. While it's trendy now to wear ripped jeans, you and I both know this will pass. Instead, go for black or darker blue as they tend to be more slimming and are easier to dress both up or down.
Although producing denim can be a water and energy intensive process, and indigo dyes are amongst the most toxic, Levi's are committed to  improving  the environmental impact of their jeans.  They have a method of production that uses way less water and energy than most denim brands, and they're even offering a selection of their most coveted vintage stock online now, too.
Get yours here.
An elegant, tailored black blazer instantly smartens an outfit. It can make you look and feel more professional and chic, without needing to wear anything too fancy underneath. Opt for a slim cut and classic design that you'll never grow tired of. Stella McCartney's black Iris blazer is made of 100% wool with a fitted waist and one button fastening.  Stella McCartney is a vegetarian company committed to operating a responsible, honest, and modern business.
Get yours here.
The wrap top is flattering for every figure. They look amazing with jeans, trousers, skirts and even shorts, and no one makes them better than Avani. This is an ethical clothing brand produced by talented French artisans from only the finest, most ecological and traceable materials that not only feel great on the skin, but are kind to the planet, too.
Get yours here.
Yep, I know what you're thinking: Chanel? As if we can all afford that! And as if it's eco friendly! Well, it kind of is if you buy the bag as a vintage piece. This has loads of benefits: one, the bag has a story. Did you pick it up at a second hand store in Paris? Was it your chic grandmother's? Or did you buy it online, where it could have been the former favourite of a celebrity?
In any case, it may cost more than the average, but an excellent bag like the Chanel 2.55 will never, ever, ever go out of style unlike trendier bags like the Chloe Paddington or Celine Trapeze, it won't look 'so 5 years ago' in 5 years, right?
Hunt for a vintage one here. Make sure it's not a fake by following these tips!
For more great times on how to get a sustainable French girl wardrobe, check out Les Sublimes – the main pic for this article is courtesy of this excellent and truly French brand!
Latest posts by Chere Di Boscio
(see all)