Craving the flavours of summer? Try these vegan tapas recipes to bring a bit of sunshine into your day!
By Lora O'Brien
When it comes to Spain, there is a lot to love: beautiful sunshine, stunning scenery and seriously good food! If you've ever visited the country, then I'm sure you've dined on some delicious tapas dishes.
Whether it's in a bar or restaurant, Spanish culture is all about groups of friends meeting to order up plenty of red wine and food to share. No matter if you visit Barcelona, Seville or Madrid, the tapas will vary in each place, so there's lots of explore – even a few vegan tapas recipes!
What are 'tapas,' anyway?
'Tapas' is the Spanish verb for 'to cover.' And the origin behind tapas as snacks is that they actually started out as small slices of bread or meat served in bars that people could use to cover their drinks with to keep small flies and bugs out. Interesting, right? Who knew?
Over time, the small bar snacks became just as popular as the drinks they were usually served with. And tapas evolved from simple slices of bread and meat to the more sophisticated tapas dishes that we love ordering today.
Today, a 'tapa' is a small portion of food. This is what tapas-style food is more commonly known as now: small plates that you can order to eat or to share. It's a really great way to try a selection of different dishes all at once without waste, and without over indulgence.
While Spanish tapas are usually quite meaty, there are some naturally vegan options, too. These include: patatas bravas, juicy olives, or tomato bread, for example.
Got friends coming over and looking for the perfect dishes to serve up? We've got the best vegan tapas recipes to put together a wonderful spread!
Some dishes are inspired by popular Spanish tapas, while others have fused foods from other cuisines. But one thing's for sure – they'll all make for a yummy feast. So, grab a beer, a glass of cava or a jug of sangria, and feast your eyes on the recipes below!
20 Easy Vegan Tapas Recipes
1. Patatas Bravas
Patatas bravas – also known as patatas a la brava or papas bravas – is a super popular tapas dish, and an easy one to make. Basically, it's just cubed potatoes fried in oil and served warm with a spicy tomato sauce. But this vegan version throws vegan aioli and salsa into the mix. Honestly, it's a tapas masterpiece!
Get the recipe here.
2. Tortilla de Patatas
Tortilla de patatas is a Spanish omelette or tortilla and is on of Spain's signature dishes. It's traditionally an omelette made with eggs and potatoes and served at room temperature. This vegan version is so delicious, you won't even notice the difference. It's one of the cheapest and easiest vegan tapas recipes to make, too!
Get the recipe here.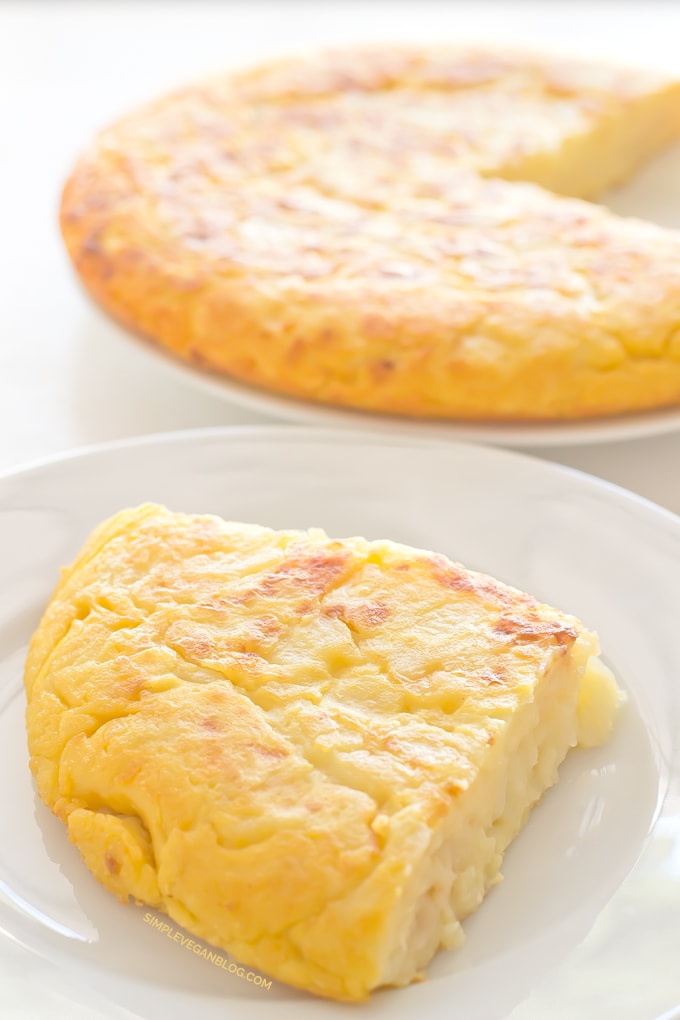 3. Fried Vegan Cheese
Fried manchego cheese is a popular tapas dish, sometimes served with a sweet dipping sauce. These vegan cheese balls are crisp on the outside, and warm and gooey on the inside. These are the perfect soft, melt-in-your-mouth snack, and people will be shocked to discover they're vegan – they taste THAT good!
Get the recipe here.
4. Vegan Spinach Empanadas
These vegan empanadas are made with a homemade empanada dough. The easy-to-make pastry is filled with spinach, vegan cheese and lots of flavour The end result is delicious flaky, golden pastry oozing with yumminess. This is one of the best vegan tapas recipes for freezing, too.
Get the recipe here.
5. Vegan Croquettes
Croquettes are yet another popular delicious fried (or baked) treat in Spain. They're essentially just a breadcrumbed roll of food leftovers, usually bound together with a rich bechamel sauce or mashed potato. These vegan croquettes are crunchy on the outside, creamy on the inside, and very moreish!
Get the recipe here.
6. Padron Peppers
A plate of padron peppers is like the Spanish equivalent of edamame – the perfect finger food to nibble on while enjoying a glass of wine. It's also one of the few naturally vegan tapas recipes in Spain. Plus, if you like living life on the spicy edge – 90% of the peppers acquire a mild flavour when cooked but 10% still have a kick to them, much like a chilli pepper, so you're never sure how mild your snack will be. May the foods be in your favour!
Get the recipe here.
7. Garlic Tofu Banderillas
Banderillas is a Spanish tapas bar classic. Often served with a beer, these little tapas are presented on a toothpick so you can easily pop 'em into your mouth. This is one of the easiest vegan tapas recipes to prepare, as it involves little to zero cooking. This vegan-friendly recipe layers garlic tofu with Spanish olives and roasted peppers.
Get the recipe here.
8. Papas Arrugadas
This is one of those naturally vegan tapas recipes. Usually served with a chilli pepper and garlic sauce called mojo rojo, they're the perfect dishes for those who like it spicy! The small new potatoes are boiled in water with coarse sea salt. Serve them with mojo sauce for huge flavour!
Get the recipe here.
9. Garlic & Parsley Stuffed Mushrooms
This is one of the best vegan tapas recipes for garlic lovers! The stuffed mushrooms ooze with a buttery garlic and parsley mix, and each mouthful is a favour explosion. The mushrooms, when cooked, have a firm, meaty texture.
Get the recipe here.
10. The Best Vegan Aioli
Garlic aioli is the perfect accompaniment for any of our vegan tapas recipes! Whether you're topping dishes or using it as a dipping sauce, the creamy condiment is loaded with garlicky flavours – yum! It's perfect for having on hand at all times, actually.
Get the recipe here.
11. Vegan Olivier (or Russian) Salad
Also known as Russian salad, Olivier Salad is a tapas dish that you'll find served at many bars in Spain. The Spanish version isn't vegan at all. It's a calorie fest of boiled eggs, mayo, peas, potatoes and carrots. This vegan version is healthier, cholesterol-free and tastes even better!
Get the recipe here.
12. Fried Eggplant with Agave
Sweet marries savoury in this yummy dish! Fried eggplant and honey is a classic combination, but this vegan version switches out honey for agave. It's sweet, it's savoury and it's totally delicious! Agave is sweeter than honey, so definitely use less when drizzling.
Get the recipe here.
13. Spanish Toast with Tomato (Pan Con Tomate)
Pan con tomate is a humble yet classic tapas dish. The easy-to-make recipe contains just a few basic ingredients: it's simple bread toasted with grated tomato, olive oil, garlic and salt. A must for tapas – it goes with pretty much anything! And of course, it's one of the cheapest and easiest vegan tapas recipes ever.
Get the recipe here.
14. Spanish Garlic Mushrooms
Champiñones al Ajillo – or Garlic Mushrooms in English – is one of the easiest vegan tapas recipes to make. It's sautéed mushrooms with garlic, olive oil, lemon juice and chillies. Fun fact: It's not only hugely popular in Spain, but the Philippines, too!
Get the recipe here.
15. Vegan Chorizo
What's Spanish food without a little chorizo? The spicy Spanish sausage brightens up any supper dish and is the perfect tapa. With the rich smoked paprika and garlic, this spicy vegan 'sausage' is perfect for adding some heat to all your favourite vegan tapas recipes, including tortillas.
Get the recipe here.
16. Spanish Vegan Meatballs
A super tasty tapas dish is 'albondigas', otherwise known as 'Spanish meatballs'. You'd think this would never translate into any form of vegan tapas recipes. But you'd be wrong! Smoked paprika and a rich tomato sauce fuse together to create this wonderfully comforting mini-meal. Taking inspiration from the authentic recipe, vegan version is based on walnuts and beans. Yum!
Get the recipe here.
17. Vegan Spanish Omelette
Omelettes are a super quick dish to throw together, and this is one of the easiest vegan tapas recipes to make. Think you have to miss out since ditching eggs? Nope! Chickpea flour is the perfect ingredient to help make those vegan omelettes. Perfect if you're not a fan of tofu, right? This is basically the same as the Spanish tortilla above, but it uses non-soya ingredients.
Get the recipe here.
18. Gazpacho
This is another one of those naturally vegan tapas recipes. Gazpacho, also known as Andalusian gazpacho, is a cold soup that is made from raw, blended vegetables. Cold soup may not sound too appealing, but honestly, gazpacho is bursting with veggie flavours and is really refreshing, especially in places like Spain where the weather is warmer.
Get the recipe here.
19. Vegan Flan
I couldn't do a list of vegan tapas recipes without dessert. And that dessert is flan! Yep, I know – flan is basically just egg yolks, right? Not in this case! This vegan no-bake, eggless flan is caramelised with coconut sugar, and takes just 15 minutes to make. It's a super-classic Spanish dessert, and honestly, I'll bet no one even notices it's vegan!
Get the recipe here.
20. Traditional Red Sangria
If there are two things you should experience in Spain, they're sunshine – and sangria! And this simple take on the classic recipe is traditional and made with just 6 simple ingredients. It's the perfect fruity beverage that's easily adaptable and delicious. And of course, it's the perfect drink to serve with vegan tapas recipes!
Get the recipe here.
Latest posts by Lora O'Brien
(see all)