Upcycling is easier than you think when you know how to paint old furniture! Here are 7 easy steps to get you started
By Diane Small
No matter how much you love your home, it's common for us to get a bit tired of our surroundings. We start fantasizing about home improvement; giving old furniture a brand-new look. Instead of stressing the environment and wasting money by buying brand-new items, why not try upcycling different items to produce a fresh look to enhance your home?
Loads of things in your home are easy to paint with just one coat – think terra cotta pots for plants, Mason jars for knick knacks or paper lamp shades. Just a few strokes of colour and voilà! You've transformed something in your home.
But wood furniture is a bit more complex. If you've never done it before – or if you have done, but with poor results – here are 7 steps showing you how to paint old wood furniture that will allow you to make something old new again.
How To Renew Old Furniture With Paint
1. Prepare the base
The first step in how to paint old furniture is to place old newspapers under the item you're going to paint to catch all the dust and paint drippings. Whether you're painting on old wood or newer factory furniture, it's a good idea to prepare the base by sanding down whatever paint is on there, otherwise your new paint is more likely to chip and flake. Especially if it's in a damp place, like the bathroom.
If your furniture has different components like drawers, remove them all before painting – you'll need to work on those separately.
For any hardware, cover bits like hinges or handles in masking tape, ensuring all the edges of the tape only cover the hardware, not the wood at all. After you've sanded, ensure you wipe off any dust thoroughly – use a dust brush or chamois cloth for this.
2. Apply an undercoat
This is an essential step when learning how to paint old furniture, though many tend to overlook it. Using a good primer helps your paint stick to the wood better and covers any stains, knots, or discolourations in the wood. The best types of paint to use for this are chalk paints, which provide a nice dry, matt base for any further paint.
3. Sand again
Yes, seriously. Using a very fine grit paper, gently sand your furniture between every coat of paint – just make sure it's super dry before you do so. This will ensure you get a really professional finish. Don't forget to wipe off the sanding dust every time!
4. Choose your paint
Once the piece is primed and sanded, it's time to paint! Think about your paint really carefully – most paints contain VOCs (volatile organic compounds) that can cause breathing difficulties, dizziness, skin rashes and even organ damage. Gloss paints are the worst!
Watch out for words like Alkyd, Oil Based, Urethane, Polyurethane, Epoxy, or Varnish on the label. These types of paint are harmful to your health, and give off fumes even after the paint job's done.
Instead of these, look for water based paints like latex, acrylic and vinyl. Paint 2-3 coats to ensure you get the best finish.
5. Choose your tools
There are a few ways to paint. You can use a brush, roller, or spray paint or other paint sprayers. A roller is best if you are painting mainly a flat surface and want to avoid brush strokes; brushes are best for hard to reach details. Spray paints cover most surfaces really well, but tend to be fairly toxic.
6. Consider details  
If you want to paint something one simple colour, congratulations – you're done! But if you'd like to try something fancier, consider stencilling a design on your item, or adding a sticker instead – there are plenty of cool ones on the market like those shown below, that can really add something special. And if you get tired of it, you can just peel it off!
If you like a shabby chic 'worn' look on your paint, you can achieve that look by following these steps.
7. Important: disposal and clean up time!
So, now you've learned how to paint old furniture. But did you know that paint is one of the most common household toxins in the United States? The average person has around 1 liter of unused paint in their home. It can be difficult to dispose of paints, as it's not suitable for landfill, and local councils don't always collect it. Dumping it down the drain is illegal in most areas, and is not only highly harmful to marine life, but also to us – it ends up back in the water table, meaning eventually, we end up drinking the gunk in our water, or eating it via fish. So what can you do?
Just follow these tips:
Buy only what you need and use all the paint purchased.  

Buy the least hazardous paints, as mentioned above.  

Give any unused paint away to friends or donate it to charity.

Search out and use leftover paint and paint-related products. Check to see if you or a friend or neighbor already has the product on hand before buying more.  

For touch ups, keep paints tightly sealed in the original can. Close the container tightly after each use. Store in a well-ventilated dry area away from extreme heat, cold or flame sources, pilot lights and out of the reach of children. Keep paint from freezing and away from heat sources. Make sure the lid is secured and store the paint can upside down to create a seal around the lid preserving the paint quality. If stored correctly, you can use most paints for up to 15 years.
Changing your living space is easier than you think! Get further ideas from sites like this one or here.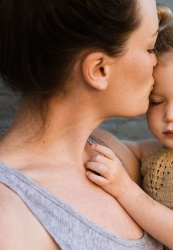 Latest posts by Diane Small
(see all)