Before you leave the house, make sure you have these natural beauty items for your handbag!
By Millie Rainer
For us women, our handbags are more than just places to stash our cash. We tend to carry our entire world in them, and thank goodness for that! Our handbags are like a little home-away-from-home, containing all the essentials we need to get through the day.
While the content of each women's bag is as unique as she is, there are still some basic items that you'll find in every bag. But at Eluxe, of course we think that in order to protect your own health and that of the planet, these should all be eco-friendly options!
Here's our selection of what we think are some of the best essential natural beauty items for your handbag. These were chosen carefully to help perk up your look when the day starts to weigh you down!
Must Have Natural Beauty Items For Your Handbag
1. A Good Concealer Stick
A concealer is, in my opinion, one of THE most essential beauty items for your handbag. It can even out your complexion and help you hide your skin imperfections in a jiffy. Pick one in a shade that is closest to your natural complexion and watch those blemishes disappear leaving your skin looking flawless.
One of our faves is Dr. Hauschka Concealer. It comes in a convenient stick format you can apply without any liquid mess or the need for a sponge. A few dabs under the eyes, around the nose or anywhere your skin is starting to look red or tired will perk you up immediately. Oh, it also fits perfectly in a purse!
You need it because: This will erase the day from your face!
Price: Around $20
2. Your Favourite Lipstick
Another of the most essential beauty items for your handbag is a lipstick!
The right shade of lipstick can make or break a look. Just applying a dash of your favourite shade can brighten up your makeup mood, adding a touch of glamour. If you like making your lips the focal point of your look, it makes sense to invest in a high-quality brand and a beautiful shade that suits your skin tone.
Many women with a dramatic flare find a deep red that matches their skin and stick with it. Look at the veins on your wrist. If they're mainly blue, go with a cool shade, with blue or silver undertones. If they're green, go with a warmer shade, with gold or yellow undertones. Whatever colour you choose, make sure your lippy is as organic as can be. This goes near your mouth, after all!
There is a shade to suit all skin tones, but the pinky red tones of Ilia's Rosette Colour Block Lipstick is flattering for most skin tones.
You need it because: A slick of fresh lippy always polishes your makeup look
Price: Around $28
3. Lip Gloss
Moving your makeup look from day to night is easy! Just add a bit of gloss and get ready to sparkle! While there aren't many organic ones on the market yet, we think it's essential to keep anything you put on your mouth as natural as possible.
For that reason, we love Ere Perez's Mango Lip Honey Pop. It's a light, neutral pink that adds a touch of glam to any lipstick, but also gives lips a more sensual pout when used alone. Just put a dot in the centre of your bottom lip and smooth into the lips with your ring finger to create the illusion of fullness.
You need it because: It can easy take your look from day to night
Price: Around $25
4. Eyelash Curler
Mascara is one of the most essential beauty items for your handbag. It can really open up the eyes, add volume and darken colour. But once it's on, it's on, and sometimes lashes may sag or stick out straight. To add instant curl and open the eyes up, there's no need to re-apply product. This can actually make lashes look spidery and overwhelmed! Instead, just give them a little squeeze of the curler! We like this great one by Plume. You'll look super-fresh, super-fast!
You need it because: It will widen your eyes in seconds flat
Price: Around $30
5. Nail Polish
Got chipped polish and don't want to be seen sporting shoddy-looking nails? Always keep a bottle of quick-dry nail polish in a favourite shade in your purse for touch-ups. As an added bonus, a quick dry polish can also stop runs in tights! Just dab on the hole before it starts to ladder.
We love Nailberry nail polish as it's 5-free of chemicals, cruelty free and vegan. Plus there are heaps of gorgeous shades to choose from!
You need it because: It will save your chipping mani – and laddering pantyhose!
Price: Around $18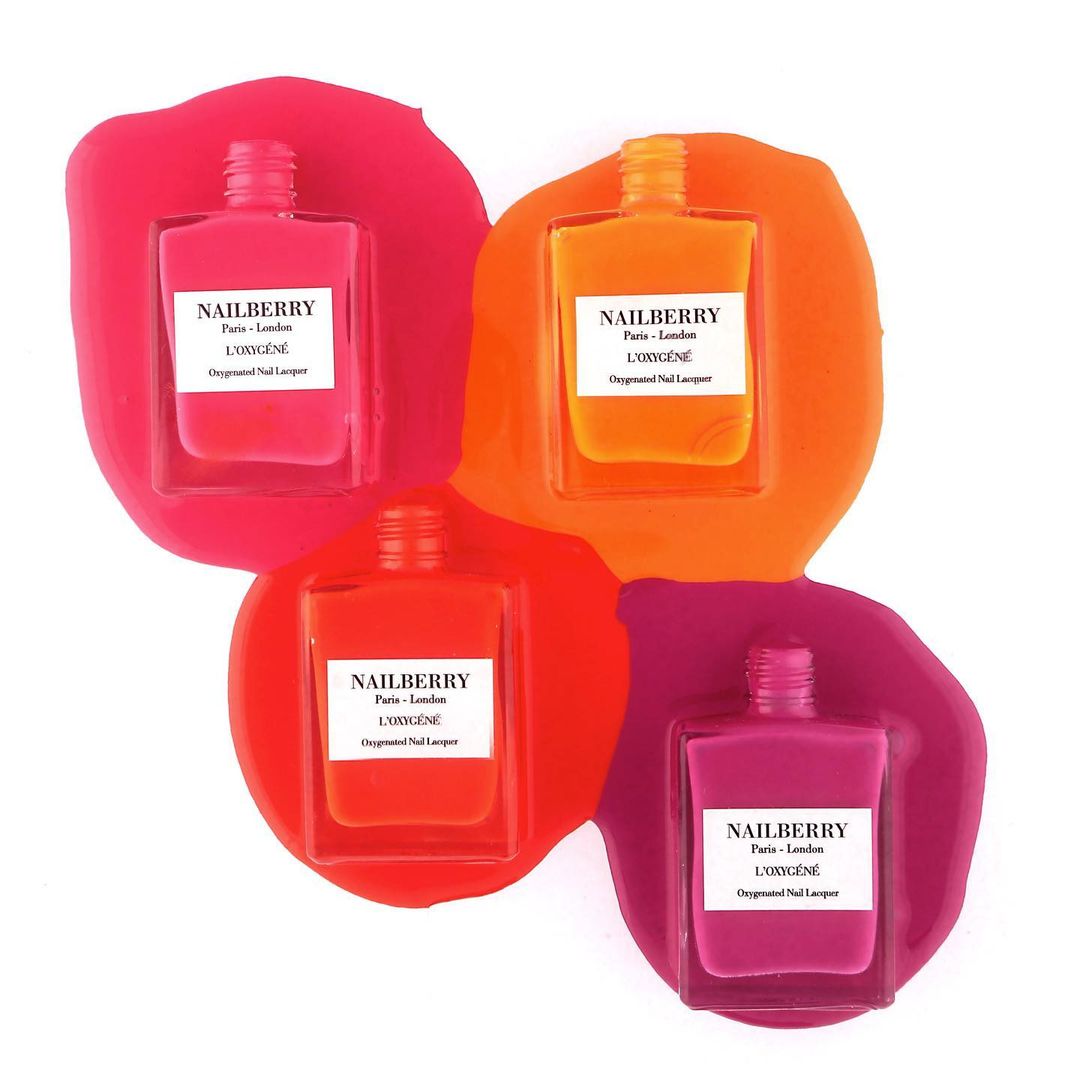 6. Hair Bands
Whether the weather is windy, rainy, hot or humid, it can affect your mane. And of course, having a bad hair day leads to drops in confidence for even the most stunning women. But as all French women know, it's simple to turn a bad hair day good! All you need is another of the most vital beauty items for your handbag – elastics! Simply tie your hair into a ponytail, a braid or a bun with the help of elastic hair bands, like these snag free ones by invisibobble. Always keep a few in your handbag, just in case.
You need it because: It can transform the state of your hair in seconds!
Price: Around $5
7. A Good Compact
To keep your face glowing, do make a point to carry compact powder with yourself at all times. This is for sure one of the most vital beauty items for your handbag. Not only will this control shine and even out skin tone, but a good compact should also have a mirror built-in, allowing you to do a poppy-seed-in-the-teeth check should you need it!
For organic brands, we love Dr. Hauschka's compacts. They're light, contain either organic powder or cream makeup, depending on your preference, and their mirrors are of excellent quality!
You need it because: Well, first of all, a mirror is always essential. And if you have oily skin, this will take out that shine at the end of the day.
Price: Around $22

8. A Multi-Functional Cream
It is a great idea to keep your skin pampered all day. You surely don't want to cut a sorry figure walking around with flaky elbows, chapped lips or lizardy hands. So multi-purpose skin cream is another of those must-have beauty items for your handbag.
We like One Love Organics Skin Saviour. It basically works on everything!
You need it because: This will make your skin glow all day long. Also protects lips, hands and keeps brows in place.
Price: Around $55
9. A Nice Perfume
Scent is the one beauty product that is likely to fade throughout the day and will need a bit of a top up. It makes sense, then, to invest in a small-sized bottle that can easily be carried in your bag. It won't take up much space and will make sure you not only get a quick aromatherapy boost, but always turn up smelling like a dream.
Looking for recommendations? Ellis Brooklyn makes all kinds of gorgeously scented natural perfumes that are fully non-toxic, last for ages, and fit perfectly in your purse.
You need it because: This is another of the most essential beauty items for your handbag to take you from day to an evening vibe
Price: Around $55
10. The Perfect Nail File
This one's another of  the most essential beauty items for your handbag. In fact, I'll bet you have one of these in your purse right now, right? After all,  there's nothing worse than an irritating hangnail that you're picking at all day.
Sure, you could just run out and buy a cheap nail file, but they can ruin your nails. Try a crystal file instead – they're gentler on your nails and last forever, for real! This one from Kure Bazaar is a great option.
You need it because: Hangnails and broken nails suck!
Price: Around $10
What's one of the most essential beauty items for your handbag, in your opinion? Let us know in the comments, below!