No matter what the time of year, these vegan Caribbean recipes will lift your spirits!
By Lora O'Brien
We all need a bit of the Caribbean in our lives, am I right?
Ideally, it would be bathwater-temp waves washing over our bodies before we dry off in sunlight that's as warm as a hug. Sigh. But in the real world (for most of us, anyway), the easiest way to bring a taste of the tropical isles into our life is through the tasty food of those tropical isles.
Blending unique spices and fresh herbs with an abundance of fresh produce is what Caribbean cuisine is all about. Ok, that and rice and beans – which is great for we vegans! Although some traditional dishes are heavily meat-based, they're super easy to make vegan, especially since some of the region's most popular dishes include lots of plant-based ingredients, such as plantains, bell peppers, chickpeas, tomatoes, sweet potatoes, fruit and coconut. Yum, right?
You may have to hit up a speciality supermarket for other ingredients to make vegan Caribbean recipes, though. These include ackee, plantain, jackfruit, adobo spices and jerk spices. At least you can buy the spices online, and just sub in Swiss chard for Caribbean greens. Oh, and green bananas for plantain. Easy!
Whether you fancy trying vegan versions of Jamaican patties, arepas or vegan saltfish, I've found 30 vegan Caribbean recipes that I'm sure will bring a little sunshine into your life!
Main image credit here. Below: Jamaican mango stew. Get the recipe here.
Vegan Caribbean Recipes For Breakfast & Beyond
1. Jamaican Carrot Juice
This is definitely not your ordinary carry juice! It's super creamy thanks to the coconut milk and vegan condensed milk. Vanilla adds more sweetness, while ginger adds the perfect amount of spice. Enjoy this one for the kind of breakfast that's worth getting out of bed for!
Get the recipe here.
2. Ultimate Scrambled Ackee Breakfast
What better alternative for eggs than ackee – the national fruit of Jamaica? It's the perfect plant-based replacement for scrambled eggs with heaps of added health benefits. It contains zero cholesterol, no saturated fats and is high in fibre, potassium, vitamin C, zinc and iron. A pinch of black salt even gives it a distinct eggy flavour! One of the best vegan Caribbean recipes for breakfast, for sure!
Get the recipe here.
3. Jamaican Cornmeal Porridge Bowl
This cornmeal porridge bowl is a modern twist on a very popular, traditional dish served in Jamaica. It's deliciously creamy, with the perfect blend of fruitiness and vegginess. One of the easiest vegan Caribbean recipes to make, too!
Get the recipe here.
4. Vegan Ackee & Saltfish
This is another vegan version of a hugely popular Jamaican recipe. In fact, it's actually Jamaica's national dish! The ackee fruit has a creamy, buttery texture and milky taste, whereas the 'saltfish' adds a saline tang to the dish. This recipe just goes to show that you can enjoy authentic Caribbean food, with a little vegan twist!
Get the recipe here.
5. Easy Callaloo
In case you've never heard of it, callaloo is a staple green leafy vegetable. It's often cooked with onion, garlic, tomatoes, thyme and scotch bonnet pepper. It's super healthy, and the perfect tropical side dish for breakfast, lunch or dinner. Can't find it in your local supermarket? Sub in Swiss chard instead. You'll still be tasting one of the most authentic foods of all the vegan Caribbean recipes here. After all, this one is kinda naturally vegan – no twist needed!
Get the recipe here.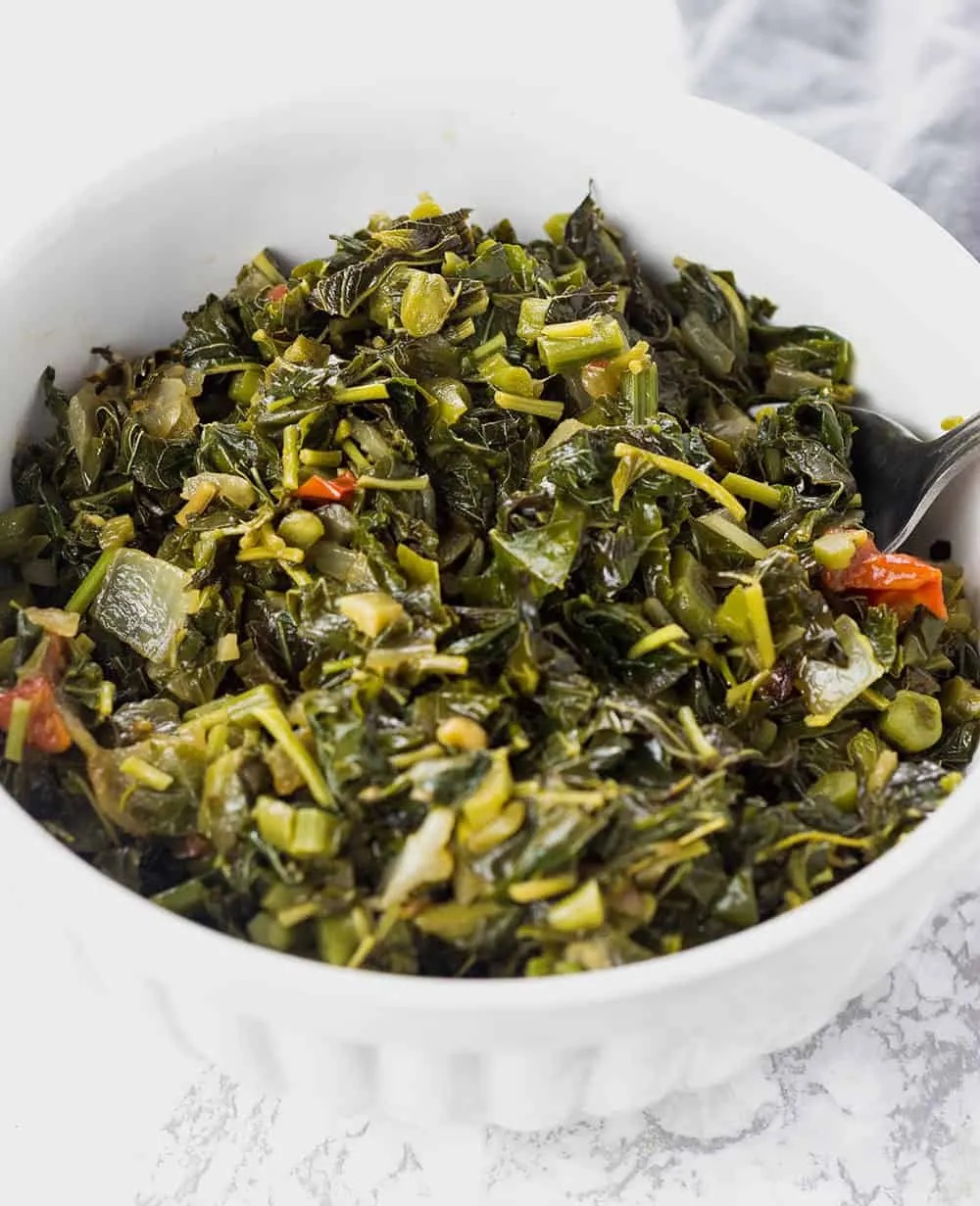 6. Caribbean Bean Soup with Collard Greens
This Caribbean inspired soup is wholesome and hearty – just what you need on a cold day! Made with red and black beans and collard greens, simmered in a coconut milk broth with lime and Jamaican spices, this soup will surely warm up your body and soul.
Get the recipe here.
7. Hot & Fruity Caribbean Coleslaw
Forget those heavy, creamy dairy-laden coleslaws that you're used to. This version is one that will wake up those taste buds! It's fruity, hot and healthy! The flavours of the Caribbean truly shine in this salad, and it's one of the best vegan Caribbean recipes to serve up as a side dish at a BBQ.
Get the recipe here.
8. Jamaican Jerk Jackfruit & Black Bean Wraps
Jerk chicken is yet another hugely popular Jamaican dish. But we've ditched the meat and found this vegan alternative that's just as tasty! These tasty burritos are packed with hot shredded jerk jackfruit, black beans, sweet juicy mango and cucumbers. Serve in a wrap, or alternatively make it into a deconstructed burrito bowl.
Get the recipe here.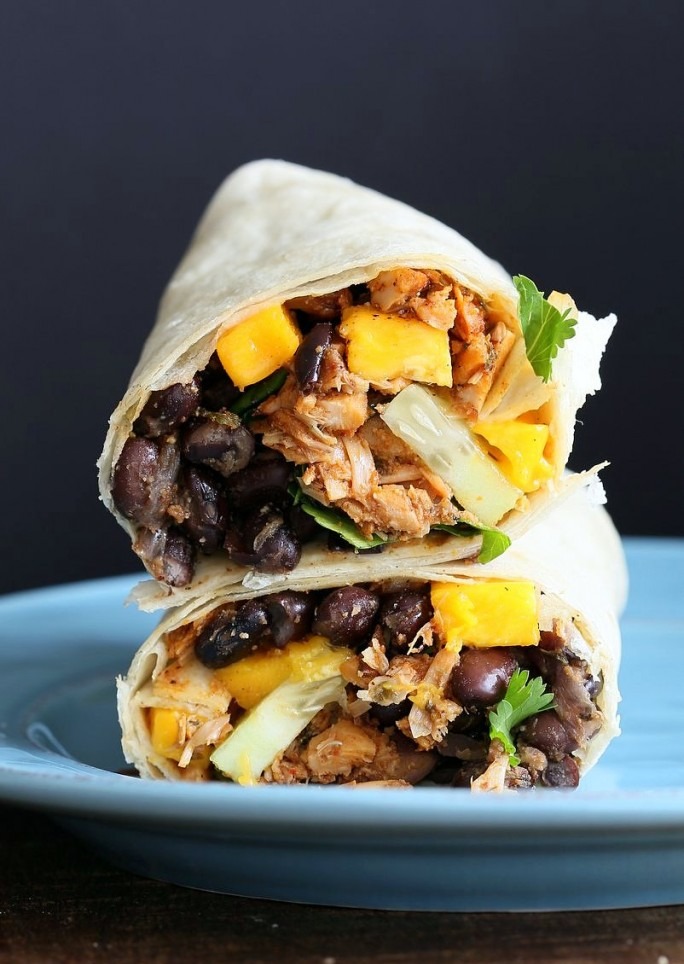 9. Trinidadian Doubles
Doubles is a common street food that originates from the Paradise that is Trinidad and Tobago. It's usually a breakfast dish, but can also be eaten during lunch or as a snack. Trinidadians say it's also one of the best foods to cure a hangover! This is one of the many vegan Caribbean recipes that has a bit of foreign influence: in this case, the curry from India, placed onto a tasty bread-like base. It's a bit messy, it's very indulgent, and it's worth every bite!
Get the recipe here.
10. Jamaican Ackee Patties
Oh yum!! These Jamaican patties are enough to make anyone's mouth water. Perfectly seasoned ackee is encased in flaky, coconut oil pastry and cooked until crisp and golden. It's a taste of Jamaica in every bite! Definitely one of my favourite of all the vegan Caribbean recipes here!
Get the recipe here.
11. Caribbean Feast
Why make one dish when you can make a whole feast? Whether you're ditching the takeaway in favour of a 'fakeaway,' or are having friends over for dinner, this Caribbean feast is the perfect mix of recipes. Jerk jackfruit, rice and peas, caramelised plantain and mango salad…yum!
Get the recipe here.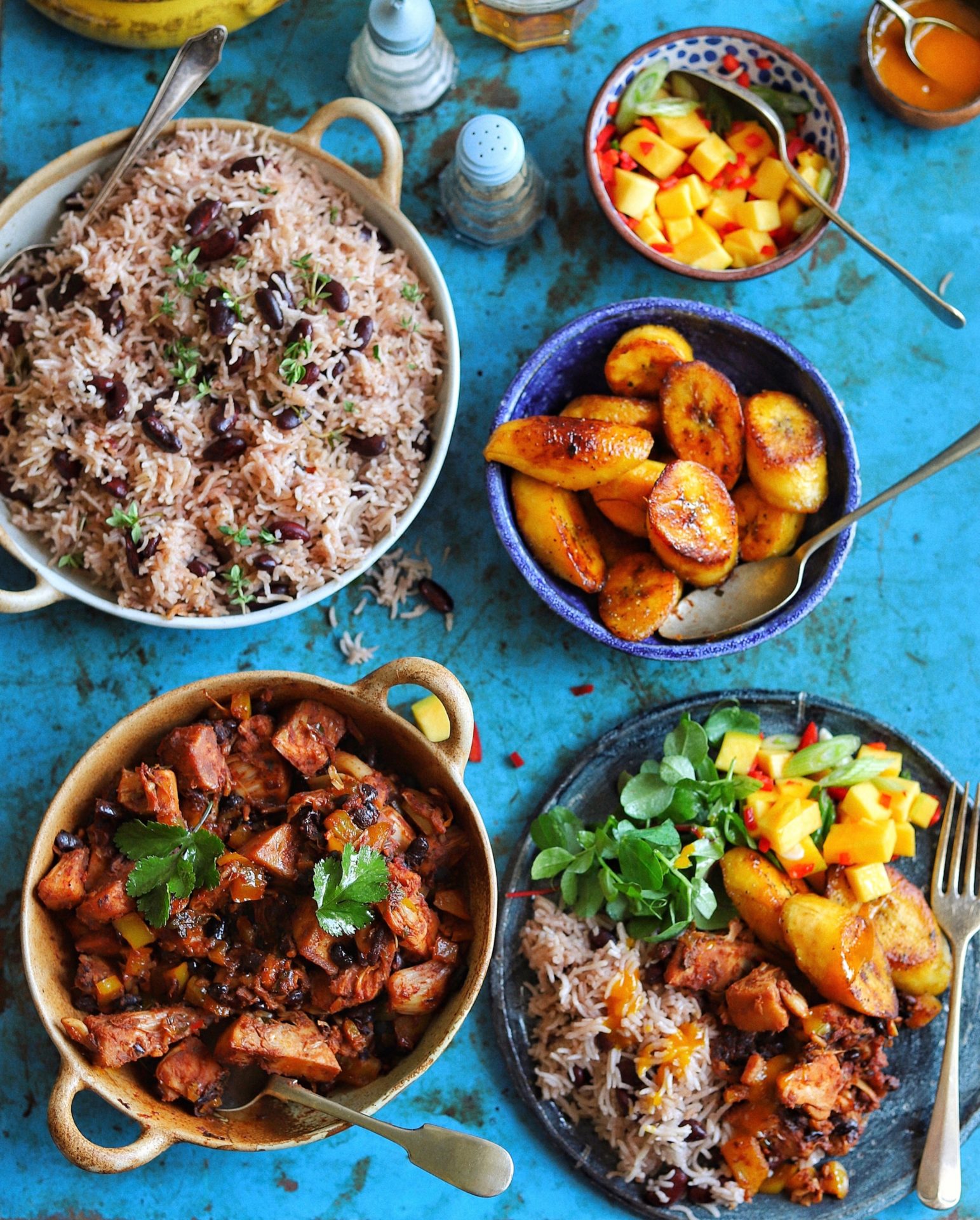 12. Mofongo (Fried Plantains With Seitan)
Mofongo may sound vaguely like an insult, but it's actually a plantain based Puerto Rican dish. Plantains are picked when they're green, they're fried and then mashed with salt, garlic, broth and olive oil. It's one of the most useful vegan Caribbean recipes – it can be eaten on its own or dropped into a soup.
Get the recipe here.
13. Vegan Jerk Chicken Wings with Mango Dip
Miss being on holidays? Try this recipe! It's a holiday on a plate!
These amazing vegan chickpea-based wings are slathered in a jerk sauce and then dunked in a sweet mango dipping sauce. This is one of the tastiest vegan Caribbean recipes, ever! Need I say more?
Get the recipe here.
14. Jamaican Jerk Grilled Eggplant
Along with reggae, jerk chicken is probably one of Jamaica's most famous and well-loved exports. Jerk usually consists of meat that has been dry-rubbed or wet-marinated with a jerk spice mixture, and it's the perfect balance of hot, sweet and spicy. Bring a jerk flavour to a meat-free dish by using eggplant! Once cooked, it has a firm, meat-life texture making is the perfect substitute for those awesome Jamaican spices.
Get the recipe here.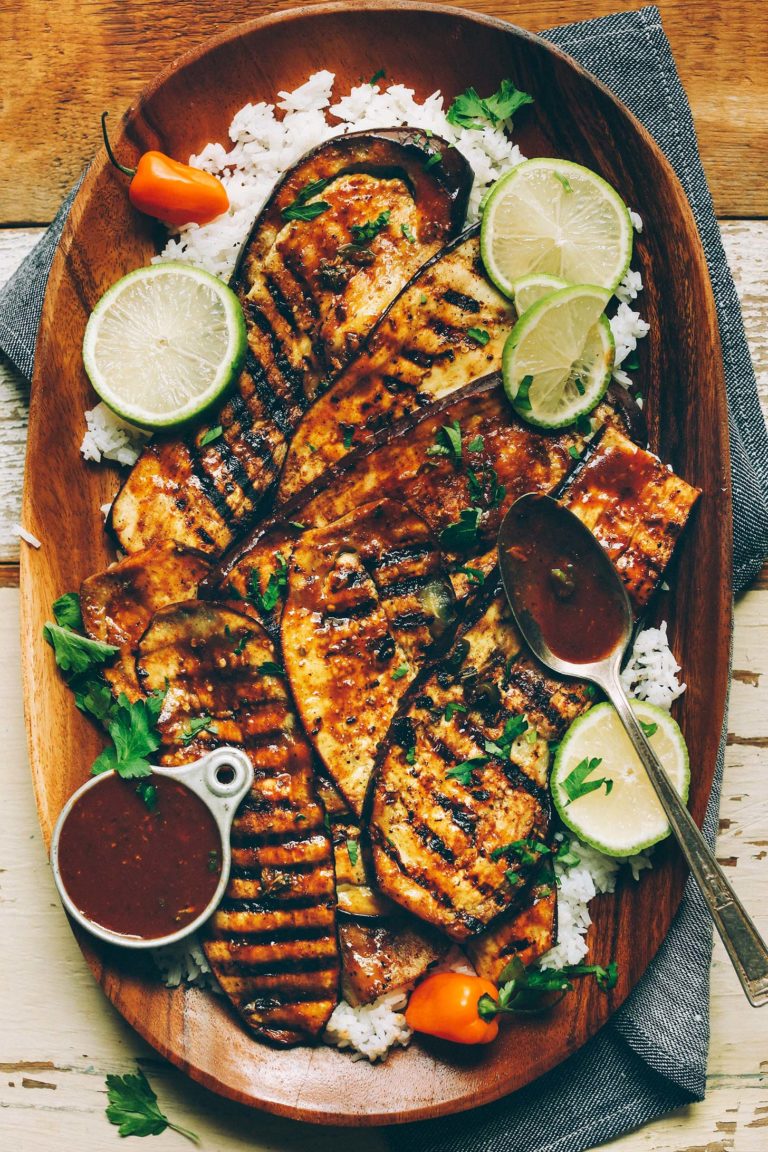 15. Vegan Caribbean Salt 'Fish'
Caribbean salt fish – but without the fish! Traditional salt fish is a white fish like cod that has been preserved for longer storage by salt-curing and drying it until all of the moisture has been extracted. Heart of palms are used to replicate the fish in this dish, and it pretty much has the same texture as the original.
Get the recipe here.
16. Vegan Jamaican Stew Peas With GF Dumplings
Who says beans are boring! This wholesome pot of Jamaican Stew Peas is anything but! It's creamy, it's spicy, it's gluten free, and highly nutritious, too.
I learned something interesting from this site, too. Did you know that many brands of dried coconut milk add Sodium Caseinate, a type of protein derived from milk, to the ingredients? That means some dried coconut milks aren't actually vegan! Check those labels, people!
Get the recipe here.
17. Bahamian-Style Corn Fritters
If you're familiar with Bahamian food, then you'll likely have heard of conch fritters. They're traditionally made with shredded conch meat and a crispy batter stuffed with onion, pepper and spices. They're like a crab cake, but with a Caribbean flair. This vegan version is crunchy on the outside, soft and fluffy on the inside, and it comes with a delicious dipping sauce!
Get the recipe here.
18. Caribbean Sweet Potato Cakes with Callaloo Sauce
This recipe is inspired by a Trinidadian crab cake recipe. Calloo is a popular Caribbean stew or soup made from leafy greens called calloo or taro that's similar to chard or spinach (in fact, I'd recommend subbing in Swiss chard if you can't find callaloo). The greens are blended smooth in this recipe to make a sauce to serve with the cakes. The patties are filled with roasted and mashed sweet potato mixed with Caribbean herbs and spices, and scotch bonnets for added heat – but if you're not a fan of spicy food, just leave 'em out.
Get the recipe here.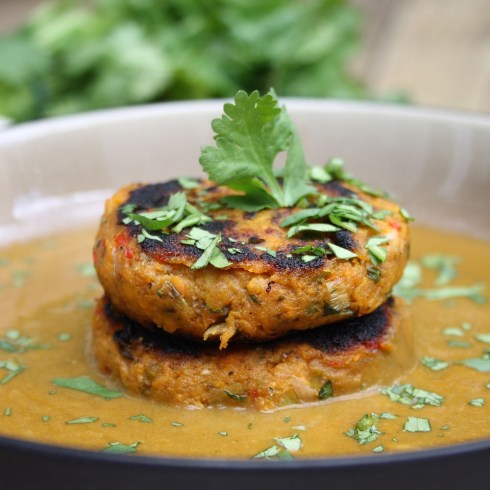 19. Jamaican Black-Eyed Pea Curry
How vibrant does this look?! It's creamy, absolutely bursting with flavour, hearty, healthy and it's one of the easiest of all the vegan Caribbean recipes to make. Squeeze some lime onto it for some extra tang, and make it as spicy – or not – as you like!
Get the recipe here.
20. Vegan Alcapurrias
Alcapurria is a Puerto Rican fritter dish that is normally stuffed with a savoury mixture of ground meat. The dough is formed into a cylinder shape and then deep-fried until crispy. This vegan recipe uses mock-meat to recreate the famous dish in a cruelty-free fashion, but it's just as crispy on the outside, and savoury soft on the inside! Serve it up with some rice, beans and avo for a full meal.
Get the recipe here.
21. Vegan Pastelón (Plantain Lasagna)
Wow, this is definitely one of the most surprising of all the vegan Caribbean recipes (for me, at least)! Pastelón is a Caribbean casserole that is similar to lasagne, except it uses sweet fried plantains instead of pasta. It's sweet, salty and cheesy at the same time. This vegan version replaces meat with red lentils, mushrooms and walnuts. The cheesiness comes from a quick and easy vegan cheese sauce.
Get the recipe here.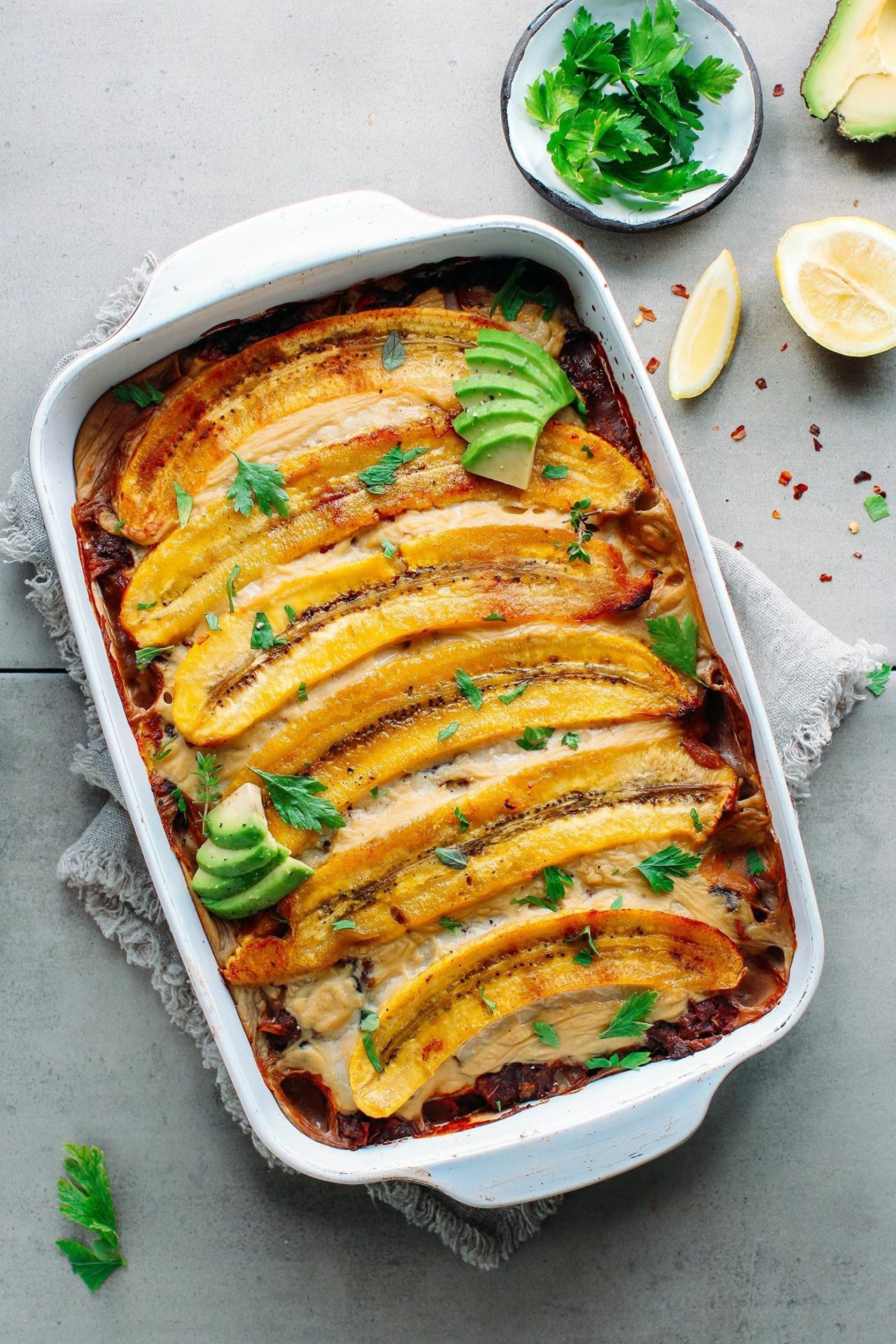 22. Caribbean Chips with Apricot Salsa
Bring a little Caribbean flavour to your snack game with these jerk seasoned tortilla chips! The come with a sweet and complimentary apricot salsa, whose subtle sweetness works well with the jerk spices. Think of this as ungraded chips and dip, making it the perfect appetizer if you're having guests over.
Get the recipe here.

23. Rasta Pasta
You'll feel like you're on vaycay when you try this rasta pasta! Lentil meatballs sit atop linguini pasta, and are tossed in a curry sauce and served alongside a medley of veggies! The perfect midweek dish to bring the tropics to your kitchen table, and I love the name of this, too!
Get the recipe here.
24. Vegan Arepa Sandwiches
The arepa is a Latin American Caribbean staple! It's a baked or, more commonly, fried, dough made from ground maize or yucca flour, and it's then stuffed with whatever you like. This recipe uses black beans, cilantro, cabbage and other goodies to make a hearty, healthy meal that's perfect for lunches.
Get the recipe here.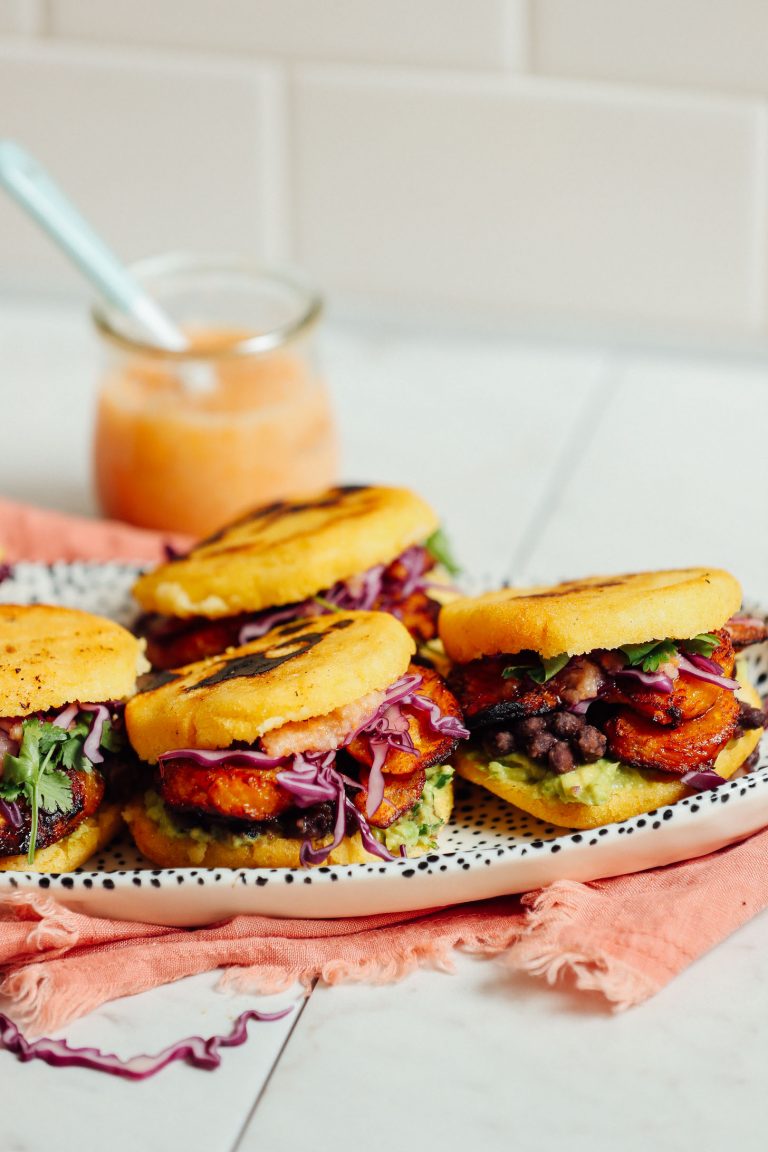 25. Caribbean Jerk Spiced Sweet Potato Falafel Gyros
When Mediterranean food infuses with Caribbean flavours, great things happen! This is a totally fun and delicious way to take the traditional gyros recipe and give it a Caribbean flair – loving those jerk spiced sweet potato falafels! Perfect for serving with that coleslaw recipe, above.
Get the recipe here.
26. Grilled Jerk Tofu with Pineapple Salsa
This fiery grilled jerk tofu works so well with the pineapple salsa! Bursting with colour, the salsa also refreshes the palate from the spiciness of the jerk seasoning. Serve with some rice sprinkled with cilantro and lime to transform this into a heartier meal.
Get the recipe here.
27. Easy Vegan Coquito
I couldn't do a list of vegan Caribbean recipes without some desserts!
Coquito, also known as the Puerto Rican coconut nog or eggnog, is a thick and creamy holiday drink that is made primarily with coconut milk, sweetened condensed milk, evaporated milk, rum, and spices. Think of it as the sassy cousin of eggnog with a tropical flair. It's a deliciously creamy, rich, cozy drink!
Get the recipe here.
28. Jamaican Cornmeal Pudding
This delish pudding, otherwise known as cornmeal pone, is a flavourful Jamaican dessert that's cooked with raisins and spices, and is then topped off with a sweet and creamy coconut custard. It's is a staple pudding in Jamaica and throughout the Caribbean that's simple to make.
Get the recipe here.
29. Pineapple Coconut Tarts
These tasty little tarts are like chewing on a Piña Colada! The sweet pineapple and creamy coconut give a Caribbean twist to your baking. These are one of my favourite vegan Caribbean recipes, and they make the perfect post-meal treat. Naturally sweetened, they're pretty healthy, too!
30. Caribbean Banana Fritters
Got overripe bananas? Turn them into this tropical dessert! This dish apparently came to the Caribbean via Africa, and each household makes these fried fritters their own way. This recipe is one of the cheapest vegan Caribbean recipes to make, too.
Get the recipe here.
Latest posts by Lora O'Brien
(see all)