Plants are so wonderful! They can be medicine, food, and beauty products! For example? Here are some of the best plants for hair care
By Diane Small
Today's 'clean beauty' movement is a rejection of conventional beauty products. And no wonder! They're often laden with common nasties such as parabens, synthetic fragrances and sodium lauryl sulfate (SLS), just to name a few.
So, achieving a 'clean' hair care routine can be a difficult task.
Luckily, there are loads of plants that can help with cleaning, thickening, preserving and even colouring your hair. But it's imperative to know what ingredients to look for!
In this glossary, we'll unearth nature's greatest hair-loving ingredients to help you achieve healthy hair from root to tip.
12 Of The Best Plants For Your Hair
1. Coconuts 
Coconuts are full of surfactants. These are 'lifting' agents that work to stir up activity on the scalp's surface to help trap and remove debris. And so they're perfect for shampoos, and they're also far less harsh on your hair than the typical sodium laureth sulphate, which is basically just detergent, that most shampoos contain.
While many plant species including fruit and vegetables can be used to make these, coconut and palm remain the most typical sources.
Hair cleansers like ELEVEN shampoo use surfactants like disodium cocoamphodiacetate, derived from the fats of coconut oil, to achieve a non-drying, foamy cleanse without harshness. Other similar surfactants to look out for include coco glucoside and sucrose cocoate.
One of the best plants for hair care for: Washing, making it clean
2. Aloe Vera
Thanks to its innate antimicrobial and anti-inflammatory properties, the aloe plant has been celebrated for centuries. In Ayurvedic circles, aloe is suggested to be a boon for a dry, thirsty scalp. Dr. Zeel Gandhi, an Ayurvedic doctor, says aloe can even strengthen weak hair follicles. It does so by providing deep nourishment from the botanical's richness in vitamins C, E, B-12, choline, and folic acid.
It's no wonder this 'plant of immortality' was a staple in the beauty regimens of Queens Cleopatra and Nefertiti!
One of the best plants for hair care for: Nourishing your scalp and locks
3. Jojoba Oil
With essential hair-loving nutrients like B vitamins, copper and zinc, jojoba oil helps stimulate circulation in the scalp. This promotes stronger follicles, and therefore thicker looking hair, since you lose less.
Like sebum, the oily substance our scalp naturally produces, jojoba does not penetrate the hair shaft. That means you don't need to dread this lightweight oil dragging your tresses down while it gets to work.
Jojoba also oil nourishes and moisturises hair, preventing frizz and dryness. Its properties make it an effective natural conditioner and potential aid for hair growth.
One of the best plants for hair care for: Stimulating circulation to the scalp, nourishing hair strands.
Image: bangstyle.com
4. Amla
Amla, or Indian gooseberry, is a unique plant source of vitamin C and powerful antioxidants. It is particularly popular in pre-shampoo hair oiling products with its follicle-fortifying advantages, reducing hair fall and thinning.
According to Ayurvedic theory, this green berry gem also carries perks against premature greys. It does so by lowering 'pitta' dosh enzymes in the body that inhibit melanin production.
Tip: Use a wide toothed wood comb to evenly distribute the oil through your locks for an overnight treatment.
One of the best plants for hair care for: Stopping hair from thinning or falling out
5. Sea Buckthorn
This super shrub contains boatloads of medicinal compounds and vital nutrients. In the context of hair care, extracted sea buckthorn is a treasure trove of vitamins and minerals.
Containing a whopping 18 amino acids, this ingredient provides the compounds for keratin, the main protein that underpins hair and nail growth. While offering greater hair density and robustness, sea buckthorn also provides sleekness and shine.
One of the best plants for hair care for: Strengthening hair and providing shine
6. Chamomile
Boasting soothing and perfuming properties, chamomile calms the scalp, breaking the foundation for irritation. This potent botanical comes with many colour-protecting benefits, too. These include its ability to:
rejuvenate sun-faded hair

enhance highlights

add shine naturally.
Chamomile is also one of the largest naturally-occurring sources of apigenin, a flavonoid with anti-inflammatory antioxidant benefits. Topically, apigenin is especially great for anti-itch use. This makes it a key factor in hair care products targeted toward those suffering from eczema, scalp flaking and dandruff. 
One of the best plants for hair care for: Making blonde hair look more gorgeous
7. Wheat Protein
Wheat protein, a natural keratin alternative, is an ingredient gaining traction in both hair and skin care spaces. Mostly derived from wheat germ and broken down through hydrolysis, this soluble form of wheat protein holds many benefits for hair including anti-irritant, protective properties.
This keratin-adjacent ingredient can reinforce the structure of hair, with its ability to impart cystine (a critical amino acid for healthy hair) where these protein building blocks have been compromised. From calming scalp inflammation to shielding against damage like split ends and breakage, it infuses moisture for resilient and manageable hair.
One of the best plants for hair care for: Reinforcing the structure of your hair, preventing split ends.
Image: Wallup.net
8. Kaolin Clay
Kaolin clay, a natural mineral, is used in both skin and hair care. That's mainly due to its absorbent and cleansing properties. Similar to its function in clay skincare masks, it helps to dissolve and lift excess oil, dirt, and impurities from your hair. The result? A more balanced hair growth environment.
Lightweight and powdery in texture, it is often a constituent in dry shampoos and scalp-clarifying treatments to remove product buildup and unveil fresh, healthy hair follicles.
One of the best plants for hair care for: Detoxifying the scalp.
9. Moringa Seed
Moringa oleifera, aka the 'drumstick tree,' is a herb that grows abundantly in the foothills of the Himalayas. The seeds of this plant are put to good use in hair care for their rich content of vitamins, minerals, and fatty acids.
Moringa seed also gains serious clean beauty points for its capacity to protect and treat colour-treated hair. Popularly included in purple toning products, moringa seed also fights oxidative stress and bond breakage from chemical treatments. What's more, moringa is a saviour for split ends.
One of the best plants for hair care for: Hair conditioning, especially chemically treated hair.
10. Vegetable Glycerin
Vegetable glycerin is a less obvious ingredient to look for in hair and beauty products. But it's actually is a powerhouse hydration agent! Not only is it great for your skin, but it effortlessly tames and moisturises your hair, too.
Generally speaking, glycerin is a sugar alcohol that can be either synthetically-made, or sourced from petroleum or animal products. Conversely, veggie-glycerin is typically derived from plant-based sources such as coconut oil, soy or palm oil. It's a natural by-product of the soap-making process, making it even more sustainable.
For hair care, this moisture locker works best in humid climates. You'll also find it in hair styling products like gels, as well.
One of the best plants for hair care for: Moisturising and styling your locks.
11. Argan Oil
Argan oil, extracted from argan tree kernels, is prized in hair care for its nourishing and hydrating properties. It adds shine, while promoting softness and manageability for overall hair vitality.
Full strength argan oil is an excellent hydrator for those with thick or curly hair types, as its richness in fatty acids and vitamin E nixes frizz and softens the hair strands.
Lighter variations of this miracle-working oil are available for other hair types, making it a versatile choice for all.
One of the best plants for hair care for: Fighting frizz, conditioning.
Image: thetrendspotter.net
12. Henna
Henna has been used for centuries for many reasons. It not only strengthens your hair shaft, but of course, it can dye your hair as well! While henna usually gives off a red hue, it's capable of much more than that. For example? Add another plant – indigo – and you can get brown or black tones.
One of the best plants for hair care for: Strengthening and colouring the hair. Hiding grey hair, too!
Bonus Plant: Willow Bark
Willow bark is generally a star ingredient in exfoliating and clarifying products like shampoos and rinses. Dr. Dhaval Bhanusali, a board-certified dermatologist, explains that salicylic acid, a beta hydroxy acid used for acneic and oily skin, is actually derived from willow bark.
Willow is a bonus to hair care products because its exfoliant action prepares the scalp to allow greater penetration of hair loss treatments. It is also an aid against folliculitis and scalp acne.
One of the best plants for hair care for: Oily scalps and hair.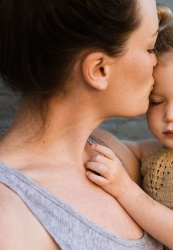 Latest posts by Diane Small
(see all)