Guys want more ethical clothing, too! We think these are the best sites to shop sustainable menswear 
So, it turns out that while most of our readers are women, these women buy a lot of stuff for men. I mean, hands up if you've recently purchased something for your dad? Husband? Boyfriend? Son? Friend? I imagine there were a lot of hands that just shot up!
The fact is, a lot of guys rely on women for fashion advice and key pieces in their wardrobes. While you may know where to get loads of great eco friendly fashion for yourself, and while many denim brands we've covered in Eluxe like these also make jeans for men, do you have any idea where to point the man in your life if he's after vegan friendly, eco friendly men's clothing in general?
Well, now you will! We found what we believe are the 10 best Sustainable Menswear shopping sites, right here.
Great Sites to Shop Ethical Men's Clothing
It may have been founded by surf champion Kelly Slater, but Outerknown isn't just for beach bums! This sustainable Bluesign certified sustainable menswear brand blends casual style and athletic function with the protection of natural resources.
They make their entire collection from environmentally-friendly materials like Econyl, or better yet – from recycled fabrics. The vibes? Classic, surfer dude, mixed with a touch of 90s vintage.
Best for: Dudes who like their clothes with a SoCal vibe.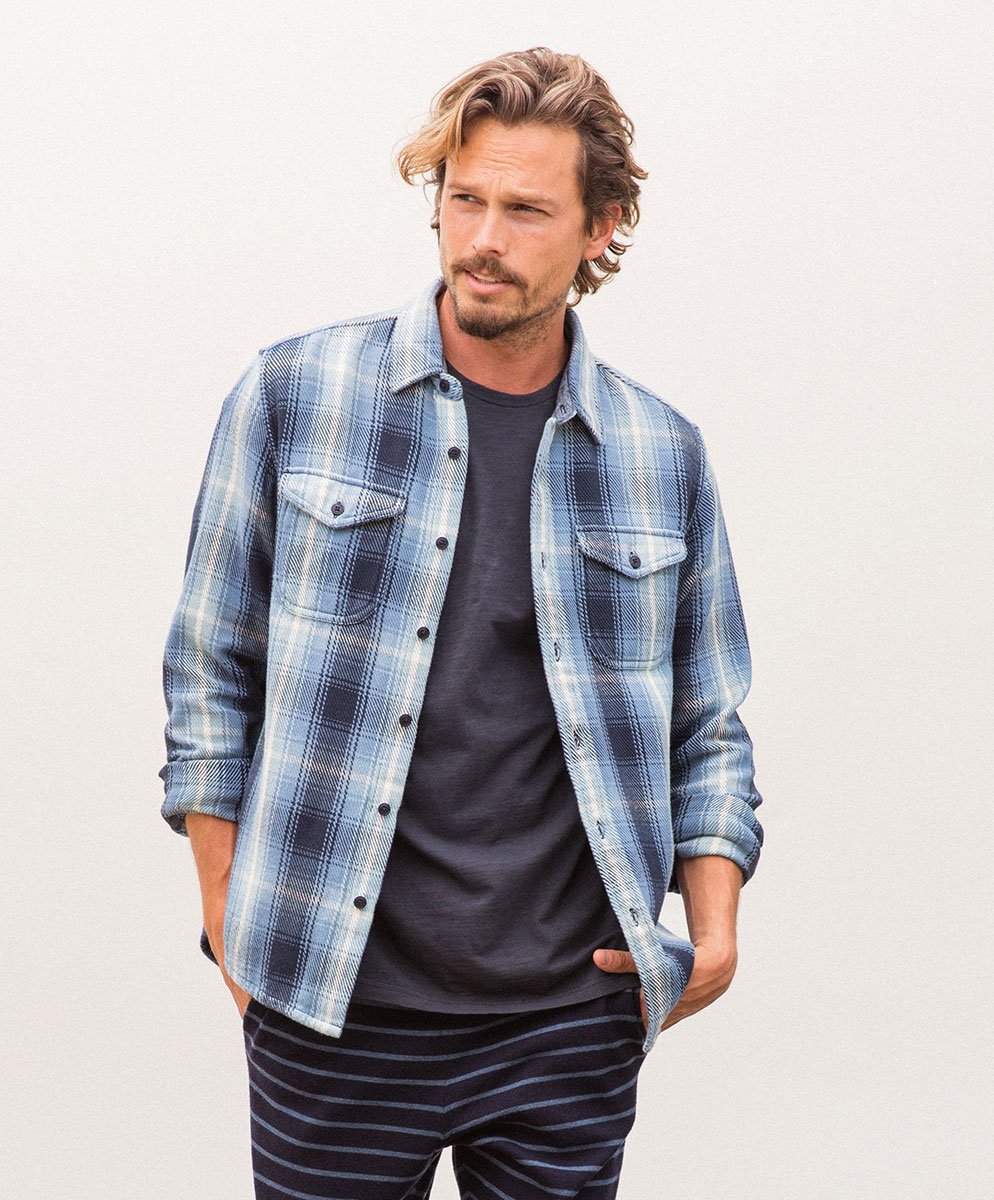 People Tree aims to be 100% Fair Trade throughout the entire supply chain by purchasing Fair Trade products from marginalized producer groups in the developing world, meeting the World Fair Trade Organization Fair Trade standards. Their products are hand embroidered, knitted, printed, woven, and there are even cool one-of-a-kind gifts made from recycled saris!
The producers and farmers, mainly in Bangladesh, Nepal and India, live and work in their communities, eat locally produced food and use hand production methods to earn their living, all eliminating the massive environmental impacts of travel and heavy machinery.
The organic cotton farming used by People Tree is watered by rain and uses natural pesticides made with chili, neem, garlic and soap, which keeps pests off the crops without affecting biodiversity. And, they pay their organic cotton farmers a 30% premium above conventional cotton prices, which offers farmers a secure income.
Best for: Everyday basic necessities
Linen, hemp and organic cotton are but a few materials used by this highly sustainable menswear brand. It's the ideal place to shop basic shirts, jeans, jackets, tees and even shoes.
Everlane is proud to call itself 'radically transparent' and reveals the true costs behind all of their products—just visit their site to get all the info you desire on everything from materials and labour to transportation.
Best for: Down-to-Earth dudes with a conscience
This minority-owned company has created vegan bags for high-profile clients since it first opened in 2016. Today, Tote&Carry is bringing the same top-tier, cruelty-free luxury to you at an affordable price. 
Though no animal products are used in their luggage, day and weekend bags, these products do imitate the textures of cow, alligator and crocodile leathers.
Best for: Ethical travellers; guys on the move
Sweatpants. Hoodies. Tees. Sweaters. Coats. Pants. What more does a man want in his wardrobe?
Tentree does it all. And they do it sustainably! That's mainly down to the fact that they're using a lot of organic cotton to make their ultra-soft, super-comfy menswear.
And the best part? As the name implies, ten trees are planted with every purchase. Yay!
Best for: The casual – but stylish – dude who loves nature.
United by Blue is a sustainable menswear company that makes great basic casual clothing, and saves the oceans. The nonprofit B Lab has certified them since they meet rigorous standards of social and environmental performance, accountability, and transparency.
In fact, United By Blue has a pretty great score, and no wonder! This rad outdoor clothing and accessory site associates each product sold with the removal of one pound of trash from waterways, uniting their beliefs with business without accepting donations, writing checks, or sacrificing quality or comfortability.
In fact, since its birth in 2010, UBB has removed 312,402 pounds of waste from oceans and waterways through 155 cleanups in 25 states!  
Best for: Outdoorsy, unfussy types
Perhaps you've seen Kuyichi denim in stores but never thought to research their sustainability index because of how gosh-darn good they look, or maybe they've been your favorite pair of jeans for the last decade. Either way, this denim brand founded in 2001 (recently expanded into tees, outerwear and accessories) keeps each part of their chain transparent.
For example? On their "where it's made" page, you can visit every one of their manufacturing sites and read detailed information about employees and employee benefits, certifications, monitoring procedures and auditing accounts. 
The brand's strong focus on improving social conditions in the factories and throughout the supply chain resulted in Kuyichi partnering with Fair Wear Foundation (FWF): an independent, non-profit organisation dedicated to improving labour conditions for garment workers around the world.  
Best for: Eco-friendly denim, of course!
The fashion industry contributes 10% to the world's total carbon emission. This lays heavily on the RTW (Ready To Wear) industry that creates so many clothes that aren't sustainable. This cycle of using and throwing out clothes also stems from the constantly changing fashion trends that society is pressured to conform with.
Today, many companies have taken the challenge to craft pieces that are sustainable and eco-friendly. At Kapow Meggings, they have started their own line of recycled compression leggings with their signature loud and basic prints.
This move by Kapow opens a lot of doors for fitness enthusiasts to join in the eco-friendly fashion campaign while working out without sacrificing style, comfort, and sustainability.
Best for: Seriously sporty dudes
This British designer was one of the first to proudly display sustainable menswear collections on the catwalk. He proved that luxury fashion and solid ethics do mix!
His collections employ zero-waste cutting techniques, and are made mainly from recycled materials. These include army surplus gear, parachute material, old firefighter's uniforms and dead stock from the fashion industry. It's all used to create unique, beautifully made menswear on the cutting edge of style.
Best for: The man who takes his fashion seriously
Founded in 2013, London's East End label Story MFG. has a strong focus on sustainability and prioritises a slow-moving design process. They use time-honoured techniques combined with new technology to create pieces that are built to last.
They dye all of their garments by hand, often using the natural indigo plant. As for their all-white clothing, well that's down to sun-bleaching using earth salts, never chemicals or bleach.
Best for: Streetwear with vintage/thrifting vibes.
Thomas Jacob, whose background is in luxury French fashion, is the founder of this label. To help those in need, Project Pietà works with three Peruvian prisons to create their wares.
Jacob says that the clothing is made from materials like organic cotton and wool, and that Project Pietà  provides the opportunity for inmates to generate income and develop their skills. This allows for faster rehabilitation, and prisoners can get out more quickly. Indeed, each day of work decreases the prisoner's sentence by a full day.
Although it is unclear how much each prisoner earns, Mr Jacob says: "When you are in a Peruvian jail you need money: to pay your pavilion (the activities and the restoration), to pay for your basic hygiene needs or to eat better, for example. Moreover, the majority has to pay a civil reparation fee. When you are alone, what can you do, except die slowly? Working permits you to earn a regular income and you don't depend from the others to live. For the inmates, it also allows for hope and confidence. And each day of work means another day towards getting out of jail."
Best for: Sustainable menswear with a serious story behind it
Dedicated to attention to detail and classic styling, sustainable menswear brand SERAC is the brainchild of Industrial Designer Tore Mortvedt and Rune Stokke. Their aim? To bring to market responsible products that would relate to the world we live in. The brand's high quality materials and stylish flair distinguish it from all the rest.
The duo design each piece in Norway and produce them in Italy. SERAC brings to life designs that are versatile in multiple ways. They also provide to the wearer comfort, style and functionality for years to come.
Best for: The refined gent who knows quality when he sees it!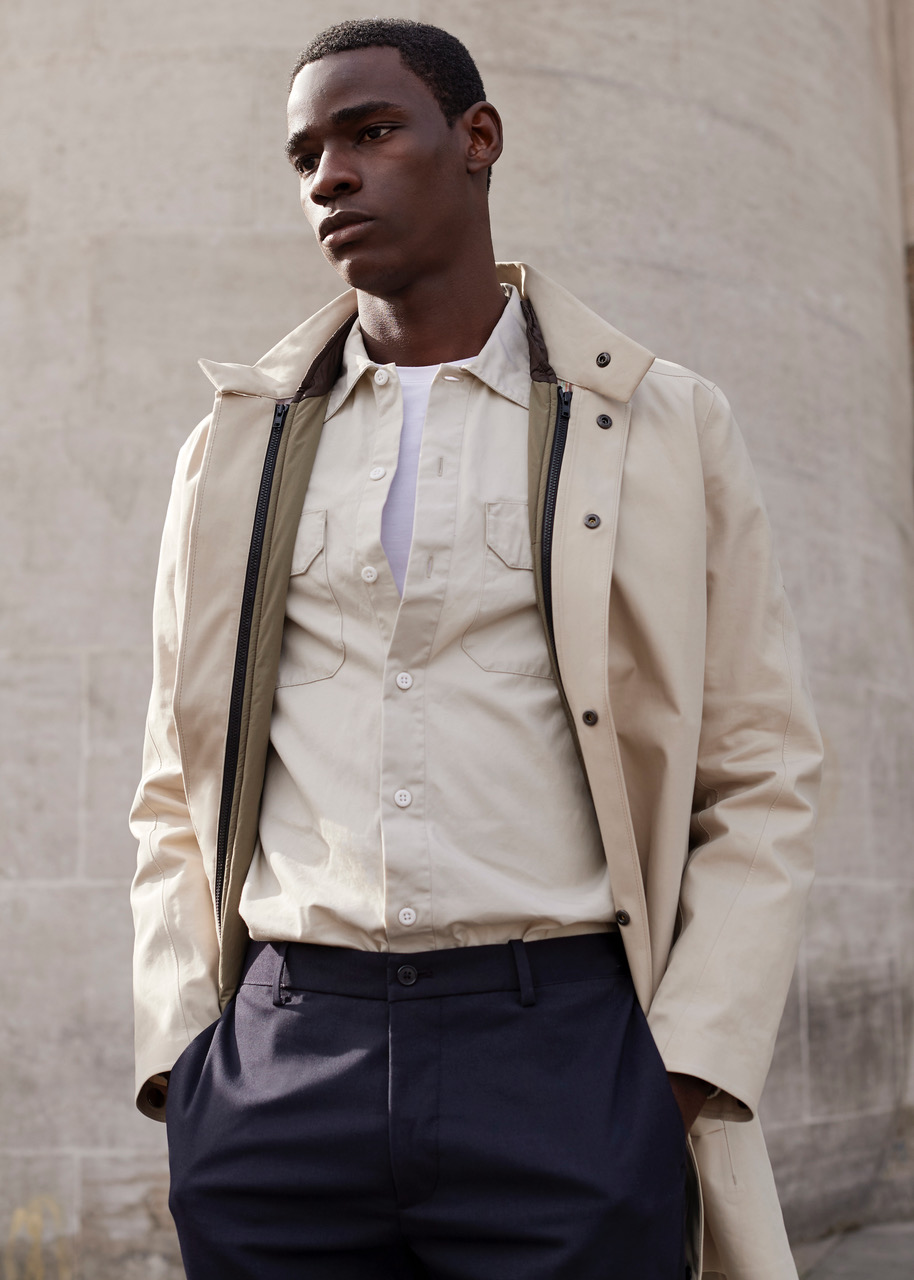 Sometimes, you just don't know what you want. Or how to dress for an occasion. But Eco Stylist is here to help! Not only do they offer a wide variety of different sustainable shoe, accessory, casual wear and workwear styles on their shop, but they'll also help you select what goes well with what, and what best suits your body type and lifestyle.
This site is ideal for guys who hate shopping, and have no idea how to style themselves! A subscription makes for a great gift, too.
Best for: A wide variety of styles on offer; learning how to polish your image
This wonderful U.K. site provides you with all the information you need to be a conscious, eco-friendly online shopper — each item on the site has a 'footprint' tab detailing information about the social and environmental impact, which they gained by requiring the designers and brands that manufacture the featured products to provide a full breakdown of their supply chains, which they then summarise in the 'footprint' tab, and their  standards  are high!
Brothers We Stand offers jumpers, hoodies, surf shorts, wallets, hats, bags, and more from a handful of BWS-approved brands, some of which we have listed in this article. Best of all, a big mission of theirs is to show that eco-friendly, sustainable, organic clothing doesn't have to be boring – the majority of their clothing has super fun prints.
Best for: Sustainable menswear with an attitude.