These vegan Middle Eastern recipes will bring some of the world's tastiest cuisine straight to your table
By Lora O'Brien
When it comes to vegan Middle Eastern recipes, the most daring many of us get is munching a falafel or some hummus. And that's a real shame. As one of the world's most ancient and rich cuisines, Middle Eastern food – namely that from the Levant and Persian Gulf – is  packed full of passion, flavour, tradition and loads of nutrition.
Mezze – small dishes of tasty food – especially embody the generous, sharing culture of the region, and of course provide an opportunity to try a cornucopia of different flavours and textures.
Popular ingredients in this type of cuisine include:
olives
olive oil
flatbreads
sesame seeds
dates
mint
parsley
…and of course, chickpeas. Oh, sure, there's normally loads of meat – but we're not gonna go there. At all.
Each one of these vegan Middle Eastern recipes may be based in centuries of tradition, but they've all been given a vegan or vegetarian twist. They make the perfect healthy snack or meal – depending on how much you make. And they're perfect for sharing!
33 Vegan Middle Eastern Recipes
1. Traditional Creamy Hummus
We all know and love hummus, that  smooth, creamy dip. It can be spread on a sandwich, dipped into by some fresh crudites, or just eaten on its own. Hummus is pretty easy to make and consists of blending chickpeas, tahini and garlic together until it reaches the desired consistency. Garnish with olive oil, set on the table and watch it disappear within seconds.
Get the recipe here.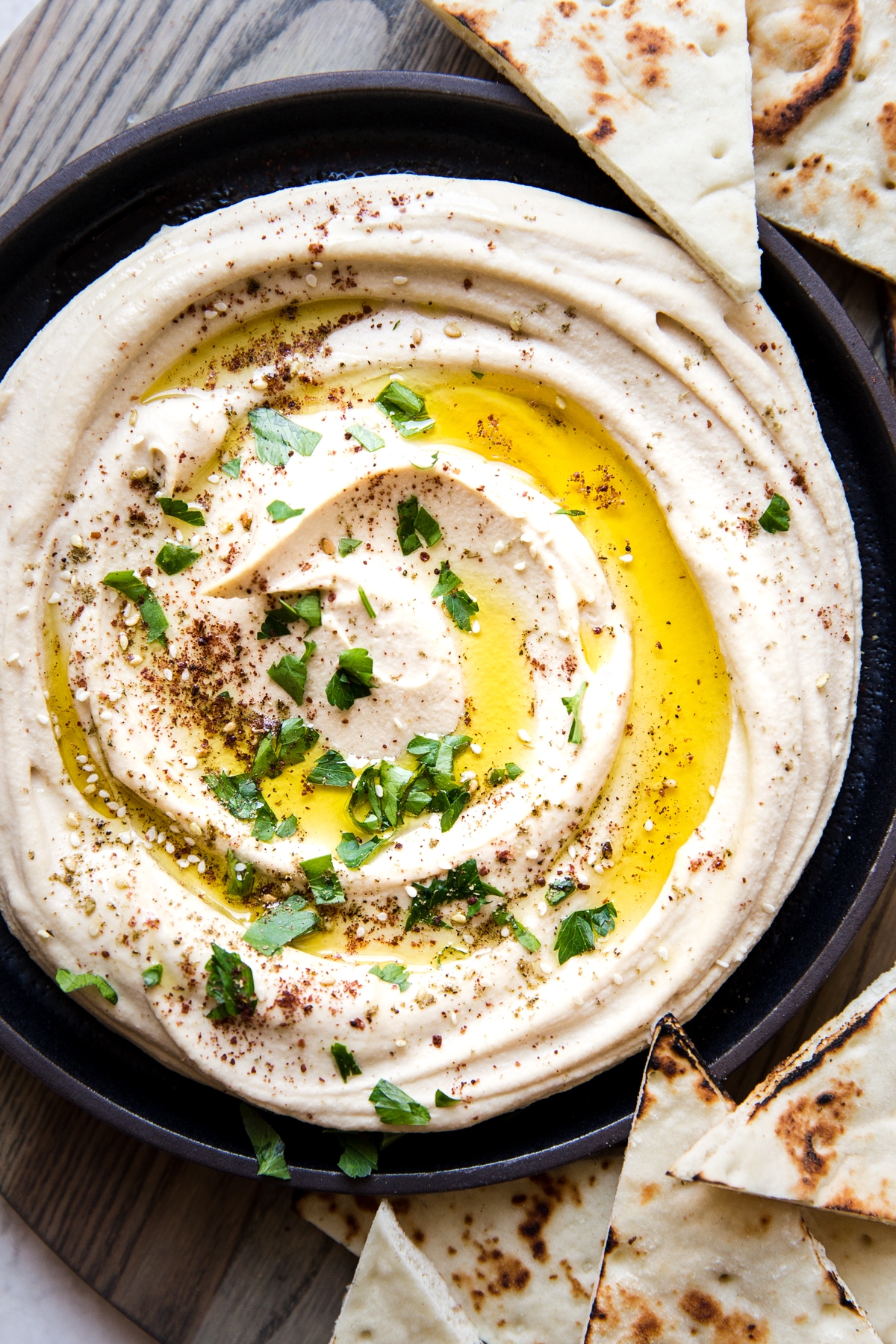 2. Chickpea Shawarma Sandwich
This usually meat-heavy dish gets  a vegan make-over in this recipe thanks to  chickpeas! It's a savory, warm and comforting sandwich. The chickpeas are subtly spiced with a little zing from the garlic sauce and finished off with red onion, slices of tomato and some crispy romaine lettuce.
Get the recipe here.  
3. Quinoa Tabbouleh
Peru meets the Middle East in this tasty recipe! This is a gluten free version of the traditional tabbouleh salad, which usually features bulgur wheat. Personally, I like my tabbouleh with a bit more parsley and a load of zingy lemon.
Get the recipe here.
4. Manakish Za'atar
Manakish Za'atar is a traditional Lebanese dish that is similar to pizza. The soft pita is used as a base and then topped with an aromatic za'atar spice mix. Traditionally served up for breakfast in the Middle East, I'd serve this up as an appetizer alongside some hummus.
Get the recipe here.  
5. Sabich Sandwich
Fried eggplant and hard boiled eggs usually comprise this vegetarian sandwich, but in this vegan version, the eggs have been replaced with white beans. They combine with the eggplant, tabouleh and hummus and lots of fresh, crunchy veggies (including pickles!) to make a super healthy, filling, tasty lunch.
Get the recipe here.  
6. Vegan Shish Kabobs
Shish Taouk is basically a kebab made with marinated meat, typically chicken. But this recipe uses a deliciously marinated tempeh and tofu along with some veggies to make a simple meal on a stick. Best served with some brown Basmati rice, if you ask me!
Get the recipe here.  
7. Tofu Shawarma
The real star in this recipe? Tofu – but don't yawn! This is marinated for twelve hours in twelve different spices to give it a deeply rich, aromatic flavour. The shawarma's typical  pita bread is replaced here by lettuce leaves to make this a low-carb treat.
Get the recipe here.  
8. Vegan Kofte
Kofte is a kind of meatball  that is made from minced or ground meat and then mixed with spices and onions.  This recipe by Jamie Oliver subs in zucchini for meat, and comes with a nutty sauce and minty dip to top it all off.
Get the recipe here.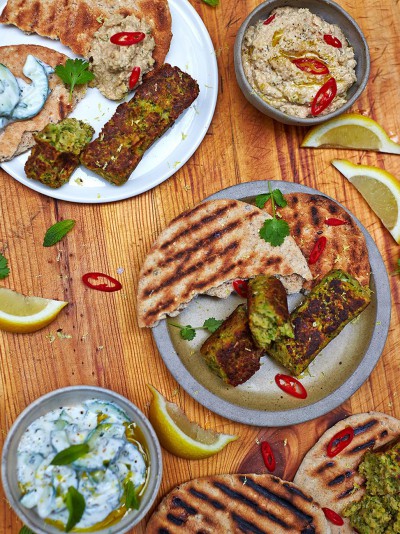 9. The Best Baba Ganoush
If you've never had baba ganoush before, then you're in for a treat! It's basically a dip made from cooked eggplant mixed with tahini, olive oil and a variety of seasonings. The end product is a deliciously rich, smoky dip that's incredibly creamy and moreish!
Get the recipe here.  
10. Fattoush Salad
Fattoush is a bread salad that uses up stale, toasted or fried pieces of pita bread by mixing them up with a combination of greens and other veggies like radishes, onion and tomatoes. And there's a helluva lot of flavour since it's all tossed together with a tangy vinaigrette, too.
Get the recipe here.  
11. Middle Eastern Spicy Potato Salad (Batata Harra)
Batata harra is a Lebanese potato dish that's spicy and easy to make. And easy to make disappear once  on the table! This is the perfect accompaniment for just about anything.
Get the recipe here.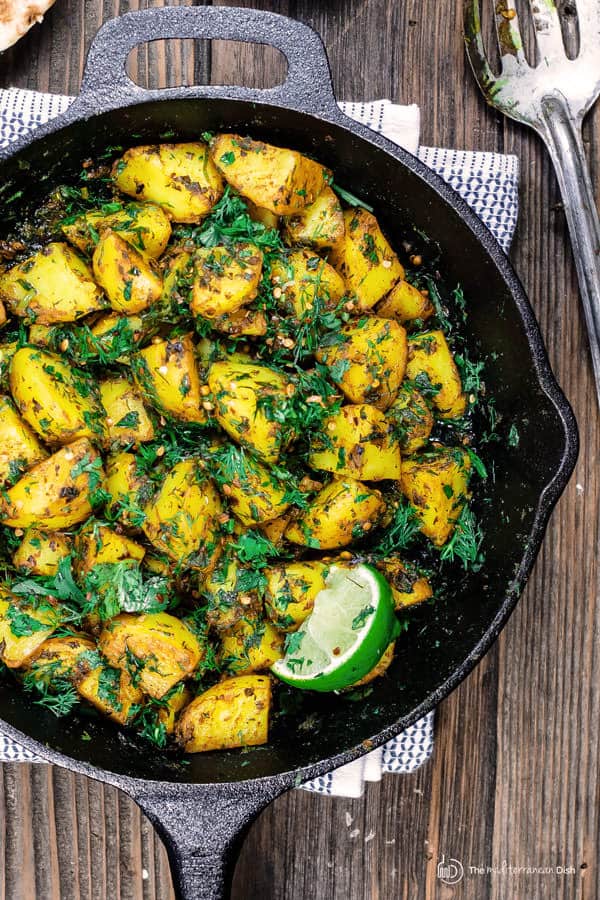 12. Ful Medames (Fava Bean Dip)
Ful medames is a traditional Egyptian dish that has been making its way onto breakfast tables around the Middle East. It straddles the line between being a bean salad/a bean dip. Made from cooked fava beans that have been seasoned with olive oil and spices, it also often has tomatoes, onions or boiled eggs served with it.
Get the recipe here.  
13. Vegan Mushroom Dolma
'Dolma' means stuffed – and that's exactly what these grape leaves are! Rice, mushrooms and herbs are packed into these little fingers of yum to make a dreamy side dish. Not as hard to make as you may think, either.
Get the recipe here.  
14. Vegan Labneh Cheese
If you're a fan of Middle Eastern food, then you may have already been acquainted with labneh. It's usually made with yogurt that is strained to gain a thicker consistency that falls a little between the usual yogurt texture and cream cheese. This vegan version has all the tang and consistency of the real thing, and serves as  wonderful dip, too.
Get the recipe here.  
15. Mejadra
Hey vegans – meet your new favourite dish! It's basically lentils and rice topped off with crispy, crunchy fried onions that sit atop the scrumptious mass. And don't forget that brown rice and lentils make a complete vegan protein…
Get the recipe here.  
16. Falafel Balls
Of all the vegan Middle Eastern recipes, falafels are probably the best know, and are pretty much the perfect vegan burger substitute. Or not! They're so versatile, you can throw them into wraps, add them to salads, or eat them on their own. But we like them the traditional way – served in a hot pita wrap with tahini sauce, tomatoes, salad and Lebanese pickles. Yum!
Get the recipe here.  
17. Mushroom Bourek
This dish is extremely popular throughout the Middle East, and it's easy to see why. Bourek are tasty little pastry triangles made with savoury fillings like spinach, cheese and eggplant, and are served up as mezze. This delicious version is filled with mushroom, red onions and seasoned with thyme – but why not improvise?
Get the recipe here.  
19. Vegan Menemen
This traditional dish actually hails from Turkey, and  includes eggs, tomatoes, green peppers and spices. The onions are slow cooked with hot green chillies and then stewed with tomatoes. Eggs go in at last moment, but can be replaced by silken tofu for vegans, as in this recipe.
Get the recipe here.  
20. Red Lentil Soup
From Turkey to Lebanon, no meal would be complete without a wee bowl of lentil soup to kick it off. This version is packed with flavour, thanks to the lemon, garlic and loads of cumin. It's the perfect dish for warming you up in winter!
Get the recipe here.
21. Fatteh (Chickpea Bake)
Crumbled, toasted pita covered in warm chickpeas and a cool, tangy yogurt sauce makes for a super filling dinner. This recipe is super easy to make vegan, as you can simply switch out the yogurt for soy, or vegan sour cream.
Get the recipe here.  
22. Maghmour
Maghmour is a bit like a rich stew. It's a thick, smoky eggplant and chickpea dish from Lebanon that's naturally totally vegan. When served up with some Basmati rice, it's the most comforting of all the vegan Middle Eastern recipes I know!
Get the recipe here.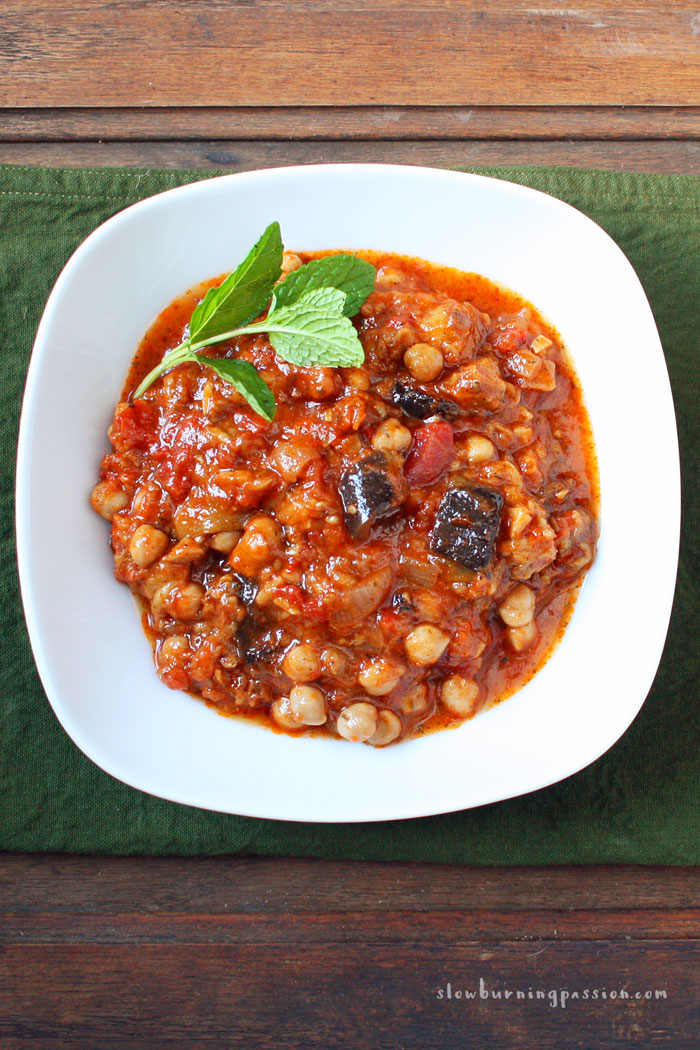 23. Koshari with Zucchini, Lentils & Brown Rice
Koshari (kushari) is pretty much an iconic dish in Egypt. It's a really simple recipe that's basically a rice and noodle pilaf with a spicy tomato sauce and loads of vegetables. This dish is a household fave, as it uses up leftovers like a dream. And it's naturally vegan. Get in!
Get the recipe here.  
24. Veggie Maqluba
Maqluba basically translates to 'upside-down' which is exactly what this dish is. A popular recipe in many Middle Eastern nations, maqluba traditionally includes meat, rice and fried vegetables which are all placed into a pot and then flipped upside down when served. This recipe isn't fully vegan – just swap the  butter and yogurt for vegan versions to make it so.
Get the recipe here.   
25. Potato Kibbeh
One of the best Middle Eastern vegan recipes that I know of is potato kibbeh! It's normally made from bulgar, minced onions and meat, but kibbeh is also awesome when it's potato based. You can fry these, or roll them into balls or patties. Golden and crispy on the outside and packed with a perfumed veg filling on the inside, these are just YUM!
Note: the English version of this recipe is towards the end of the page.
Get the recipe here.
26. Lebanese Walnut Dip (Muhammara)
Nothing appeals to me more than a night in with red wine, flatbreads and a load of homemade dips. If you're a dip fiend like me then this is definitely one for your recipe keeper! This Lebanese walnut dip is one of my go-to dishes to impress.
Get the recipe here.
27. Lebanese Loubyeh b'zeit (Green Bean Stew)
Loubyeh b'zeit, or stewed green beans, is a rich, warming dish. Though it usually calls for butter, you can sub in olive oil – in fact, many recipes do that. They key here is the delish tomato sauce. It's a super easy, one-pot dish to make and requires very few ingredients.
Get the recipe here.
28. Fatayir (Spinach Pies)
Spinach fatayir are a family favorite. There are a few tricks you should to know before getting started, but the most important is this: taste the filling before you assemble these. Then, adjust salt and lemon to taste, remembering that the acidity of lemon juice dissipates with heat, and some of the tartness is lost through baking. Personally, I like my spinach pies with a tart kick, so I often add more lemon juice to compensate
Get the recipe here.
29. Raw Pistachio Baklava (With Pistachio Ice Cream)
I couldn't include vegan Middle Eastern recipes without a few desserts, right? This recipe gives baklava, which is usually really fattening thanks to all the buttery pastry, a healthy, raw makeover. It's also great because it uses coconut nectar instead of honey. Perfect for vegans! There's even a vegan pistachio ice cream recipe to go on the side. Bonus!
Get the recipe here.  
30. Vegan Knafeh
This  is another Middle Eastern sweet that is sensational, but it normally  isn't free of eggs and dairy. Until now! This is the first time I've tried  this recipe in a vegan-friendly way, and it still has the sweet, crunchy texture of the original, though it's less buttery. Which is a good thing, right?
Get the recipe here.  
31. Vegan Basbousa
Basbousa is a sweet cake that is greatly popular Middle Eastern treat. This is semolina based cake that's soaked in a simple syrup. Traditionally, that's orange flower or rose water. Then, you garnish it with blanched almonds. It's easier to make than you'd think!
Get the recipe here.  
32. Pistachio Filled Maamoul
Maamoul (kahk or ghorayeba) is probably one of the most famous cookies in the Middle East. During the feast that ends Ramadan, cooks fill these up with dates or walnuts, but this recipe stuffs them with crunchy pistachios. Which is equally good!
Get the recipe here.  
33. Raw Vegan Halva
Creamy, rich and sweet, halva is bascially a sweetened sesame seed paste. The taste and texture of this recipe is true to the Middle Eastern traditional recipe. Just be aware: this is a calorific treat! A little dab'll do you fine.
Get the recipe here.  
Main image: middleeasterndishes.com
Latest posts by Lora O'Brien
(see all)