It's a trend that's not going anywhere anytime soon! Here's how to wear streetwear consciously
By Diane Small
Do you feel more comfortable in a bomber jacket than a suit jacket? Prefer the feel of zip-up urban apparel to button-down office attire? If so, you're not alone: athleisure is one trend that seems to be going nowhere. The simple reason is that streetwear is not only super-comfortable, but it's super-chic, too.
Well, sometimes.
Almost all streetwear can look hype on a youthful frame, but when the late-20s or early 30's start creeping in, it may be time to rethink the nylon shell suits, ultra-chunky trainers and baggy sweatpants as a daily look. What's more, as we get older and become more conscious about the impact of fast fashion, suddenly, cheaply made athleisure wear loses its appeal.
The good news is that streetwear, when well selected, has a place in a mature and even luxurious wardrobe. With this adult's guide on how to wear streetwear consciously, you'll be looking great without even trying.
How To Wear Streetwear, Sustainably
1. Always Opt for Premium Fabrics
Back when streetwear originated, designers made items with robust fabrics that could hold up to moves from extreme sports, like skidding on the pavement after a fall from a skateboard. This utilitarian approach resulted in a lot of boxy and somewhat unflattering clothing.
Now, however, things have changed. The majority of streetwear brands produce cheaply (and usually unethically) made garments that will barely stand up to a few wash cycles, let alone a spill on the sidewalk.
Opting for key pieces in premium fabrics allow you to maintain your street cred whist upping the ante in terms of sustainability and sophistication. An example? 
Ninety Percent makes gorgeous casual wear from organic cotton and TENCEL. Soft, comfy and stylish!
2. Choose More Ethical Shoes
There's no doubt that heeled shoes are out, and the newest fashion 'rule' is trainers with everything – even dresses! But when it comes to streetwear, the shoes you choose can make or break an outfit. But when chosen wisely, they don't have to be sweatshop-made, or break your bank account, like the latest Yeezys would do. Of course, they should also be made from ethical, animal-friendly fabrics. 
Looking for tips on how to wear streetwear with conscious shoes? Our top pick would be vegan sneakers by Stella McCartney x Adidas. They're cruelty free, super comfy, and are made for both working out, and just walking around. Plus, they're crafted from upcycled plastic bottles, thus saving the oceans from pollution!
3. Put Aside The Hypebeast Culture
For many young fashion followers, hype and exclusivity are everything. Many find themselves coveting an item because it's conspicuous and to-the-moment trendy, not because it actually looks good on them. But the reality is, you should find yourself gravitating towards clothes that flatter you – no matter what the brand. 
Keep in mind that such trendy clothing is bad for the planet – what looks good now will be laughable in 5 years' time. Instead, buy streetwear that's more understated and classic, like this entire look by Stella McCartney, below, which will look stylish for years to come.
4. Don't Oversize Your Style – Too Much
Oversized, baggy clothes may hang well on young, thin bodies, but a more sophisticated look is moving beyond 'baggy' to 'loose'. It's more universally flattering, and if you work in a casual office environment, it's more work-appropriate.
We love this example below from Maemo, for example. The cropped sweatshirt is ethically made from pure, organic cotton, and while it's roomy enough to be comfortable, it's not so large that it engulfs your figure completely.
5. Limit the Logos
This should be the most obvious pointer on how to wear streetwear for adults!
Don't get flashy with an obnoxious amount of logos, or you'll end up looking like a walking NASCAR advert. Try to limit your look to one brand logo piece and keep all of your other items more understated. After all, unless you're being paid to advertise it, why wear your brand loyalty (literally) on your sleeves? Better to wear a well cut, plain shirt, like this organic cotton one by Bassike, below.
Otherwise, you can go for brands that only apply subtle logos to their items, like Stella McCartney, above, or forego the logo altogether.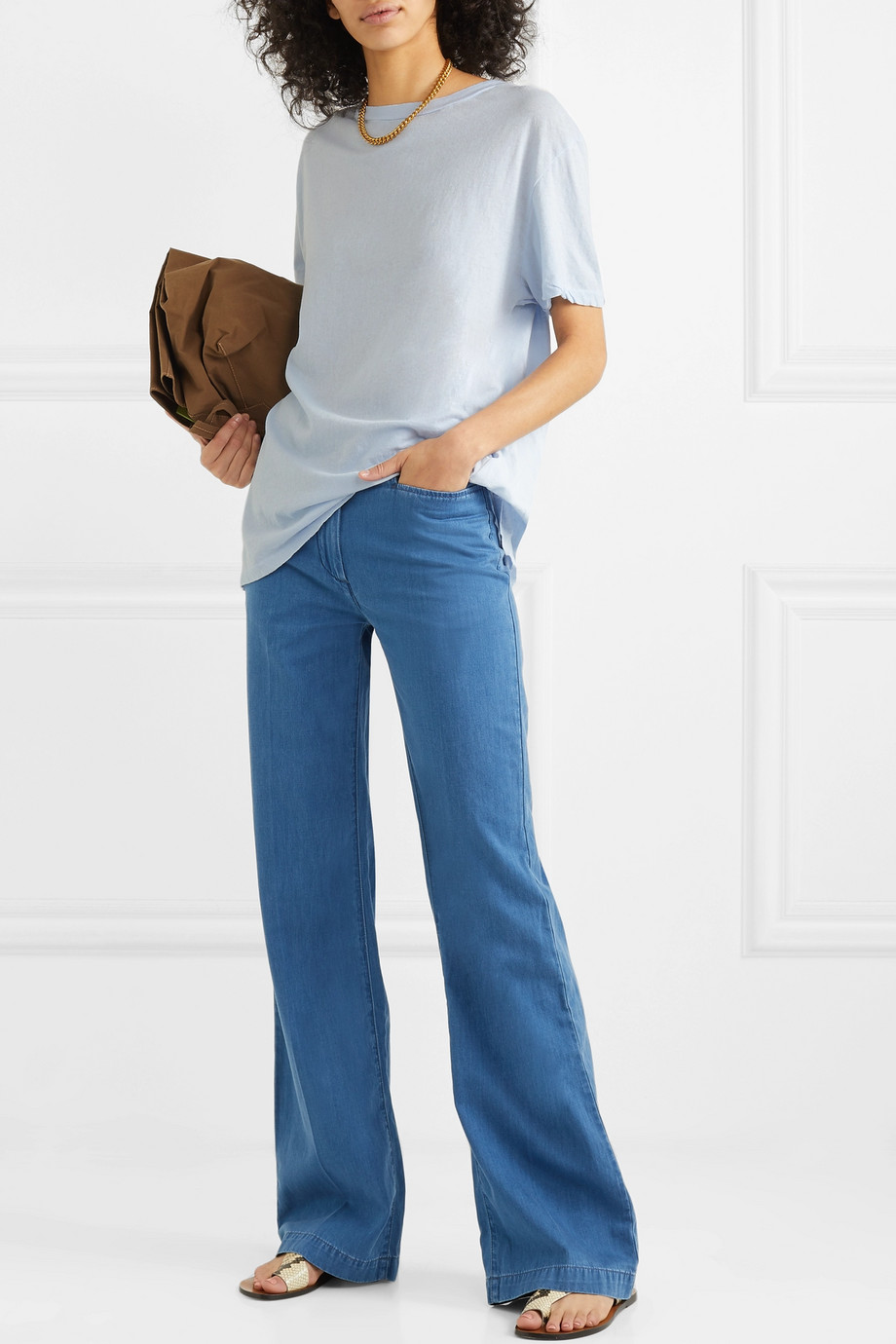 6. Mix It Up
This might be one of our more surprising tips on how to wear streetwear! But just because you love the look of something casual doesn't mean you can't pair it with something a bit more formal. And vice versa!
A baseball cap, for example, doesn't always have to go with a pair of sweats or yoga tights. Take one sporty element and mix it up with something more formal, like a blazer. You may be surprised at the casually sophisticated result, like this one by Rag & Bone, below.
It's easy to look for style and pattern mixing inspiration ideas online. For example? Kpop fashion is one of the most trendiest looks right now. You don't have to be a K-pop fan to appreciate their colourful style!
7. Add Some Colour
Colour pops are hot again, so why not add some to your outfit? Our final tip on how to wear streetwear is to make it shout with a bit of a surprising hue. It could be subtle, like this sweatshirt by Everylane, below. Or it could be a bit louder – think tomato red or vibrant orange. Just ensure you're wearing a pop – be it a colour accent in your shoes or accessories, or a top or bottom. Leave the entirely lime green outfit to the teens!
Just because you find yourself with more responsibilities, having to live and work among peers of different tastes and expectations, doesn't mean you need to hide your fashion away. Streetwear is for all ages, and  can be appropriate for all situations. And once you know how to wear streetwear consciously, it can also be good for the planet!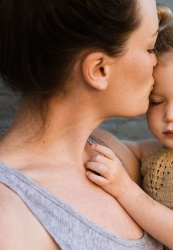 Latest posts by Diane Small
(see all)