These ethical streetwear brands are changing the way we do fashion. For the better!
By Katy Carik
Sure, we all accept that green is the new black. But here's a new fashion truism for you: athleisure is the new casual. Especially when it's ethically made.
This somewhat surprising trend shows no signs of diminishing. We pin its popularity on the rise of fitness and nutrition in American culture. Being healthy and fit is more chic than ever, and wearing athleisure means you can show off the results of your hard work.
But that's not the only reason for the strength of this trend. The rise of 'behind the scenes' celebrity social media accounts and reality TV shows has also given it a boost. Seeing influencers 'dressed down' has suddenly made dressing up look passé, and athleisure even more aspirational.
However, given the sweatshop scandals Nike and other casual wear manufacturers have gone through, smart consumers are now demanding that their athletic clothing be ethically made.
Here, I've found some ethical streetwear brands that are getting it right, both in terms of style, and of transparency in manufacturing.
Eco Friendly Streetwear Brands We're Loving
Tentree believes materials matter. They matter when it comes to the life of our clothes, or the way we feel as we live in them. But most importantly, they matter for our planet. That's why they make their sustainable streetwear from the most comfortable and sustainable textiles available. Whether it's a hoodie made from 99% compostable materials, or track pants that helps divert waste from landfills, all of their products are made with the Earth in mind.
Main fabrics used: Loads of eco-friendly fibres, like organic cotton, recycled fabrics and TENCEL lyocell.
Price range: From $35
Best for: Nature lovers. The brand is so-named as they plant 10 trees with every purchase.
This might be one of the most famous and lauded ethical streetwear brands. But due to microplastic pollution, the most sustainable option is to avoid recycled plastic fabric that has to be washed frequently. That's why when shopping the Stella McCartney x Adidas sportswear collections, the best items are those made from organic cotton, or recycled plastic items that don't need to be washed often, like this jacket, below.
Main fabrics used: Upcycled ocean plastic fibres
Price range: From $75
Best for: Outerwear and shoes
Whether it's a jumpsuit, trackie bottoms, hoodie or tee, anything made by Ninety Percent is actually likely to be 100% pure, organic cotton. Made in ethical factories, each item of clothing they produce is not only comfortable enough to live in, but also stylish enough to wear out without feeling like you just left the gym.
I especially love their subtle use of tie dye in some items, and the softness of the fabrics they use. And did I mention: the brand is so-named because they donate 90% of profits to charities?
Main fabrics used: Organic cotton jersey, TENCEL, Lyocell
Price range: From $60
Best for: Minimalistic loungewear.
FairTrade production, GOTS certified fabrics, and beautiful functional clothing is what you might normally associate with People Tree. But guess what? They also have a great line of athletic wear, too – making them one of our favourite ethical streetwear brands.
Made from organic cotton, Tencel and other natural materials under ethical conditions, every piece is great for the gym, yoga class, or just running errands in.  
Main fabrics used: Organic cotton, TENCEL
Price range: From $25
Best for: This is one of the best ethical streetwear brands for those on a budget, and who love comfy, casual clothing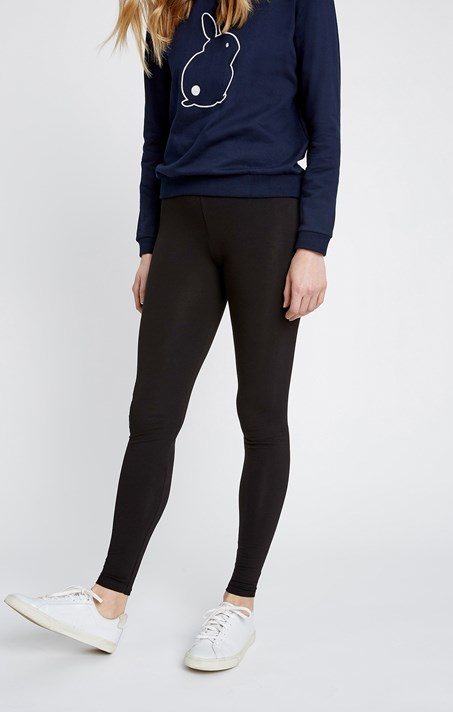 Husband and wife Ellie and Quang Dinh founded Girlfriend Collective after spotting a gap in the market for luxurious, responsibly produced activewear. Using fabrics made from recycled water bottles, fishing nets and other plastic waste, the brand designs high-performance leggings, tops and sports bras in fresh hues achieved using eco-friendly dyes.
Main fabrics used: Recycled materials
Price range: From $45
Best for: Women of all shapes and sizes. They offer sizes from XS to XXL.
PACT is probably one of the best known ethical streetwear brands out there. They're well known for their soft, comfortable clothing that's perfect for lounging around, working out, travelling or just hanging out. Their entire range is fully transparent and made in ethical factories, too.
Main fabrics used: Organic cotton
Price range: From $35
Best for: Comfortable casual wear, underwear
We just discovered this London-based ethical streetwear brand, and we are in love! Blonde gone rogue is one of the newest (and hottest!) additions to the London sustainable fashion scene. The brand uses up-cycled, recycled and organic fabrics to create stunning clothing that's ethically made.
Whether you choose an organic cotton hoodie, tights made from materials sourced from fabric recycling depots, or a jacket made from upcycled parachutes, you'll be bang on trend!
Main fabrics used: Fabric bought at recycling factories, leftover warehouses or organic-certified suppliers
Price range: From $65
Best for: Colourful casual wear
We totally agree with Charli Cohen – sustainability shouldn't be a choice or a strategy, it's should be the foundation of a brand. And Charli puts her money where her mouth is: 70% of the fabrics she uses come from exclusively up-cycled materials.
The mills she employs produce in limited quantities to reduce waste, and the brand actively works to minimise the carbon footprint of their textile production. Charli Cohen's design aesthetic is thoroughly modern and technical; we particularly love her comfy, soft – and frankly, rather unusually cut – track pants.
Main fabrics used: Recycled nylon, upcycled ocean plastic, deadstock
Price range: From $35
Best for: Seriously stylish workout gear
After growing up in Communist Poland, Bo Carter learned how to make do and mend with scraps of fabric. The result? Today, she produces one of the most ethical streetwear brands. Her super soft tops, hoodies and track bottoms are , made from 100% certified organic cotton that has been dyed with vegetable colourings.
Worker ethics and a tough stance against animal cruelty are also dear to Bo's heart, which is why you won't find leather, or fur in her collections, which are all ethically made in Europe.
Main fabrics used: Organic cotton
Price range: From $90
Best for: Comfortable, styling clothing you can wear every day
Of all the ethical streetwear brands, this is probably the most stylish. A strong proponent of eco-friendly, unisex and sustainable fashion, this British designer has long been concerned with the future of the planet, as demonstrated by his signature slogan, "Remade, Reduce, Recycle, Raeburn".
The slogan could be seen printed in white letters on the black shoulder straps used on the pouch bags of his most recent streetwear collection, but I also love that he used upcycled knitwear, fishing nets and parachutes to create garments, too.
Main fabrics used: Recycled nylon, upcycled threads, dead stock
Price range: From $145
Best for: Unisex styles, outerwear
Latest posts by Katy Carik
(see all)