By Chiara Spagnoli Gabardi
With  the Amazon rainforest, Iguazu falls, endless stretches of fine sand  beaches and icy blue glaciers, South  America boasts some of the most spectacular natural sites in the world. The continent is truly a nature lover's dream, but there are also some wonderfully indulgent hotels that cater not only those who demand 5 star levels of  service and accommodation, but that these blend in with and support the environment that surrounds them, too.  
Here, based mainly on the beauty of their settings, we've selected 8 South American Eco Luxury Hotels that should be on everyone's bucket list.
Located on the Maraຠ Peninsula in verdant Brazil, the Butterfly House is one of several  eco-resorts in the less explored northern part of this vast country. Surrounded by crystal clear beaches, enchanting lakes and World Heritage rainforests, these luxurious bungalows provide a getaway to unwind and relax after your likely journey here from bustling Rio de Janeiro or Sao Paulo. Adventure, luxury, comfort, nature and privacy are the ingredients that will reenergise you during your stay here.
The smart architectural design creates a camouflage effect between the hotel and its surroundings through materials that are locally and ethically sourced: think thatched grass roofs, eco-treated Colombian bamboo and furnishings made locally.  The eight beautiful bungalows that compose the hotel share a palm-enshrouded swimming pool, gastronomic restaurant, family playroom and acres of tropical gardens sprinkled with hammocks and bamboo recliners.
There are also strict measures to ensure the lodge doesn't pollute the area: organic waste is composted, non-organic matter is separated and treated before being sent for recycling, the resort's sewer system is designed to produce eco-friendly bio-fertiliser and hot water is provided by solar heating via a state-of-the-art 'plate and boiler' system – all very appropriate, given that this beachy area is one of the most pristine on Earth.
Mashpi Lodge was conceived as a one of a kind travel experience where you can be in utter symbiosis with the faunistic, floral, geological, geographical, ecological, climatic and historic features of this protected Nature Reserve in Ecuador.
Mashpi Lodge was built with the latest techniques for sustainable construction and is designed to blend perfectly with  one of the most remarkably biodiverse corners of the world. Located in the heart of the Equatorial Choco Bio-Region, the Lodge is the perfect hideaway in the forest. The entire structure has been designed as an ode to the scenic plateau where it's set.
Mashpi was conceived to completely immerse you in the forest life: the rooms are arranged over three floors, all designed with floor-to-ceiling and wall-to-wall panoramic glass windows, some on two sides, with the forest just a few feet away. The names of the room alone evoke the natural environs: the Yaku suites take their name from the Kichwan word signifying "Water", just as the rooms called Wayra mean "Wind." Staying here is  a bit like being in a crystal capsule, observing forest life from the comfort of your bed – you'll awaken to a symphony  of birdsong, making  you feel mere steps away from heaven.
Forget the (highly polluting) cruise ship: this hotel is the best way to see the Galapagos Islands. The award-winning Finch Bay Eco Hotel lies just steps from the beach in a  secluded location  across the bay from Puerto Ayora on the island of Santa Cruz, smack dab in the middle of all the Galapagos isles.
As this is one of the world's most tightly protected eco-reserves, it's obvious that Finch Bay boasts plenty of sustainably features, including a biological sewage treatment plant and organic waste for composting to enrich its organic vegetable, fruit and herb garden. But there's a lot more glamour to the hotel than these features would suggest: Finch Bay has just undergone extensive refurbishments,  spearheaded by Ecuador's most renowned interior designer, Julio Vinueza. The results include  Eames rocking chairs, plenty of contemporary art, and sculptures made from recycled driftwood as just a few of the uber-chic interior design touches.  But given that the main reason you'd be here is to explore the natural flora and fauna of these famed islands, chances are you won't be in the hotel much!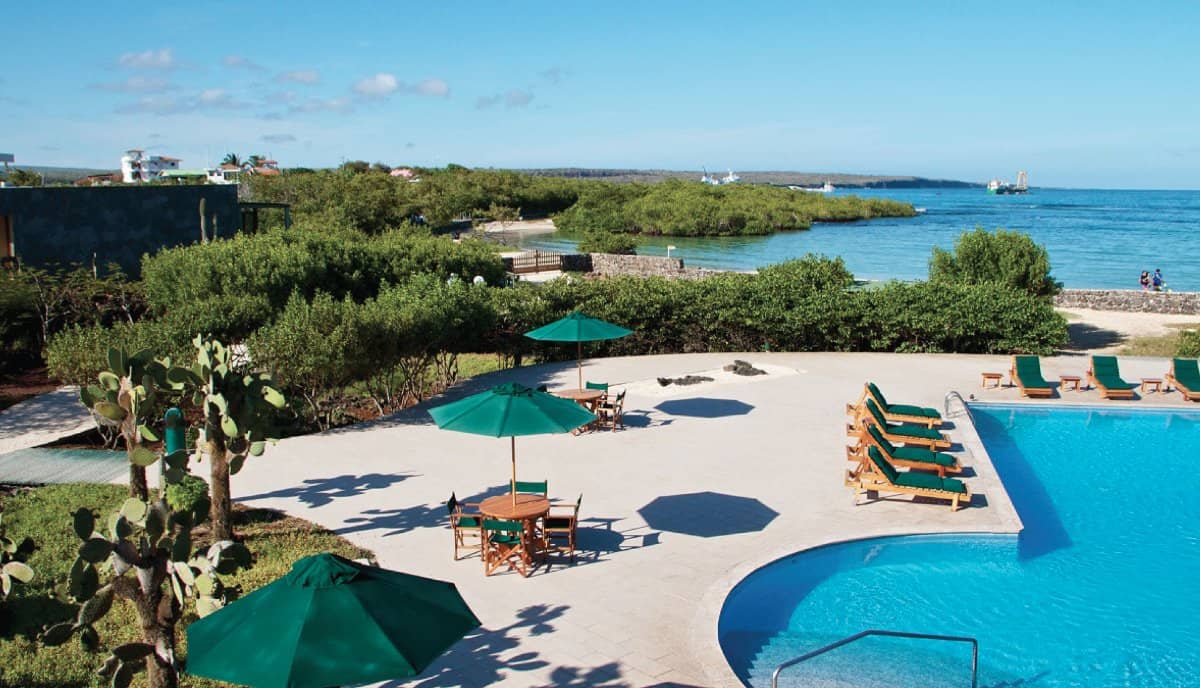 For over 40 years, Inkaterra has pioneered and promoted the conservation not only of the natural environment, but also the preservation of Peru's native cultures through its conservation support of the enigmatic Lost City of the Incas, Machu Picchu. After check in, you'll be assigned  one of the 83 intimate casitas within the luxury Andean style village, all surrounded by a wonderfully secluded 12 acres of exquisite gardens, populated by hummingbirds, orchids and other colourful fauna.  
Be sure to  indulge in a few of Inkaterra's spa services, which use sublime natural essences and traditional healing techniques. It can get a bit chilly up in the mountains, so the hotel ensures you're constantly cozy with crackling fireplaces in each room and snuggly water bottles put into your bed each night, which your muscles will definitely welcome after hiking through the ancient ruins all day. Tip: ask for a suite with a private heated pool outdoors – the ultimate romantic indulgence!
This country is so long, it extends from the glaciers of Patagonia in the south to the jungles of Iguazu in the north – and there's no better place to see this jungle (and its spectacular waterfalls) than from this quirky eco-lodge. Designed to look like a treehouse that a posh Hobbit may have inhabited, Yacutinga Lodge is filled with unique decor touches based un upcycling principles: logs from fallen trees provide bannisters and stools, broken ceramics provide tiles and recycled bottles are used with a 'stained glass' effect.
Torches, fireplaces and candle light produce a magical atmosphere here in the evenings at night here, enhanced by the mesmerizing chirrups of cicadas and motmots. Biological shampoos and soaps are provided so the pristine jungle isn't made toxic, and screens are over every opening in this lodge to keep out insects. But you will see plenty of exotic wildlife here: coati, monkeys, capibara,  butterflies, snakes, tapirs and much more. A walk on the 'jungle bridge' is an animal lover's dream!
You can catch a lift to the stunning Iguazu falls once a day (it's around a 2 hour drive), and upon your return, you'll enjoy a homemade meal comprised of local produce, with many vegetarian and vegan options.
Surrounded by stunning scenery and astounding Andean geography, Titilaka's contemporary eco-design blends in perfectly  with the natural environment, paying homage to the ancient Titicaca, where  Inca culture was born.
Eighteen fully serviced lake-view suites feature heated floors and spa bathrooms, with large oversized tubs and massage showers, plus an array of amenities to ensure a comfortable stay. Here you will find a haven for re-energizing after a day of excursion by boat, mountain bike, hiking or car — the choice is yours. Explore the Andean communities on the islands of Taquile or Uros; visit the archeological sites of Chullpas de Sillustani and the splendid colonial churches in the towns of Juli, Pomata and Lampa; or simply absorb the spirit of the region.
We started with Brazil, and we'll end with it too. South America's largest country is packed with eco-beach resorts, but this is surely one of the very best.
Located on the outskirts of Barra Grande, the only village on the Marau Peninsula, Kiaroa is a veritable oasis of first-class amenities, offering 28 suites and bungalows, spa facilities, and gourmet dining, on top of its spectacular beach and ocean views. Bungalows here are tastefully appointed with art, Egyptian cotton bedding, goose-down pillows, and luxury-brand toiletries – we wish they were organic, though!
The beach is superlative: soft white sand that stretches out seemingly endlessly, hugged by warm, turquoise waters. And if the sea, sun and sand weren't sufficient to relax you, amidst the coastal rainforest, the temple-like Armonia Spa features dry/wet saunas, a heated swimming pool, gym, whirlpools, relaxation areas, and a beauty salon – everything you need to melt stress and beautify yourself.
Kiaroa Eco-Luxury Resort takes great pride in its cuisine, offering a diverse menu centered on seafood, local poultry, and pasta, as well as traditional Brazilian dishes and of course, plenty of tropical fruit grown right on the island. Bliss!
Latest posts by Chiara Spagnoli Gabardi
(see all)