Whether you're into fashion, beauty, food, or home, there are loads of ethical subscription box ideas that make the perfect gift!
By Chiara Spagnoli Gabardi
There are lots of reasons people are looking for ethical subscription box ideas these days.
First up, if you're stuck in a lockdown, it sure is nice to get a special surprise in the post to lift your spirits! Secondly, if you're not able to go out shopping, this is a wonderful way to get a treat in the mail every month. Thirdly, they make awesome gifts. Not only does the recipient get something nice for their birthday or Christmas – they keep getting gifted month after month! And finally, there is a wider variety of high quality ethical subscription boxes now more than ever before.
Sure, you probably know about beauty boxes, and indeed, we've listed some of the best organic beauty boxes in Eluxe in the past. But what about boxes that contain monthly snack supplies? Non-toxic candles? Artisanal goods from around the world?
Here below, we've found some of the best ethical subscription box ideas. They make the perfect gift to yourself – or a friend!
14 Of The Best Ethical Subscription Box Ideas
This company has come up with an ingenious way to turn your routine in a more ethical lifestyle. With a subscription to greenUp you will receive one box every two months, full of artfully crafted goods that are kind to the planet.
Choose from the Morning Routine Box, which contains essentials like a bamboo toothbrush, organic soap, biodegradable dental floss and more, or the Work Day Box, which boast all you need for the office. There's a bamboo and glass reusable hand sanitiser bottle, stainless steel lunch box, silicone ziplock bag and more.
All boxes are plastic-free, and cover major areas of your daily life, from the kitchen and bathroom to the workspace and travelling.
Price: Starts at $44, bi-monthly
Delivers to: USA only
What to expect: At least six high quality, full sized eco-friendly, plastic-free gifts.
Perfect for: Anyone aiming to live a greener life
Who doesn't want the gift of green beauty? And that's exactly what the Detox Market's Detox Box offers every month. They'll send you one (or more) of their favourite, non-toxic beauty products every month. The delivered item(s) is guaranteed to be worth at least $90. Bargain! Expect to find top brands like Pai, Tata Harper, Pacifica and more.
Price: From $35.99 a month for six months
Delivers to: USA only
What to expect: Each month, you'll get one or more full sized products from a curation of clean beauty brands.
Perfect for: The beauty buff in your life, or someone who is trying to detox their beauty routine.
Image from organicallybecca.com
If you're looking for a present for someone with a strong spirit of adventure and a great love of the outdoors, The Nomadic Box will be perfect! Every month, they send out box packed with gear for the wilderness explorer.
You may find something like a reusable cup, solar light, portable seat, water purifying tablets…anything you would need for an outdoor adventure! Choose between the 1 month, 6 months or 12 months subscription. You can also customise each box.
Price: $32.95 per box (1 month), $31.25 per box (6 months), $29.99 (12 months).
Delivers to: Worldwide
What to expect: Three to seven full sized items with a minimum value of $50 in each box
Perfect for: The outdoorsman or woman in your life.
Those who have kids, know how expensive – and unsustainable – life can get. So a little help with their children's needs is a wonderful Christmas gift. Especially if it's eco-friendly!
The Honest Box not only offers green diapers and supplies for the little ones, but also a wide selection of family friendly products like non-toxic household essentials and cleaning supplies.
Price: From $79.95 per box (Diapers + Wipes Subscription)
Delivers to: the US and Canada
What to expect: A monthly box that will help promote good parenting in a more environmentally friendly way.
Perfect for: New moms and dads.
To promote the nobility of craftsmanship, GlobeIn allows you to gift a subscription that glorifies the importance of artisanal techniques. Each box will contain handmade products that empower the communities who make them. You might find something like a Guatemalan-loomed makeup bag, a Moroccan tagine dish, Portuguese ceramic tiles, and Peruvian woven belt in your package. Choose from a 3, 6 or 12 month subscription.
Price: $38 per box (3 months), $35 per box (6 months), $33 (12 months).
Delivers to: Worldwide
What to expect: Each box features a themed collection of 4-5 hand-crafted items, produced by artisans from all around the world. There are more than 5 box themes available each month, and you can choose which one you'd like to receive. If you prefer to be surprised, you can also choose 'Surprise' and they'll make the difficult choice for you!
Perfect for: Wannabe globetrotters; supporters of artisanal crafts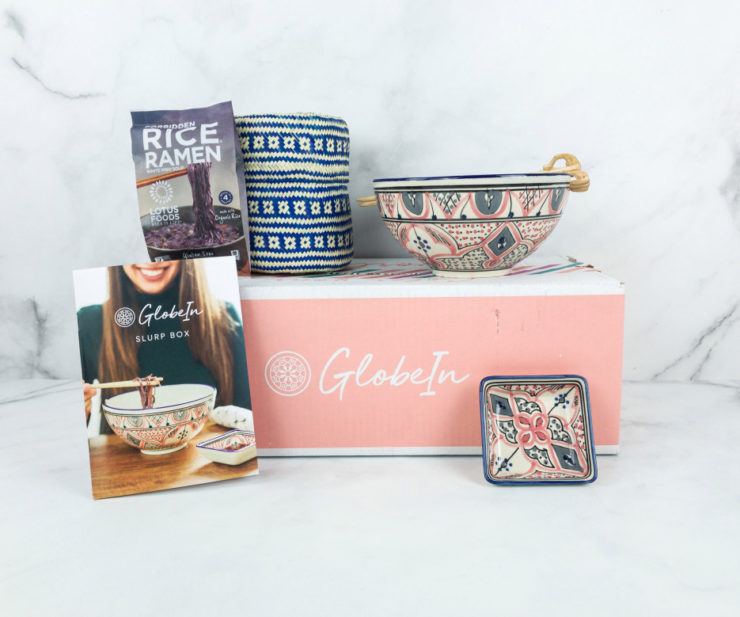 This is an exceptionally considerate gift for mothers-to-be! EcoCentric Mom provides a subscription to organic and eco-friendly goodies. The recipient of your gift will get 2-3 items aimed at pregnant women or babies, plus 2-3 items for pampering or to use around the house.
This is one of the best ethical subscription boxes for customising. Since it's a month-to-month subscription, you can skip a month or cancel anytime if you feel the mother is being overwhelmed with too much new stuff.
Price: $39.99 per box
Delivers to: USA and Canada
What to expect: Around 5-6 full sized gifts a month. These include snacks, toys, beauty products, baby care, baby clothing and more.
Perfect for: Expecting moms-to-be, or new moms
I'm not gonna lie: this isn't the most ethical of all the ethical subscription box ideas. I mean, do dogs even need gifts? But I'm a sucker for pups, so I added it to the list!
That being said, all their edibles are made in the USA and Canada with wholesome domestic and imported ingredients. And if your pup has allergies, you can let them know and they'll make sure to exclude the offending ingredients from your pack.
Price: Start at $23 per box
Delivers to: USA and Canada
What to expect: Each Super Chewer BarkBox comes with two tough, fluff free toys, 2 delicious bags of treats, and 2 hearty chews. There will be a theme each month. For example, we love the Scoob theme, which is based on Scooby Doo. You'll get a Scooby Doo squeaky chew toy, a Beef flavoured Scooby Snack, Scooby Doo Dog Treats, and more!
Perfect for: Our four-legged friends, both large and small
This company is the brainchild of two friends: Justine and Katie. They wanted the world to embrace a healthier style of living, so they curated an ethical subscription box idea that contains skincare, home accessories, snacks and wellness products. Whether you get a brand-new organic mascara, anti-ageing serum, healing crystal, facial loofah sponge or organic baked chickpea snack, you'll be delighted with every box! Plus, with every purchase Love Goodly gives back to a good cause.
Price: From $34.95 per month.
Delivers to: USA only.
What to expect: There are several subscription options with Love Goodly. There's the Essential Bi-Monthly Subscription (4-5 full sized products worth $75+). Or the VIP Bi-Monthly Subscription (5-6 products worth $105-115+). There is also the option of doing a 6 Month or 1 Year subscription.
Perfect for: Those who have embraced a cruelty-free lifestyle, and love a good surprise!
Evanna Lynch and Daniella Monet, the founders of A Kinder Beauty Box, wanted to share their love of clean, vegan makeup with other women. And that's how this ethical subscription box came about! Today, every product that goes into a Kinder Beauty box is 100% vegan, and the brands never have a parent companies that test on animals.
The Kinder Beauty Box is also mindful of waste: the box is made from 100% recycled materials and is both biodegradable and compostable. All materials inside are also made from 100% recycled materials. If you thought it couldn't get kinder than this, think again. Every month a portion of proceeds goes to various animal rights and environmental causes!
Price: From $25 per month
Delivers to: Worldwide
What to expect: A monthly box containing up to $165 worth of vegan and cruelty-free makeup, skincare, hair-care and accessories, including at least two full-sized products. Brands featured include 100% Pure, INIKA Organics, Andalou Naturals and others.
Perfect for: Vegan beauty bunnies
For some, delicious vegan snacks can be hard to find. But not when they're delivered to your door from NatureBox! You can choose from all kinds of boxes aimed at specific dietary preferences, including Keto-friendly, vegan, sugarless, non-GMO or low calorie. This is the perfect gift to deliver to the office for a friend – or yourself!
Price: $39.99-$49.99 per box
Delivers to: USA and Canada
What to expect: 6-7 full sized snack bags delivered to your door
Perfect for: The hungry vegan, or anyone who is trying to change their diet to a healthier one
A scented candle always makes for a welcome gift! Vellabox offers a curated selection of all-natural, plant based candles that have a burn time of 25 to 75 hours. There's a variety of relaxing scents, depending on the season. You might find a sage and lime candle in winter, or a tuberose candle for summer, for example.
Price: $12-$29 per month
Delivers to: USA/Canada
What to expect: This depends on your subscription. Those who sign up to the Lucerna box will receive 1 candle (4oz) each month, plus a surprise gift. The Ignis box brings a large candle (8oz) each month, plus a surprise gift, while The Vivere box includes a 16 oz candle, plus a surprise gift.
Perfect for: Anyone who loves to relax with a scented candle and maybe a glass of wine in the evening.
Want to gift the experience of becoming an exquisite and healthy cook? Opt for a Hello Fresh Meal Kit delivery service! Choose to serve from 2-4 people and from 2, 3 or 4 recipes per week. Of course, you can also choose between various dietary preferences, including veggie, low calorie, or family friendly.
Price: From $4.71 per serving
Delivers to: The continental United States
What to expect: A box containing everything required (from the ingredients to recipe) to prepare something yummy! In addition to receiving recipes with step-by-step instructions, you'll also receive all the pre-measured ingredients you need to make each meal. Your proteins are packed separately outside of the meal kit, with ice packs to keep cool.
Perfect for: Anyone trying to change their diet for the better, or anyone trying to learn to be a better cook
Personally, of all the ethical subscription box ideas here, this is my favorite! I'm quite an avid reader, and I strongly believe that a book is always the greatest gift you can ever give.
Of course, literary tastes vary, so you can choose the genre that suits you or your recipient best. There are plenty of package options that range from eBooks to actual physical books. And if you thought it couldn't get any better, think again! Since this a 501c3 non-profit organisation, the Bookworm Box donates 100% of their profits to charity. Great!
Price: From $6.99 per month to $43.99 per month according to the plan.
Delivers to: Worldwide
What to expect: At least 2 books per box — one of which is autographed — and a letter from the author, too! There may also be other stuff, like a PinMate,a Bookworm Box pen, or some author swag.
Perfect for: Mainly young women, since the only genres offered are romance or young adult
Lofty Box was created by two women who share a passion for ethical sustainable living. The subscription box allows you to explore premium, sustainable products from the most innovative wellness and lifestyle brands on the market today, shining a light on those ensuring a better world. The creators behind the box research to find new and exciting sustainable products, and these will be found in your box each and every month.
Lofty Box also collaborates with brands that may have surplus stock. Instead of these items going to waste, or ending up in landfill, Lofty Box includes premium products with short best before dates (which are perfectly safe by the way!) to help eliminate the problem.
Price: From £8
Delivers to: UK
What to expect: You will get a minimum of 6 samples and full-size items per box. These include snacks and drinks, skincare, supplements, candles and accessories.
Perfect for: This makes the perfect gift to a loved one – Lofty Boxes have everything you'll need to discover new brands to love!
Do you know of any of the best Ethical Subscription box ideas we may have missed? Let us know in the comments, below!
Latest posts by Chiara Spagnoli Gabardi
(see all)